Hearty, simple, gluten-free & vegan black bean burgers. The perfect savory solution to use up that leftover almond pulp.
Jump to Recipe
Stop throwing out that almond pulp!
If you make your own almond milk and throw out the pulp because you don't know what to do with it, s t o p. Keep reading or just skip the recipe if you don't wanna hear my life stories (heh I won't take offense), but whatever you do, do not throw away that almond pulp. You can still use it!! It still has nutrients and can be used like almond meal in cooking or baking. You can toast it over low heat to dehydrate it into almond meal, but I'll admit I'm too lazy to do that most times. I actually have a bag in the freezer just full of almond pulp, so if you don't want to use it right away you can always freeze it. Just don't throw it away!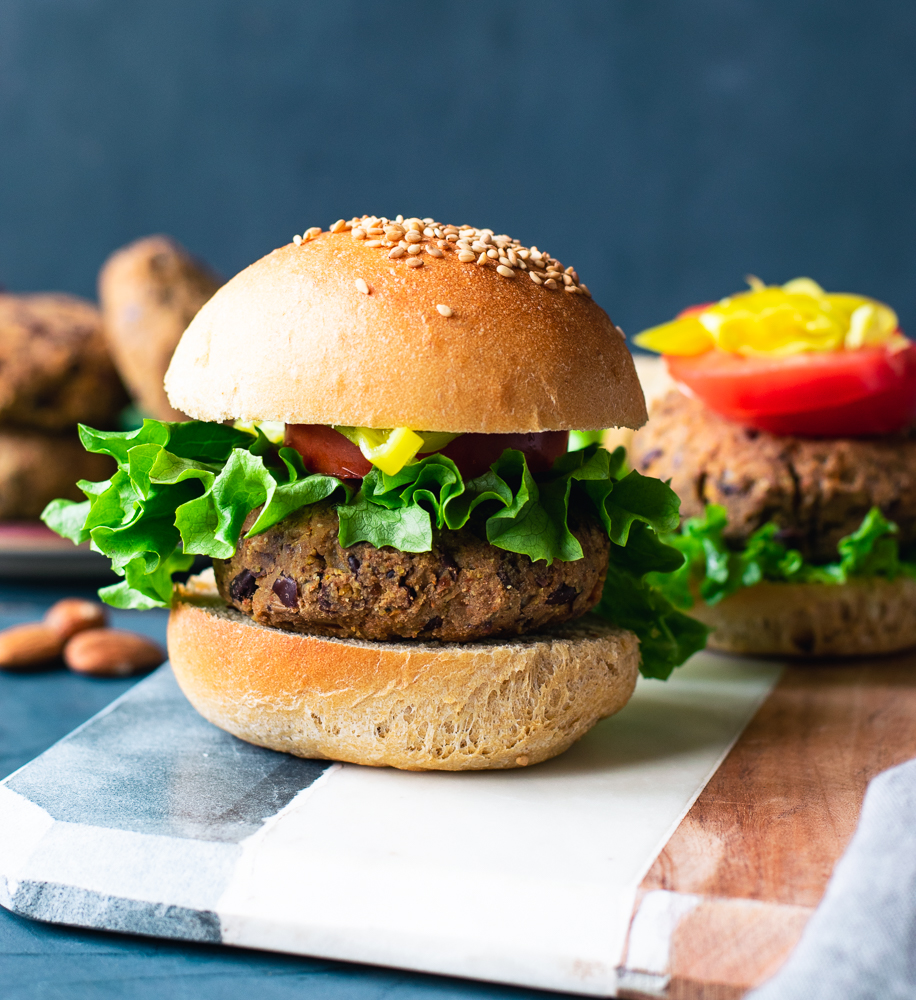 I made almond milk for the first time in a while the other day and was faced with the "what do I do with all this almond pulp??" problem. I've tried baking it in breads before but had back luck and always ended up with slightly mushy bread. So I decided to take a savory route this time and had delicious results! If you haven't tried making your own veggie burgers yet, you are missing out. They're so simple to make and are super delicious and nutritious when you add in some lettuce, tomatoes, ketchup, mustard, avocado, grilled onions or mushrooms, etc. and slap on some toasted, freshly baked buns.
These veggie burgers are soft and hearty from the beans with an added crunch from the veggies, creating a perfect blend of textures with every bite. On its own its good, but with all the toppings and bun its delicious. I highly recommend adding lettuce, tomatoes, pickles (if you like 'em), avocado (for that creamy factor), ketchup, mustard, and onions, plus a crispy toasted whole wheat bun. Mmmm, all this talking about veggie burgers makes me want another, even though it's midnight — veggie burgers are always good. (PS the buns in these photos were homemade!)
Still hungry?
Check out these other savory options!
I hope you love these veggie burgers as much as I do! If you try it out please leave a comment down below and/or tag me in your photo on instagram @ellielikes.cooking 🙂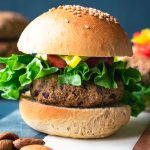 Print Recipe
Almond Pulp Veggie Burgers
Hearty, simple, gluten-free & vegan black bean burgers. The perfect savory solution to use up that leftover almond pulp.
Ingredients
almond pulp from 1/2 cup almonds

1

can

black beans

drained, rinsed, and dried

2

tbsp

corn meal

add extra as needed

1

tbsp

ground flax seed

1/2

onion

chopped

2

garlic cloves

minced

1

small carrot

chopped

1

rib of celery

chopped

2

tsp

paprika

1

tsp

chili powder

1

tbsp

ketchup

1

tbsp

worcestershire sauce

dash of salt & pepper
Instructions
Cook onion, garlic, carrots, and celery in a pan over medium heat until onions turn translucent. Remove from the stove and let cool.

Mash black beans with a fork, leaving some of the beans still intact (you don't want it super mushy). Mix in almond pulp, corn meal, and flax. Once the veggies have cooled slightly, mix them in too.

Add paprika, chili powder, salt & pepper, ketchup, and worcestershire sauce and combine. If the patty mixture is too wet, add another tbsp of corn meal. Let the mixture sit for 20 minutes.

Preheat the oven to 375°F. Scope out some of the mixture and form into a ball. Toss the ball back and forth between your hands a few times to remove air bubbles. Repeat until all the patty mixture is gone — you should end up with 6 patties.

Bake for 15 minutes, flip and bake for another 10 minutes, or until patties are nicely browned. Let cool at least 10 minutes before eating.