Fluffy, chewy, tender morsels of sugary gluten heaven. Baked instead of fried but still dangerously addictive, these vegan donuts will become your new breakfast favorite. 
Jump to Recipe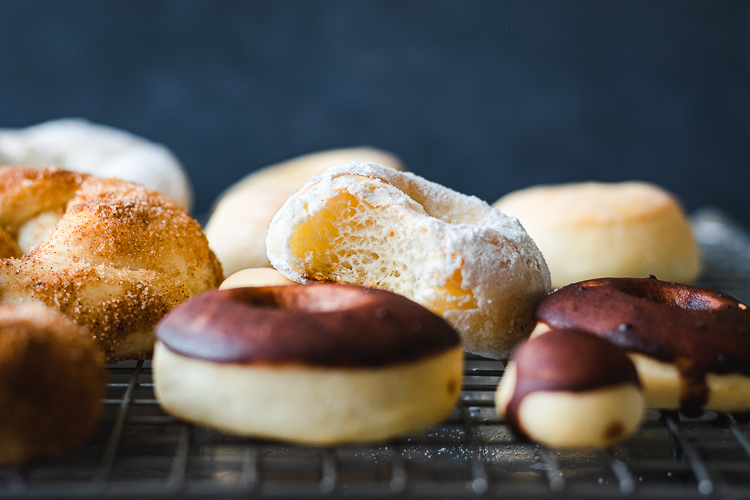 Happy New Year everyone!! One of my goals for 2019: bake donuts every week so my fam/friends and I can have Sunday morning donuts 😉 One of your goals should be: make these donuts! right now!! cause you're missing out.
For real though, one of my new years resolutions is to be kinder to myself in all aspects of life – career, diet, fitness, sleep, money, relationships, friendships. So I'm not planning on excluding sweet treats (although at one point I did think about trying to go sugar-free for 30 days. That idea didn't last long.). Don't get me wrong, I love my fruits and veggies and beans and tofu and whole grains and all that healthy stuff, but donuts are my weakness for sure. I didn't have them for like 8 years, but I've had quite a few vegan donuts in the last year (more than my wallet would like). From fruity glazes, cookie dough, chocolate peanut butter, matcha, cinnamon sugar…powdered sugar has and always will be my number one favorite though. Well, that and maybe cinnamon sugar. It's hard to decide. Chocolate glaze is always good, too. But you can't go wrong with regular glaze either. Man, I forgot how much I loved donuts. Not for their deep-fried greasiness but for their sugary, fluffy chewiness and sticky sweet toppings and glazes.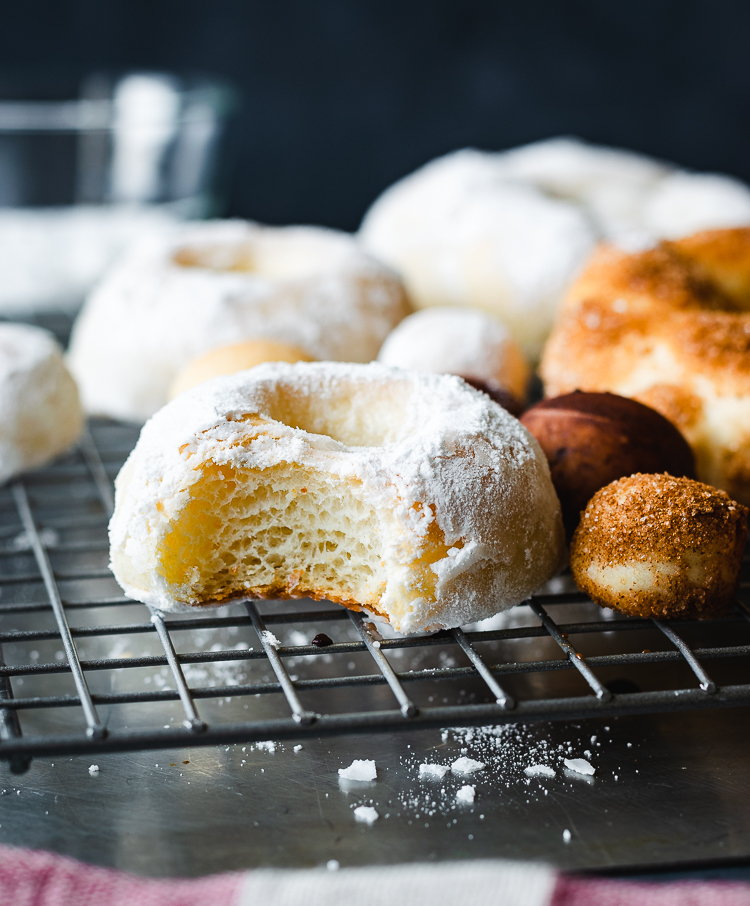 When I was little my dad would take my brothers and I out to donuts for breakfast on the weekends. I'd always order two donuts — one was always powdered sugar, the other was probably chocolate. I loved getting powdered sugar all over me and licking it off my fingers. Maybe not the healthiest of breakfasts, but it made for the fondest of memories.
At some point we started going less and less to get donuts on the weekends, and now we don't really go out for donuts anymore. I love trying vegan donuts from any town I pass through that has them. I love searching for vegan goodies in general, but especially donuts since they're more complicated to make than cookies or cake. I always told myself I'd try to make my own donuts, but I don't own a deep fryer and it didn't seem reasonable to invest in one since I don't deep-fry anything else.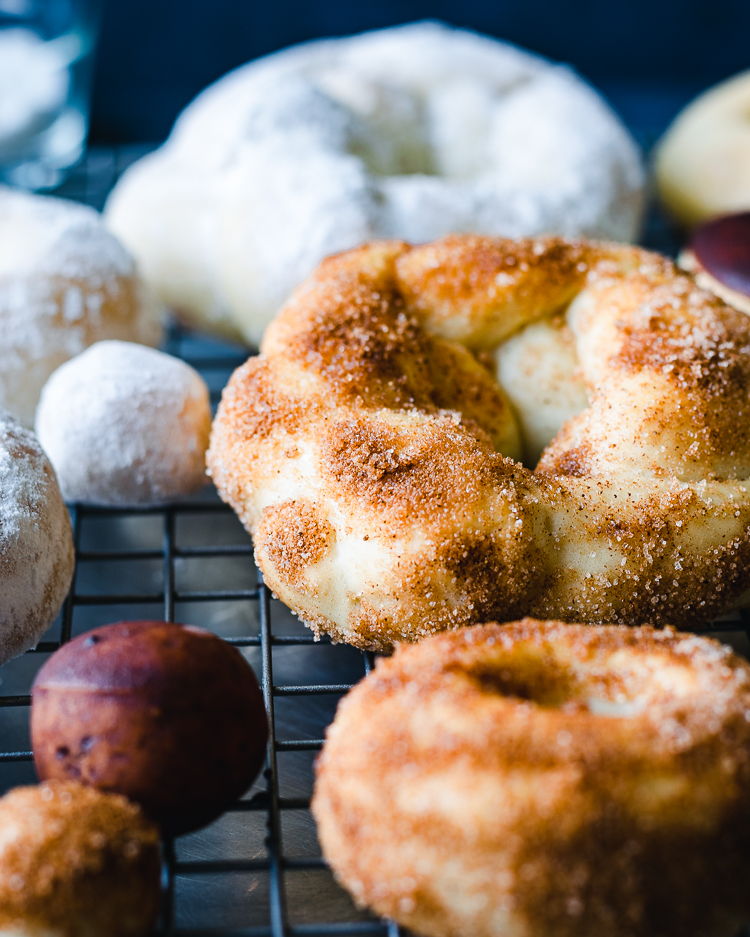 But hey, baking is the new frying am I right? Baked french fries, baked "fried" chicken, baked donuts!! Luckily I'm a health freak and anything I know is slightly healthy(er) automatically tastes 5x better to me. lol just kidding, but actually I love these baked donuts because they're just as fluffy and chewy and tender but don't leave you feeling heavy and sluggish, plus you can eat more of them 😉 I basically ate the entire batch by myself in two days…
Start with the base dough and glaze to your liking!
I didn't include any recipe for the glazes, as you can find basic ones online already (it's mainly just powdered sugar + water/milk, + cocoa powder for chocolate glaze). My chocolate glaze was too thin so it didn't thicken up the way I wanted it to, so make sure you follow the sugar:liquid amount correctly haha. For the powdered sugar and cinnamon/sugar mixture, I brushed the donut with some almond milk first then rolled them in the sugar mixtures. If you want to make filled donuts, don't cut out little donut holes, and fill them after baking.
And if you don't have a donut cutter, don't worry! You can use anything that's circular and big enough for whatever size donut you want. I used a mason jar lid to cut out the donut shape and found a smaller circular cookie cutter to cut out the donut hole. Also, donuts can be a bit tricky if you're not used to baking with yeast, so I recommend watching some tutorials first so you get an idea of what you should do. Hopefully I'll have my own video up for it in a couple of weeks, but for now YouTube is a good option 🙂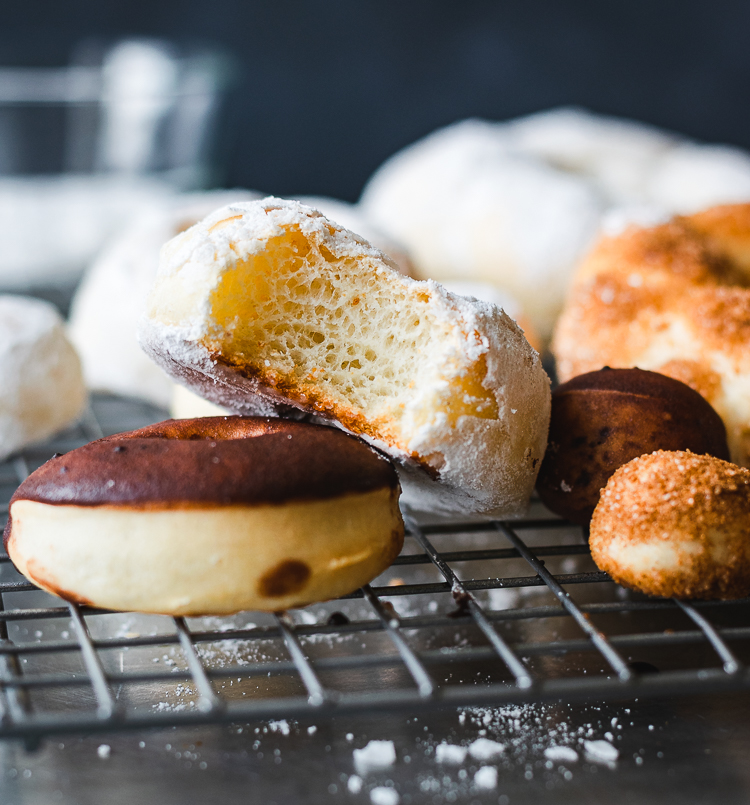 Still hungry?
Check out these other vegan baked goodies!
If you try out this recipe, don't forget to tag me in your photos on instagram @ellielikes.cooking and/or leave a comment down below and let me know how you liked it! I love seeing your tasty recreations 🙂

Baked Yeast Donuts (Vegan)
Fluffy, chewy, tender morsels of sugary gluten heaven. Baked instead of fried but still dangerously addictive, these vegan donuts will become your new breakfast favorite.
Ingredients
Donuts
1/2

cup

bread flour

1/2

cup

all purpose flour

1

tbsp

sugar

1/8

tsp

salt

1/2

tsp

instant yeast

1/2

cup

plant-based milk*

room temperature

2

tbsp

coconut oil, melted

2

tbsp

plant-based milk
Instructions
Whisk together flours, sugar, salt, and yeast in a large bowl. Add coconut oil and 1/2 cup milk. Mix with a wooden spoon until a dough starts to form.

Flour your work surface and turn out the dough onto the surface. It will be sticky so flour your hands, too. Knead the dough until it forms a smooth dough, adding flour as needed. The dough will stick to your hands at first, but as you continue kneading it should get less sticky. This usually takes around 10 minutes.

Form the dough into a ball and place in a big, greased bowl. Cover with saran wrap or a towel and place in a slightly warm area (usually in the oven with the light on will work, or some ovens also have a bread proof setting). Leave the dough to proof until it doubles in size, about 1-2 hours depending on the climate. To test if it has proofed correctly, push down in the center of the dough with two fingers. If the indentation stays, it is done proofing. If the indentation disappears, continue to proof and check every 5 minutes.

After the dough has proofed, punch down the dough with your fist and transfer to your work surface (floured if needed to prevent sticking). Knead briefly for 1 minute, then roll out into width of about 1/2″.

Cut out donut shapes, and re-shape/roll dough out as needed. You should be able to make 10 mini donuts, or 5 normal sized.

Place donuts on a baking tray lined with parchment paper. Cover with saran wrap and place in warm area again for 20-30 minutes, or until doubled in size. To test if it has proofed correctly, touch the side of the dough lightly with your fingertip. If the indentation stays, it is ready for the oven. If the indentation disappears, place back in the warm area and continue to proof, checking every 5 minutes.

Preheat oven to 325°F. Brush the tops of the donuts with remaining milk. Bake for 20 minutes. They should start to brown on top and bottom (be careful not to burn them).

Once they have baked, remove the donuts to a cooling rack and let them cool for a few minutes. When they are no longer hot but warm enough to handle, you may add your toppings/glazes. I opted for a cinnamon/sugar mixture, powdered sugar, regular glaze, and chocolate glaze.
Notes
*Opt for a higher-fat milk such as soy milk or coconut milk for optimum taste and tenderness. You could also make your own almond milk with 1c almonds to 2c water.
Save for later!