A crisp, sweet, refreshing treat for when you get tired of eating cake and cookies for dessert every day. A crispy, oil-free crust baked then filled with a creamy banana filling and frozen, topped with sweet, juicy berries to complete. 
Jump to Recipe
Truth be told, I wasn't planning on making these at all. Frozen banana treats were the last thing on my mind when I walked in the kitchen yesterday. My original plan was to try to make fruit tarts. I was so focused on getting the crust to work out that I didn't even think about what I was going to fill them with. So once my crusts came out of the oven all crispy golden, I panicked as I realized I hadn't given any research or thought to how to make vegan custard. So in my frenzy I quickly threw in the last of my coconut cream, a banana, and some tapioca starch into a blender in an attempt to create something of a creamy and thick filling. Then as they were baking I remembered that bananas get so much more creamy when frozen. What the heck was I doing trying to bake the filling? So I took them out of the oven and let them cool for a bit, just to see if they would firm up. But melted banana is not nearly as good as frozen banana, so into the freezer they went and out came these deliciously frozen fruit tarts.
If you're ever recipe developing, learn from me and make sure you plan out the entire recipe before you start. Sounds like common sense, but when you get really focused on something it's easy to forget about the bigger picture. Not that I really regret it though, because I still ended up with some delicious treats. Not to mention they are vegan, oil-free and only contain 1 tablespoon of added sugar (the banana is the only sweetener for the filling).
The most time-consuming part of this recipe is molding the crusts into muffin tins 12 times, but if you have an actual pie pan (which I don't) then you can just spread the crust into that pan all at once and save about 20 minutes of your life. For toppings I chose to use berries, since my original plan was a fruit tart. However, you can use any toppings you'd like really, such as nuts, seeds, chocolate drizzle, chopped up candy bar, get creative! That's the beauty of no-bake recipes (I guess mine's half-bake? don't forget to bake the crust!!), there's not as much science involved as there is taste, so you can adjust/add ingredients and taste as you go. That's when it gets really fun 🙂
I hope you enjoy these as much as I do! Don't forget to leave a comment down below or tag me on instagram @ellielikes.cooking so I can see your recreations 🙂 Happy baking!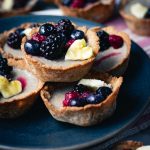 Print Recipe
Frozen Banana Fruit Tart (Vegan & Oil-Free)
A crispy, lightly-sweetened crust filled with a creamy banana filling and topped off with sweet, juicy berries. The perfect treat for when you're craving something sweet but don't quite want to indulge. 
Ingredients
Crust
3/4

cup

flour

AP recommended

1

tbsp

sugar

pinch of salt

5

tbsp

coconut cream

cold, refrigerated
Filling
3/4

cup

coconut cream

1.5

bananas
Instructions
Crust
In a large bowl, mix together flour, sugar, and salt. Add coconut cream and mix until you can pinch the dough together with your fingers and it doesn't fall apart. You may need to add more coconut cream, or ice water (1 tsp at a time). 

You should be able to roll the dough into a big ball without it falling apart. Wrap the dough ball in saran wrap and place in fridge for 15 minutes. 

Preheat your oven to 325°F. Take your crust and roll it out into a big circle, then cut out 12 mini circles to fit your muffin pan. Or, you can pinch off small pieces of dough and roll them out into mini crusts to fit your muffin pan. Using a fork, prick a few holes in the bottom of your crusts to let steam escape. Bake for 8-10 minutes, or until golden brown.
Filling
Mix coconut cream and bananas in a blender. When your crusts are done, let them cool for a bit and when ready to handle, pour in your filling and then place the tarts in the freezer. Freezing time will depend on your freezer, so check after an hour to see if the filling has firmed up. 

Just before serving, add your toppings. Store leftovers in the freezer.