Light & refreshing veggie-packed salad with the lingering taste of summer. Paired with a vegan and oil-free avocado dressing, this salad makes the perfect side dish or dip for chips.
Jump to Recipe
What do you do when you have excess corn in your fridge and are too lazy to cook with it? Or your favorite chili and corn bread recipes just don't use enough corn? Or if you're like me and you don't like cream sauces (even if it's vegan and not actually cream) so you don't wanna make corn chowder?? You throw it in a giant salad bowl with some other delicious veggies and boom — this light & refreshing Mexican-Inspired Corn Salad is born! (and ready to transport you back to those warm and happy summer days :))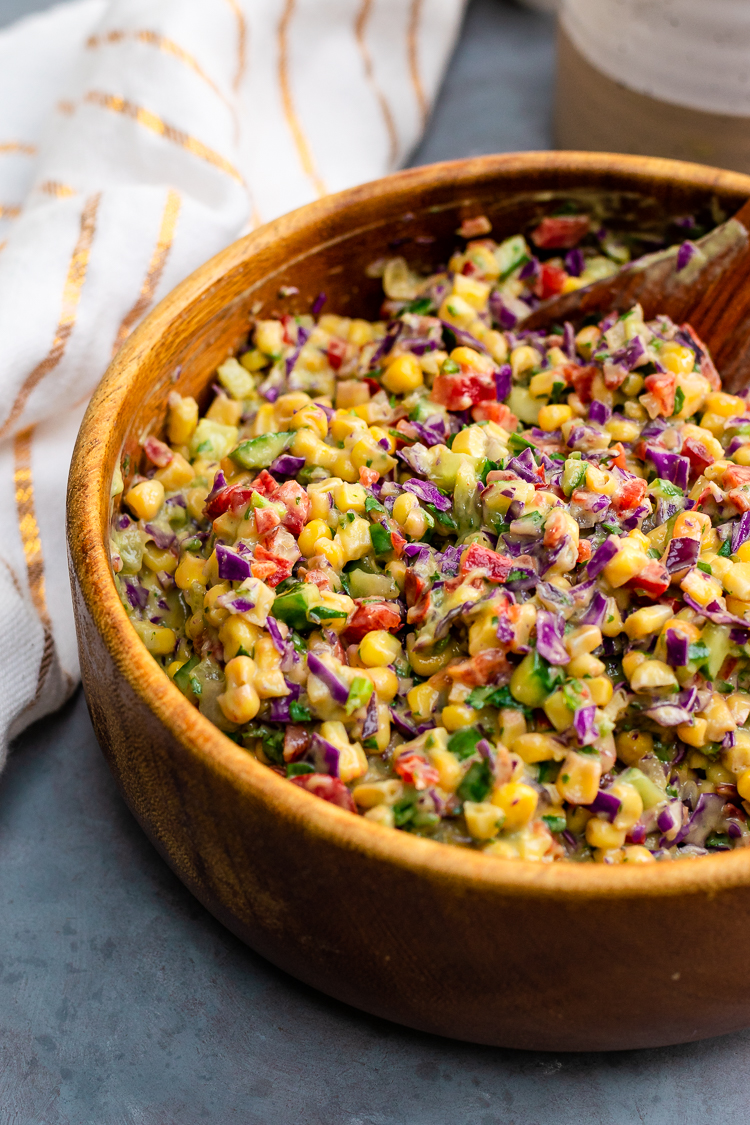 So, you may be wondering how I ended up with so much excess corn (or not, but I'm gonna tell you anyway 'cause it's a fun story). It was a typical Wednesday morning. I was having breakfast, making my oatmeal, and I opened up the freezer to grab some frozen mangoes for my oats. But when I grabbed the bag, the mangoes felt kind of…mushy. I poured them out onto my oats and they definitely did not look frozen. Then it hit me and I opened the freezer again to check the other food, and sure enough, things were melting and felt oddly warm for a freezer.
So our main fridge/freezer was broken, and full of food and leftovers that were much warmer than they should be. Luckily we have a second fridge, albeit much much smaller than our main fridge with an even smaller freezer space. This fridge also had food it in already, but my dad and I scrambled to save as much as we could from our broken fridge/freezer and shove it into the smaller fridge. Long story short, the tiny freezer space was too precious for the corn to stay in so I had to figure out something to do with it (food waste makes me extremely sad).
I went to the internet first to find a good recipe that would use up all the corn I had, but unfortunately the only vegan recipes I found using corn as the main ingredient were corn chowder and creamed corn — and I am not a huge fan of cream-based recipes (vegan or not). So then I remembered that my mom makes a Mexican corn and bean salad a lot, which is super easy and super tasty, but we didn't have any beans. Plus I had a bunch of other veggies to use up since we were tight on fridge space. So this salad was kind of a throw together of whatever veggies I had on hand that I thought would go well together, plus an avocado dressing to use up the slightly over-ripe avocado in our fridge.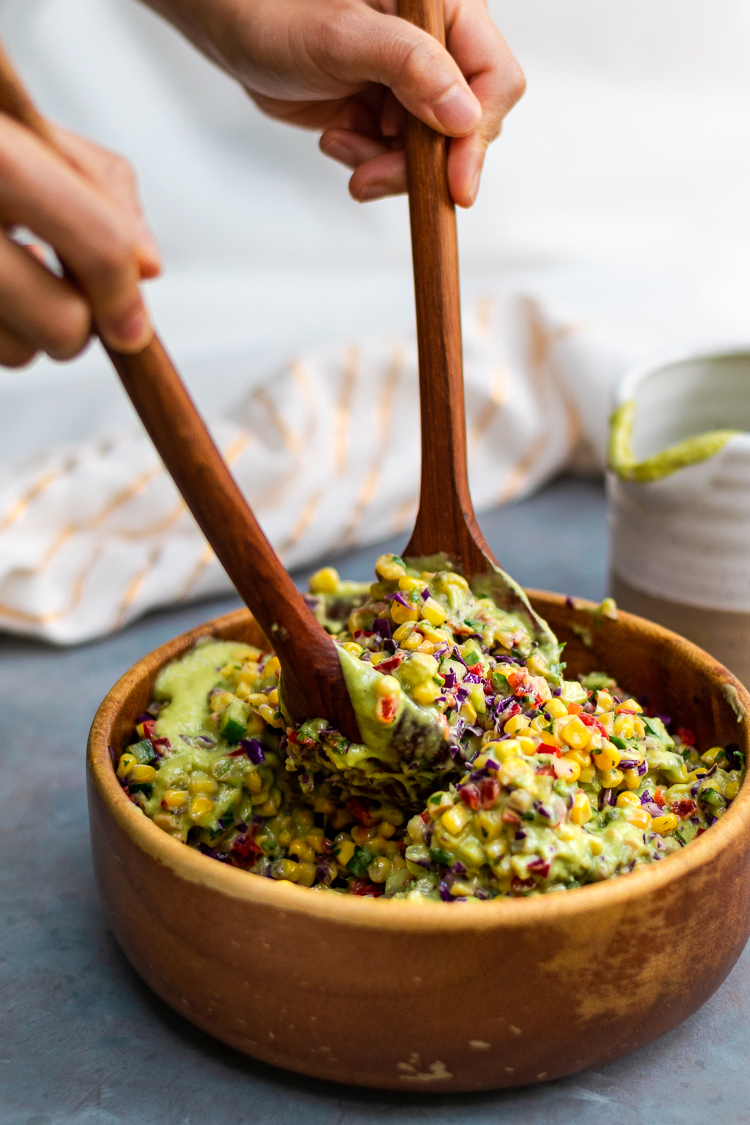 Ingredients
This Mexican-Inspired Corn Salad requires 11 basic plant-based ingredients:
corn: fresh, frozen, or canned will work
red onion
red bell pepper
cucumber
red cabbage
cilantro
paprika
avocado
garlic powder
lime
green onions
I love the taste of fresh veggies as they are, so I don't add much salt when I cook, which is why I typically don't have an amount for salt in my recipes. Therefore you can taste and adjust to your taste buds as you go. This would also be good with some chopped tomatoes thrown in (I didn't have any), or even some salsa. I served this as a side with dinner, but if you're not too hungry this could easily be a main with rice or a tortilla on the side. Throw in some black beans too for extra protein and you'll have a yummy and satisfying meal 🙂 Get creative!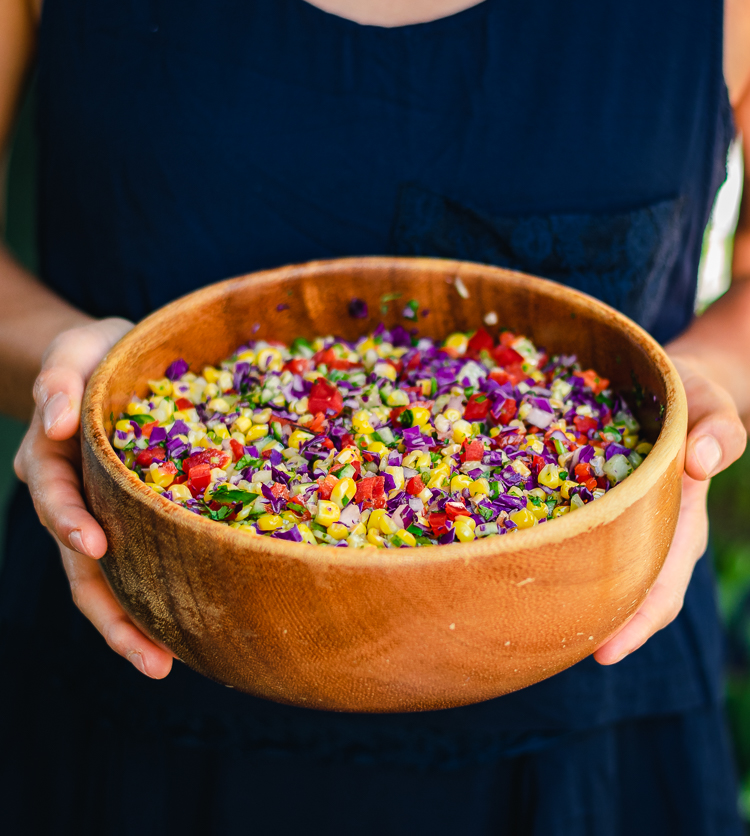 Still hungry?
Check out these other fresh & tasty salads!
If you try out this recipe, don't forget to tag me in your photos on instagram @ellielikes.cooking and/or leave a comment down below and let me know how you liked it! I love seeing all of your tasty recreations 🙂 Happy cooking!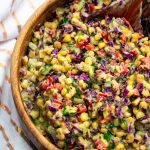 Print Recipe
Mexican-Inspired Corn Salad
Light & refreshing veggie-packed salad with the lingering taste of summer. Paired with a vegan and oil-free avocado dressing, this salad makes the perfect side dish or even filling for tacos.
Ingredients
Salad
1

16 oz bag

frozen corn

thawed and pat dry

1/4

red onion

chopped

1/2

red bell pepper

chopped

1

cucumber

chopped

1/4

red cabbage

chopped

1/4

cup

cilantro

chopped

1/4

tsp

paprika

salt & pepper

to taste
Dressing
1

avocado

1

tsp

paprika

1/4

tsp

garlic powder

1

lime

juiced

2

green onions

salt & pepper

to taste

water as needed to thin
Instructions
Salad
Mix everything together in a big salad bowl.
Dressing
Combine all ingredients in a blender, adding water as needed to blend or reach desired consistency. Be careful not to add too much though, as the flavor will dilute the more water you add.
Save for later!