Warm, cozy, and delicious, this miso curry is packed with veggies, spices, and heart-healthy fats. Just 7 base ingredients and 30 minutes is all you need for an easy and satisfying dinner!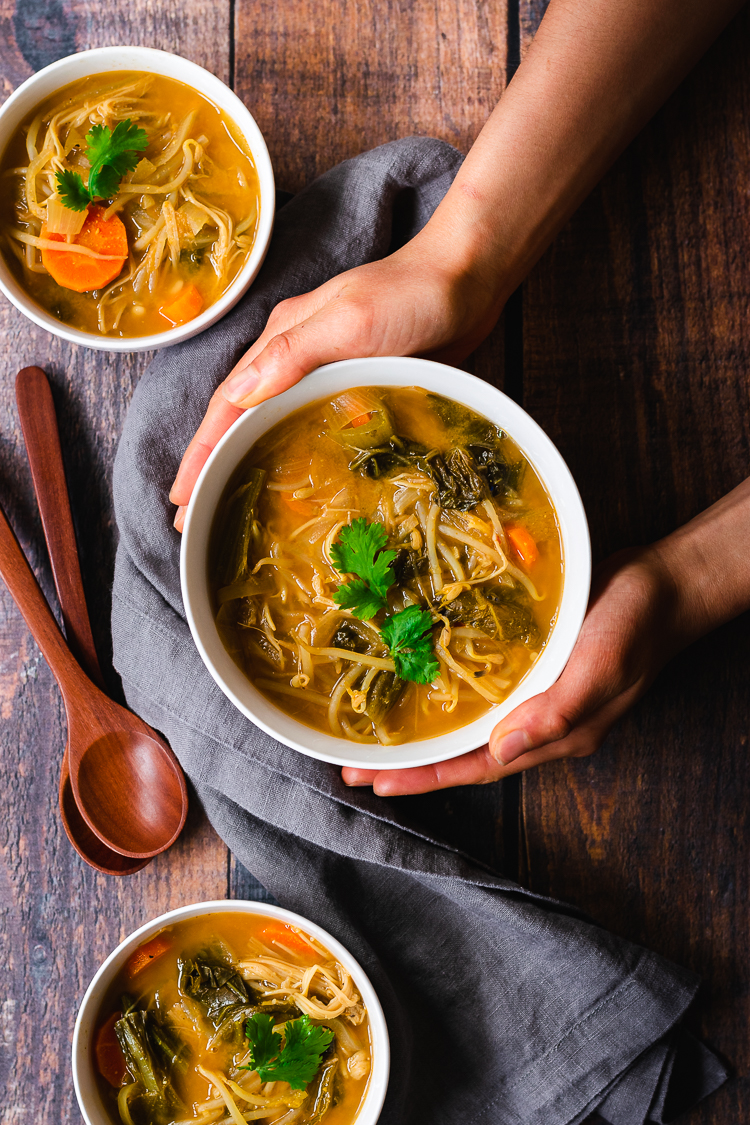 Peanut butter and miso are a surprisingly wonderful flavor combination. I first discovered this with my peanut miso soup (which I still make at least once a week because it's just that addicting), and while I thought about making a stir-fry sauce with this delectable flavor pair, I just love soups and stews and anything that can include slurp-able noodles.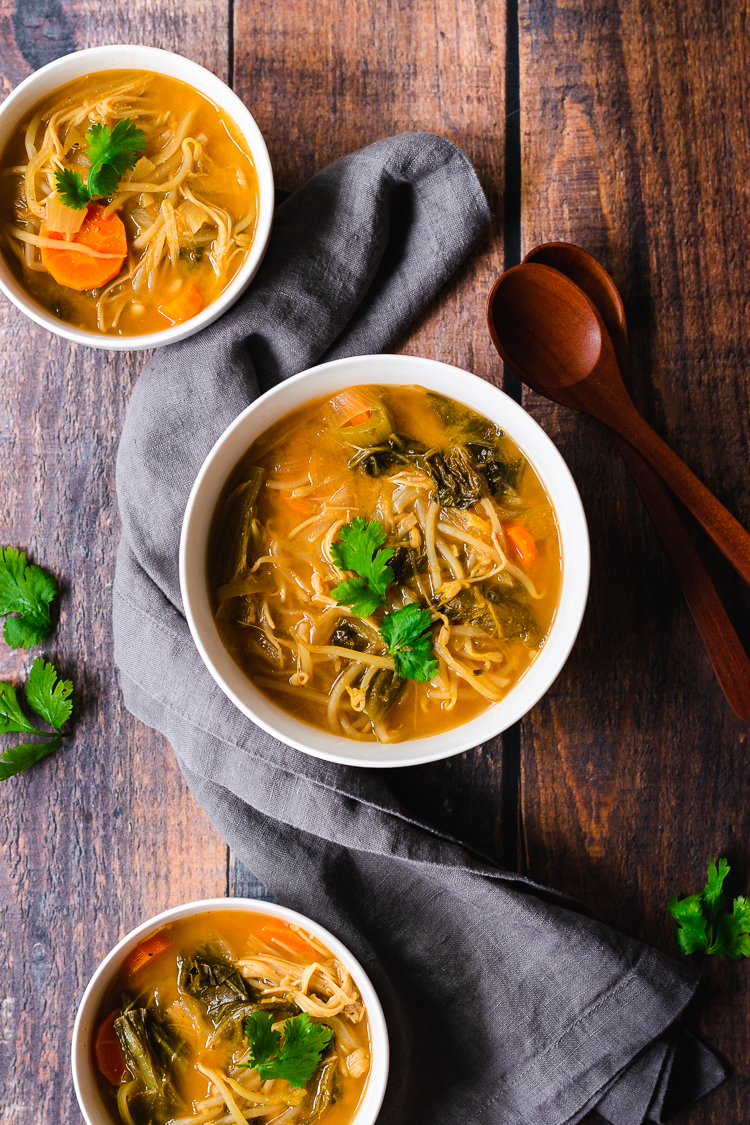 So I decided on a soup, but since I already have a peanut butter miso soup recipe on the blog, I had to be a little more creative. The peanut miso soup is delicious, so this isn't an improvement on that. This recipe is just a little variation, a different combination of flavors. That's when I remembered that peanut butter also pairs really well with curry powder (hence this vegan peanut curry). Now what we've learned is: miso pairs really well with peanut butter, and peanut butter pairs really well with curry powder. So by the transitive property, miso must pair really well with curry powder, too! And so this recipe was born 🙂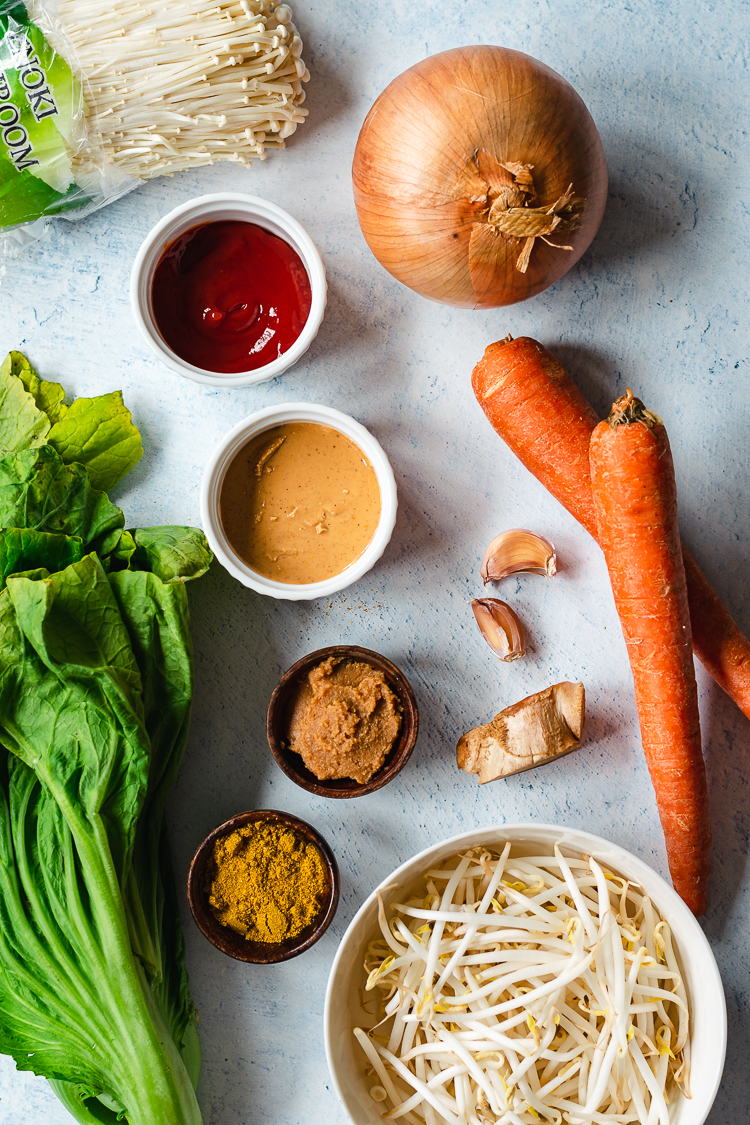 Ingredients
This peanut butter miso curry requires 7 base ingredients, plus any veggies you have on hand:
peanut butter, almond butter can be substituted if need be
red miso, red miso is my current favorite but white miso can also be used, it will be a little sweeter though
curry powder, this is where a good chunk of flavor comes from so make sure you pick a brand that you like (S&B curry powder is my favorite)
mirin, adds a hint of sweetness and creates an extra depth of flavor, but can be omitted if necessary
tomato paste, adds umami flavor, can be replaced with ketchup in a pinch
garlic
ginger
Once you have those base ingredients, the rest are up to you! Add any veggies of choice or whatever is left in your fridge, plant protein of choice (tofu, chickpeas, lentils), and serve with rice, noodles, or bread to complete your meal.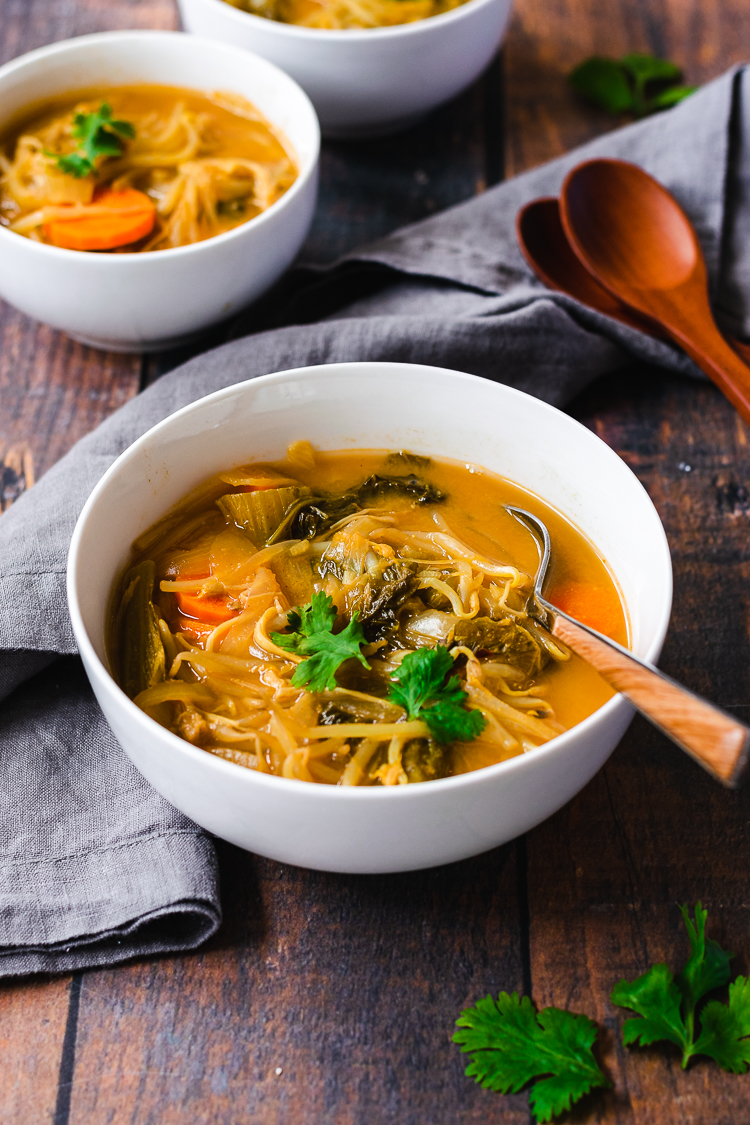 This peanut butter miso curry comes together in roughly 30 minutes, making it the perfect quick & easy weeknight dinner. It's also a super easy way to get in your veggies and healthy fats. With summer approaching you may not want to eat a hot bowl of soup, but trust me, you do not want to miss out on this! It's the ultimate comfort food that doesn't leave you feeling heavy and over-indulgent.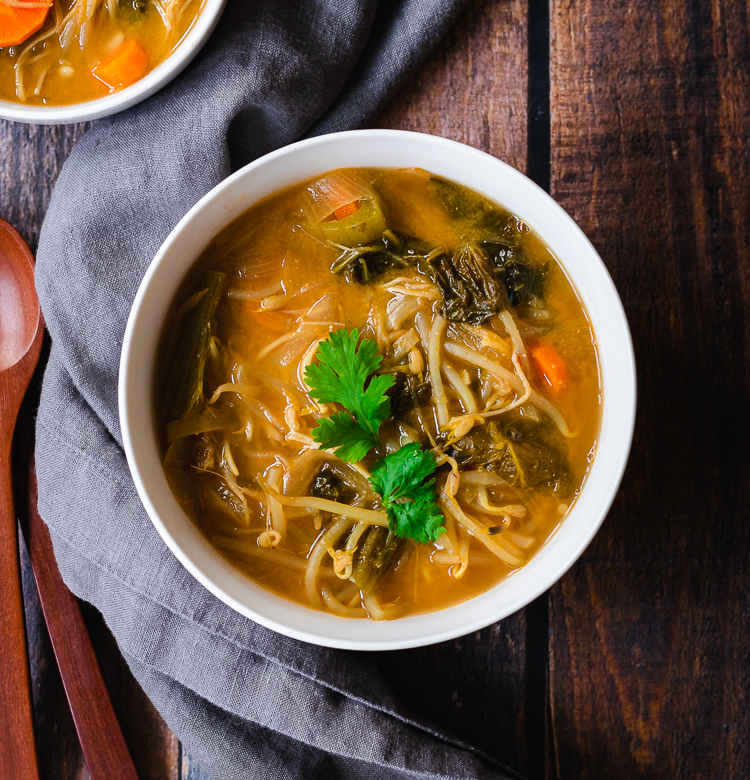 Still hungry?
Check out these other comforting soups & stews!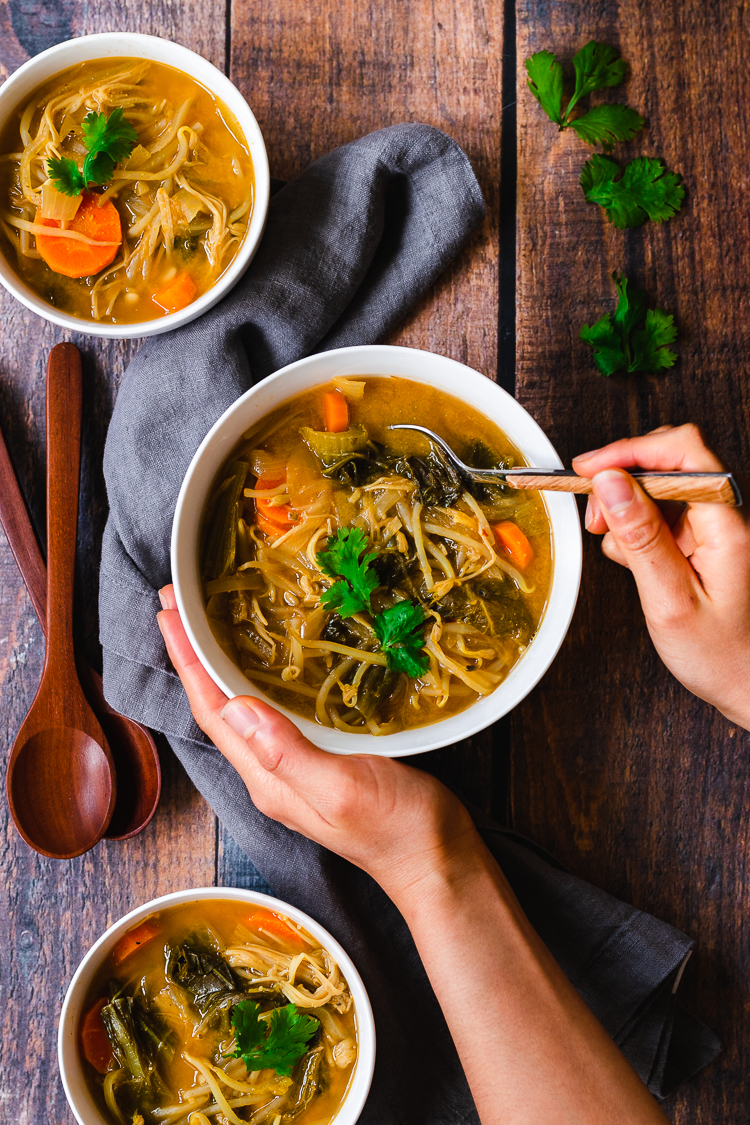 If you do try out this recipe, please don't forget to tag me in your recreations on instagram @ellielikes.cooking and/or leave a comment down below and let me know what you thought. I love connecting with you and am always eager for any feedback 🙂 Happy cooking!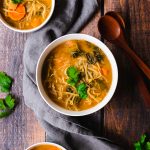 Print Recipe
Peanut Butter Miso Curry
Warm, cozy, and delicious, this miso curry is packed with veggies, spices, and heart-healthy fats. Just 7 base ingredients and 30 minutes is all you need for an easy and satisfying dinner!
Ingredients
2

garlic cloves

minced

1

tbsp

grated ginger

1/4

onion

sliced

2

carrots

sliced

2

cups

water

1

package

enoki mushrooms

2

cups

leafy greens

1

cup

bean sprouts

1

tbsp

mirin

1/4

cup

tomato paste

1

tbsp

curry powder

1/4

cup

peanut butter

1

14 oz block

tofu

cubed

1

tbsp

red miso

1

handful

cilantro leaves

optional for garnish
Instructions
Add onions, carrot, garlic, and ginger to a large pot over medium-high heat with a splash of water. Cook until onions turn translucent and carrots start to soften.

Add remaining vegetables, water, mirin, tomato paste, curry powder, and peanut butter. Bring to a boil then simmer until veggies are cooked through, mixing occasionally.

Add tofu and mix gently. Turn off the heat. Remove some of the liquid into a small bowl and add the miso, mixing until the miso is fully combined with the liquid. Then add the mixture back to the pot and gently mix to combine.

Serve with noodles or rice and garnish with cilantro.
Save for later!


Disclaimer: This page may contain affiliate links. As an Amazon Associate I earn a small commission if you purchase something through one of my links, but the price remains the same to you. Thank you for supporting Ellie Likes Cooking!