A soft & fluffy loaf of bread studded with swirls of rich, sweet chocolate. An undetectably vegan and wholesomely delicious breakfast, snack, or even dessert!
Jump to Recipe
This chocolate marble bread is all you ever need for breakfast, or snack, or dessert. It's chewy and fluffy with just the right amount of sweetness and chocolate. Eat it plain or toast it and top it with peanut butter, pair it with a hot cup of coffee and you're set! This is easily my new favorite sweet bread (this melon bread is second, although these donuts are also good). And it will soon become your new favorite, too! It is a little time consuming, but the actual manual labor put into it isn't so bad. And it's totally worth it. And it's freezer-friendly, so you can make a double or triple batch and be set for weeks!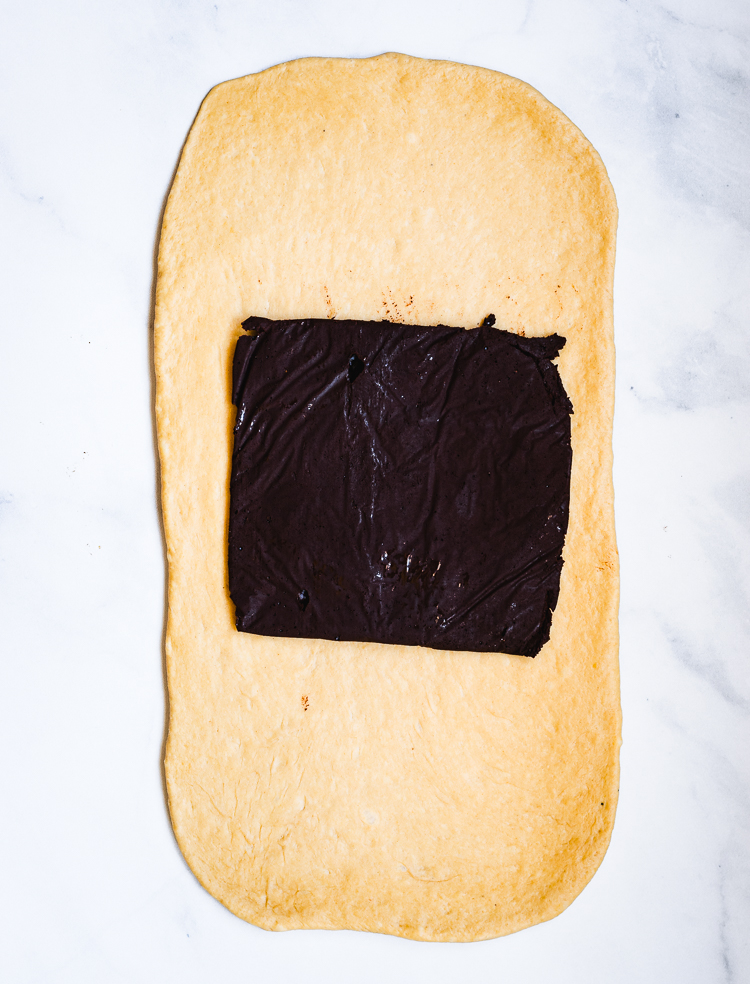 This loaf was inspired by a similar bread I often ate as a kid when I visited Japan. I've always loved chocolate, but swirling chocolate into bread is delicious on a whole other level. Traditionally it's made with butter, eggs, and milk, but my version is kept vegan-friendly by using oil and almond/soy milk. I also switched out half of the flour for whole wheat pastry flour to add a little extra wholesome-ness. And to get that nice browning on top that is usually achieved with an egg wash, I used a mixture of soy milk + maple syrup. The soy milk mimics the fat and protein found in eggs to give the bread a nice golden brown color, while the maple syrup adds a sweet crunchy layer.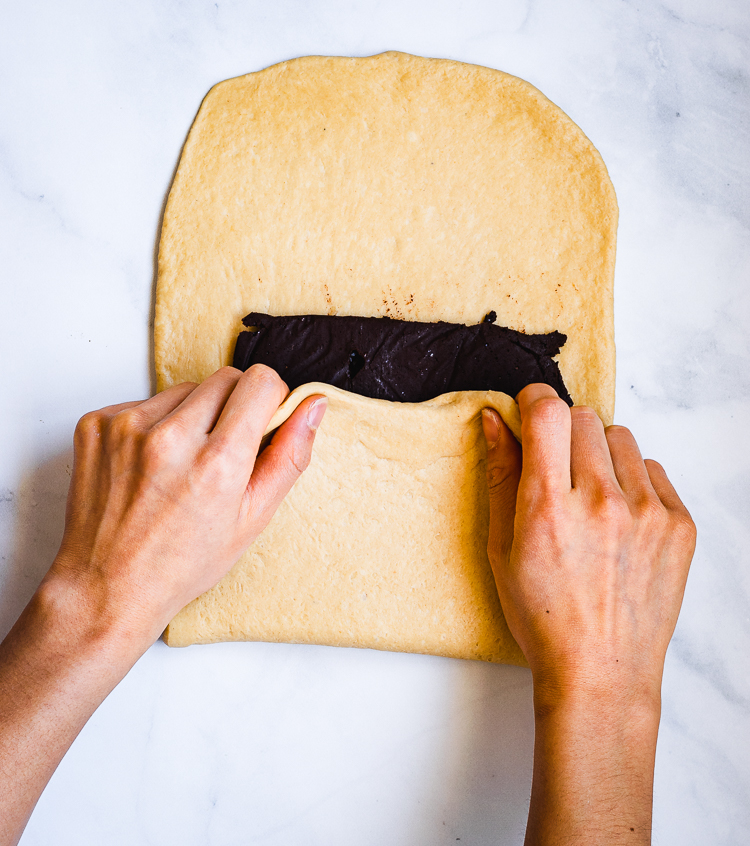 I also highly recommend adding in the vital wheat gluten, as it will help your bread rise more by developing the gluten, thus producing a fluffier loaf. I like to add it to breads that replace some of the bread flour with whole wheat flour, since whole wheat flour has a lower protein content than bread flour and thus doesn't develop as much gluten. So it's a good ingredient to have on hand if you plan on baking more breads.
For the chocolate, I like to use dark chocolate from Trader Joe's since you can get a pound for $5, and incidentally there's no milk in their dark chocolate (#winning). I recommend using chocolate from a chocolate bar, as opposed to chocolate chips, since I hear chocolate chips don't melt the same due to a difference in fat content. I'm not 100% sure on that though — it probably depends on the brand too — but I've only ever made it with the Trader Joe's Pound Plus bar.
I hope you love this bread as much as I do! If you recreate it don't forget to tag me in your photos on instagram @ellielikes.cooking and leave a comment down below 🙂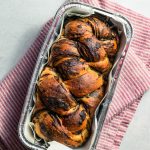 Print Recipe
Vegan Chocolate Marble Bread
A soft & fluffy loaf of bread studded with swirls of rich, sweet chocolate. An undetectably vegan and wholesomely delicious breakfast, snack, or even dessert! 
Ingredients
Bread
1/2

cup

bread flour

1/2

cup

whole wheat pastry flour

1

tbsp

vital wheat gluten*

optional

1/8

tsp

salt

2

tbsp

sugar

1/2

tsp

instant yeast

1/2

cup

plant-based milk (soy, almond, etc.)

2

tbsp

olive oil
Chocolate Sheet
2

tbsp

cocoa powder

3

tbsp

sugar

52

grams

dark chocolate**

melted

2

tbsp

plant-based milk

room temperature
"Egg" Wash
1

tbsp

plant-based milk

1/2

tsp

maple syrup
Instructions
Mix flours, gluten, salt, sugar, and instant yeast in a large bowl. Stir in milk and oil till combined, then turn out onto a floured surface. 

Knead with your hands for about 10-15 minutes, adding flour if needed. When ready, the dough should be smooth and just slightly sticky, but it shouldn't stick to your hands. Check out these tips for checking if your dough is sufficiently kneaded.

Roll your dough into a ball and place in a large greased bowl. Place a tea towel or saran wrap over the bowl and let the dough rest until doubled in size. This could take anywhere from 1-4 hours.

Meanwhile, prepare the chocolate sheet. Mix together cocoa powder and sugar. Add melted chocolate and milk.

Place mixture in between two pieces of wax paper or saran wrap. Fold the edges of the paper into a square shape around the chocolate mixture. Use a rolling pin to roll the mixture out into the square. Place in the fridge until ready to use.

To test if it the bread dough is done proofing, poke a hole in the center of the dough with your finger. If the hole doesn't close back up, it is ready.

Take the chocolate sheet out from the fridge. Punch down the dough and flip onto a non-stick or floured surface. Roll out into a rectangle and place the chocolate sheet in the center. Fold the rectangle into thirds, with one layer on top of the other. Roll out, then fold into thirds again. Cover in wax paper or saran wrap and place in fridge for 30 minutes.

Roll out the dough into a rectangle. Cut into 6 vertical strips, but don't cut all the way through the dough. Leave about an inch at the top uncut. Braid the strips into a loaf. Place in parchment-lined loaf pan, cover with saran wrap or towel, and let the dough rest until doubled in size. This could take 1-4 hours, depending on temperature.

Preheat oven to 350°F. Use a pastry brush to brush the top of the loaf with the "egg" wash. Bake for 35 minutes. Remove from loaf pan and let cool on a cooling rack. 
Notes
*Recommended as it will help develop more gluten thus producing a better rise and fluffier bread. However, it can be omitted if you do not have it.
**I used 4 squares of Trader Joe's 72% Dark Chocolate.
Save for later!