This vegan dorayaki is perfectly fluffy, sweet, and filling, made with oats and naturally sweetened with maple syrup and dates. It's healthier than traditional dorayaki but still deliciously satisfying.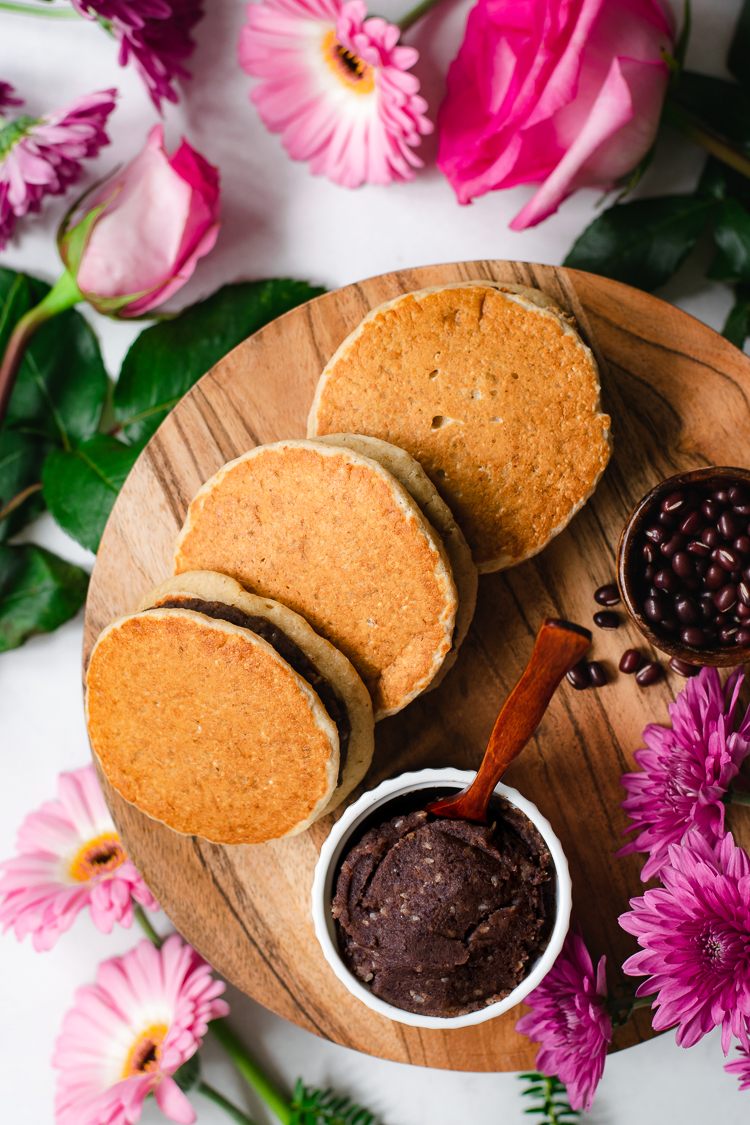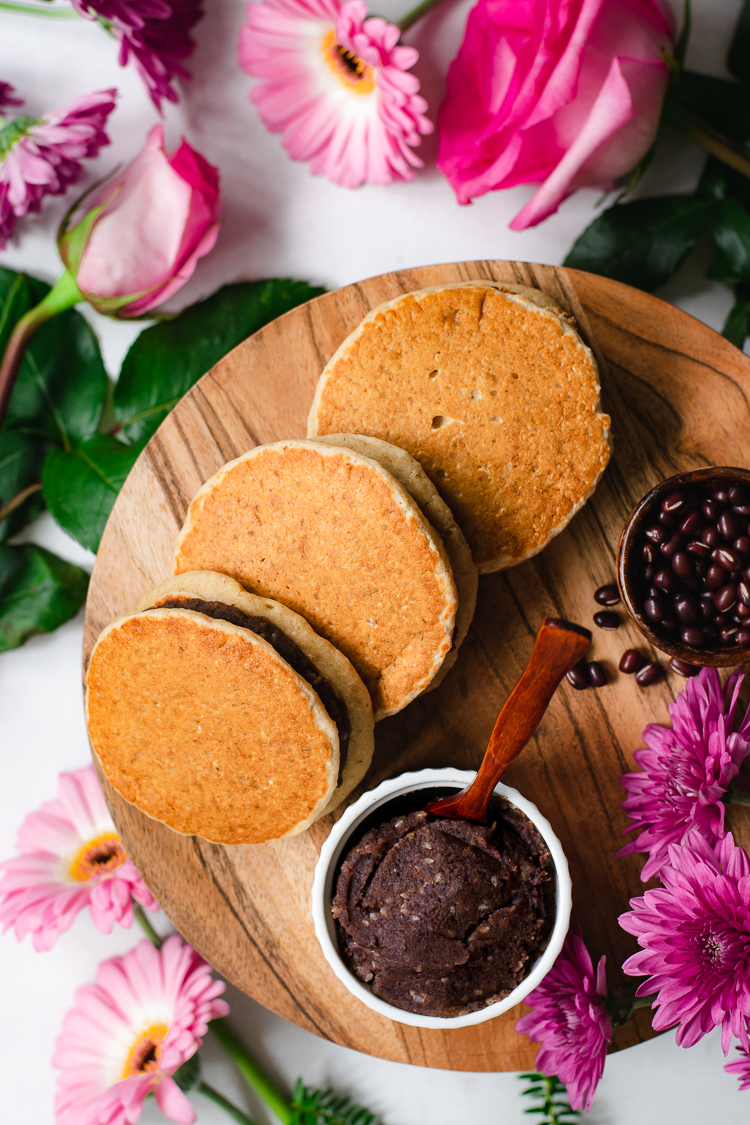 Dorayaki is a popular Japanese snack made of sweet red bean paste sandwiched between two sweet and fluffy pancakes. The pancakes are very different from American pancakes and more closely resemble castella, a Japanese sponge cake. Unfortunately, it's very hard to replicate a vegan version of these pancakes since their main ingredient is egg. So I'm not going to lie and say these vegan dorayaki taste exactly like traditional dorayaki, but they are delicious in their own right and are a wonderful vegan substitute.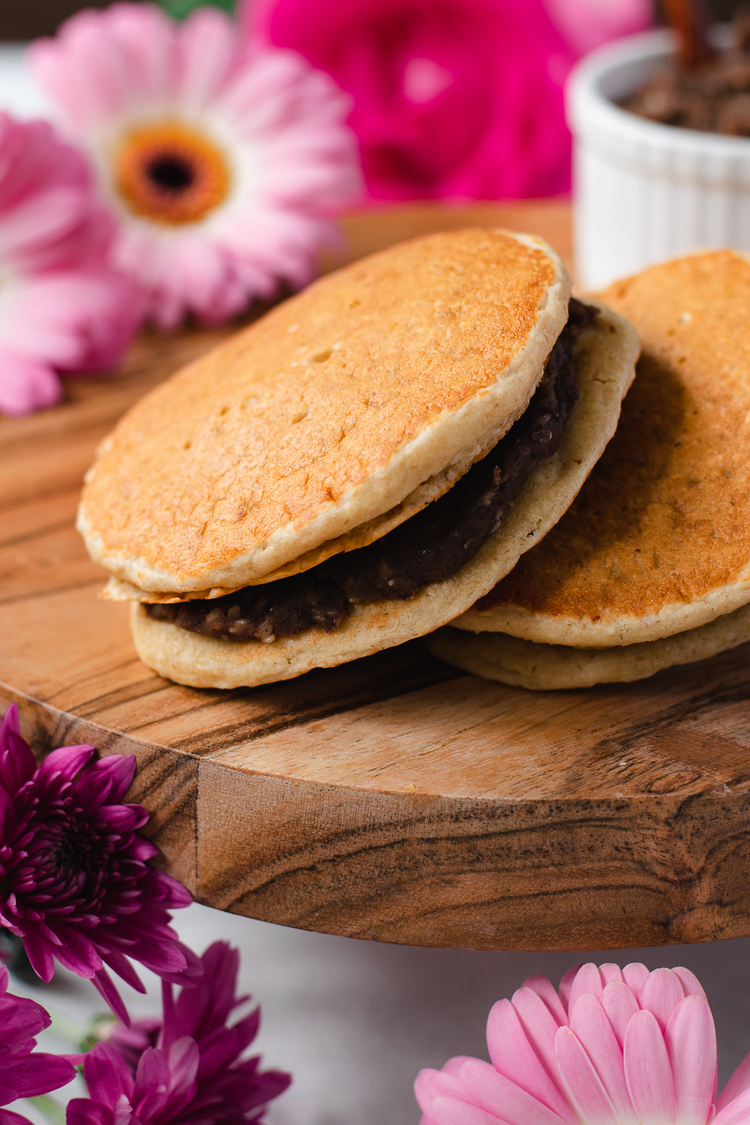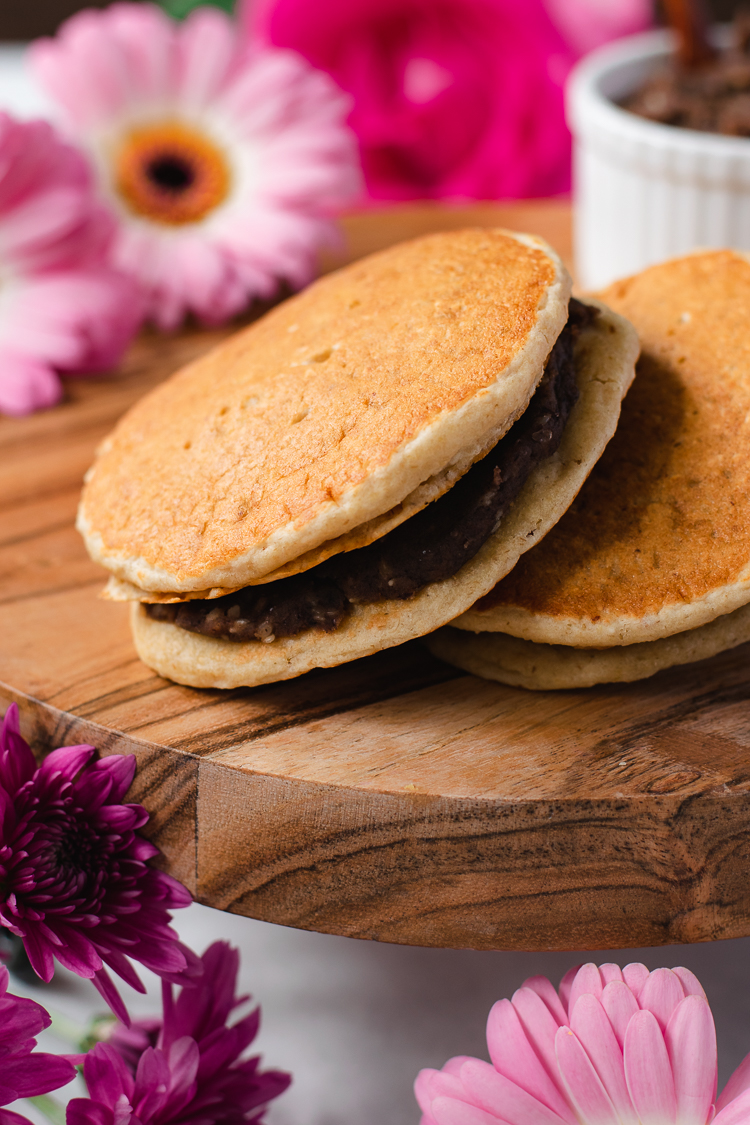 Ingredients
To make this vegan dorayaki, you need 10 basic ingredients:
oat flour, you can either buy store-bought or make your own by blending oats until they resemble flour
corn starch, to make it light and fluffy
olive oil, to add tenderness, without a fat source the pancakes will be gummy
mirin, Japanese sweet rice wine, to add a bit of sweetness and depth of flavor
maple syrup, to give the pancakes their subtly sweet flavor
baking powder, to help the pancakes rise and become fluffy
soy milk, you can use other plant-based milks but I like soy as it has the highest amount of fat/calories, making it creamier
vinegar, to curdle the milk to make a vegan "buttermilk", which helps the pancakes rise
adzuki beans, for the anko/red bean paste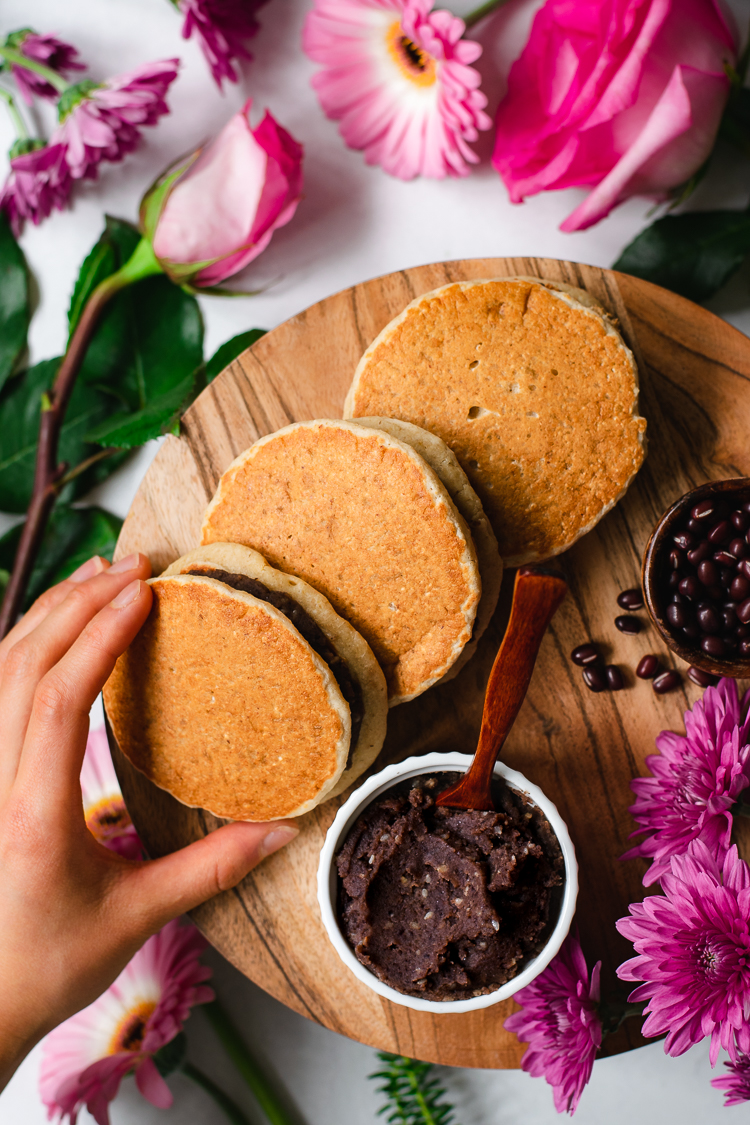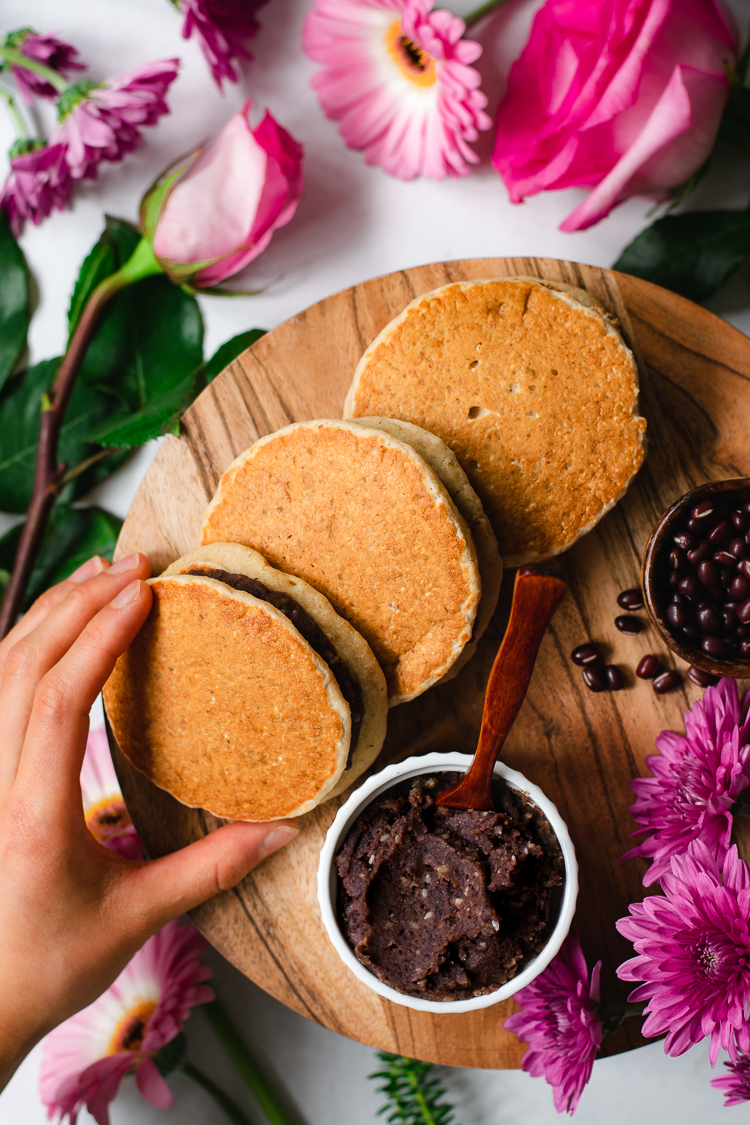 The anko can take some time to make, but if you have a pressure cooker it will speed up the process immensely. Just cook your azuki beans on high pressure for 25 minutes and they will become nice and soft. Then blend with dates until smooth and your anko is ready! If you don't have a pressure cooker, you can make the beans on the stove but it will take much longer and you will need to soak the beans overnight. Alternatively, if there's an Asian market near you, you may be able to buy pre-made anko. These are typically much higher in sugar though, so I like to make my own since I don't want my anko to be too sweet.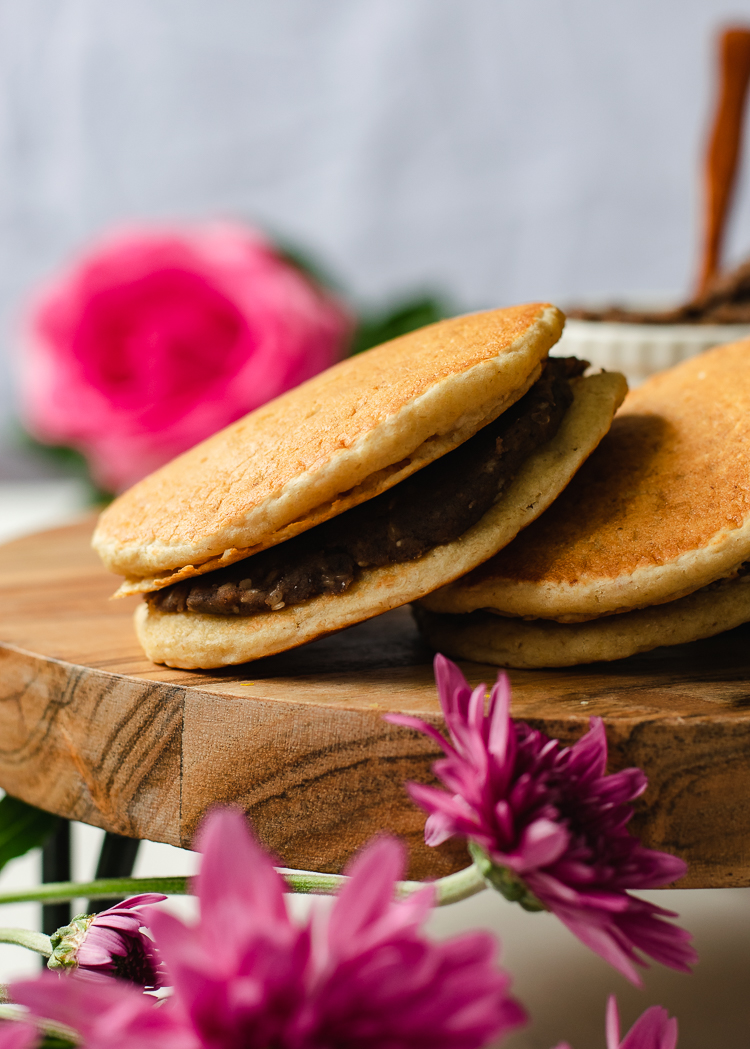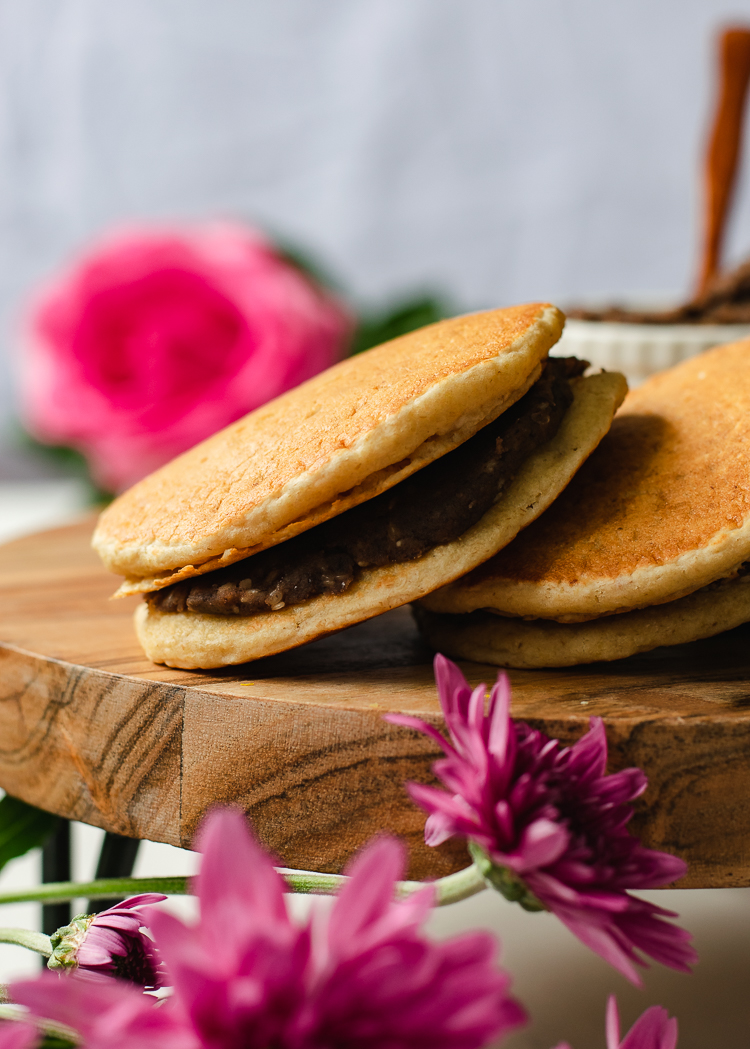 You can also change up the flavor of your anko by adding things like matcha powder, sesame seeds, cocoa powder/chocolate, etc. I added sesame seeds to mine and it gave it a nice nutty flavor. Pair your dorayaki with a hot cup of tea or coffee and you have the perfect afternoon snack!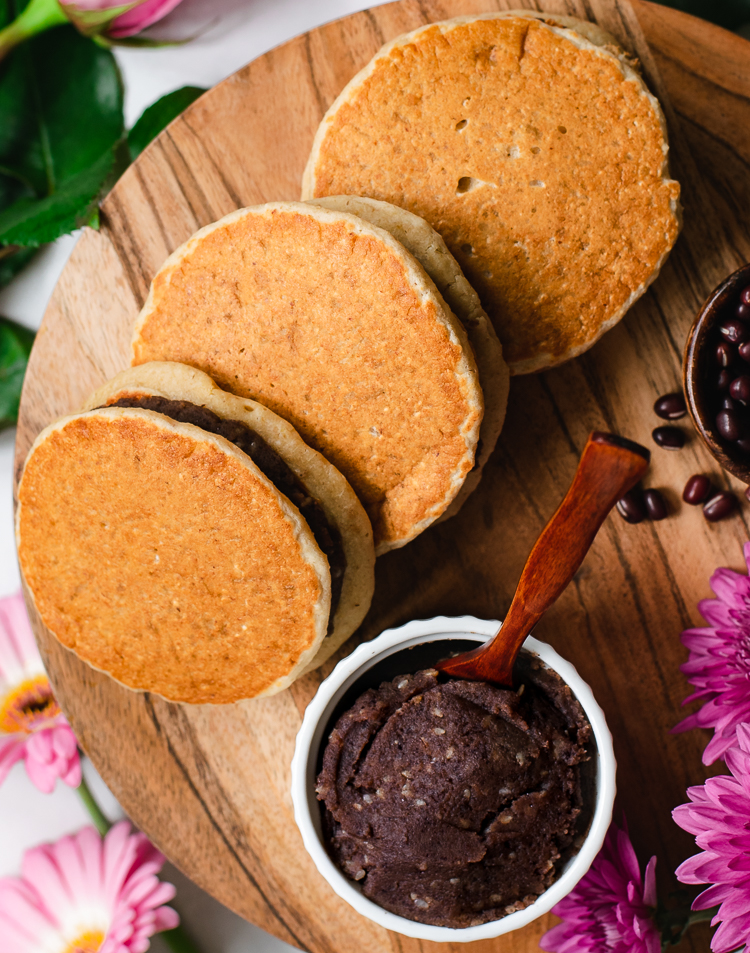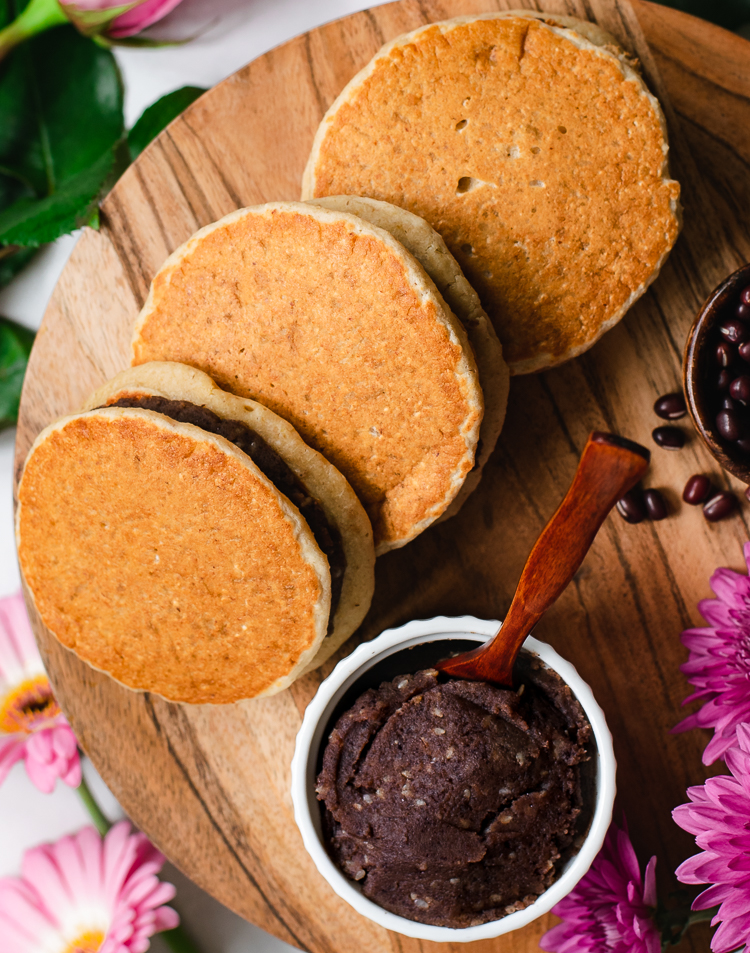 The pancakes are also really good on their own or drizzled with more maple syrup and eaten as regular pancakes. I was pleasantly surprised with how fluffy they turned out despite being made with oat flour. But since they're made with oats, that means they're totally acceptable for breakfast! It's like a step up from a regular bowl of oatmeal. And the anko adds protein sooo it's basically a perfectly complete meal. And if you make it all yourself, you can avoid a big sugar crash and not end up with overly sweet dorayaki.
Still hungry?
Check out these other healthy sweets!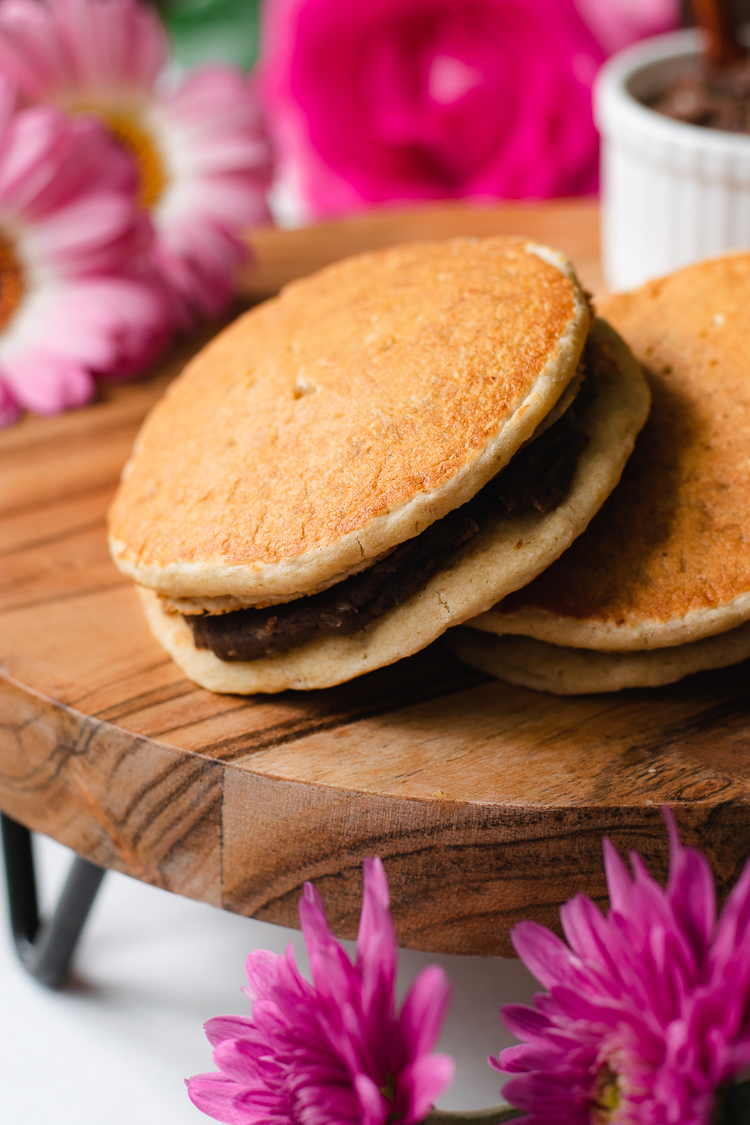 I hope you love these dorayaki as much as I do! If you do try it out, don't forget to tag me in your recreations on instagram @ellielikes.cooking and leave a comment down below letting me know how you liked them. I love hearing from you and am always eager for feedback! Happy cooking 🙂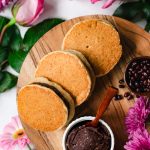 Print Recipe
Vegan Dorayaki
This vegan dorayaki is perfectly fluffy, sweet, and filling, made with oats and naturally sweetened with maple syrup and dates. It's healthier than traditional dorayaki but still deliciously satisfying. 

Ingredients
Anko (Sweet Red Bean Paste)
1/2

cup

dry azuki beans

2

cups

water

6

Medjool dates
Pancakes
3/4

cup

soy milk

2

tsp

apple cider vinegar

3/4

cup + 2 tbsp

oat flour

2

tbsp

cornstarch

1

tsp

baking powder

1

tbsp

olive oil

1

tbsp

mirin

1

tbsp

maple syrup
Instructions
Anko
Rinse and drain adzuki beans. Add beans and water to pressure cooker and cook for 25 minutes on high pressure. They should be very soft when they are done.

Add beans and dates to food processor and blend until smooth. Taste and add extra dates if needed. Set aside.
Pancakes
Mix together vinegar and soy milk. Set aside and let it curdle.

In a large bowl, combine oat flour, cornstarch, and baking powder.

When the soy milk has curdled, add the olive oil, maple syrup, and mirin and mix well. Pour wet ingredients into dry and mix briefly until well combined. Let the batter rest for 10-15 minutes. It will thicken as it sits.

Grease a pan over medium heat and wipe off any excess oil. Use a 1/4 cup measuring cup to scoop batter onto pan (this will help achieve a nearly perfect circle). Cook on each side for 2-3 minutes, until dark golden brown. Turn down the heat if it is too dark or burning quickly. Repeat until all the batter is used up. You should end up with about 8 pancakes. 

Take one pancake and spread a thick layer of anko on one side. Sandwich with a second pancake, and repeat with remaining pancakes. Serve immediately and store leftovers covered in fridge, or freeze if not going to be eaten in the next 3 days. 
Save for later!


Disclaimer: This page may contain affiliate links. As an Amazon Associate I earn a small commission if you purchase something through one of my links, but the price remains the same to you. Thank you for supporting Ellie Likes Cooking!