Learn how to make the most comforting yet healthy Japanese curry from scratch. Loaded with veggies and meaty jackfruit for a filling and nourishing one-pot dinner.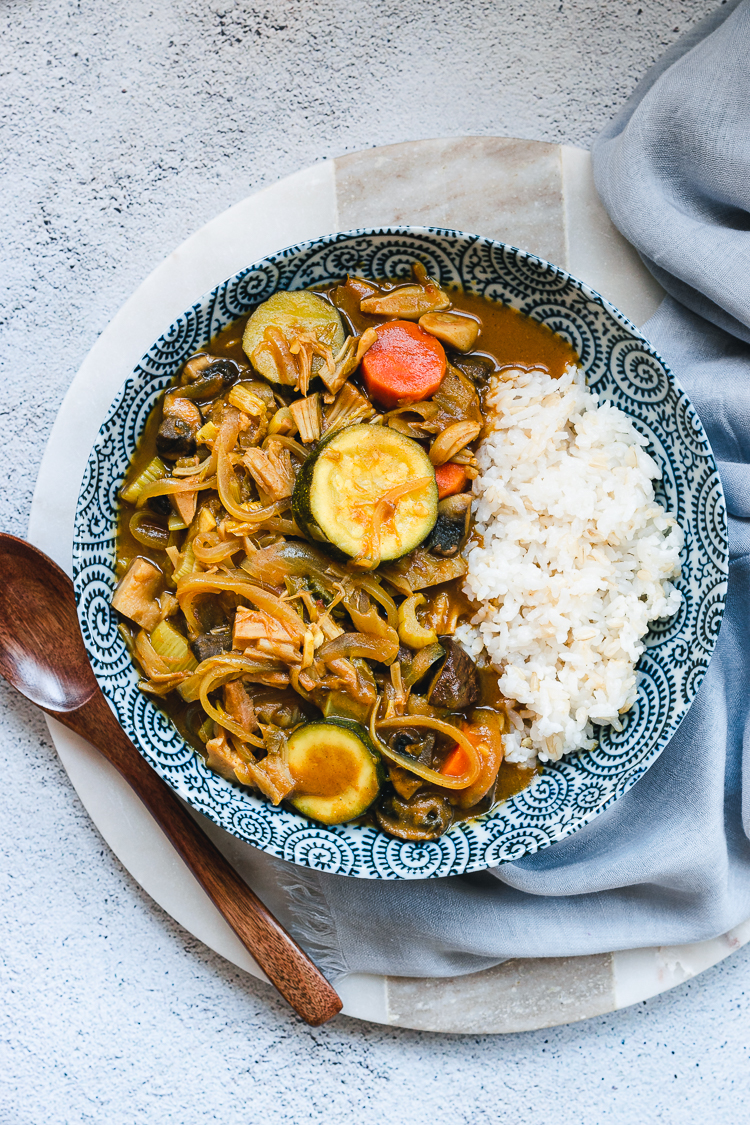 While not a traditional part of Japanese cuisine, curry has been a staple in the Japanese diet for over a century. While people outside of Japan think of Japanese cuisine as sushi and ramen, Japanese curry is actually just as much of a national dish and can easily be found on restaurant menus. And with boxed roux so ubiquitous in grocery stores, curry is also a very common household dish. It's easy to make and you can make a lot all at once, so it's especially popular for pot lucks and big groups. I ate a lot of curry growing up since it's an easy way to feed a family, and it's delicious. When I went off to college I bought microwavable pouches of instant curry to get my curry fix in the dorms. Unfortunately instant curry and boxed roux aren't necessarily the healthiest options, as they tend to contain excess oils, sodium, and additives. I was always intimidated to make my own roux though, since I thought it would take all day and be super involved. But as it turns out, it's actually really easy! You just need a good curry powder (more on this below).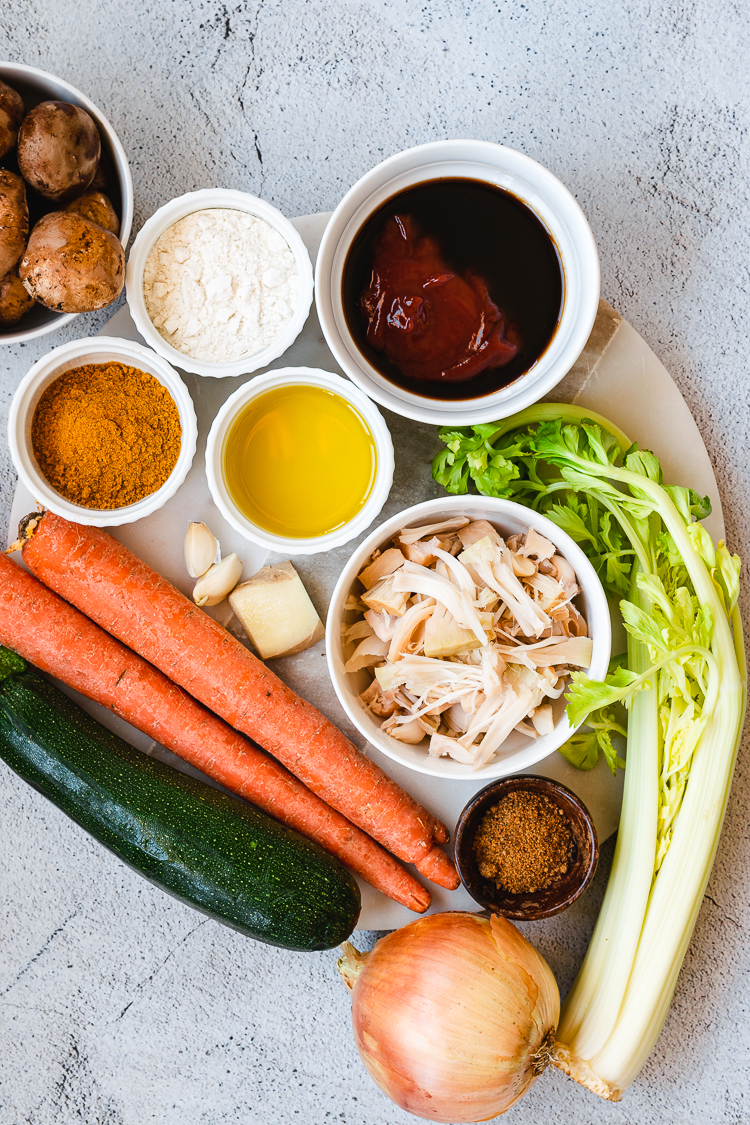 The Ingredients
This vegan jackfruit curry requires 15 ingredients, most of which you probably have in your pantry already!
The first 3 ingredients are for making the roux:
The rest of the ingredients are fillings and seasonings for the curry:
onion
carrots
celery
garlic
ginger
zucchini
mushrooms
young green jackfruit: canned, not the fresh yellow jackfruit!
Japanese Worcestershire sauce*: sweeter than American Worcestershire sauce and typically made from fruits, vegetables, and spices (no anchovy). However, some may contain a small amount of fish extract so check the ingredients label. (Bull Dog brand Worcestershire sauce contains sardine extract.)
kombu dashi: you can make your own with kombu or use instant kombu dashi powder, typically found in Asian grocers
*There are actually 3 different kinds of Japanese "Worcestershire" sauce: tonkatsu, chūnō, and ustā ("worcester"). But there's very little difference among them so I use them interchangeably.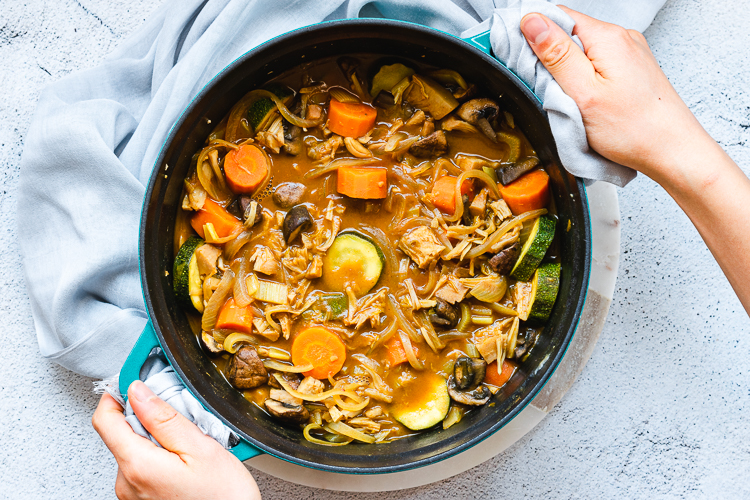 What is Roux?
Roux is a cooked mixture of fat (typically butter or oil) and flour. It's used to thicken sauces, soups, and stews, and when cooked to a dark brown color it also adds flavor. The color of roux darkens the longer it is cooked, changing from white to blond to brown. While darker roux has more flavor, it loses its thickening properties the more it cooks. For Japanese curry, we cook the roux to a light brown color, so it adds a deeper flavor while not completely losing its thickening power.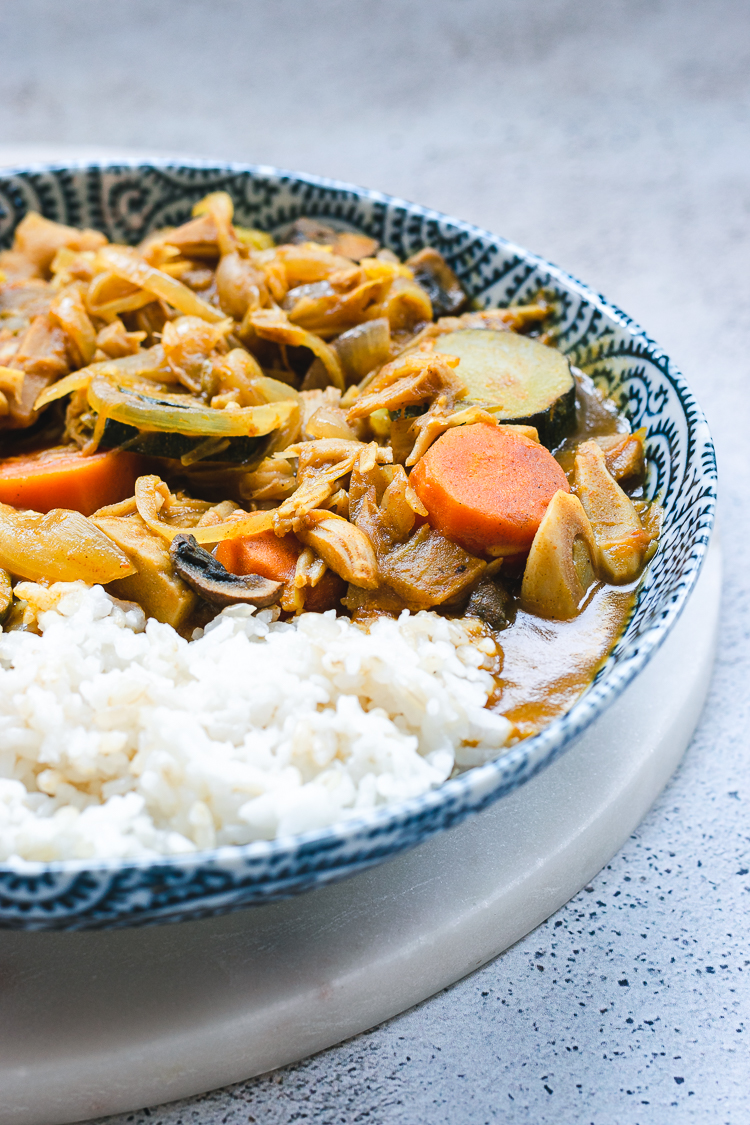 Tips & Tricks for Making Japanese Curry from Scratch
Make sure to stir the roux constantly and don't turn the heat up too high as roux burns very easily. This is a time-consuming step but essential to build the rich flavor of the curry.
If you want more sauce than filling, cut back on the amount of veggies you add. You may need to add more water since the veggies (particularly zucchini and mushrooms) release water as they cook, so adjust accordingly and to desired thickness.
If for whatever reason your curry is too runny at the end, you can quickly thicken with a cornstarch slurry and try to boil off some of the excess liquid (but be careful not to overcook your veggies or they can melt into the curry).
Shred the jackfruit before adding to the pot to achieve a "meaty" texture. It can be shredded with a fork in the pot, but I find it easier to shred beforehand.
Simmer the jackfruit in the curry for at least 10 minutes to allow time for the jackfruit to soak up the flavors.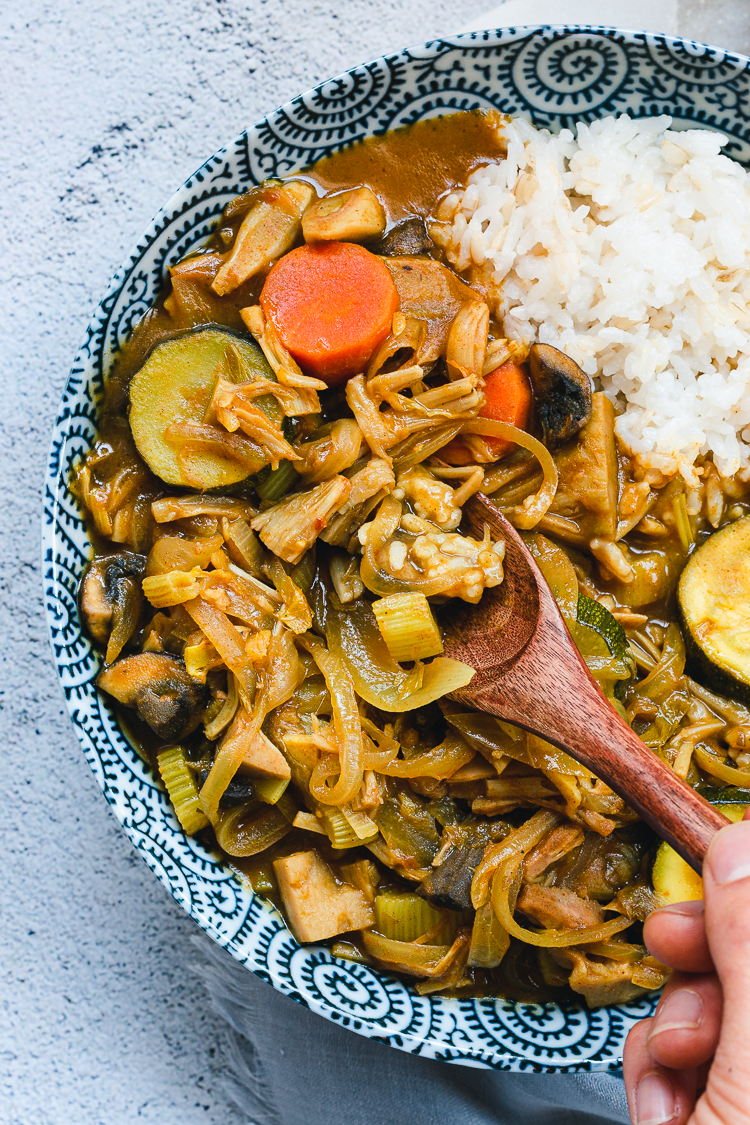 Substitutions
I can only vouch for the recipe as written, but I've offered my suggestions that, after many years of cooking, I'm fairly confident should work:
olive oil: You can use vegetable oil or vegan butter. If you want to use coconut oil, I would use refined coconut oil so it doesn't leave an aftertaste.
all purpose flour: although I haven't tested it, an all purpose gluten-free flour should work
S&B curry powder: This is, in my opinion, the best brand of curry powder for this recipe since it's meant for Japanese curry. However, if you can't get your hands on any, you can try making your own spice blend or use a mixture of curry powder and garam masala.
jackfruit: I love the texture the jackfruit adds to this, but if you don't have any you can omit or replace with tofu or chickpeas.
Japanese Worcestershire sauce: If you can't find Japanese Worcestershire sauce, you can try subbing with a vegan Worcestershire sauce and adding more sugar to achieve the right sweetness.
kombu dashi: Untraditional but I like the extra umami this adds. However you can just replace with water.
sugar: You can use regular granulated sugar, or if you want to keep this sugar-free, sub 1/4 – 1/2 cup applesauce for the sugar, adjusting to taste.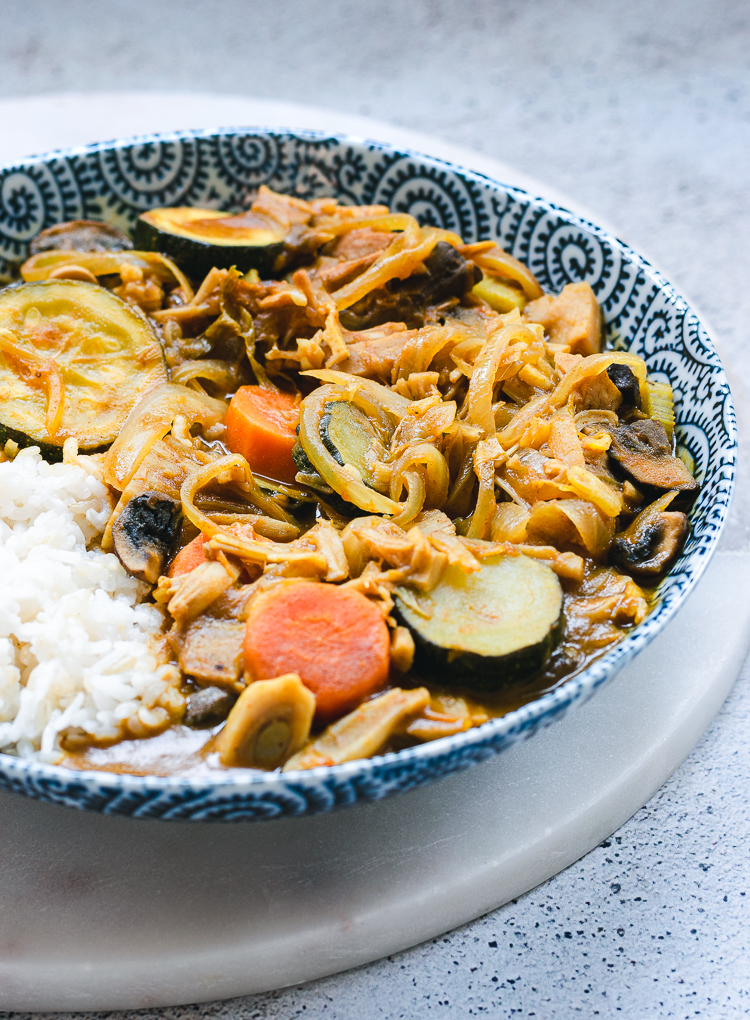 Still hungry?
Check out these other delicious Japanese dishes!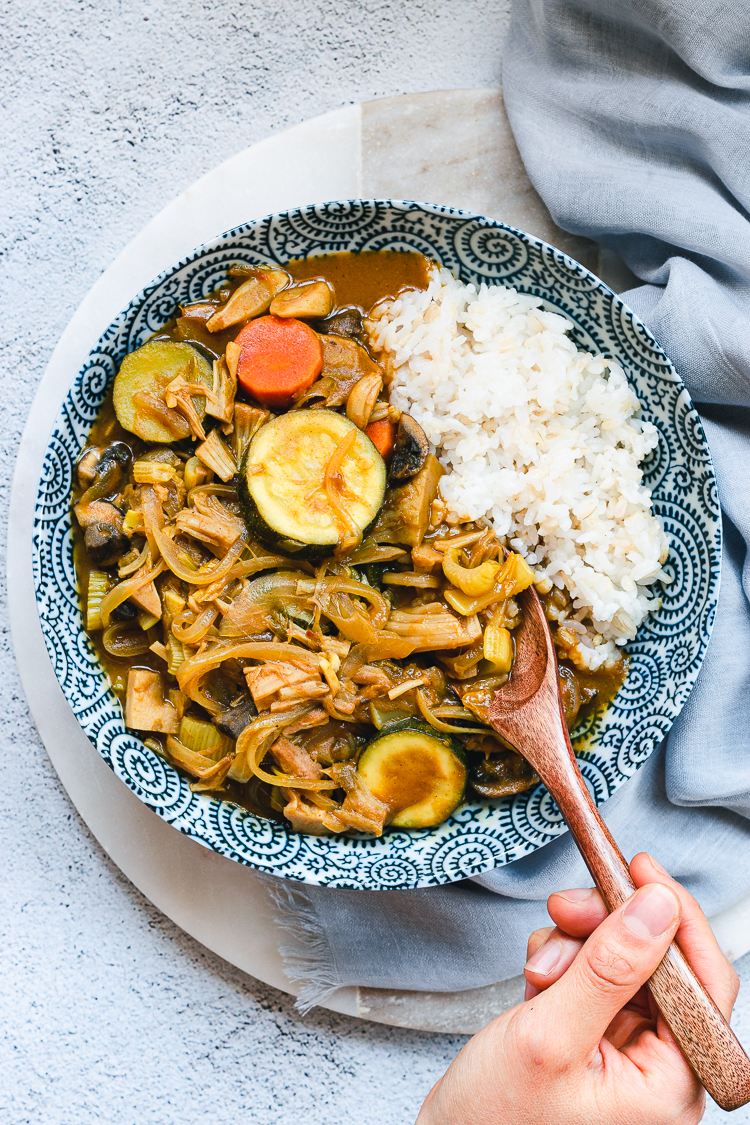 If you try out this recipe, don't forget to tag me in your photos on instagram @ellielikes.cooking and/or leave a comment down below and let me know how you liked it! I love seeing your tasty recreations and am always open to feedback 🙂 You can also follow me on pinterest for yummy vegan food. Happy cooking!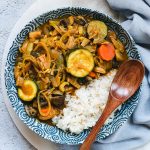 Print Recipe
Vegan Japanese Jackfruit Curry
Learn how to make the most comforting yet healthy Japanese curry from scratch. Loaded with veggies and meaty jackfruit for a filling and nourishing one-pot dinner.
Ingredients
2

tbsp

olive oil

3

tbsp

all purpose flour

2

tbsp

S&B curry powder*

2

cloves

garlic

minced

1

tbsp

minced ginger

1

onion

sliced

2

carrots

roughly chopped

2

stalks

celery

roughly chopped

1

zucchini

sliced 1" thick

1

cup

mushrooms

quartered

1

20 oz can

green jackfruit

rinsed and drained

2

tbsp

Japanese Worcestershire sauce

2

tbsp

ketchup

2 ½

cups

water or kombu dashi

½ – 1

tbsp

coconut sugar

adjust to taste

salt to taste
Instructions
Heat oil in a pan over medium low heat. When hot, add in flour and stir constantly until it turns light brown, about 15-20 minutes.

Once brown, add in curry powder and mix briefly, about 30 seconds. Take off from the heat and set aside the roux. 

Add garlic, ginger, onions, carrots, and celery to a large pot with oil or a splash of water. Cook until onions turn translucent.

Add water/dashi, jackfruit, Worcestershire sauce, ketchup, sugar, and a pinch of salt. Bring to a boil, add roux, then lower heat and simmer for 10 minutes, stirring occasionally to dissolve the roux.

Add zucchini and mushrooms and continue to cook until tender. Add more salt as needed. Serve hot with rice and enjoy!
Notes
*You can find S&B Curry Powder at some Japanese or Asian grocery stores, or buy it on Amazon.
Disclosure: This page may contain affiliate links. As an Amazon Associate I earn from qualifying purchases, but the price remains the same to you. Thank you for supporting Ellie Likes Cooking!
Save for later!