This plant-based take on the Japanese hamburger steak is juicy, tender, and hearty. Just 10 ingredients and 40 minutes is all you need to make these healthier vegan patties.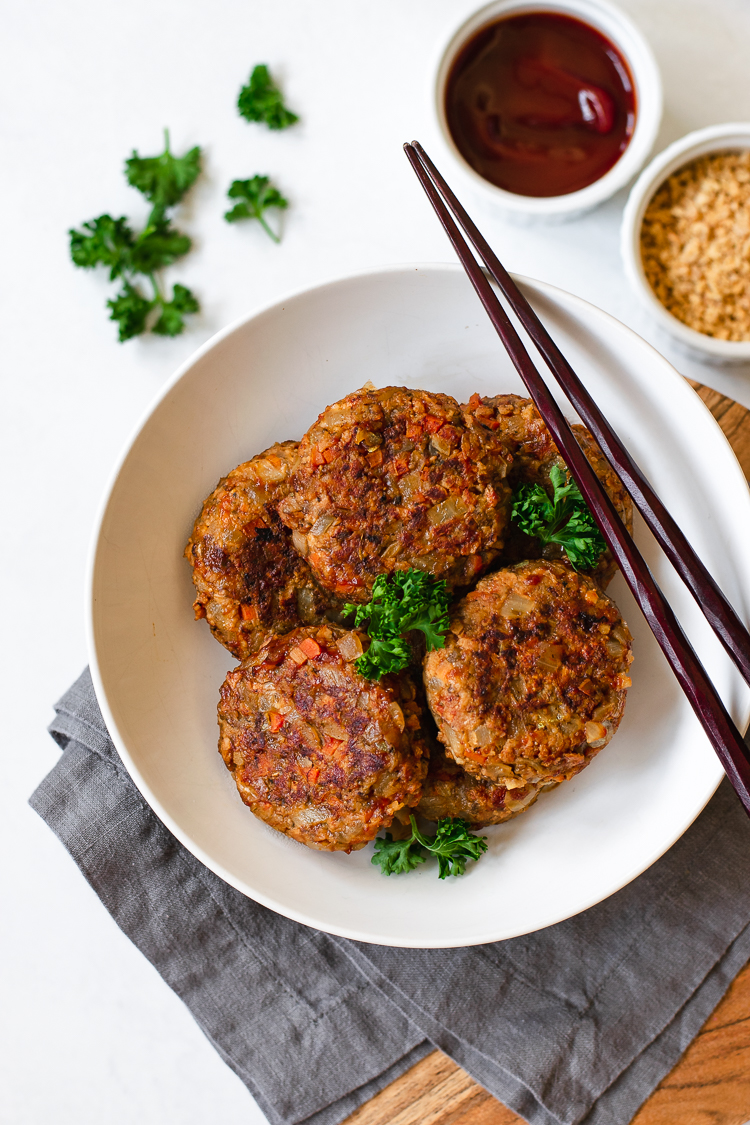 Japanese hamburger steak, or hambagu (ハンバーグ), is the Japanese version of Salisbury steak. Basically, it's like a hamburger patty, but with minced onion added and is eaten on its own with rice, rather than in between a bun. My mom made hambagu a lot when I was growing up and it was easily one of my favorite foods. The ketchup/worcestershire sauce glaze at the end is probably my favorite part. It adds that extra flavor and juiciness that really makes your tastebuds dance.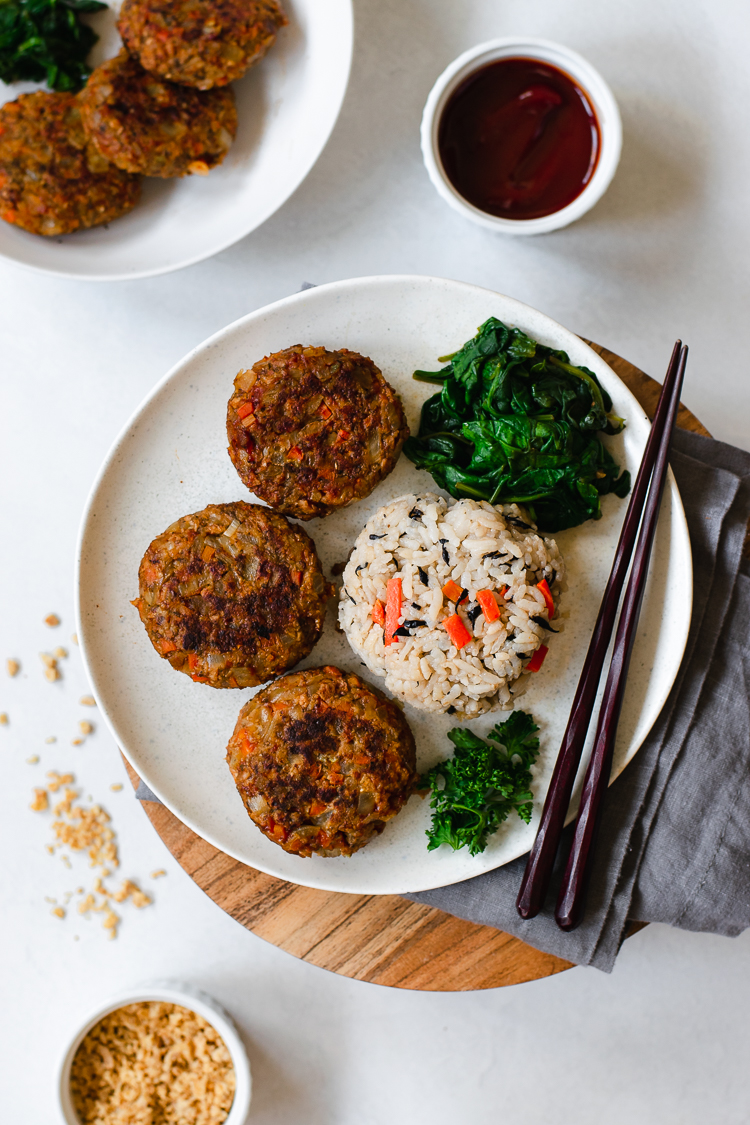 I haven't had hambagu in years though, ever since adopting a (mostly) plant-based diet. I've made it a few times over the past few years for friends, and it got me thinking about a vegan version of hambagu. With the new Beyond Beef coming out, I'm sure it'll be a lot easier to replicate a plant-based hambagu. But I wanted to make a version that was healthier and not made from processed foods.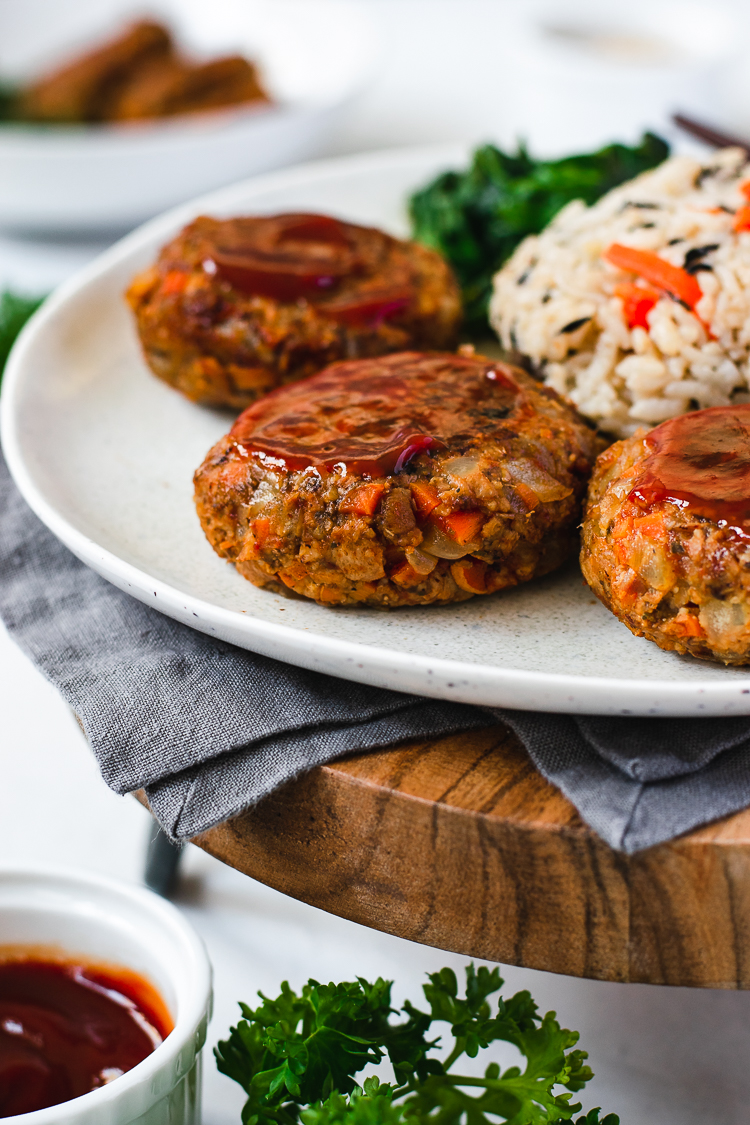 That being said, I can't guarantee this tastes exactly like hambagu made from ground beef, but it's a pretty close second and is so much better for you, the animals, and the environment! It's also cheaper and, in my opinion, easier to make since you don't have to worry about food safety with raw meat.
Although hambagu are meant to be eaten on its own, I also think these would be great in burgers. They hold their shape nicely and would probably taste amazing with avocado on top (because what doesn't taste good with avocado on top??). I like to serve mine with rice and veggies, and a little parsley for garnish.
Ingredients
These TVP Hamburger Steaks are made with 10 plant-based ingredients: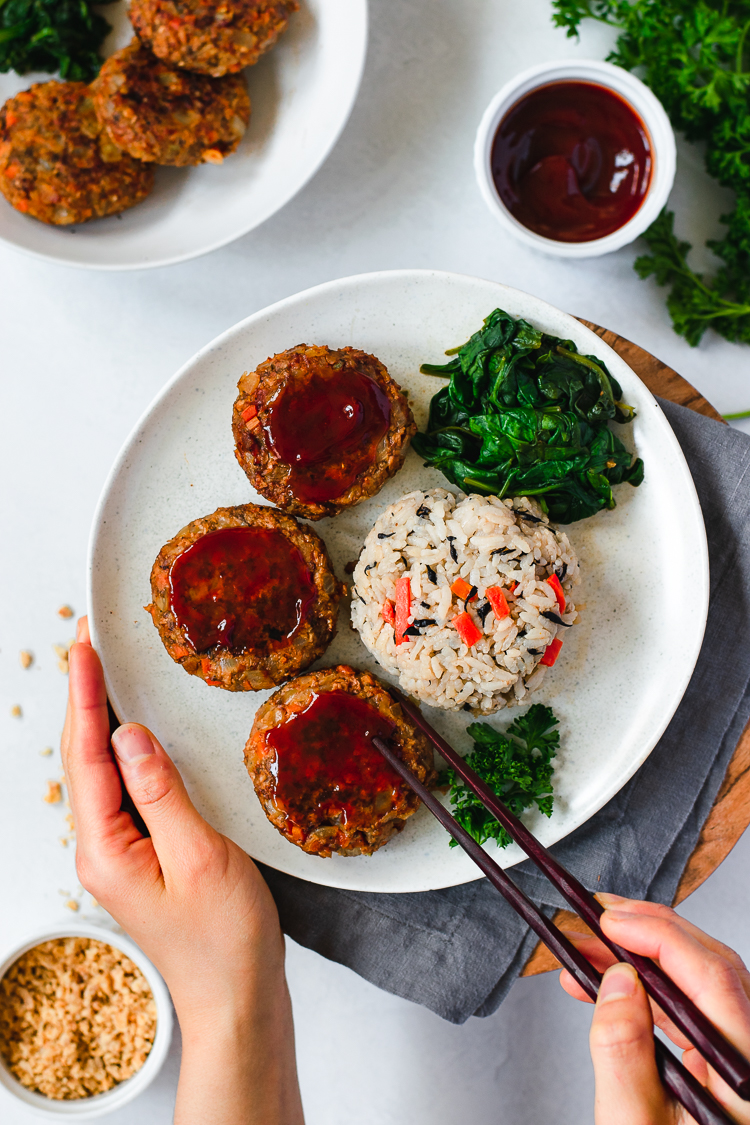 A few notes about the ingredients:
I did try making these with tofu once, but it was just way too soft and crumbly. So I opted for TVP (textured vegetable protein) — which is actually just soy protein — because it has more of a "meaty" texture.
I think ground flaxseed would work best as it will leave the least noticeable texture, but if you don't have any flax, chia seeds will work, too. If you do use chia seeds, I recommend grinding them first so they're not the whole seeds — it will leave a crunchy texture in the patties.
The carrots are not necessary, but I added them in for a little extra nutrients and color. You can omit or replace with more onions if you'd like.
I made my own breadcrumbs by simply drying out some old bread and blending them in my food processor until fine. If you don't have breadcrumbs, oat flour will probably work.
If you don't have Japanese Worcestershire sauce — then go get some! In a pinch, you can replace with whatever vegan Worcestershire sauce you have on hand, but you may want to add a little extra sugar. Japanese Worcestershire sauce is made mostly from pureed fruits and vegetables, along with some sugar and spices. It is sweeter than regular Worcestershire sauce. I've also heard of steak sauce being used as a substitute, but I can't vouch for any of these substitutions.
The nutritional yeast was a last minute add-in I suddenly thought of during my 4th round of recipe testing. It adds umami flavor and also soaks up a little extra moisture, helping the patties hold together. However, if you don't have nutritional yeast, I don't think it will be a huge problem if you just leave it out.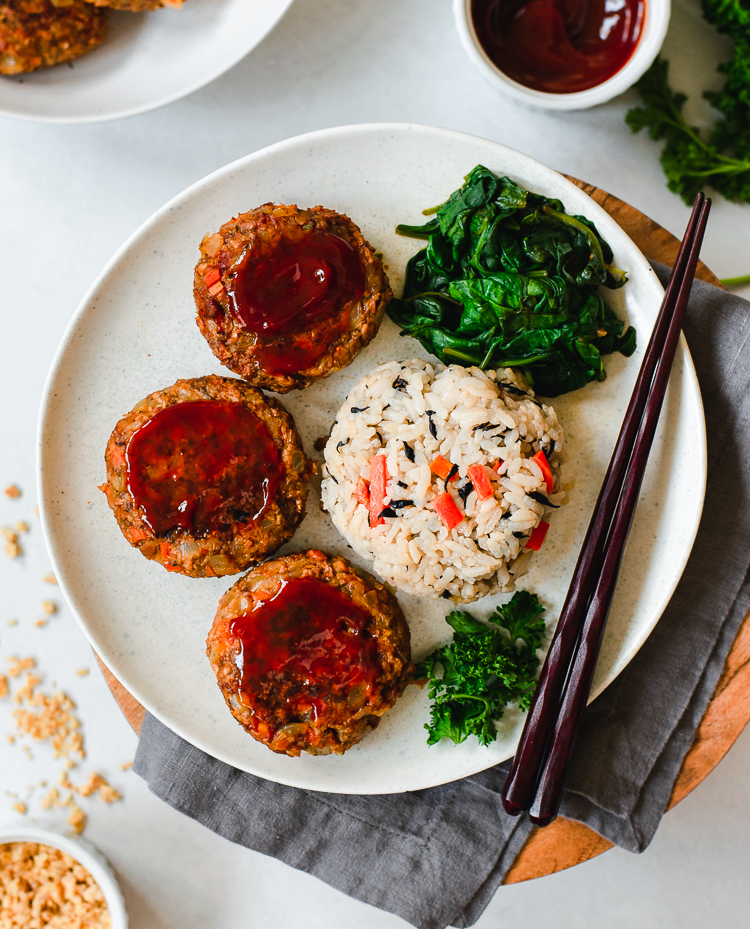 Still hungry?
Check out these other tasty Japanese dishes!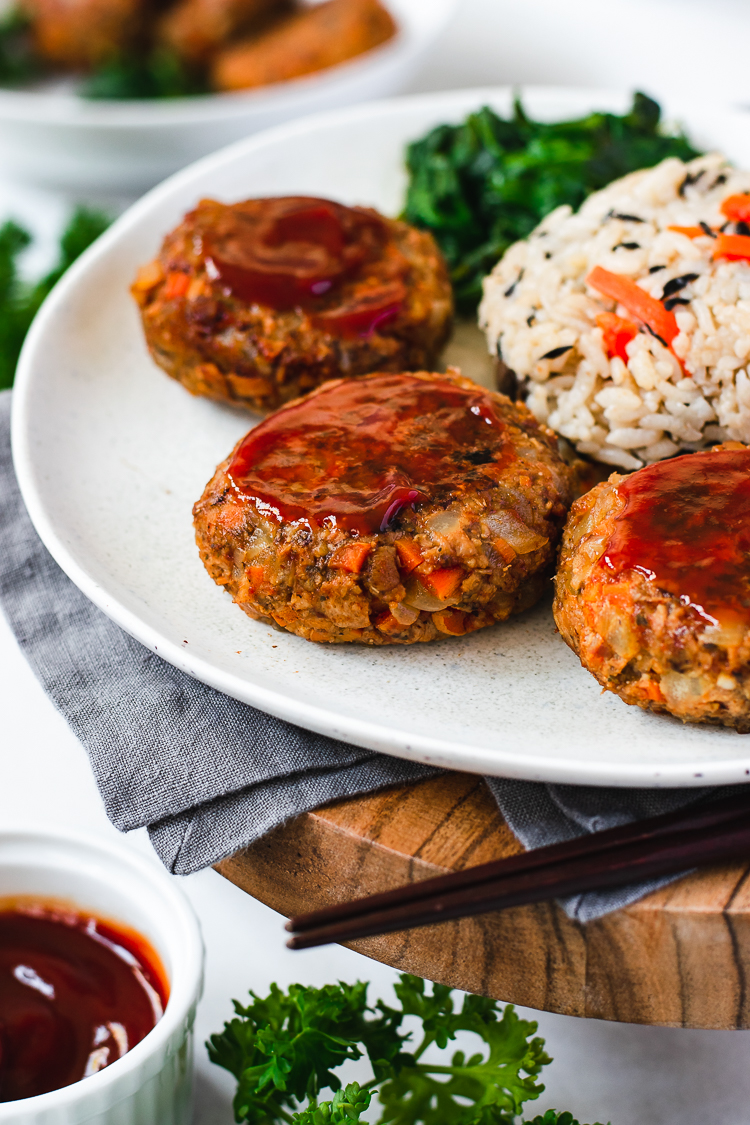 If you do try out this recipe, please don't forget to tag me in your recreations on instagram @ellielikes.cooking and/or leave a comment down below and let me know how you liked it! Or just say hi — either way, I love connecting with you and am always eager for any feedback you have 🙂 Happy cooking!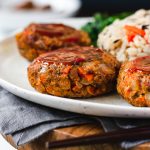 Print Recipe
Vegan Hamburger Steak
This plant-based take on the Japanese hamburger steak is juicy, tender, and hearty. Just 10 ingredients and 40 minutes is all you need to make these healthier vegan patties.
Ingredients
TVP Hamburger Steak
1/2

cup

TVP

1/2

cup

boiling water

1/2

small onion

1/2

small carrot

1

clove

garlic

1

tbsp

ground flax/chia seed

3/4

cup

breadcrumbs

1

tbsp

parsley/Italian herbs

1

tbsp

ketchup

1

tbsp

Japanese worcestershire sauce

1

tbsp

nutritional yeast

1/4

tsp

salt

1/4

tsp

black pepper
Sauce
2

tbsp

red wine or water

2

tbsp

ketchup

2

tbsp

Japanese worcestershire sauce
Instructions
Rehydrate the TVP with boiling water. Let sit for a few minutes so the TVP soaks up the water.

Meanwhile, chop onions and carrots and mince garlic. Add to a pan, with a splash of water, over medium heat and cook until onions are translucent and carrots are tender.

Add cooked veg to TVP and add in the rest of the hamburger steak ingredients. Mix until well combined and let the mixture sit for 10 minutes, during which time it should thicken and hold together. If the mixture is still loose after 10 minutes, add in more breadcrumbs, 1 tbsp at a time, until the mixture comes together.

Scoop about 1/4 cup of the mixture and toss back and forth between your hands a few times to get out any air bubbles. Then form into a patty and repeat with the remaining mixture.

Grease a pan over medium heat and cook patties for 1-2 minutes on each side, until browned.

When all the patties are cooked, remove from the pan. Add sauce mixture to pan and heat, letting some of the sauce evaporate if it is too watery. Add patties back into pan and carefully coat with sauce. Remove from heat and serve immediately.
Save for later!


Disclaimer: This page may contain affiliate links. As an Amazon Associate I earn a small commission if you purchase something through one of my links, but the price remains the same to you. Thank you for supporting Ellie Likes Cooking!