This page may contain affiliate links. As an Amazon associate I earn from qualifying purchases. Please read our
disclosure
for more info.
Sharing some of my favorite vegan restaurants in Kyoto, Japan. From ramen to sandwiches to ice cream, Kyoto is a vegan food lover's dream.
Vegans Cafe & Restaurant (update: closed 4/1/22)
Vegans Cafe & Restaurant is relatively close to Fushimi Inari Taisha (伏見稲荷大社) — the mountain lined with red torii gates that you walk through as you hike up the mountain. It's about a 15 minute walk, so a great stop for lunch after hiking the mountain, or for fueling up beforehand.
The portions are pretty average for Japan, as is the price (not cheap but not super expensive). The ramen is delicious, so make sure you get at least one! We also had the curry (more of an Indian style curry than Japanese, but still good) and the black sesame shake. The black sesame shake was amazing and did not last long at all. My only complaint is that their shakes should be larger! (If you want an amazingly delicious vegan parfait that is actually enough to fulfill your vegan ice cream dreams, keep reading to the next restaurant.)
Location: 4 Chome-88 Fukakusa Nishiurachō Fushimi Ward, Kyoto, 612-0029 Japan; near Fushimi Inari Taisha
Price: $$
Food: 5/5, highly recommend the ramen!!

This cafe is located a few blocks away from Nishiki Market. It is mostly plant-based, however there is fish stock (dashi) in their miso soup. Not all sets come with miso soup and it is clearly marked on their menu with a fish symbol. Other than the dashi, the rest of their menu is vegan. I had the "okara-age", a plant-based version of karaage (Japanese fried chicken). It's made from okara which is the pulp leftover from making soy milk. It came with rice (you can choose brown rice, mixed grain, or half & half) and soup and a few small side dishes, and I also got the salad bar (for an extra ¥200). It's a very small, simple salad bar but the veggies are so fresh and the dressings are delicious! I also highly recommend getting a parfait for dessert. They are pricey but they are worth it. The best vegan parfait I have ever had. Soy milk makes amazing ice cream I don't know why it's not more common in America. So creamy, so rich, so good!! I would've gone back if we had more time in Kyoto and if I wasn't a poor college grad lol.
Location: 351 Miyukicho Rokkakukudaru Iseyacho Nakagyo-Ku, Kyoto 604-8061 Kyoto Prefecture; near Nishiki Market
Price: $$, lunch set is around ¥1000-1300
Food: 5/5, highly recommend their parfaits!!
This is a very small shop hidden on the side of the street in Nishiki Market. It's not a place that you'd stumble upon easily. If you're eating at Hale it's most likely because you researched it beforehand. I believe they do have a small sign outside that indicates it as a vegetarian restaurant, but as I said, it's very easy to miss. However it is absolutely delicious!! It has a very limited amount of seating but the inside is very cute and feels very ~Japanese~. It's also a great place for the indecisive because they have one item on their menu (not including drinks). I hope you like yuba because that's what they serve! Yuba is commonly known as tofu skin, as it's the "skin" that forms during the boiling of soy milk. It may not sound appetizing, but trust me, it's delicious. And the yuba-don here does not disappoint. There's so much yuba! Along with some mushrooms in a savory, umami sauce over rice. It also comes with various side dishes (as is the Japanese way). I have a feeling their yuba-don and side dishes change slightly depending on the season, but I'm pretty sure anything they make with yuba will be delicious. One set is ¥1500 which is a pretty good deal in my opinion, considering the amount of food you get. You're also supporting a super cute little shop run by very kind people 🙂
Location: 198-1 Higashi Uoyacho, Nishiki-koji, Fuyacho Nishi-iru, Nakagyo-ku, Kyoto; in Nishiki Market
Price: $$, lunch set is ¥1500
Food: 5/5
This restaurant is located in Arashiyama across the bridge. It is not exclusively vegan but does have one or two vegan options on their menu. Their lunch sets are fairly affordable at ¥1350 with a good variety of small dishes. I had the tofu katsu which came with rice (you can choose brown or white), salad, miso soup, tsukemono (pickled vegetables), 2 veggie side dishes, and a small glass of juice. The tofu katsu isn't mind blowingly delicious but it's crispy and chewy and pairs nicely with the rest of the dishes. You get a tasty, satisfying meal at a decent price in a nice location, so I would definitely go back there again.
Location: 1−8 Arashiyama Nishiichikawacho, Nishikyo Ward, Kyoto, 616-0003, Japan; in Arashiyama across the bridge
Price: $$, ¥1350 for lunch set
Food: 4/5, good quality
This is a small bakery located in the JR Kyoto Bus Information Center. It's a great quick stop when you arrive to Kyoto Station hangry (we took the night bus and arrived at 5am and I was hangry by 8) and don't want to spend hours walking through all the shops and cafes inside the station. It's just outside the station near all the bus stops. It's convenient if you're going to the Bus Information Center anyway to get a day pass (which by the way is about ¥550 and allows you to ride all the buses within a certain area of Kyoto — basically covers all the tourist attractions you'd want to see). Unfortunately they don't have any vegan pastries (at least not as of September 2018) but they do have one vegan sandwich! It's really basic — white bread, lettuce & veggies, and I think maybe avocado? It's nothing special but I was so hungry and so excited to find a vegan option at an affordable price (around ¥700 I think).
Location: Higashishiokojicho, Shimogyo Ward, Kyoto, 600-8216, Japan
Price: $
Food: 4/5
Kinako & Azuki Bagel in Kyoto Station
Unfortunately, I can't remember what the bakery was called. I think it might be Grandir but I'm not certain. All I remember is that it's a small bakery located in the basement of Kyoto Station with a wide variety of bagels, along with other breads. Bagels are the safest option when it comes to vegan breads, as the basic ingredients are just flour, water, and oil. Some of the bagels we found did have milk or egg added to them, but this kinako & azuki bean bagel was free of any animal products. And it was absolutely delicious we went back for one again at the end of our trip! It has a slightly sweet azuki bean filling inside and is dusted on the outside with kinako. The bagel was so fresh and chewy, worth every penny (or yen, in this case). I think the bagel was around ¥200. The bakery also has a small seating area so you can enjoy your bread and coffee before you start off on your journey.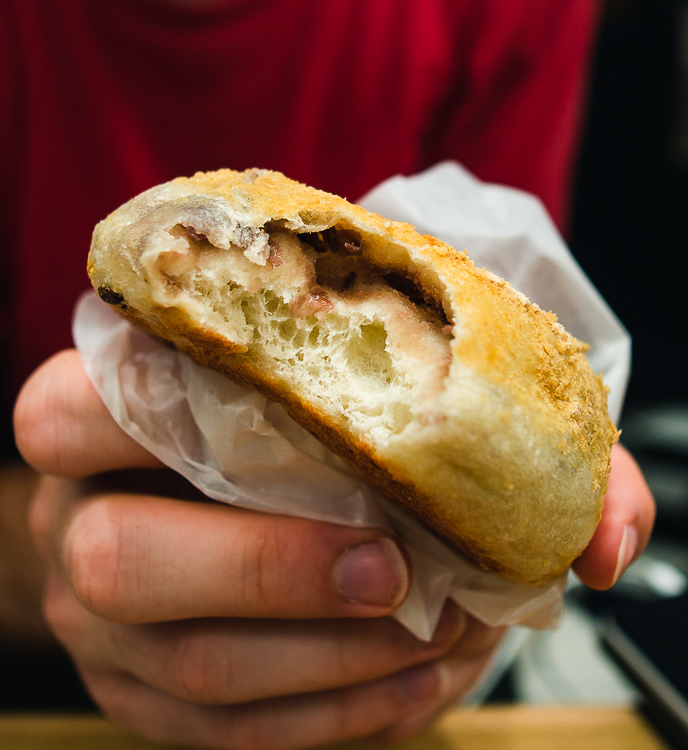 I hope this guide is able to help you if you're planning a trip to Kyoto! Kyoto is pretty abundant in vegan-friendly restaurants so this doesn't even cover half of them. But these are the places I've gone to so far so I can give my honest opinion on them. If you have any questions about transportation, site seeing, how to read the menus, or anything else, leave a comment down below and I'll do my best to help 🙂 Kyoto is a beautiful city and there is so much to see, eat, and do!
Save for later!