This page may contain affiliate links. As an Amazon associate I earn from qualifying purchases. Please read our
disclosure
for more info.
Crispy, chewy vegan karaage made from frozen tofu! A plant-based version of the classic Japanese fried chicken.
What is Karaage (唐揚げ)?
Karaage 唐揚げ is the Japanese version of fried chicken. The chicken is cut up into chunks and lightly battered with a mixture of flour and potato starch, or just potato starch, which makes it extra crispy. It's less heavy than American fried chicken since it's mostly chicken with just a thin layer of batter coating it. It's typically served with a squeeze of lemon and maybe some shredded cabbage or lettuce to help cut the grease, along with a bowl of rice. My mom makes chicken karaage every now and then, but since I eat a primarily plant-based diet, I haven't had karaage in ages.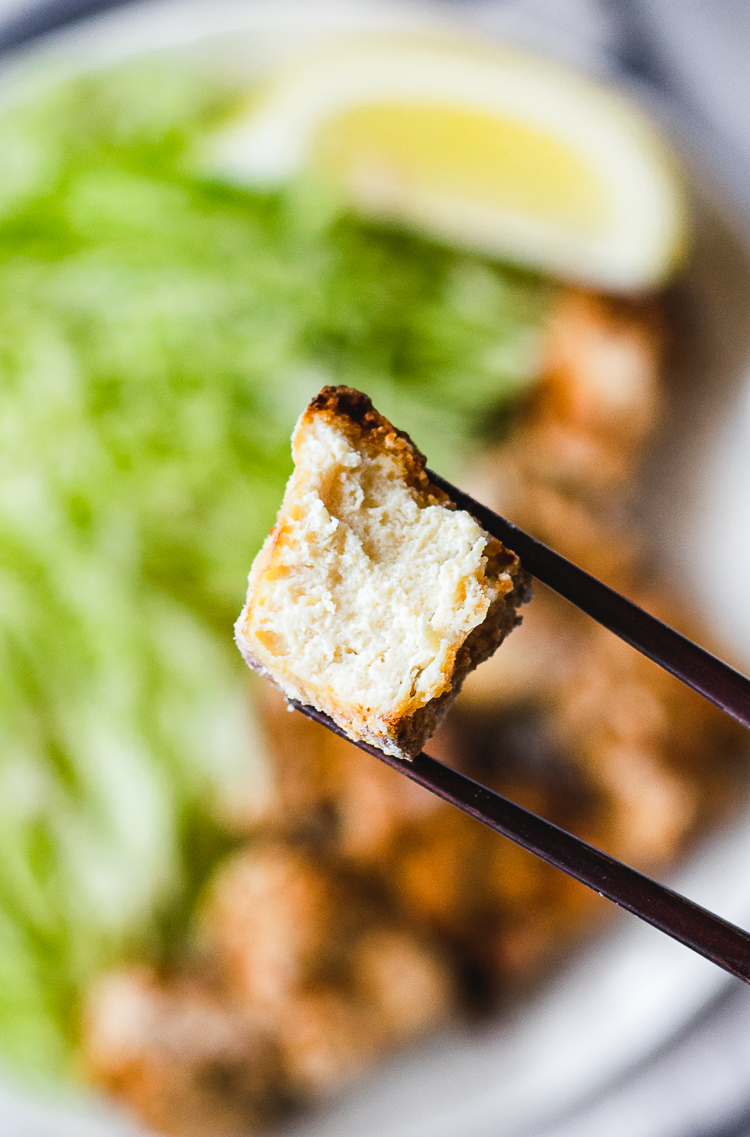 Crispy Karaage Made from Tofu
This karaage, though, is 100% plant-based and can be made in an air-fryer. The secret to its chewy, "meaty" texture? Frozen tofu! The texture is so different from regular tofu. So chewy and not crumbly.
When you thaw the tofu, you'll see just how much water comes out. I usually press my tofu to get rid of some of the water so it can absorb other flavors better, but the amount of water that drains out of frozen tofu is crazy! Frozen tofu also acts kind of like a sponge, so it can absorb sauces/marinades really well. Plus it makes the tofu juicy and flavorful in every bite.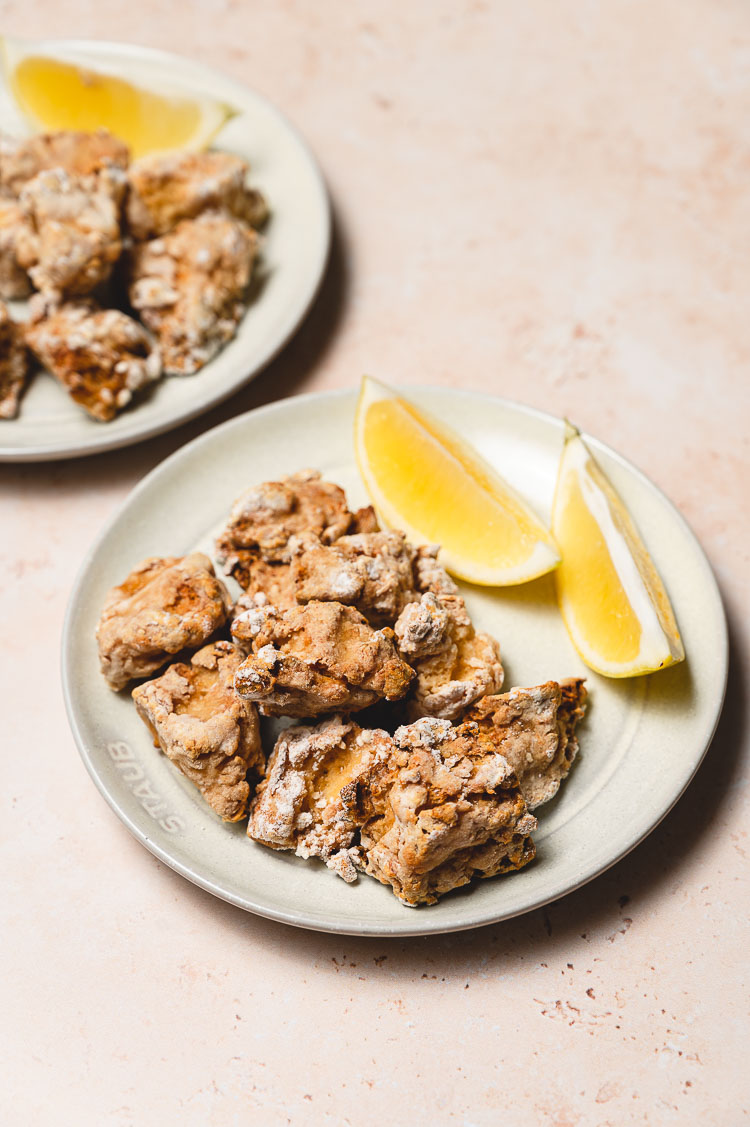 Ingredients
Firm Tofu ⟶ twice frozen for maximum chewy, meaty texture!
Vegetable Broth ⟶ or use a vegan chick'n broth if you can find one
Soy Sauce, Sake, Sesame Oil, Mirin ⟶ the base of the marinade to flavor the tofu
Ginger & Garlic ⟶ grated into the marinade for extra flavor
Nutritional Yeast ⟶ adds a little extra umami and flavor
All Purpose Flour ⟶ use gluten-free all purpose flour if necessary
Potato Starch ⟶ makes it super crispy!
Quick & Easy to Make!
This tofu karaage is so simple and delicious to make; the hardest part is waiting for the tofu to freeze and thaw. After it's thawed, marinate for a few minutes, coat in flour/potato starch, then fry or air-fry and you'll have crispy golden perfection (that will probably be gone in less time than it took to make). I made 3 batches last week, all on different days, because as soon as they were made I (and my boyfriend) gobbled them all up.
More Tasty Tofu Recipes!
I hope I've inspired you to make this vegan karaage! If you try it out, don't forget to tag me in your photos on instagram @ellielikes.cooking and leave a comment/star rating down below! I love seeing all of your tasty recreations 🙂 Happy cooking! ♡
*This recipe was updated 6/2/2022.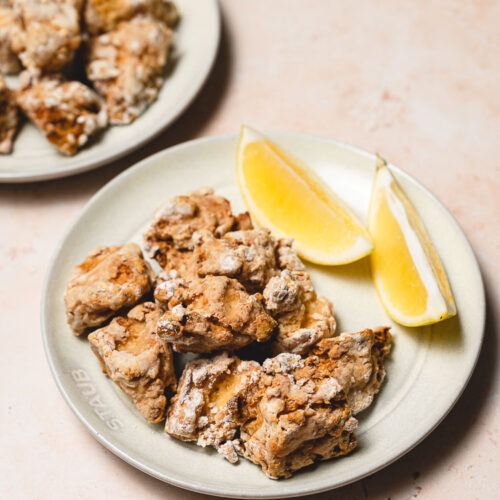 Vegan Tofu Karaage | 豆腐唐揚げ
This vegan karaage is crispy, chewy, and juicy but is 100% plant-based.
Ingredients
14-16

oz block

firm tofu

twice frozen**

2

tsp

ginger

grated

1

clove

garlic

grated

⅓

cup

vegetable broth

1

tbsp

soy sauce

1

tbsp

mirin

1

tsp

sake

1

tsp

sesame oil

2

tsp

nutritional yeast

2

tbsp

all purpose flour**

2

tbsp

potato starch*

frying oil
Instructions
Make sure the tofu is completely thawed before using. Cut or tear tofu up into large chunks.

Mix together ginger, garlic, broth, soy sauce, sake, mirin, nutritional yeast, and sesame oil. Place in a wide dish.

Add the tofu and gently turn over to coat all sides.

Transfer tofu to a bowl (leave any excess marinade behind) and add flour. Gently toss to coat. Once the tofu is evenly coated with flour, sift potato starch over the tofu and toss again until evenly coated.

Air fry: Drizzle 1 tbsp oil over the tofu and toss well to coat. Place each tofu chunk into the air fryer. Make sure the tofu chunks are spaced apart and not touching. Air fry at 375°F for about 20 minutes or until browned and crispy. You may need to cook them in batches depending on how big your air fryer is.

Deep fry: Heat a pot or deep pan over high heat. Add enough oil to cover about an inch of the pot. Heat oil to 340°F/170°C. Fry tofu in batches until golden brown, turning every so often to make sure all the sides get fried. Transfer tofu to a wire rack to let excess oil drip off. For a crispier karaage, increase the oil heat to 350°F/180°C, then fry the tofu pieces again for 30-60 seconds until darker brown.

Serve tofu karaage with lemon wedges and a sprinkle of salt, if desired.
**Notes
Twice Frozen Tofu: To double-freeze tofu, simply place the tofu (in the package is fine) in the freezer. Once frozen, place in the fridge to thaw for a day, then place back in the freezer overnight. Once frozen, transfer to the fridge to thaw again. You can also just freeze and thaw once, but the texture is better when twice frozen.
Gluten-Free: Use gluten-free all purpose flour, rice flour, or all potato starch.


Disclosure: This page may contain affiliate links. As an Amazon Associate I earn from qualifying purchases, but the price remains the same to you. Thank you for supporting Ellie Likes Cooking!
Save for later!