This page may contain affiliate links. As an Amazon associate we earn from qualifying purchases. Please read our
disclosure
for more info.
This air fryer vegan korokke is the ultimate guilt-free comfort food. All you need is 8 basic ingredients and less than one hour to make this crispy, hearty Japanese classic.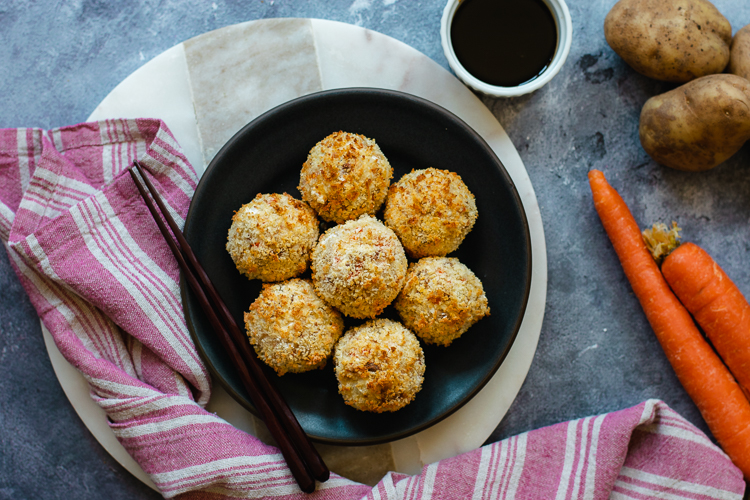 If you're new to Japanese cuisine and have no idea what korokke is, it's basically a Japanese version of croquette. Think mashed potatoes mixed with ground beef, onion, carrots, and in this case, cheese. Breaded and (air) fried to crispy golden perfection. But all plant-based here. Although the base of it is potato, there's also protein from the vegan beef and extra fiber and nutrients from the carrots and onions, making korokke a great side or main dish to any meal! (Don't forget to serve it with some more veggies though. 🙂 The vegan cheese is optional but highly recommended for extra comforting deliciousness.
INGREDIENTS
This korokke is super easy to make and requires just 8 basic ingredients:
Potatoes ⟶Starchy potatoes such as Russet, Idaho, and Yukon Gold work best.
Flax Egg ⟶ To help bind the potato mixture.
Onion & Carrots
Vegan Ground Beef ⟶ Gardein and Beyond Meat both make good ones.
Shredded Vegan Cheese ⟶ I used Daiya mozzarella.
Panko or Breadcrumbs
Plant Milk & Cornstarch ⟶ For dipping the korokke in to help the panko stick. The cornstarch thickens the milk so the coating sticks better.
HOW TO MAKE
First, peel and cube the potatoes. Boil the potatoes for about 10 minutes, or until you can pierce a fork through them easily. Drain and set them aside while you cook the onions, carrots, and vegan ground beef.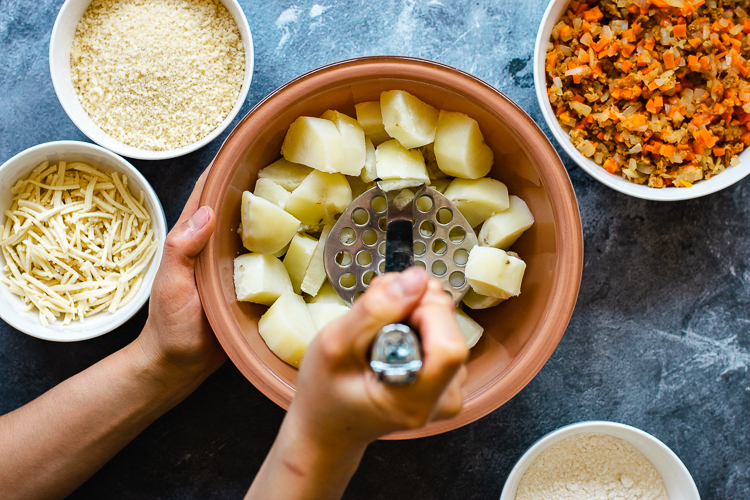 Once the veg/beef mixture is ready, mash the potatoes until no chunks are left. Add flax egg and a splash of plant milk if needed to help combine.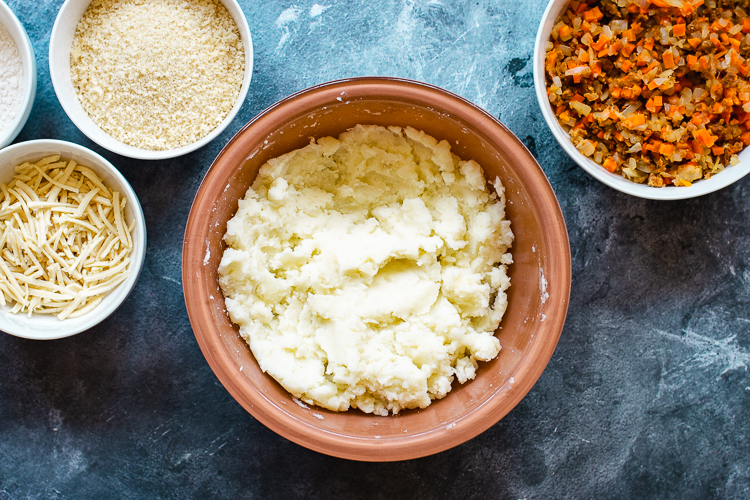 Then add in the veg/beef mixture.
And mix well!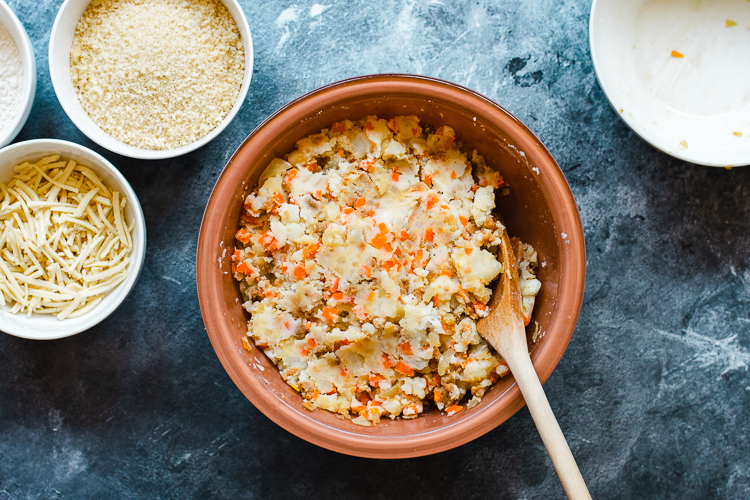 Next, add in your vegan cheese of choice.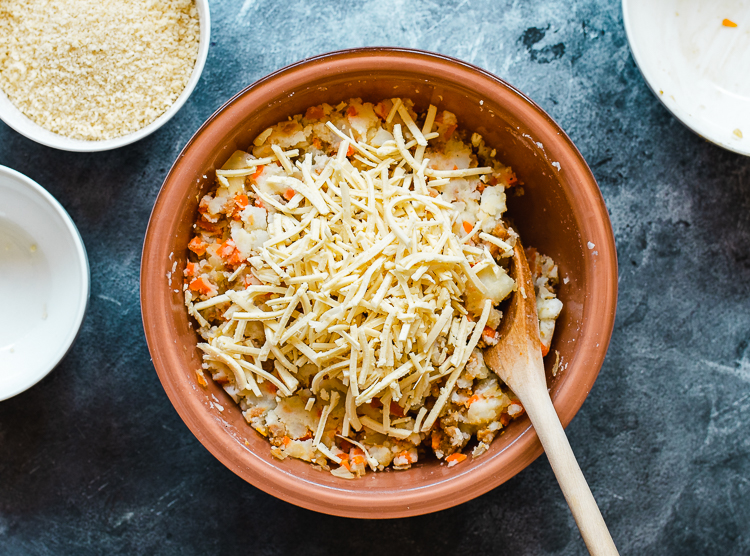 And mix until everything is well combined.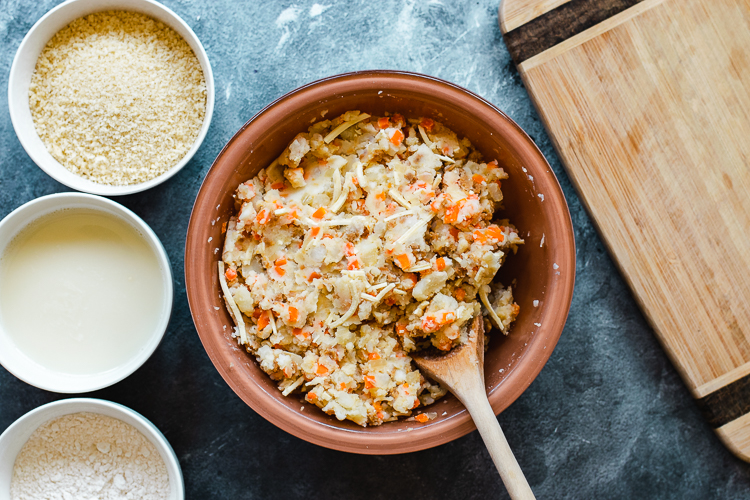 Now it's time to shape the korokke. Place a couple spoonfuls of the mixture in your hands and roll into a ball.
Repeat until all the korokke mixture is used up. I ended up with 15 korokke, but it will depend on how big you make them.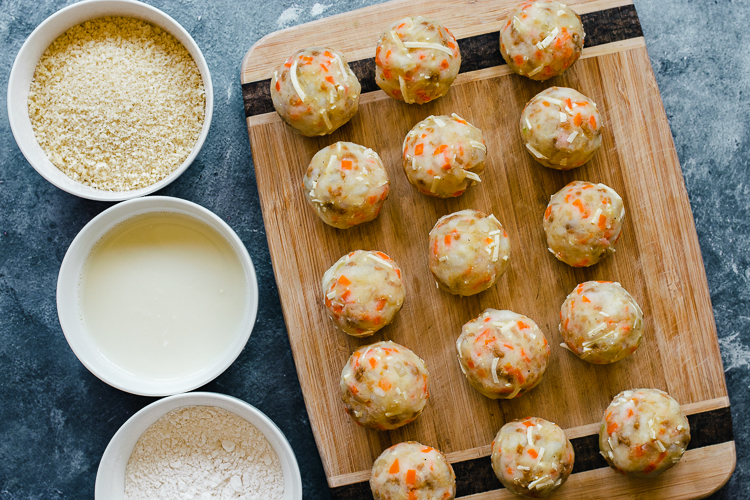 Then get your flour, milk mixed with cornstarch, and panko ready in separate bowls. Coat the korokke in flour, then dip in milk (I like to use chopsticks so my fingers don't get all sticky and messy), and finally roll in panko until coated all over.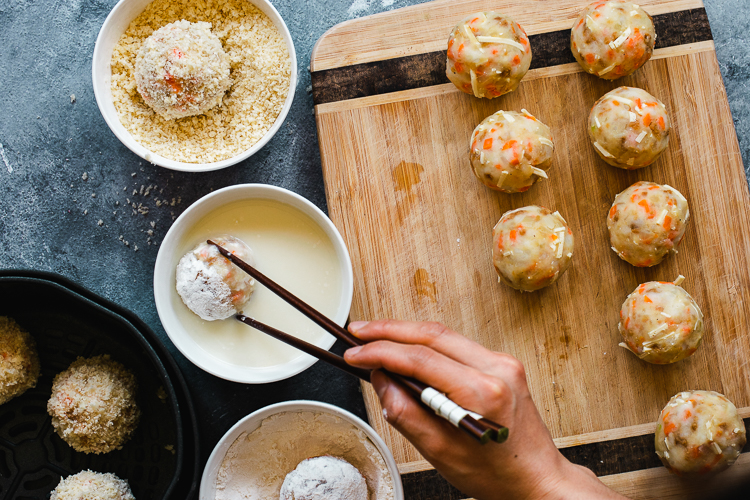 Place in your air fryer, leaving some space between each korokke, and spray the tops with oil. You will probably have to cook them in 2 or 3 batches. Air fry at 350°F for 20 minutes, or until golden and crispy.
They will be very hot when they're done, so let them cool for a minute or two before biting into one. But eat while they're still warm so the cheese is still nice and melty!
STILL HUNGRY?
Check out these other delicious Japanese dishes!
I hope you love this korokke if you decide to try it out (trust me, it's worth it)! You can always deep fry them if you really want a true korokke experience 😉 But the air fryer makes them wonderfully crispy and delicious. Don't forget to tag me in your photos on instagram @ellielikes.cooking and leave a comment down below; I'm always eager for feedback! Happy cooking 🙂
*This recipe was updated May 29, 2021 to include a flax egg.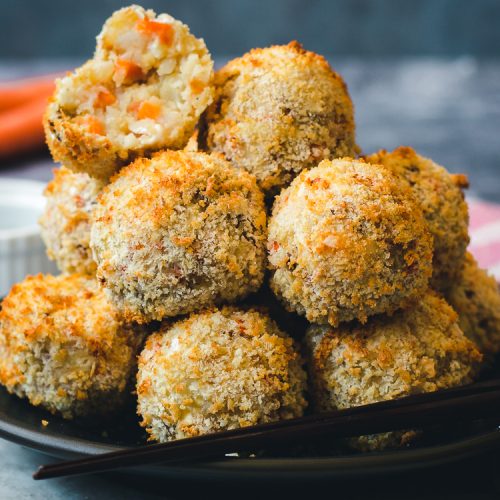 Air Fryer Vegan Korokke
This air fryer vegan korokke is the ultimate guilt-free comfort food. Crispy, hearty, and cheesy, just like traditional Japanese korokke, but made with 100% plant-based ingredients.
Ingredients
1 1/2

pounds

gold or russet potatoes

1

flax egg (1 tbsp ground flax mixed with 3 tbsp water)

1/2

onion

2

carrots

3/4

cup

vegan ground beef

1/3

cup

shredded vegan cheese

pinch of salt and pepper

3/4

cup

panko or breadcrumbs

1/3

cup

all purpose flour

1/2

cup

plant milk

1

tbsp

cornstarch
Instructions
Peel potatoes and slice into cubes so they cook faster. Add potatoes to a pot of water and bring to a boil. Cook for about 10-15 minutes, until you can easily pierce the potatoes with a fork. Drain and set aside. 

Peel and diced the onions and carrots. Add to a pan over medium heat with a splash of water or oil and cook until onions start to turn translucent. Season with a pinch of salt and pepper.

Add vegan beef to the pan and heat until no longer frozen.

Once the potatoes are cool enough to handle, transfer them to a big bowl and mash until smooth. Add flax egg and a splash of plant milk if needed. 

Add in the vegan beef mixture and mix well. Add vegan cheese and mix till well incorporated.

Mix together plant milk and cornstarch. Form the potato mixture into balls (I ended up with 15). Roll each ball in flour, dip in milk mixture, then coat with panko. You may need extra flour or panko, depending on how big your korokke are. 

Place the korokke in your air fryer, leaving a little space between each korokke so they aren't touching each other. Spray the tops with oil. You will probably have to fry in two or three batches, depending on the size of your air fryer.

Air fry at 350°F for 15-20 minutes, or until golden and crispy. Serve with Japanese worcestershire sauce, ketchup, or plain. These are best right after they're made, but leftovers can be reheated in the air fryer to crisp up. 


Disclosure: This page may contain affiliate links. As an Amazon Associate I earn from qualifying purchases, but the price remains the same to you. Thank you for supporting Ellie Likes Cooking!
Save for later!