This page may contain affiliate links. As an Amazon associate I earn from qualifying purchases. Please read our
disclosure
for more info.
These vegan zucchini oatmeal muffins are tender, moist, and so delicious! Made with whole wheat flour and oats for a hearty, wholesome breakfast.
Zucchini season is in full swing and what better way to celebrate than with zucchini muffins? In particular, these zucchini oatmeal muffins! These muffins pack in a whole zucchini and apple, along with fiber & nutrient-rich oats, whole wheat flour, and peanut butter! Basically a bunch of my favorite ingredients you'd never expect to find in a muffin – but let me tell you, they work. These wholesome muffins are hearty and delicious – perfect for a quick on-the-go breakfast or snack!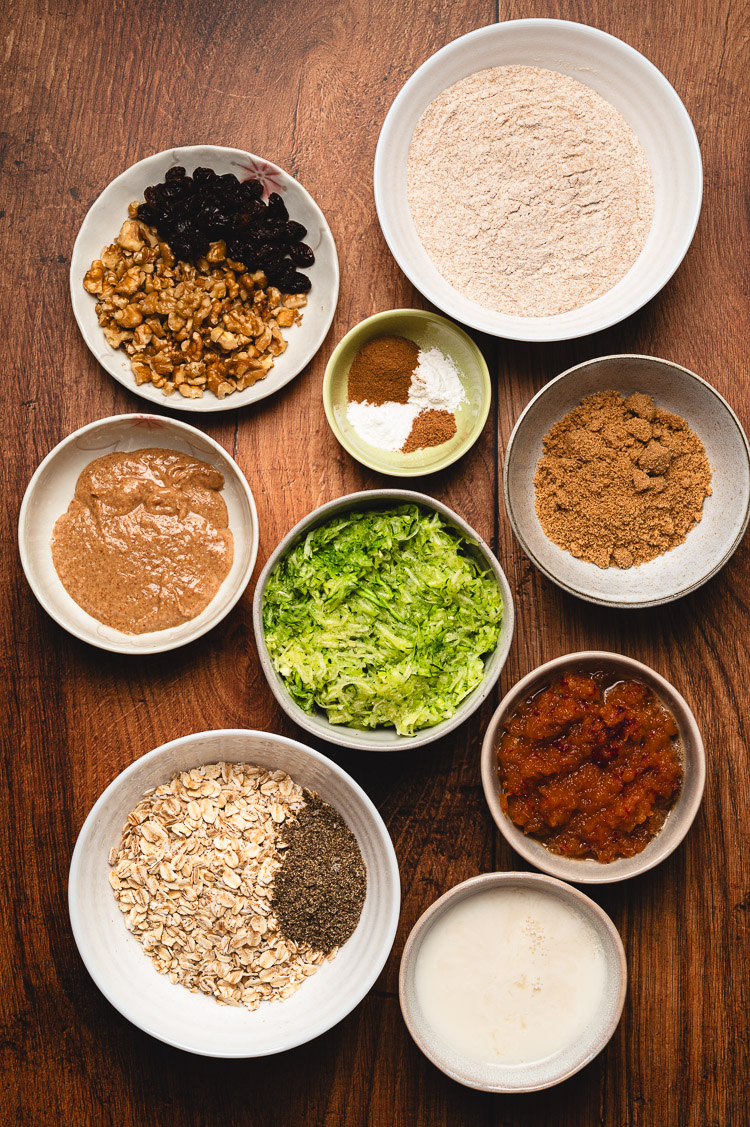 Key Ingredients
Zucchini ⟶ About one medium zucchini, but be sure to weigh your zucchini for most accurate results (you may not need the whole zucchini, or may need slightly more).

Low Waste Tip: Use leftover zucchini in stir fries, soups, frittatas, scrambles, or roast them with olive oil, salt, and pepper!

Applesauce ⟶ If you don't have applesauce, you can use fresh grated apple. The applesauce adds moisture and sweetness.
Rolled or Quick Oats ⟶ Oats make these muffins extra hearty with a chewy bite. If you want a zucchini muffin without oats, try baking my zucchini bread into muffins!
Whole Wheat Flour ⟶ Whole wheat flour makes these muffins more filing thanks to the extra fiber. It does make the muffins slightly more dense, but they are still tender and totally delicious! However, if you're skeptical of whole wheat flour muffins, you can replace with all purpose flour or use half & half whole wheat and all purpose flour.
Peanut Butter ⟶ Instead of oil, these muffins use peanut butter as the fat source to add tenderness and richness to the muffins.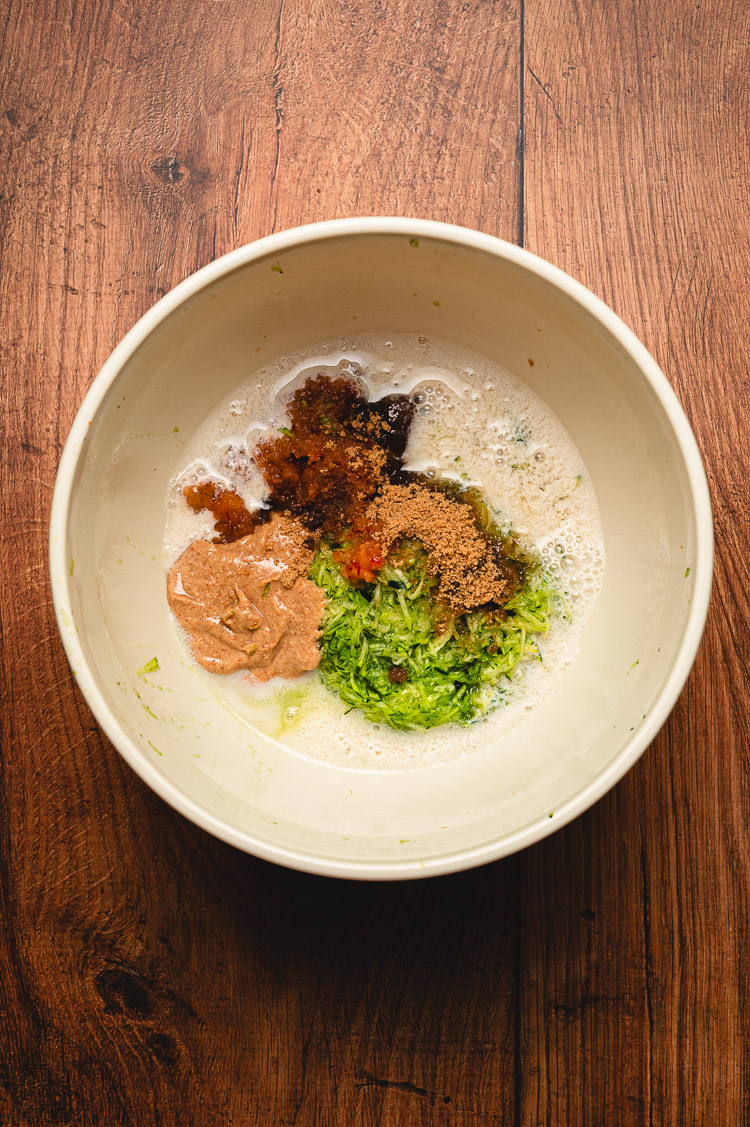 Zucchini Oatmeal Muffin FAQ
How do I store zucchini oatmeal muffins?
Due to the high moisture and lower sugar content of these muffins, they don't last as long at room temperature as store-bought/sugar-heavy/preservatives-added muffins. Generally I will keep them in an airtight container at room temperature for the first 24 hours, then store them in the fridge for 3 days. If you know you won't eat them all within 3-4 days, store them in the freezer in freezer-safe bags.

How do I reheat frozen muffins?
You can place some in the fridge the night before to thaw, then microwave in 10 second intervals until heated through (be careful not to overheat or they will dry out). Or, if you didn't plan ahead, then pop them in the microwave for 30 seconds, then in 10 second intervals.

Can I make these gluten-free?
I haven't tested a gluten-free option, but you can try an all purpose gluten-free flour blend (my go-to is Bob's Red Mill*). Be sure to use certified gluten-free oats as well.
Tips for Success
Soak the oats ⟶ Before mixing the rest of the dry ingredients in, we soak the oats in the wet ingredients for 20 minutes. This allows the oats to soak up some of the moisture, resulting in a softer muffin. If you skip the soaking step, your muffins will likely turn out dense with dry oat pieces throughout.

Don't drain the zucchini! ⟶ Many zucchini muffin recipes will tell you to squeeze out the moisture from the zucchini, but this recipe saves you the hassle. We want the liquid from the zucchini to help hydrate the batter.

Use a kitchen scale ⟶ I highly recommend using a kitchen scale* to accurately weigh all the ingredients whenever gram measurements are given. This is especially important in baking where accurate measurements are pivotal in replicating recipes.
More Tasty Wholesome Muffins!
If you try out these zucchini oatmeal muffins, don't forget to leave a comment/rating down below and tag me in your photos on instagram @ellielikes.cooking. I love seeing all of your tasty recreations!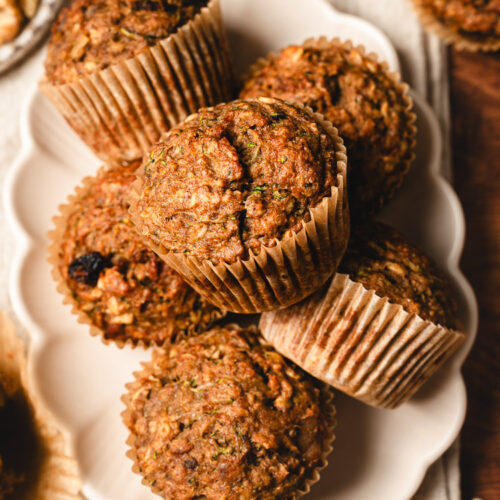 Healthy Zucchini Oatmeal Muffins (Vegan)
These vegan zucchini oatmeal muffins are tender, moist, and so delicious! Made with whole wheat flour and oats for a hearty, wholesome breakfast.
Ingredients
Wet Ingredients
225

grams

zucchini (about 1 medium)

shredded

120

grams (½ cup)

applesauce

or grated apple

45

grams (¼ cup)

brown sugar

60

grams (¼ cup)

peanut butter

1

tbsp

ground flax/chia seed

90

ml (6 tbsp)

non-dairy milk

1½

tsp

apple cider vinegar

1

tsp

vanilla extract

80

grams (1 cup)

oats (quick or rolled)
Dry Ingredients
120

grams (1 cup)

whole wheat flour

½

tsp

baking powder

½

tsp

baking soda

1

tsp

cinnamon

¼

tsp

nutmeg

pinch of salt

½

cup

add-ins like chocolate chips/walnuts/raisins
Instructions
Mix wet ingredients: In a large mixing bowl, mix together wet ingredients. Stir until well combined. Let the oats soak in the mixture for 20 minutes to soften.

Preheat oven: While the oats are soaking, preheat oven to 350°F/180°C. Line a muffin pan with 9 muffin cups.

Mix dry ingredients: In a separate bowl, sift in whole wheat flour, baking powder, and baking soda. Add cinnamon, nutmeg, and salt and whisk to combine.

Combine: Add dry ingredients to wet and use a rubber spatula to gently fold together to form a thick batter. Sprinkle add-ins on top and fold the batter a few more times to distribute the add-ins.

Bake: Distribute batter among muffin cups, filling almost to the top. Place in the middle rack of the oven and bake for 35 minutes, or until a toothpick inserted in the center of a muffin comes out without any wet batter.

Cool: Place muffin pan on a wire rack. Let the muffins cool in the pan for 5 minutes, then carefully remove muffins from the pan. Place on wire rack to cool completely.

Store: Muffins can be stored at room temperature (in an airtight container) for the first 24 hours, then store in fridge for up to 3 more days.
Nutrition per serving (using 1/2 cup walnuts): 200 kcal | 8.6g fat | 1.3g sat fat | 27g carbs | 4g fiber | 6g added sugar | 6g protein | 180mg sodium
Hide


*Disclosure: This page may contain affiliate links. As an Amazon Associate I earn from qualifying purchases, but the price remains the same to you. Thank you for supporting Ellie Likes Cooking!
Save for later!