This page may contain affiliate links. As an Amazon associate I earn from qualifying purchases. Please read our
disclosure
for more info.
These vegan chocolate orange muffins are incredibly moist and delicious! Made with wholesome ingredients like whole wheat flour and tahini.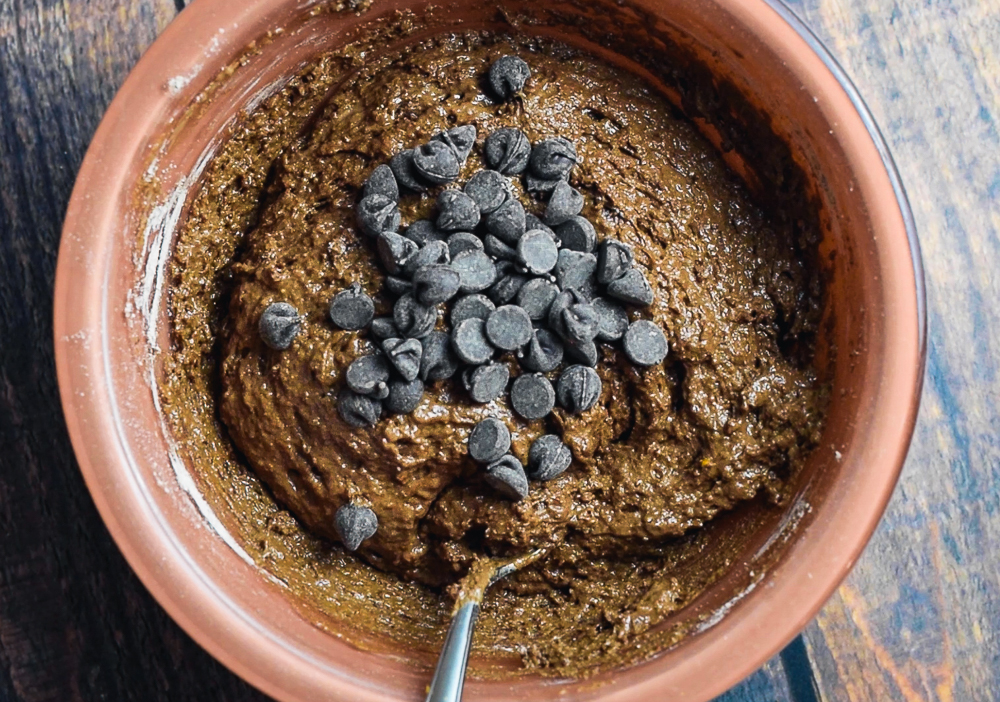 These chocolate orange muffins came about as I was standing in my kitchen surrounded by 50 oranges, not sure what to do with all of them. (My family has an orange tree and I love it, but there's a limit to how many oranges I can eat in one day.) I was also craving chocolate and that's when I remembered that chocolate orange is a legit combo and is really delicious!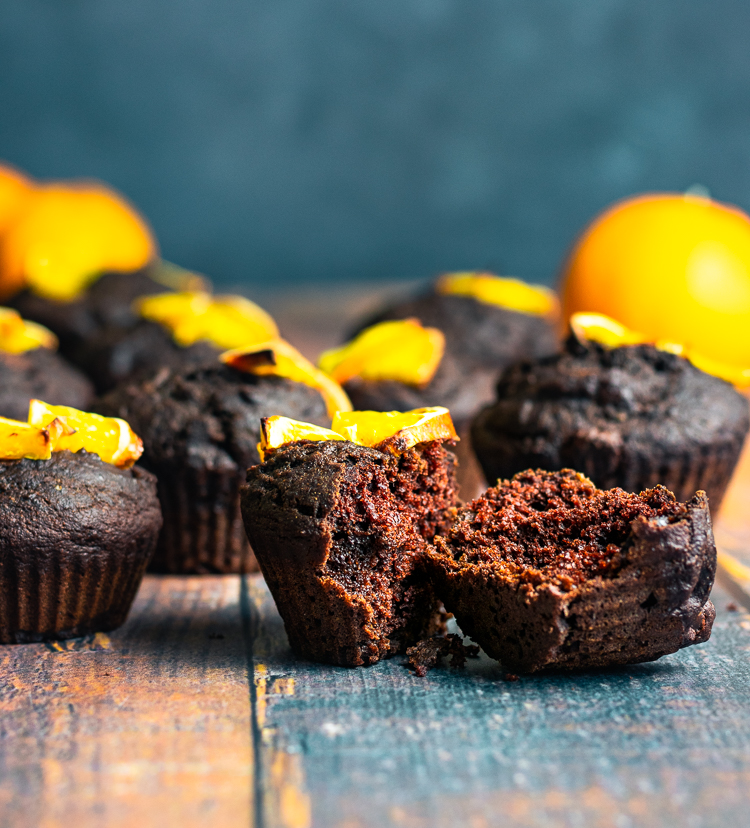 So then my mind went to all the different treats I could make chocolate-orange — chocolate cookies with orange chunks, chocolate tart with an orange cream filling, chocolate cake with orange frosting, mmm okay I'm hungry again and need to get back in the kitchen ASAP to make everything I just mentioned. But in the end I kept it simple and went with these easy chocolate orange muffins, 'cause I was not in the mood to eat a failed mushy cake or too-fluffy cookie. These muffins though, they turned out perfect — moist, fluffy, lightly sweet, and just chocolatey enough to satisfy my craving 🙂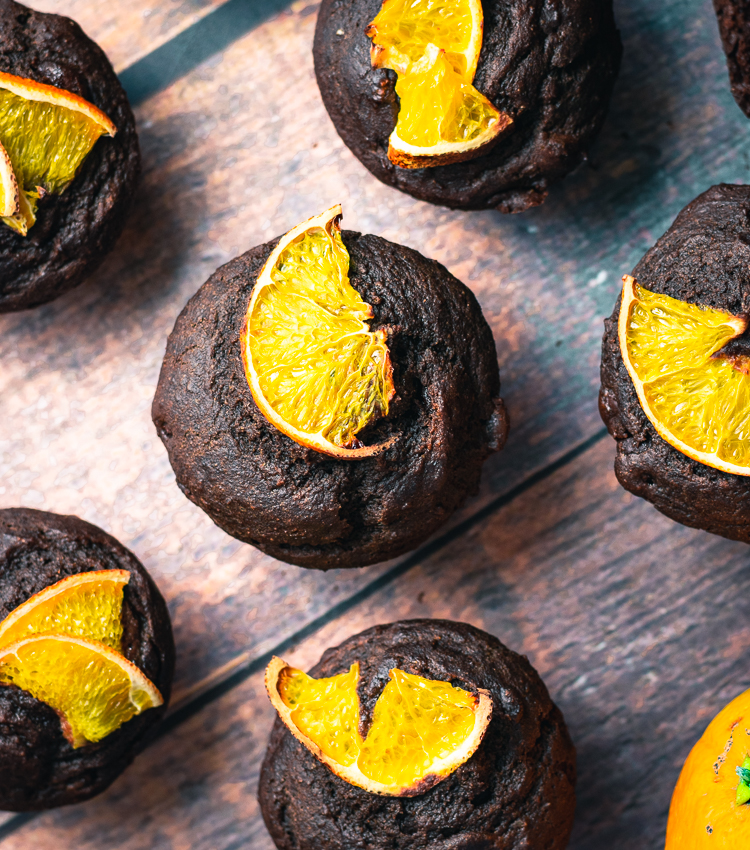 Ingredients
These chocolate orange muffins require 11 plant-based ingredients:
ground flaxseed: sub with ground chia seeds
soy milk: sub other plant-based milks, but soy is creamiest!
oranges: I love using fresh oranges for this recipe, but you can use orange juice and omit the zest if necessary
whole wheat pastry flour: sub with all purpose flour, or a gluten-free all purpose flour
cocoa powder
coconut sugar
baking soda
baking powder
chocolate
tahini
vanilla
I made these muffins healthier by using tahini instead of butter/oil, and trust me, you can't taste the tahini at all. Usually when I bake with tahini, it will leave a slight tahini aftertaste in the baked good. But I think the cocoa powder + orange juice impart such strong flavors already that they overpower the tahini. If you don't have tahini, you could try using other nut/seed butters. Almond butter would have the most neutral taste, but peanut butter is probably your most affordable option. I haven't tried it with peanut butter, but if you do, please let me know how it goes!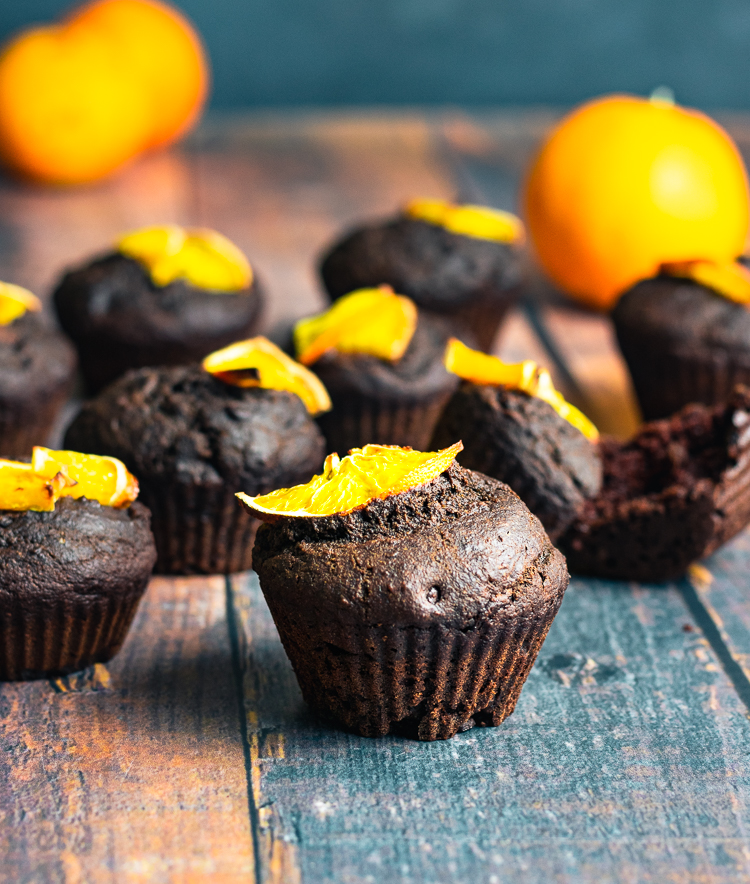 Whatever you do though, don't leave out the nut/seed butter. The fat is essential to getting that fluffy, moist texture. I don't recommend going fat-free and using applesauce or banana, since it will result in a gummy, much less satisfying texture and flavor. Plant fats are healthy so don't skip 'em!
Also, make sure you follow the instructions correctly and mix the orange juice and soy milk first, so the soy milk has time to curdle, creating a kind of "buttermilk". This helps add air and fluff to your muffins!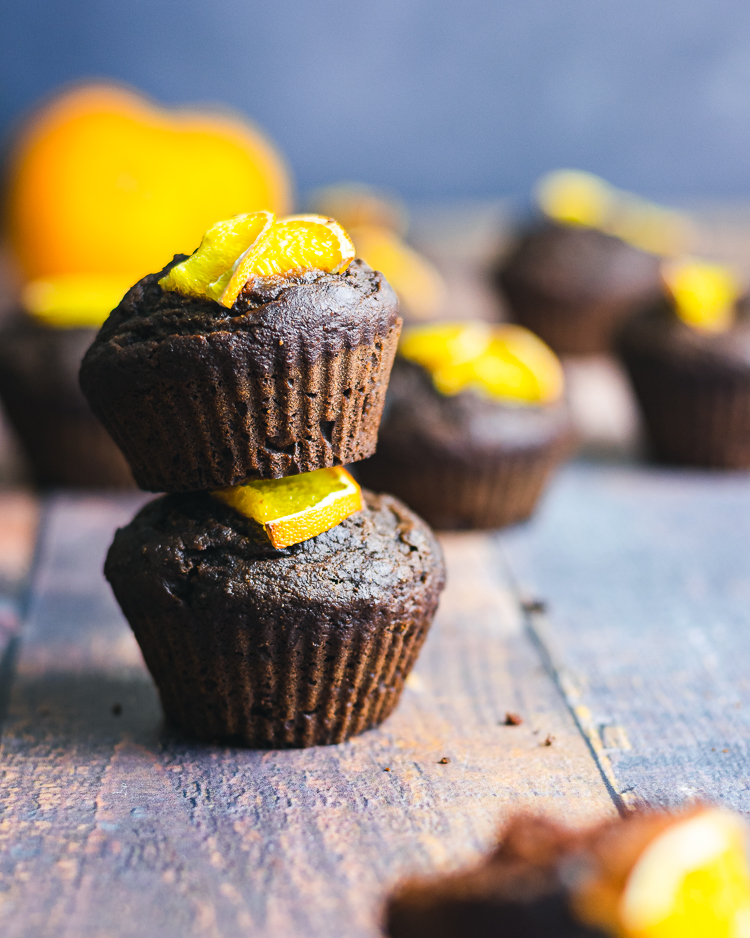 Still hungry?
Check out these other healthy vegan treats!
Also be sure to check out the video below if you learn better by watching. It's fairly simple so you shouldn't have any trouble, but if you do have questions, leave a comment down below and I'll respond ASAP! I hope you love these muffins as much as I do, and if you do try them out, be sure to tag me in your recreations on instagram @ellielikes.cooking and leave a comment letting me know how you liked them. I love seeing your tasty recreations 🙂 Happy baking!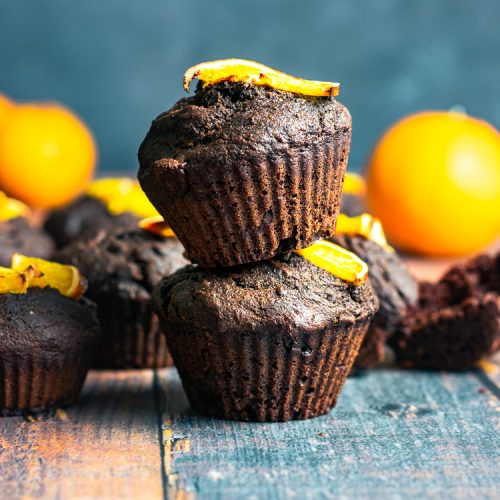 Vegan Chocolate Orange Muffins
These vegan chocolate orange muffins are incredibly moist and delicious! Made with wholesome ingredients like whole wheat flour and tahini.
Ingredients
1

tbsp

ground flaxseed

3

tbsp

water

1/2

cup

soy milk

1/3

cup

orange juice

1

cup

whole wheat pastry flour

1/4

cup

cocoa powder

1/3

cup

coconut sugar

1

tsp

baking soda

1/2

tsp

baking powder

1/8

tsp

salt

2

tbsp

chocolate

melted

1/4

cup

tahini

1/2

tsp

orange zest

1

tsp

vanilla extract

1/3

cup

chocolate chips

orange segments

optional
Instructions
Preheat oven to 350°F. Line a muffin tray with muffin liners or grease so that batter will not stick. Set aside.

Mix flaxseed and water in a small bowl. Set aside to thicken.

Combine soy milk and orange juice and set aside. The milk will curdle as it sits.

In a medium bowl, sift together flour, cocoa powder, sugar, baking powder, baking soda, and salt.

Mix tahini and melted chocolate in a large bowl. If your tahini is too thick, microwave it briefly till it becomes runny. Add orange zest and vanilla extract.

Add the half the dry ingredients into the wet ingredients, briefly mix, then add the rest of the dry ingredients. Mix until just combined, then add chocolate chips and mix until chocolate chips are evenly distributed. Be careful not to over-mix.

Add spoonfuls of batter to the muffin liners, filling them about 3/4 of the way. Top with orange segments if using, then bake for 22 minutes. Check for doneness by inserting a toothpick in the center of a muffin — it should come out almost clean. Let cool completely before serving.
Save for later!