This page may contain affiliate links. As an Amazon associate I earn from qualifying purchases. Please read our
disclosure
for more info.
These vegan gyoza are perfectly crispy, chewy, juicy comfort food. Filled with 8 simple ingredients but so delicious, healthy, and satisfying!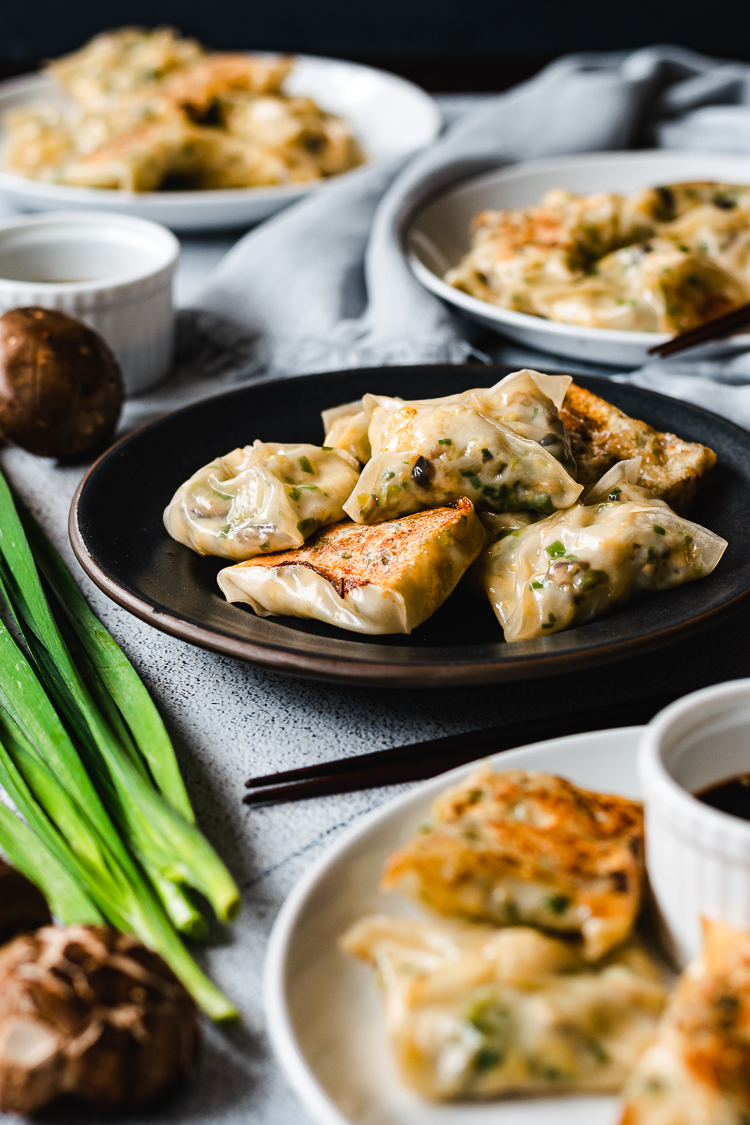 Gyoza is one of those dishes that you just never get sick of. (At least I never do.) The combination of the crispy bottom, chewy skin, and juicy filling just screams comfort to me, different from the way loaded vegan pizzas or vegan mac & cheese does. American comfort food is delicious in its own right, but often leaves me feeling lethargic, bloated and thirsty from sodium-overload, and with an uncomfortable food baby. On the other hand, Asian comfort food usually leaves me with more time to enjoy the food before I hit a food coma. There's also a higher chance of some kind of vegetable to appear, which always makes me feel slightly better — like, yes, I'm eating vegetables, this is an acceptable dinner, I have more than one food group in this meal, nutrients yay!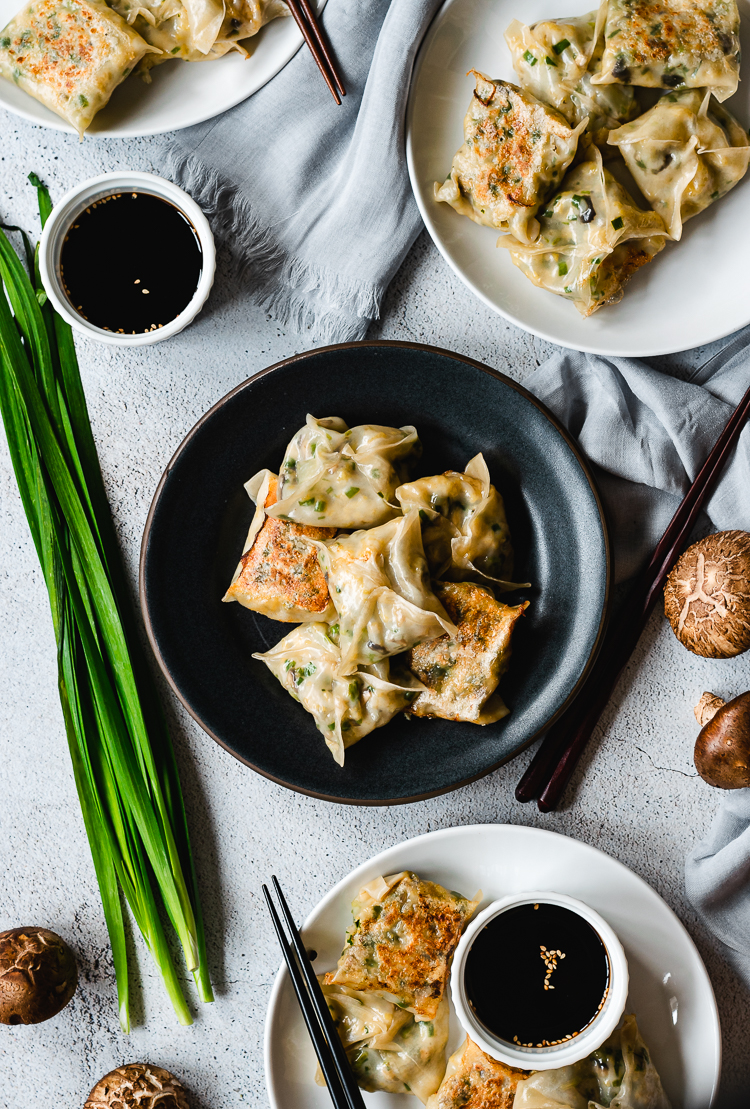 Asian food is so good that it's basically all just comfort food to me on some degree, but my favorites would have to be ramen, korokke, curry, my peanut miso soup, and gyoza. I have one other gyoza recipe on my blog already, but that one was made with lotus root (I love the crunch it gives). Traditionally gyoza is made with ground pork, so I thought I should have a recipe slightly more similar to a traditional Japanese gyoza. That being said, these are obviously not made with pork, but they do have a chewy, meaty texture which I find quite satisfying.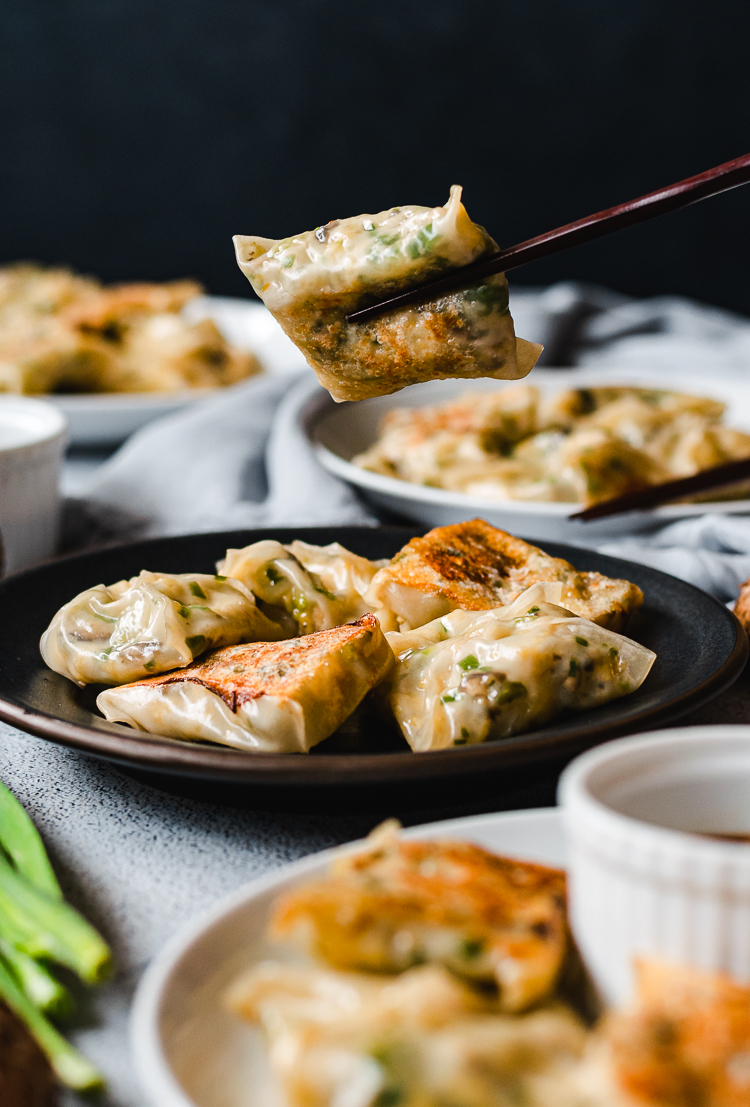 THE SECRET TO ITS MEATY TEXTURE
Frozen tofu! If you haven't tried frozen tofu, you are missing out big time. Frozen tofu is magical. The texture changes completely and it becomes like a sponge and soaks up flavors so well! (It's really good for making vegan karaage, too.) Just stick a block of tofu (drained and placed in a freezer-safe bag for best results) in the freezer until solid, then thaw in the fridge a day or two before using, or in the microwave right before using. I recommend thawing in the fridge for best results. I have difficulty thawing the very middle of the tofu in the microwave, but with patience (and maybe a better microwave) it can be done!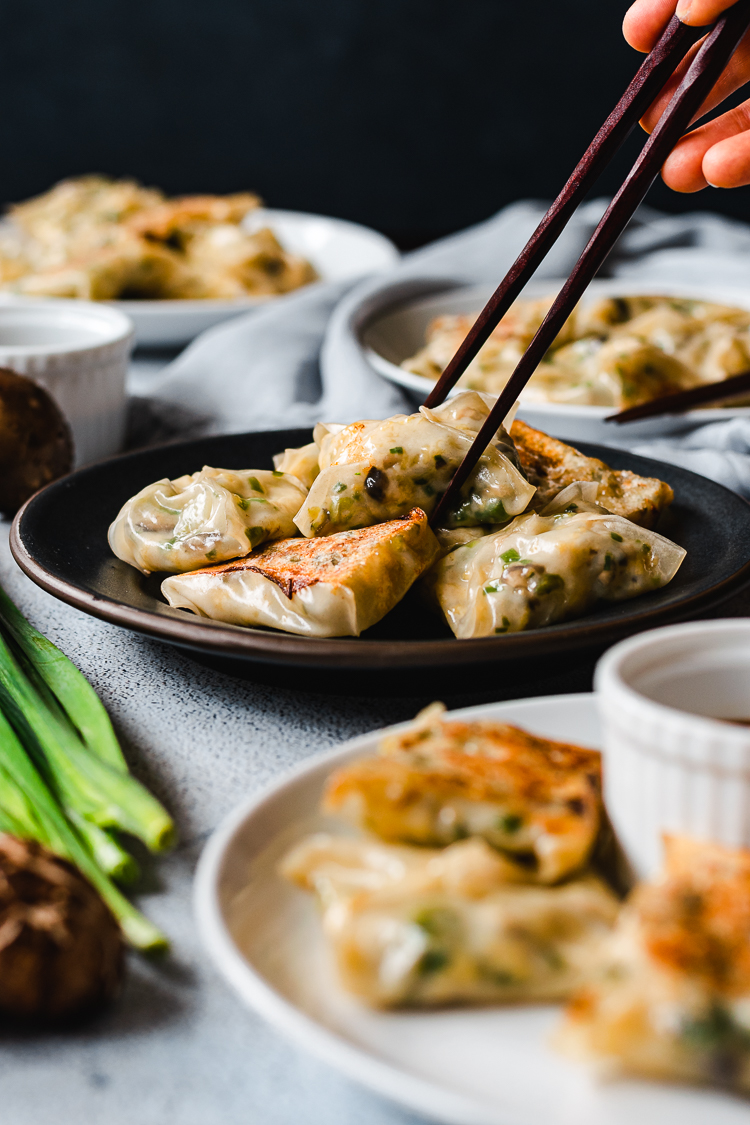 INGREDIENTS TO MAKE VEGAN GYOZA
Tofu ⟶ frozen (and thawed) tofu will produce a meatier texture and soaks up the flavors more, but you can also just press the tofu if you want a softer texture
Chinese/garlic chives ⟶ they should be very long stalks (look for them in an Asian market) OR replace with green onions if you can't find chives
Shiitake Mushrooms ⟶ add a chewy, meaty texture and nice Japanese flavor, but can be replaced with other types of mushroom
Cabbage ⟶ bulks up the filling and adds a slightly crunchy texture
Mirin ⟶ sweet rice wine
Sesame Oil ⟶ for that toasted, nutty flavor
Gyoza Skins ⟶ check the packaging to make sure it doesn't include egg OR use wonton skins OR make your own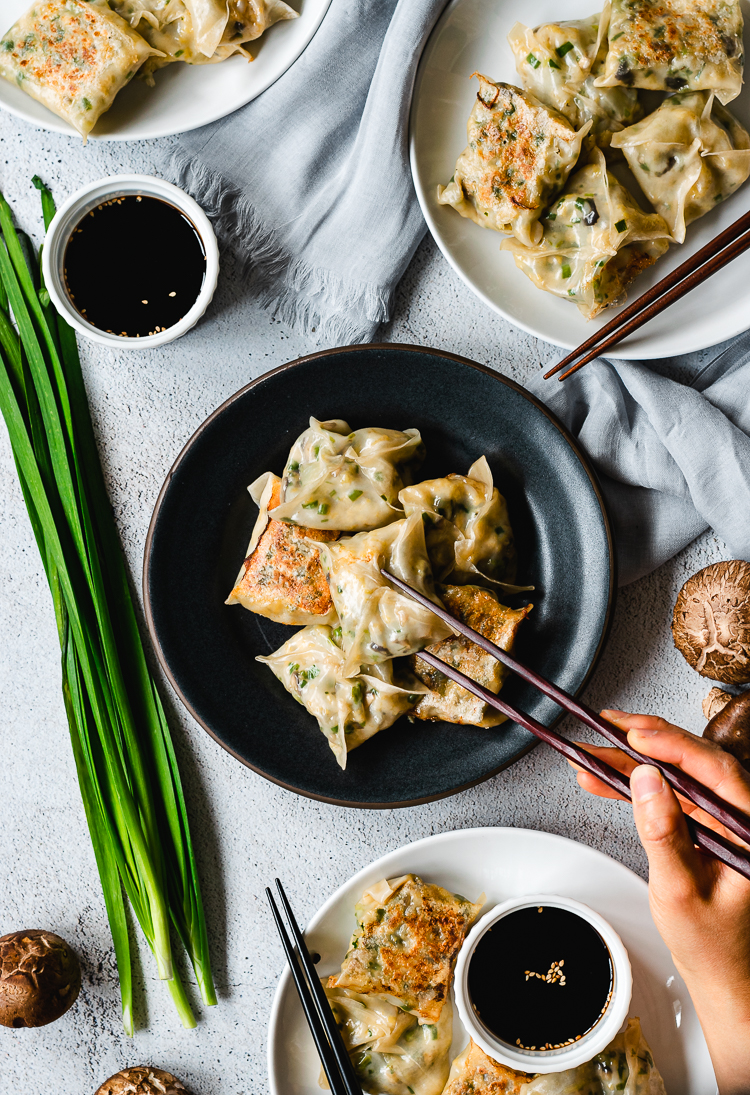 STILL HUNGRY?
Check out these other delicious Japanese dishes!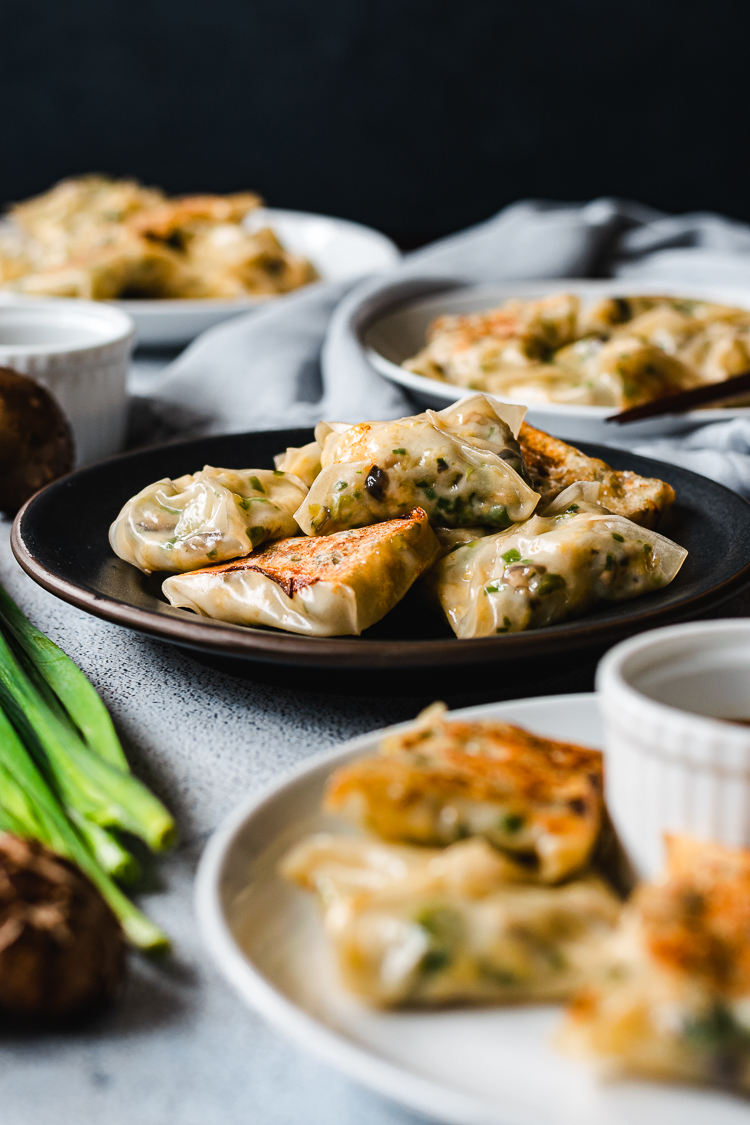 I hope I've inspired you to make this vegan tofu gyoza! If you try it out, don't forget to tag me in your photos on instagram @ellielikes.cooking, leave a comment/rating down below, and let me know how you liked it! I love seeing all of your tasty recreations 🙂 Happy cooking! ♡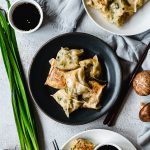 Print Recipe
Vegan Tofu Gyoza
These vegan gyoza are crispy, chewy, juicy — everything you want in gyoza. Filled with simple ingredients but so delicious, healthy, and satisfying!
Ingredients
1

block

frozen tofu*, thawed

3

stalks of

garlic/Chinese chives

chopped

6

shiitake mushrooms

chopped

1

cup

cabbage

chopped

1

tbsp

soy sauce

1

tbsp

mirin

1

tsp

sesame oil

30

gyoza skins**, or as many as needed
Instructions
Make sure your tofu is completely thawed. To do this, you can take the tofu out of the freezer a night or two before and thaw in the fridge. Or, if you don't have that much time, take out of the packaging and place in a microwave-safe bowl. Cover and microwave in 30 second intervals until thawed.

Heat a pan on the stove and briefly cook the mushrooms and cabbage until shrunken (this is to get rid of excess water that comes out of the veggies when cooked).

Crumble tofu into a big mixing bowl and add in the cooked veggies, chives, soy sauce, mirin, and sesame oil. Mix until well combined.

Lay out the gyoza skins on a clean surface and place a dollop of filling in the center, making sure there is still room to fold up the skins. 

Lightly dip your index finger in water and wet the edges of the gyoza skins. This will help the skin stick together when you fold them up. Fold and crimp your gyoza skins so that no filling is falling out. Repeat until you use up all the filling. 

Lightly oil a pan and heat it over medium heat. Add gyoza to the pan, making sure they don't touch each other. Fry the bottom of the gyoza for 1-2 minutes until crispy, then add about 1/4 cup water to the pan and cover with a lid. Steam for 3 minutes or until most water evaporates. Uncover and let the rest of the water evaporate. Remove from pan and repeat process with remaining gyoza. Serve warm with soy sauce or ponzu and rice. 
Notes
*I prefer frozen tofu as it soaks up the flavors a lot better. Fresh tofu can work, but I recommend pressing it or microwaving for a minute or so to get rid of some of the water.
**Some gyoza skins contain egg, so make sure you check the packaging if you want this dish to be completely vegan. If you can't find egg-free gyoza skins, try wonton skins (which is what I used in the photos) as these usually do not contain egg.
Disclosure: This page may contain affiliate links. As an Amazon Associate I earn from qualifying purchases, but the price remains the same to you. Thank you for supporting Ellie Likes Cooking!
Save for later!