This page may contain affiliate links. As an Amazon associate we earn from qualifying purchases. Please read our
disclosure
for more info.
This easy vegan pumpkin granola is the perfect wholesome fall breakfast. It's cozy, nutty, lightly sweetened, and so tasty!
Yogurt and granola bowls are one of my favorite breakfasts and nighttime snacks because they're quick and easy to throw together; satiating from all the healthy fats, fiber, and protein; and obviously they're delicious! I have a bunch of granola recipes on my site – the date-sweetened ones are my favorite – but now that it's fall, of course I had to make a pumpkin version. I love this pumpkin granola because it's delicious and made with wholesome ingredients that are vegan, gluten-free, and oil-free!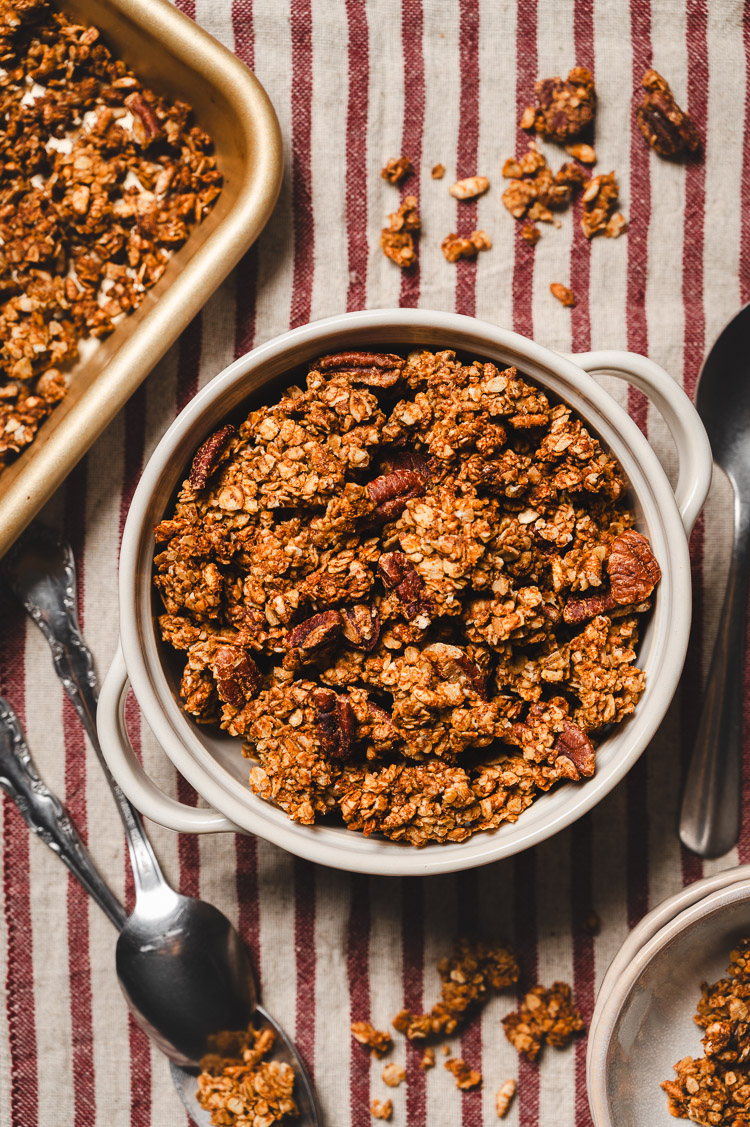 Tips for Success
Pack tightly on baking sheet ⟶ For chunky clusters of granola, tightly pack the granola on the baking sheet before baking.

Bake on low heat ⟶ This granola burns more quickly since it's based on nut butter instead of oil, so we use a slightly lower temperature (325°F) than most granola recipes. This ensures the granola has enough time to dry out and crisp up without burning.

For large clusters, don't stir ⟶ Many granola recipes say to stir halfway through baking to avoid burning, but this breaks up the granola before it's had time to form clusters. Since this is baked at a lower temperature, you can just leave the granola untouched for the entire bake time.

Let cool completely ⟶ The granola should be mostly dry and golden brown when you remove it from the oven, but it won't feel crisp yet. Let it cool completely before breaking it up since it will continue to dry and crisp up as it cools.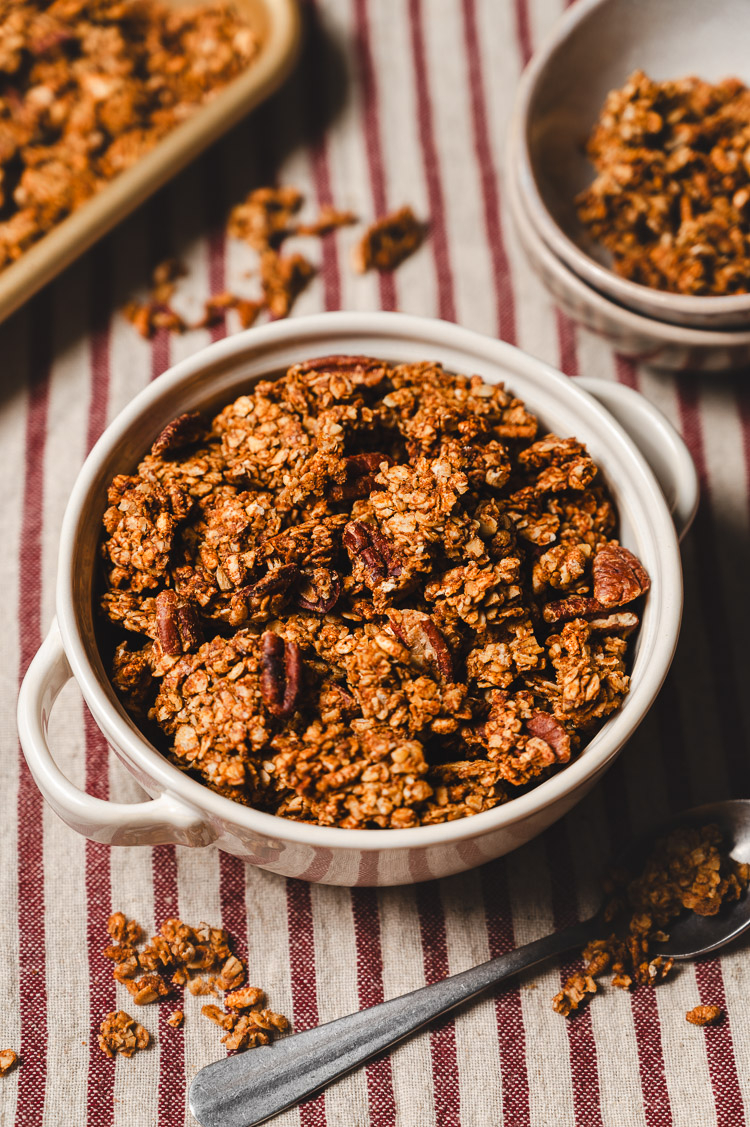 Pumpkin Granola FAQ
How long does pumpkin granola last?
This homemade granola will last about a week in an airtight container stored at room temperature.

Is this granola gluten-free?
It is gluten-free as long as you use certified gluten-free oats.

Can I substitute the molasses?
You can substitute with maple syrup or use 2 1/2 tbsp dark brown sugar instead of granulated sugar.

Can I substitute the almond butter?
You can use another nut/seed butter, but it will change the flavor of the granola. Try to use something more neutral in flavor, like cashew, walnut, or sunflower seed butter.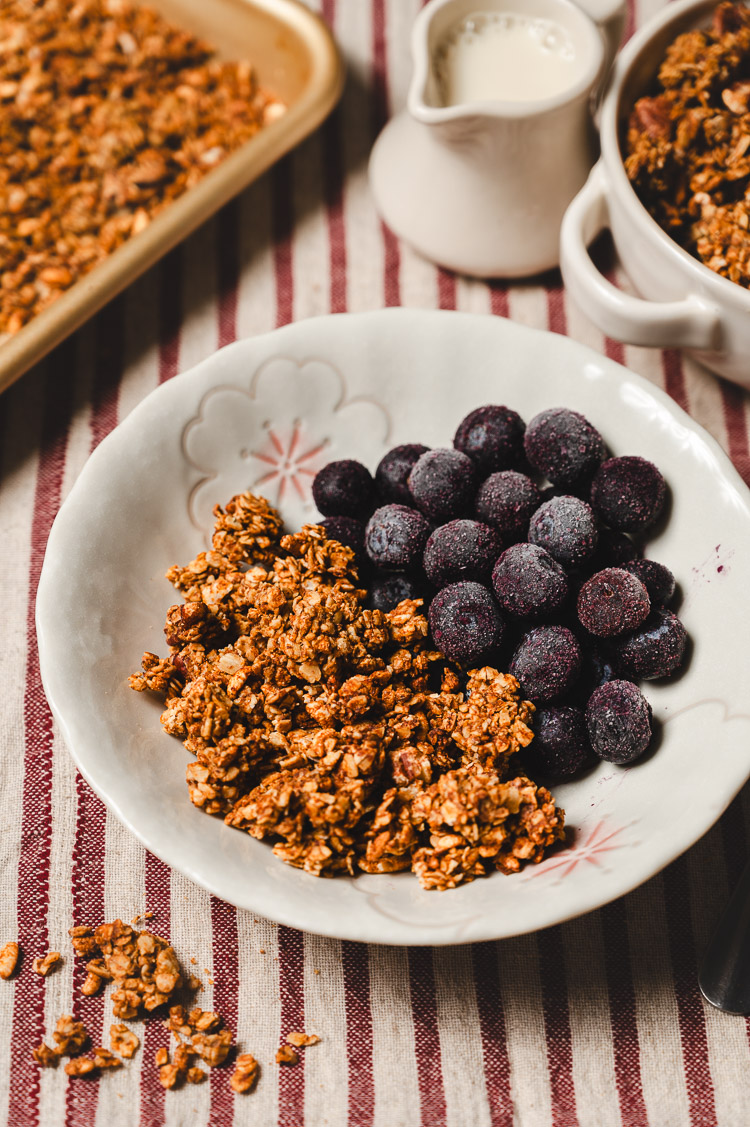 What to Do With Leftover Pumpkin Puree
Or try adding some pumpkin puree to chili, curry, soups, oatmeal, or chia pudding!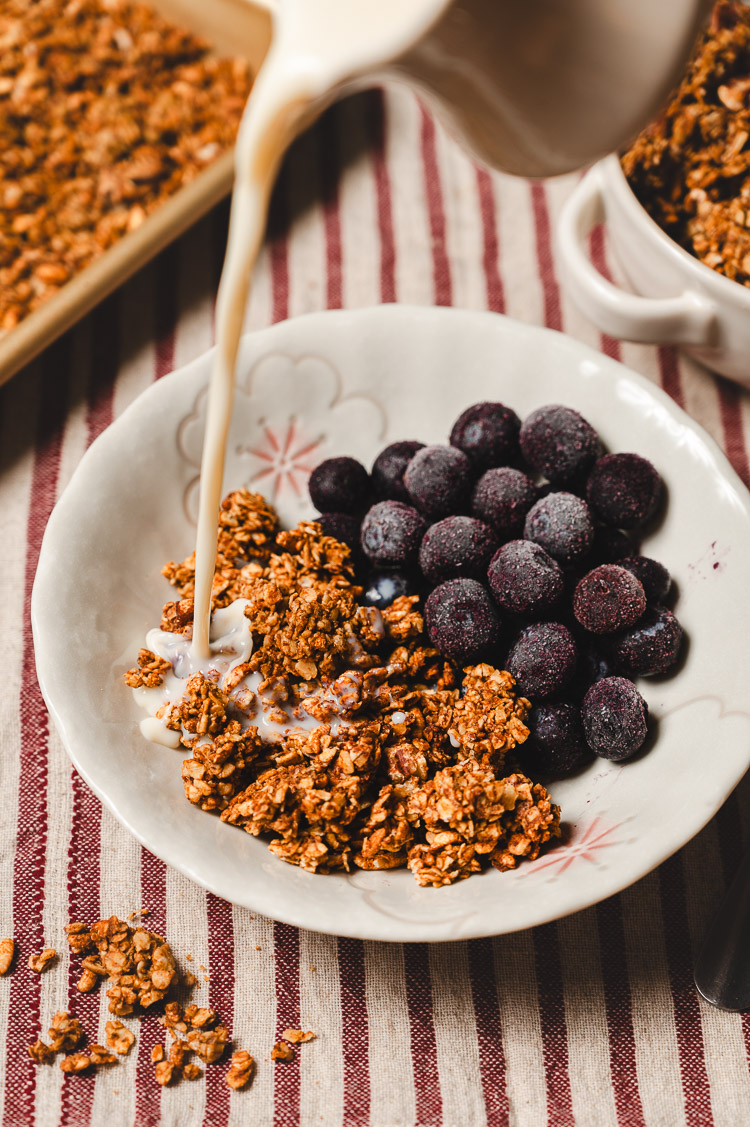 If you make this pumpkin granola, don't forget to leave a comment/rating down below and tag me in your photos on instagram @ellielikes.cooking. I love seeing all of your tasty recreations!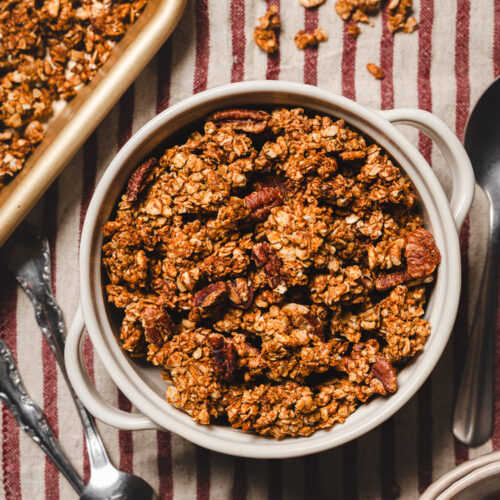 Pumpkin Granola
This easy vegan pumpkin granola is the perfect wholesome fall breakfast. It's cozy, nutty, lightly sweetened, and so tasty!
Ingredients
60

grams (¼ cup)

runny almond or walnut butter**

60

grams (¼ cup)

pumpkin puree*

2

tbsp

granulated sugar

½

tbsp

molasses

1

tsp

vanilla extract

1 ½

cups

rolled or quick oats

1

cup

puffed rice*

1

tsp

pumpkin pie spice**

¼

cup

chopped pecans or walnuts

2

tbsp

seeds (hemp, sunflower, sesame, flax, etc.) or extra nuts
Instructions
Preheat oven to 325°F. Line a baking sheet with parchment paper or a silicone baking mat.

In a large mixing bowl, add almond butter, pumpkin puree, brown sugar, molasses, and vanilla extract. Mix until well combined.

Add oats, puffed rice, pumpkin pie spice, nuts, and seeds. Stir a few times with a large mixing spoon or spatula to combine everything together, then use a clean hand to mix and clump the mixture together. This will help form clusters.

Transfer the mixture to your prepared baking sheet and spread it out. Tightly pack the mixture together and press down into an even layer. Bake for 25-30 minutes until golden. If you notice the edges starting to burn, you can gently mix the granola and pack it down tightly.

Place the baking sheet on a wire rack and let the granola cool completely. It will crisp up as it cools. Store leftovers in an airtight container at room temperature for up to a week.
**Notes
Almond/Walnut Butter: You want your nut butter to be runny so it's easier to mix into the granola. If your nut butter is hard, microwave for 10-15 seconds to loosen it up. Pumpkin Pie Spice: If you don't have pumpkin pie spice, use 1/2 tsp cinnamon, 1/8 tsp nutmeg, 1/8 tsp ginger, 1/8 tsp allspice, 1/8 tsp cloves.


*Disclosure: This page may contain affiliate links. As an Amazon Associate I earn from qualifying purchases, but the price remains the same to you. Thank you for supporting Ellie Likes Cooking!
Save for later!