This page may contain affiliate links. As an Amazon associate I earn from qualifying purchases. Please read our
disclosure
for more info.
Quick & easy vegan pumpkin pancakes that are thick, fluffy, and can be made in a blender. The perfect wholesome cozy fall breakfast!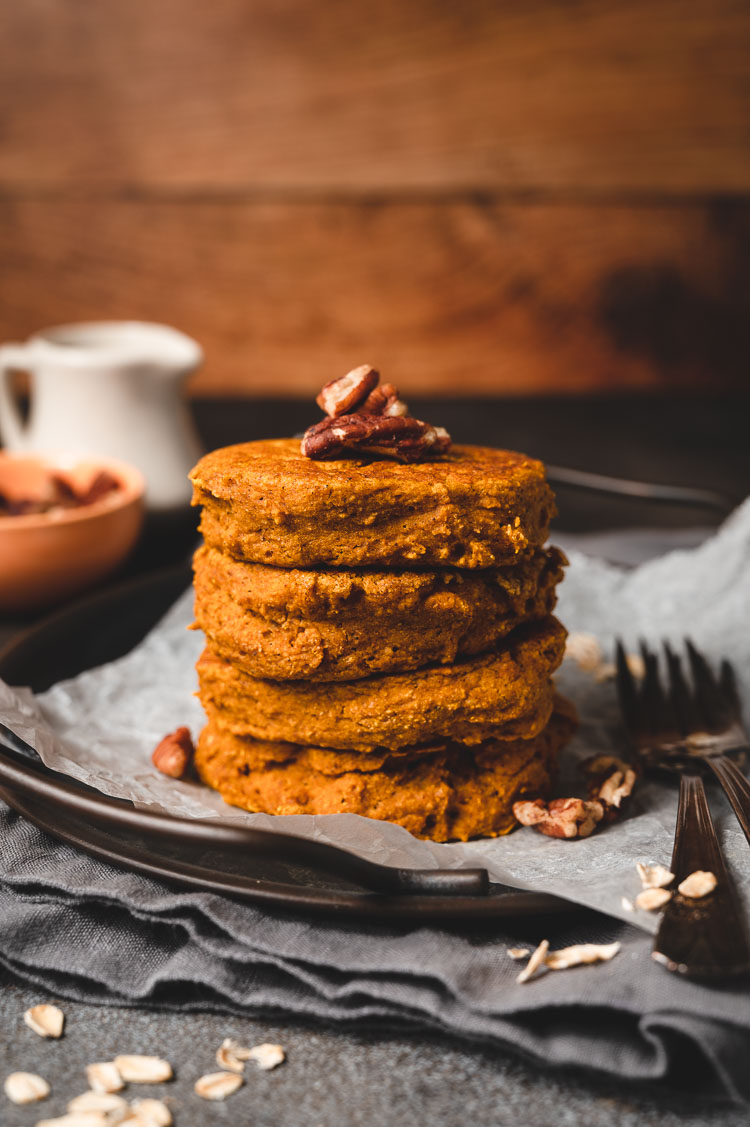 These vegan pumpkin pancakes are about to become your favorite fall breakfast. They're super easy to make, ready in under 30 minutes, and are packed with plant-based protein and fiber thanks to oats, pumpkin, and soy milk! They're basically a leveled up version of oatmeal. Serve with fruit and tofu scramble or vegan sausages for a hearty fall breakfast!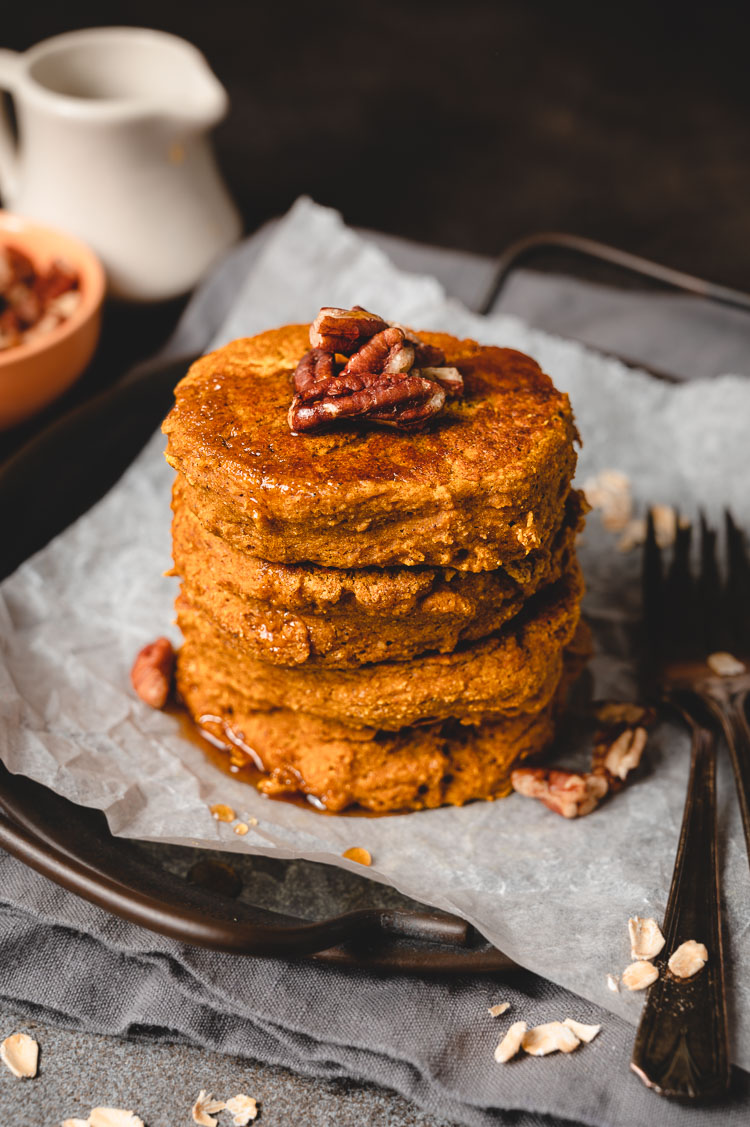 How to Make
These pancakes can be made in a bowl or blender depending on whether you use rolled oats or oat flour. If you don't have oat flour, you can quickly make your own by blending rolled oats. If you'd like, you can then add the rest of the ingredients and blend to make the batter. Do note, however, that the batter is very thick so you may need to add an extra tablespoon of milk. I prefer to make a big batch of oat flour and store it in my pantry for whenever I need it. So I usually make these pancakes in a bowl and whisk by hand (mainly so I don't have to deal with cleaning batter off my blender 😅). Whichever method you choose, the batter comes together really quickly and after just a few minutes of rest time, they're ready to cook! You'll have delicious pumpkin pancakes on your table in under 30 minutes.
Tips for Success
Let the batter rest! ⟶ The oats will soak up the liquid as it rests and create a thick batter, which results in thick, fluffy pancakes!

Cook on medium low ⟶ These pancakes need to cook low and slow to ensure they are cooked all the way through. Otherwise you will end up with a gummy, dense texture.

Let the pancakes rest ⟶ After cooking, rest the pancakes for a minute or two before eating. They will still be a little soft inside when you take them off the pan, but after a minute or so they should firm up a bit and finish cooking.

Add your favorite fillings/toppings ⟶ I love adding chocolate chips to these and serving them with some almond yogurt and maple syrup. You can also top with walnuts/pecans/hemp seeds/pumpkin seeds; drizzle with almond butter/walnut butter/pecan butter; and serve with fruits like banana, berries, apples, or oranges!
More Cozy Fall Breakfasts!
If you try out these vegan pumpkin oat pancakes, don't forget to leave a comment/rating down below and tag me in your photos on instagram @ellielikes.cooking. I love seeing all of your tasty recreations!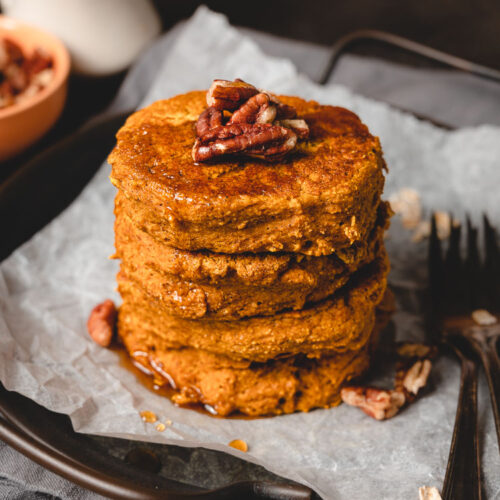 Vegan Pumpkin Oat Pancakes (Gluten-Free)
Quick & easy vegan pumpkin pancakes that are thick, fluffy, and can be made in a blender. The perfect wholesome cozy fall breakfast!
Ingredients
120

grams (½ cup)

pumpkin puree

120

ml (½ cup)

soy milk

2

tsp

apple cider vinegar

1

tbsp

maple syrup

1

tsp

vanilla extract

100

grams

oat flour* or rolled oats

use gluten-free as needed

1

tbsp

baking powder**

½

tsp

cinnamon**

¼

tsp

nutmeg**

¼

tsp

cloves**
Instructions
If using rolled oats, add to a high power blender and blend into a flour consistency.

Add pumpkin, milk, vinegar, maple syrup, and vanilla extract to a mixing bowl and whisk to combine. Add in remaining ingredients and whisk until well combined. Let the batter rest 5-10 minutes to thicken.

Grease a skillet with vegan butter or oil and heat over medium low. To test if your pan is hot enough, sprinkle a few drops of water on it. If the water sizzles immediately, it's ready.

Scoop about ¼ cup batter onto the skillet. Cook about 3 minutes or until the edges look dry and the bottom is golden brown, then flip and cook another 3 minutes. Lower the heat if your pancake cooks too quickly on the bottom.

Transfer pancakes to a plate and rest for 1 minute, then serve with maple syrup or toppings of choice (yogurt, pecans, walnuts, hemp seeds, pumpkin seeds, etc)!
**Notes
Low Sodium Option: Use low sodium baking powder or reduce baking powder by half (so use 1 1/2 tsp instead of 1 tbsp). The pancakes won't be quite as fluffy but they'll still be delicious! Spices: You can replace the cinnamon, nutmeg, and cloves with 1 tsp pumpkin pie spice.
Nutrition per serving: 290 kcal | 6g fat | 1g sat fat | 50g carbs | 6g fiber | 10g sugar | 10g protein | 670mg sodium
Hide


*Disclosure: This page may contain affiliate links. As an Amazon Associate I earn from qualifying purchases, but the price remains the same to you. Thank you for supporting Ellie Likes Cooking!
Save for later!