This page may contain affiliate links. As an Amazon associate I earn from qualifying purchases. Please read our
disclosure
for more info.
Tempeh marinated in a savory peanut sauce and cooked to crispy, hearty perfection. Vegan, 7 ingredients, and great in salads, wraps, and bowls!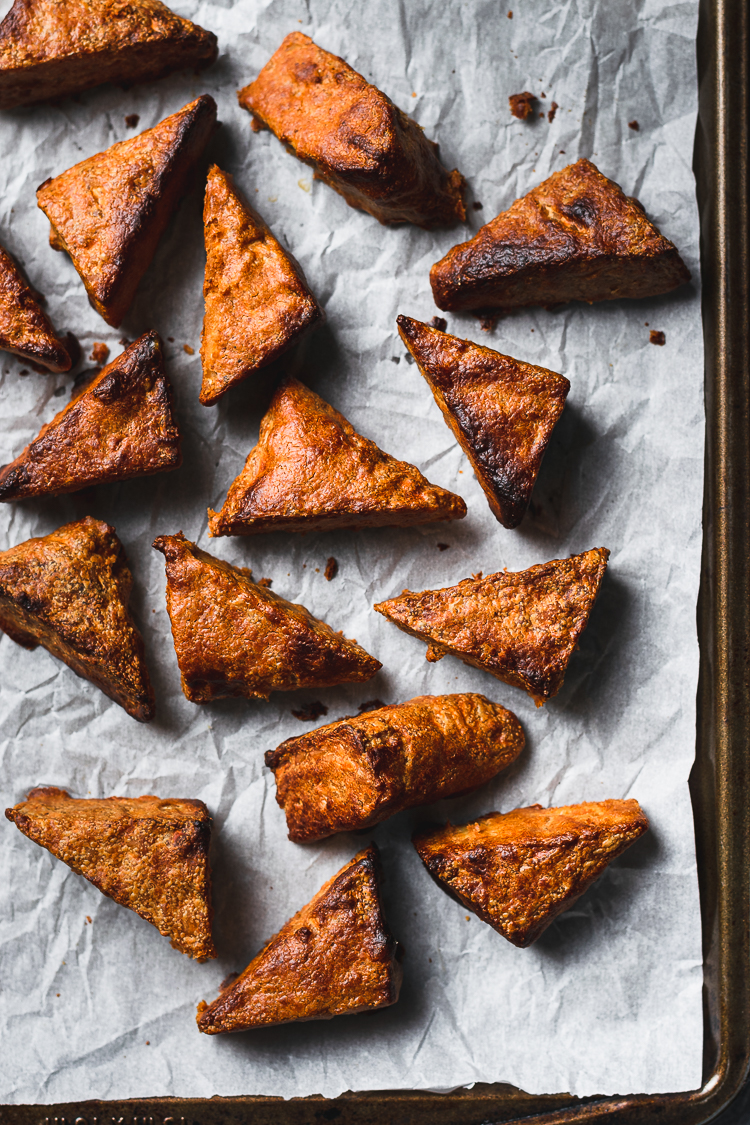 Let's talk about tempeh. I post a lot of tofu and lentils/bean-based recipes here, but I realized I haven't been giving tempeh the love it deserves. That's because I wasn't a huge tempeh fan until recently. When I first tasted it, I thought it was bitter, dry, and really dense, and I had no idea how to cook with it! I would just throw it into stir fries hoping it would absorb the flavors just like that, but obviously it requires a little more patience and effort (but just a little). The key to great-tasting tempeh? Marinate! All you need is a tasty sauce and the forethought the plan ahead. Then you'll realize that tempeh is actually a delicious, hearty protein that you absolutely need in your weekly meals!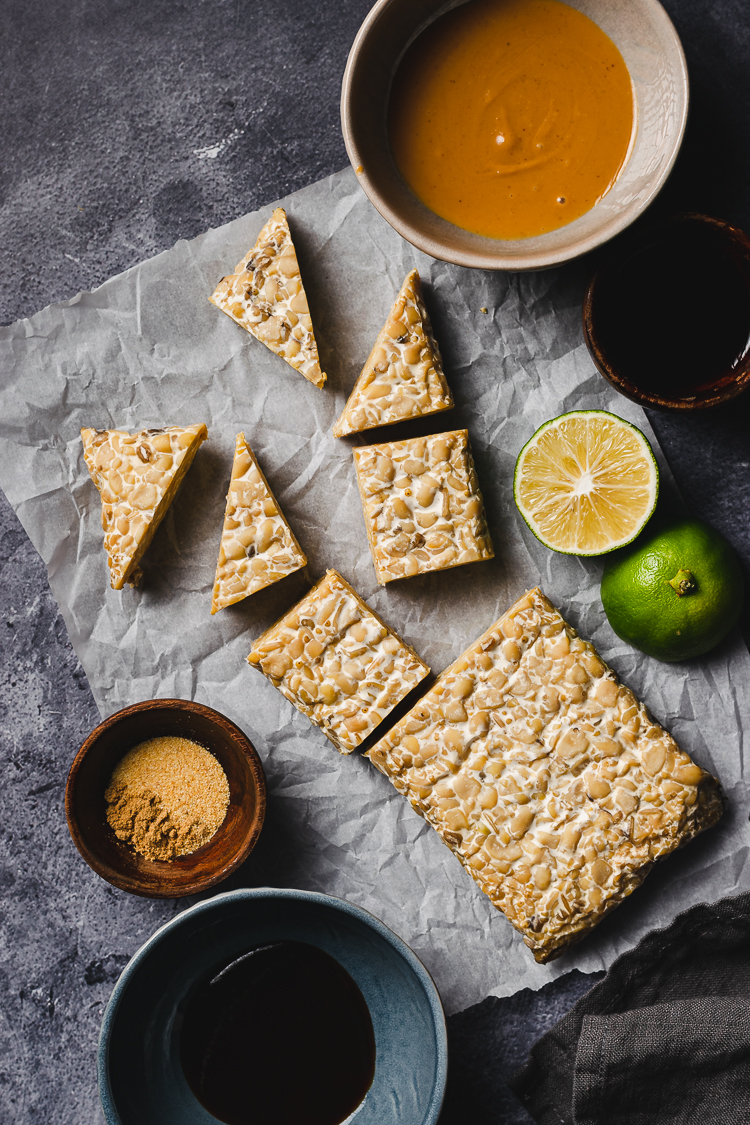 INGREDIENTS
This tasty tempeh dish is made with just 7 ingredients:
Tempeh ⟶ I recommend steaming or simmering the tempeh first to remove any bitterness and soften the tempeh. This creates a moist tempeh that easily soaks up flavor.
Peanut Butter ⟶ I used unsweetened and unsalted. If yours is sweetened, you may want to add more lime juice to balance out the sweetness. If your peanut butter is salted, start with 1 tsp of soy sauce and adjust to taste.
Hoisin Sauce* ⟶ a thick and flavorful sweet & salty sauce common in Chinese cuisine

GF OPTION: typically contains wheat but many brands now make gluten-free sauces, so check the ingredients list and look for the "gluten-free" label

Soy Sauce ⟶ adds salty, umami flavor
Lime Juice ⟶ adds a fresh, tangy flavor to balance out the sweet and salty
Garlic Powder ⟶ or use minced fresh garlic, 1 large clove or 2 small
Ground Ginger ⟶ or use minced or grated fresh ginger, about a ½" piece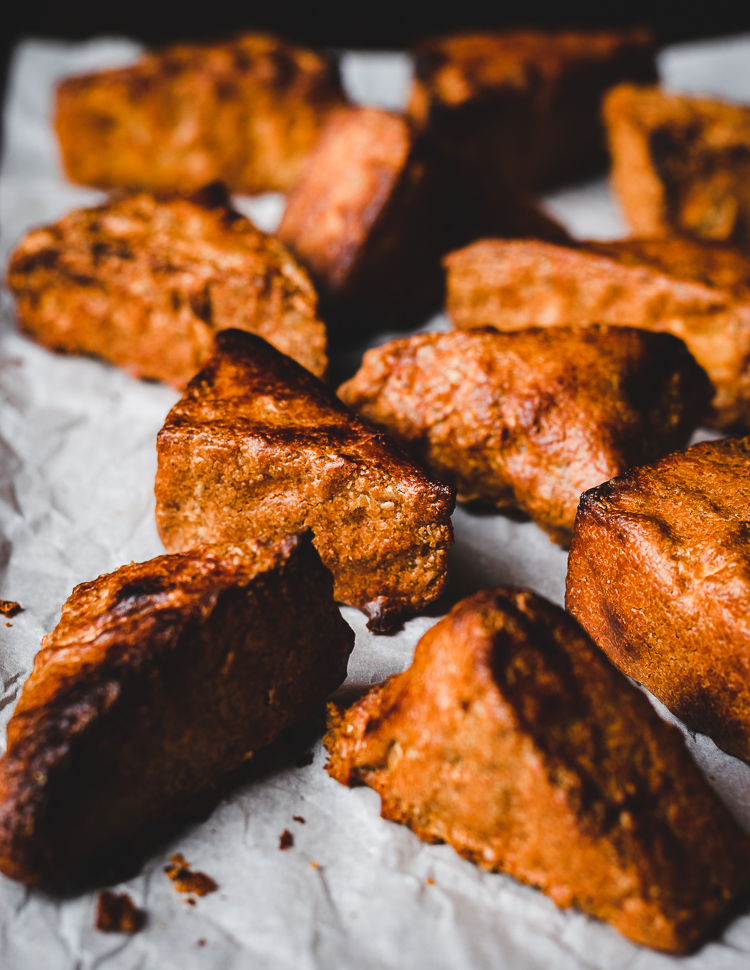 HOW TO SERVE
This marinated tempeh is a great protein-packed main dish. To round out your meal, serve it with a grain (rice, noodles, bread, etc.) and some veggies.
Here are some of my favorite ways to serve this peanut tempeh:
with rice and sautéed/steamed/grilled veggies
in spring rolls
on top of salads (like somen salad!)
on ramen
in wraps with whole grain tortillas and fresh or grilled veggies
in buddha bowls with rice/quinoa, fresh or cooked veggies, avocado, and a tasty sauce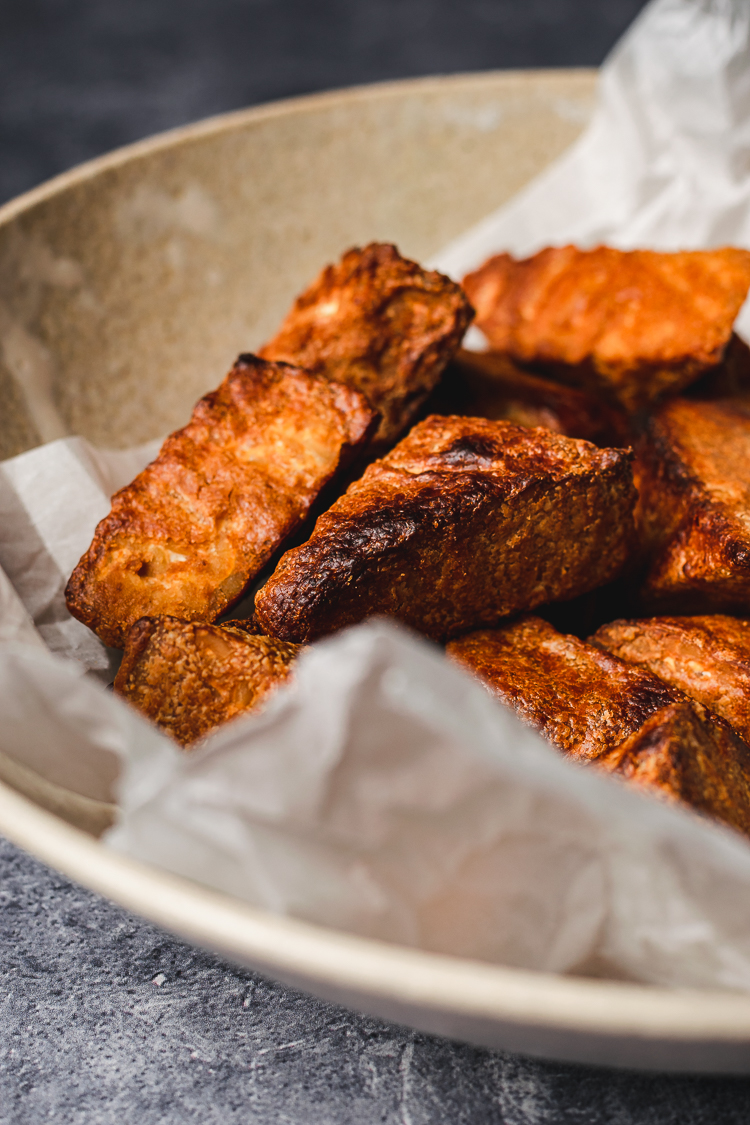 HELPFUL COOKING TOOLS
Air Fryer* ⟶ or you can bake them in the oven, but an air fryer is great for smaller amounts and quicker cooking time!
STILL HUNGRY?
Check out these other tempeh recipes!
And more air-fryer meals!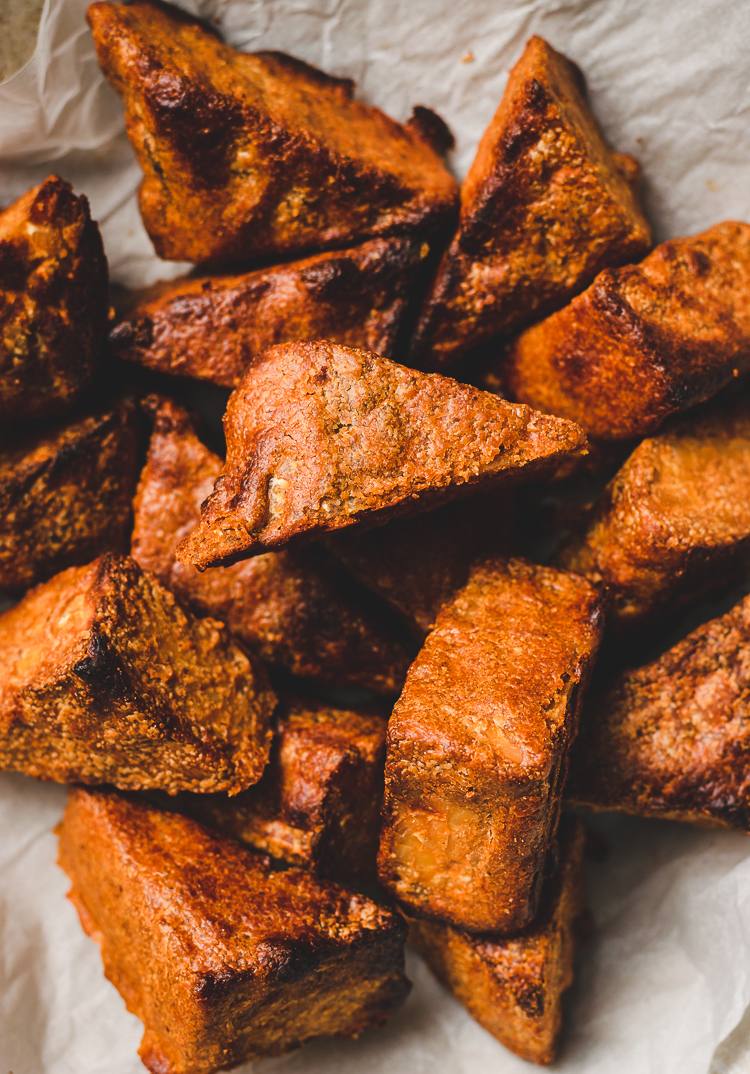 I hope I've inspired you to make this marinated hoisin peanut tempeh! If you try it out, don't forget to tag me in your photos on instagram @ellielikes.cooking, leave a comment/rating down below, and let me know how you liked it! I love seeing all of your tasty recreations 🙂 Happy cooking ♡

*Recipe updated 11/13/2020.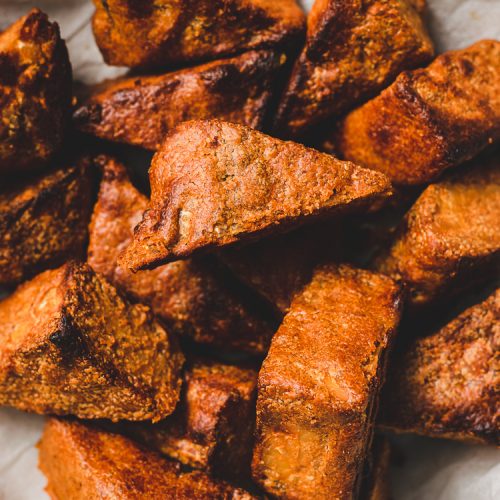 Hoisin Peanut Tempeh
Tempeh marinated in a savory peanut sauce and cooked to crispy, hearty perfection. Vegan, 7 ingredients, and great in salads, wraps, and bowls!
Ingredients
1

8oz block

tempeh

2

tbsp

peanut butter

1 ½

tbsp

hoisin sauce*

1

tbsp

soy sauce*

or tamari for gluten-free

2

tsp

lime juice

½

tsp

ground ginger

½

tsp

garlic powder

2-3

tbsp

water
Instructions
Fill a saucepan with an inch of water and bring to a boil. Add tempeh and reduce heat to simmer. Simmer for 10 minutes to remove any bitterness and soften the tempeh.

Remove tempeh from water and cut into desired shape.

Mix together remaining ingredients. Add extra water as needed to thin the sauce for marinating.

Place tempeh in a container or zip lock bag and pour marinade over. Mix the tempeh around so all sides get coated in sauce. Marinate for at least 30 minutes, the longer the better.

AIR FRYER: Air-fry at 350°F for 10-12 minutes until golden brown and crispy.

OVEN: Bake on a parchment paper-lined baking sheet at 375°F for 25-30 minutes.

Brush on any remaining marinade and serve.
*Disclosure: This page may contain affiliate links. As an Amazon Associate I earn from qualifying purchases, but the price remains the same to you. Thank you for supporting Ellie Likes Cooking!
Save for later!