This page may contain affiliate links. As an Amazon associate I earn from qualifying purchases. Please read our
disclosure
for more info.
A tender, moist vanilla cake topped with a sweet, "buttery" streusel (without the butter or oil!). No eggs, milk, or butter necessary.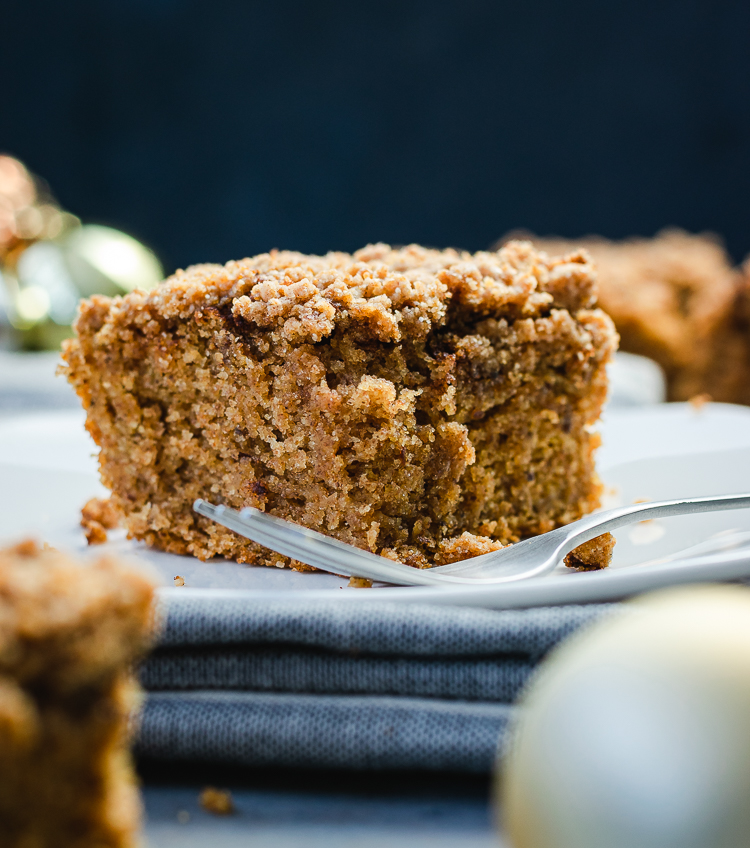 I'll be honest, I have a huge sweet tooth and almost always eat something sweet with every meal. (In fact right now, I'm snacking on chocolate-covered almond date bliss ball things because my breakfast was not sweet enough hehe.) But I studied nutrition, I know that added sugar is not great for you and we want to limit it as much as possible. So I try not to go too overboard with my sweets, but I'm also not gonna cut them out of my daily diet if I'm craving a sweet treat. Instead, I like to make my own sweets so I can control how much sugar goes into the slice of cake (or 3) that I'm going to eat for dessert (and breakfast..and snack…). Luckily I've been baking my own goodies for so long that my tastebuds have adjusted and are more sensitive to sugar now, so I don't need too much to satisfy my cravings.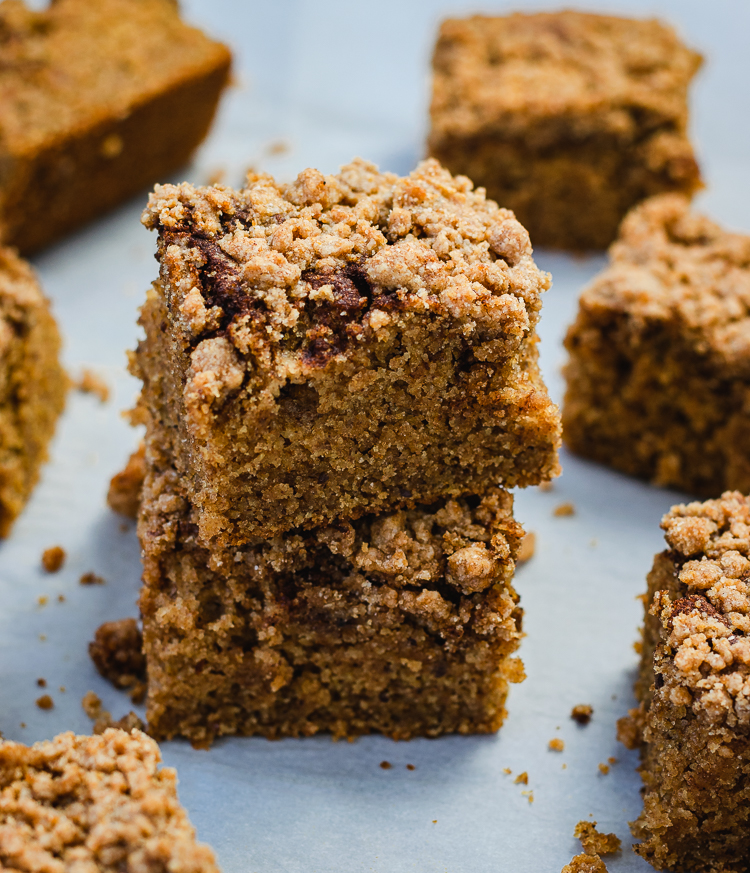 A healthy twist on coffee cake.
That being said, this is coffee cake so we want it to be indulgent, but not so much so that we get a blood sugar crash first thing in the morning. I find this to be the perfect amount of sweet that doesn't leave my teeth screaming of cavities, but enough so that a bitter cup of coffee or tea pairs perfectly with every bite. I also opted to use coconut sugar to keep it free of refined sugars and add a little depth to the flavor. While I don't think anyone can claim cake itself to be "healthy", I do think this cake can be part of a healthy diet and is certainly healthier than the coffee cake you find at Starbucks.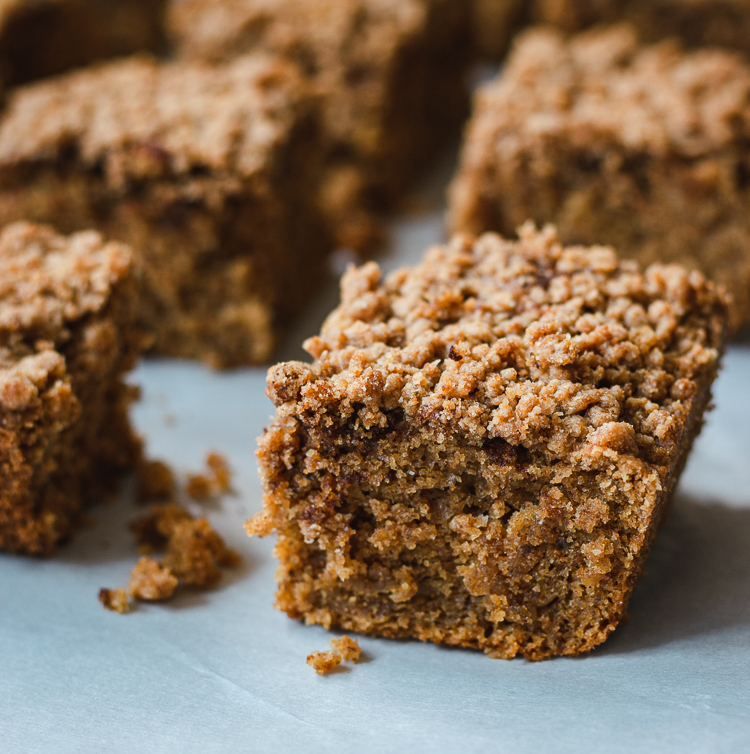 This may not look exactly like coffee cake as you know it, but that's probably because the cake itself is not white in my photos, it's more of an orange-ish brown. That's partly because of the coconut sugar, and partly because of the flour I used. To make it look like a Starbucks coffee cake, use all purpose flour and vegan white sugar. Despite how it looks, the flavor is perfect! You won't believe this crunchy, buttery streusel is made without oil or butter (vegan or not). Coconut cream makes a wonderful butter substitute as it has the saturated fat of butter (but from plants! and MCT's if you're into that) plus a small water content, ensuring a moist yet crunchy topping.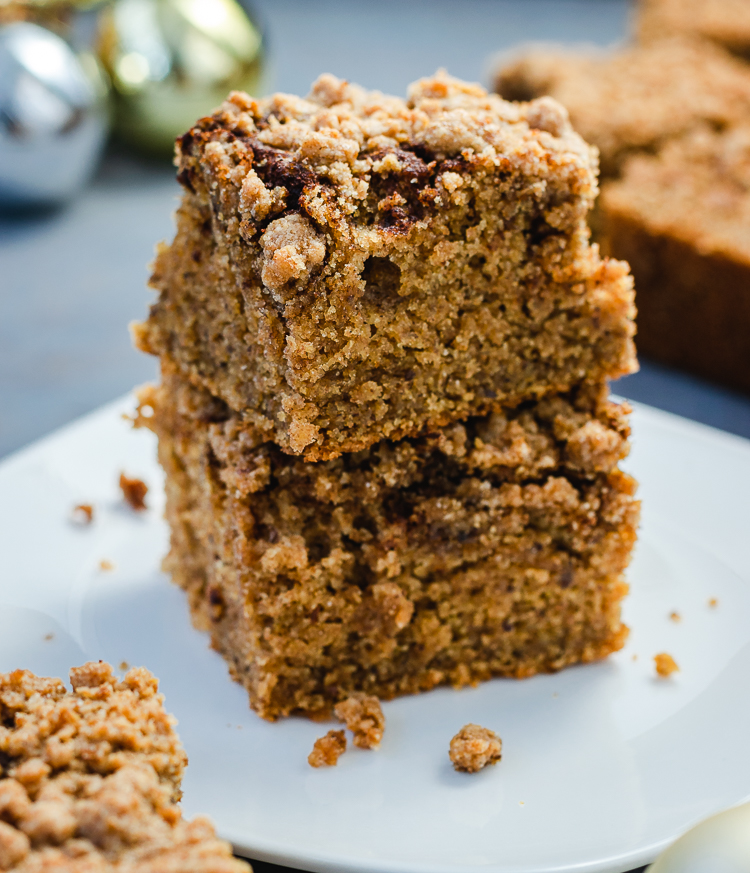 I also think this coffee cake would make the perfect Christmas morning breakfast. A nice treat to get your body ready for the rest of your Christmas day indulgences ;). tbh, even though this makes 9 slices my boyfriend and I finished a whole batch in 24 hours, so if you're planning to make it for family you might want to double it. And if you run out of coconut cream/milk, for the cake I've also used 1/2 coconut milk and 1/2 apple sauce, which worked okay. Not quite as moist and tender but will work in a pinch! However, do not substitute the coconut cream in the streusel, it is essential!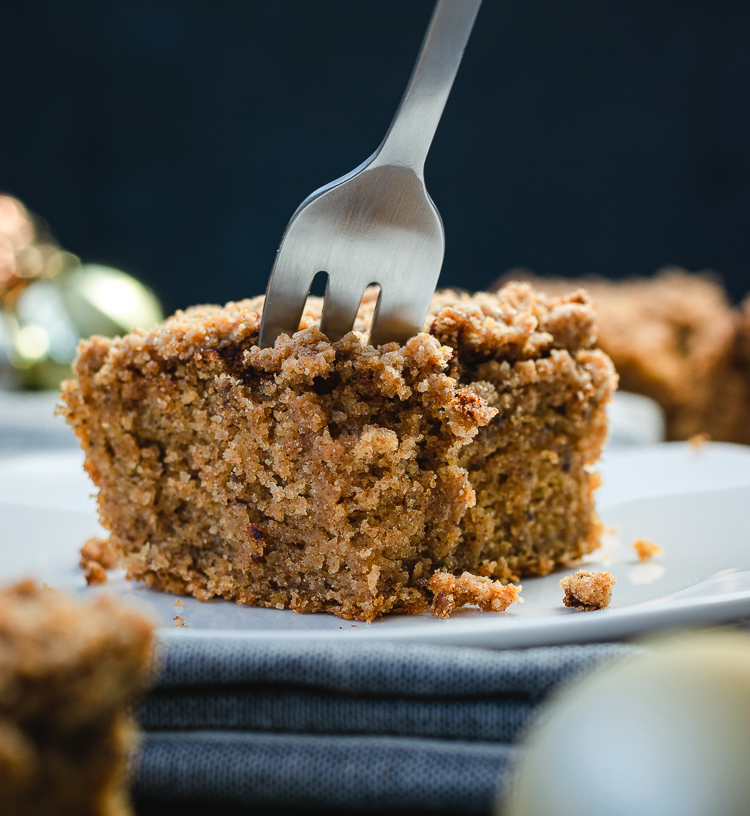 More Plant-Based Breakfast Treats!
If you try out this recipe, make sure to leave a comment below and/or tag me on instagram @ellielikes.cooking and let me know what you think. I hope you love it as much as I do! Happy baking and happy holidays 🙂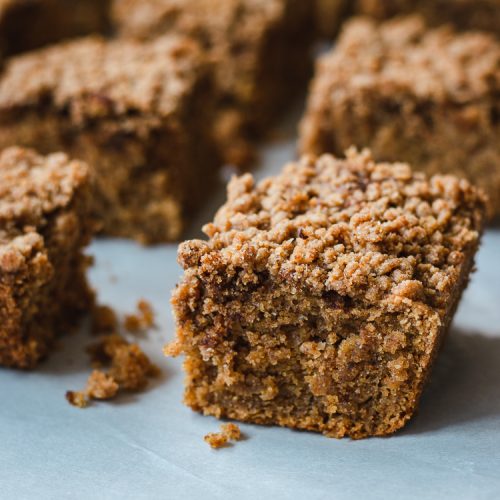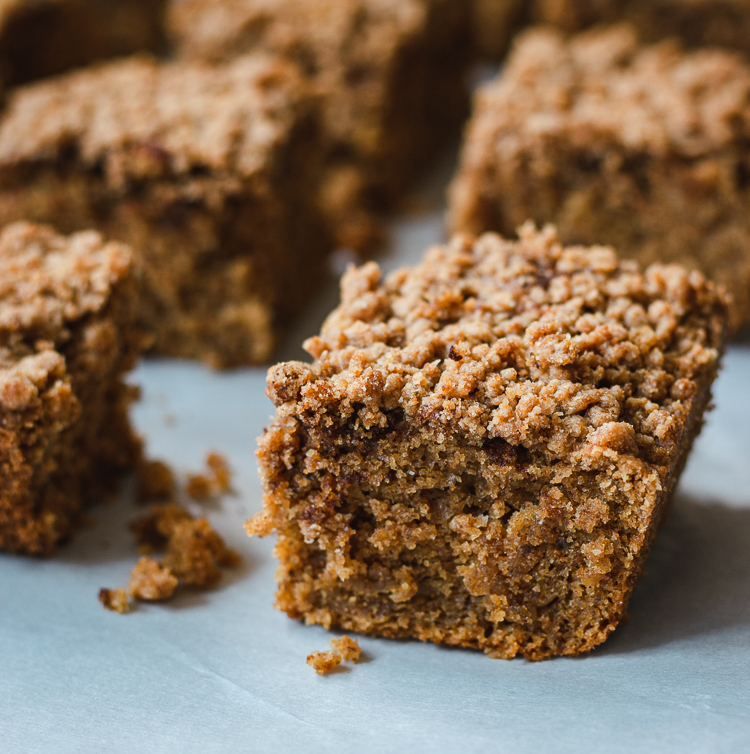 Vegan Coffee Cake (Oil-Free)
A tender, moist vanilla cake topped with a sweet, "buttery" streusel (without the butter or oil!). This vegan coffee cake is filled with all the flavor of a regular coffee cake without all the sugar and processed ingredients.
Ingredients
Streusel
1/2

cup

whole wheat or AP flour

2

tbsp

coconut sugar

1

tsp

cinnamon

1/4

cup

coconut cream

refrigerated*
Cake
1

tbsp

ground flax + 3 tbsp water

1 1/4

cup

whole wheat or AP flour

1/2

tsp

baking soda

1/2

tsp

baking powder

1/3

cup

sugar

1

cup

coconut cream or coconut milk**

1/2

tbsp

apple cider vinegar

1

tsp

vanilla
Cinnamon Sugar | Optional
1

tbsp

coconut sugar

1

tsp

cinnamon
Instructions
Streusel
Mix together flour, sugar, and cinnamon. Drop in spoonfuls of coconut cream.

Using a fork, mix together coconut cream and flour mixture until you reach a crumble consistency. You don't want a ball of dough but rather crumbles of dough.
Cake
Preheat oven to 350°F. Lightly oil or line with parchment paper an 8″x6″ rectangular baking dish and set aside.

Make a flax egg by mixing together flax and water. Set aside to thicken.

In a big mixing bowl, mix together flour, baking soda, baking powder, and sugar.

In a separate bowl, combine coconut cream, vanilla, vinegar, and flax egg.

Add the wet ingredients into dry and mix until just combined. If adding optional cinnamon sugar topping, mix together cinnamon and sugar.

Pour batter into baking dish. If using, sprinkle cinnamon sugar mixture over top. Top with streusel and bake for 35 minutes, or until a toothpick inserted into the center comes out clean. Let cool at least 20 minutes before serving.
**Notes
*I put my can of coconut cream in the fridge about 30 minutes before using it. You want it be the consistency of softened butter, not runny but not so solid that it's difficult to mix in.
**Shake the can before using so the fatty portion is evenly combined with the liquid.
Save for later!