This page may contain affiliate links. As an Amazon associate I earn from qualifying purchases. Please read our
disclosure
for more info.
This sesame-crusted tofu is crispy, chewy, and nutty. Use it to top salads or serve it as a main for dinner.
A lot of people find eating vegan to be difficult because your protein sources are so limited. Basically all your meals are centered around beans, legumes, or tofu, and it can get boring real fast if you don't find new ways to cook them. I know when I decided to stop eating meat, my meals were very repetitive. Like, stir fried veggies + tofu or beans + soy sauce and rice, every. single. night. For basically all of sophomore year of college. I was nervous to experiment with new sauces and also just didn't have a whole lot of time or brain energy to spend on creative cooking (all my brain energy went towards studying and trying not to fail my classes 🙁 ).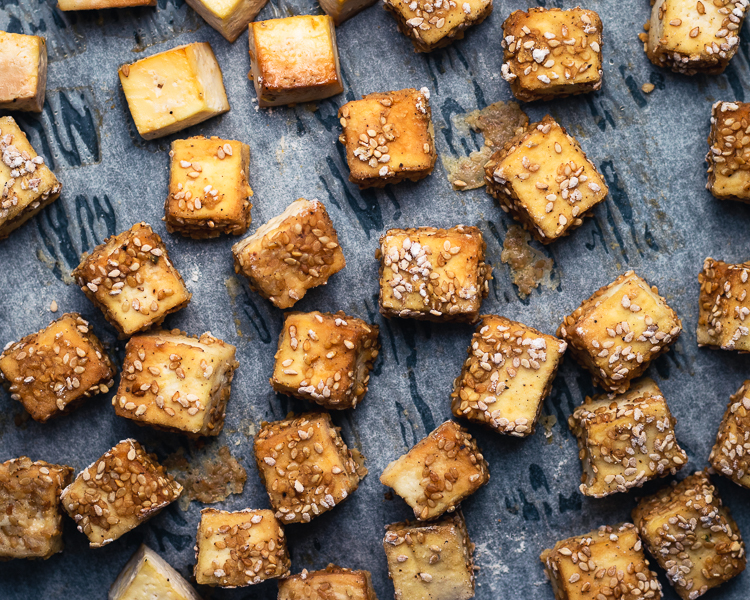 Tofu is so versatile!
So I can understand why people may think vegan food is boring or bland. I've been there. But y'all, tofu is actually so great. The blandness is what makes it so interesting because it can take on the flavor of any sauce you marinate or cook it in! Tofu also can have so many different textures, with soft, silken, firm, and even frozen tofu (which I hear has the most "meaty" texture?!). You can even make desserts with tofu — like okay, chicken mousse – gross. but tofu mousse – mmm. Tofu is so versatile, you just need to know how to use it to your advantage!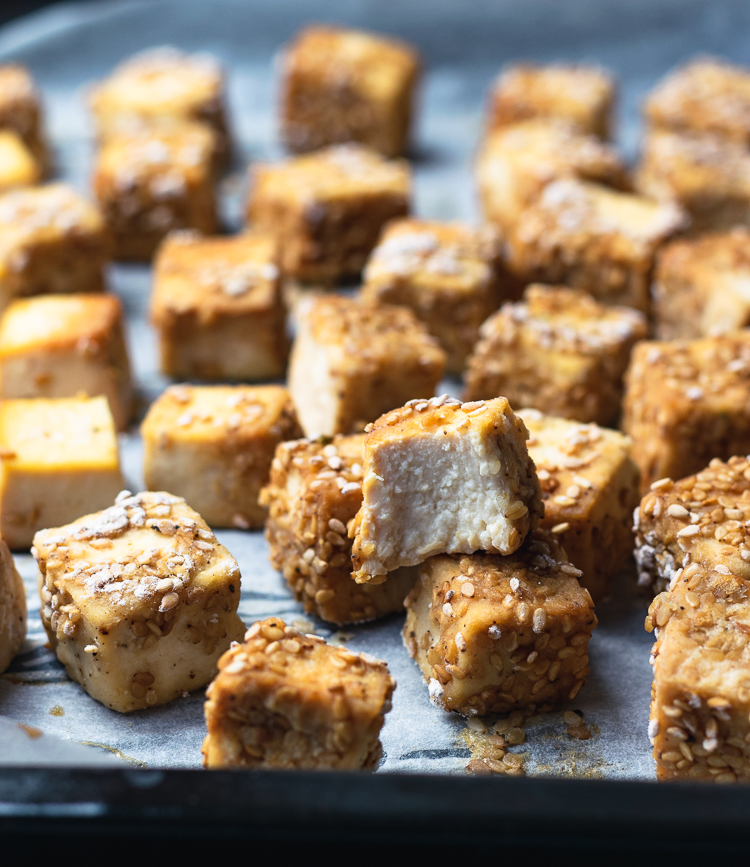 Two months ago I posted this recipe for baked miso tofu, a favorite around here for the past 2 years. But recently I've been itching to get a little more creative with my tofu dishes. I see the potential for so many tasty and healthy tofu recipes, but once I have a recipe that I like, I make it over and over again until I finally get sick of it (which can take months). But I'm sure my boyfriend gets sick of it way faster than I do, so I'm making an effort to be a little more creative a little more often this year. Enter this baked sesame-crusted tofu.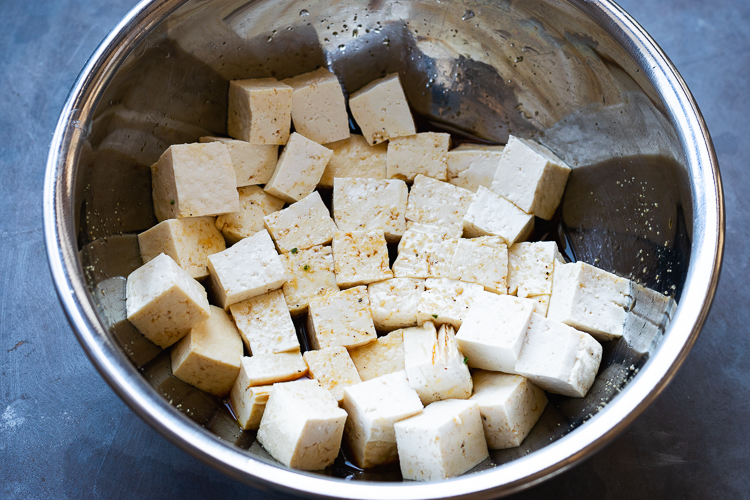 How to Make
The tofu is pressed to remove excess water, then marinated in a sweet soy sauce so every bite is full of flavor. Coat it in a flour/sesame seed mixture then bake till golden brown and crispy, this deliciously addictive protein will be the star of your meal. It takes about an hour to make, but the actual work involved is very little and very easy. You can also make a double or triple recipe for meal-prepping, though the tofu won't stay crispy the next day. But it will still be packed with flavor and nutrients! Feel free to add more sesame seeds if you'd like, and you can use white or black or a mix of both.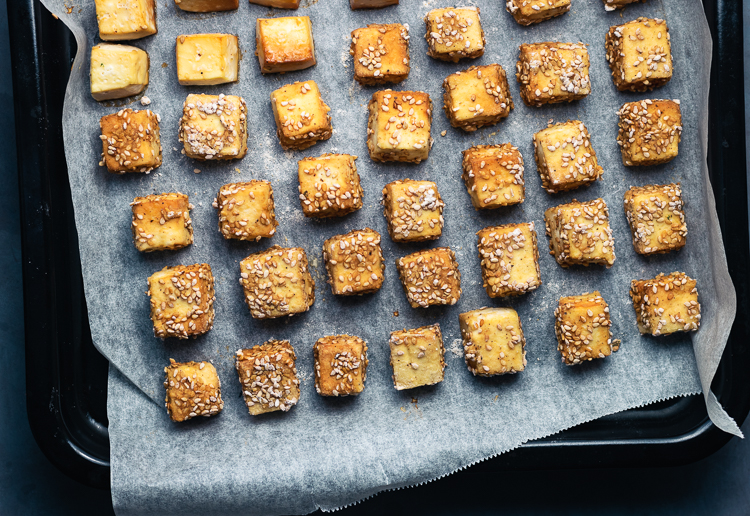 More Tasty Tofu Dishes!
If you try out this recipe, don't forget to tag me in your photos on instagram @ellielikes.cooking, leave a comment down below, and let me know how you liked it! I love seeing your tasty recreations 🙂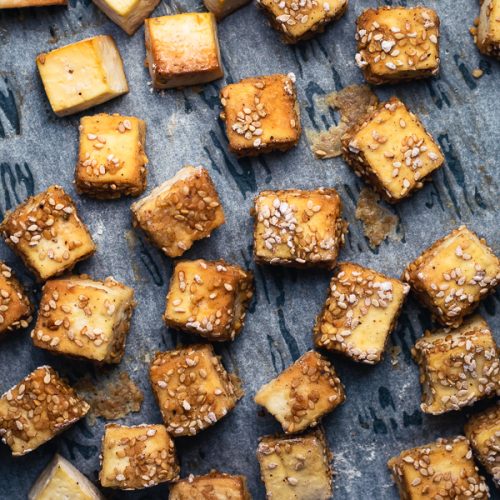 Sesame Crusted Tofu
Crispy, chewy tofu so hearty and delicious you won't miss the meat. This tofu is the perfect protein-packed topping for salad or main for dinner.
Ingredients
1

pound

firm tofu

1

tbsp

soy sauce or tamari if gluten-free

2

tsp

sugar

2

tsp

rice vinegar

0.25

cup

flour or gluten-free flour

1/4

tsp

garlic powder

0.25

cup

toasted sesame seeds

a pinch of salt & pepper
Instructions
Pressed Tofu
Place a small bowl upside down inside a bigger bowl.

Wrap the tofu in a paper towel and place on top of the small bowl. Place a roughly 1 lb object on top of the tofu (pb jar, can of beans, etc.). This will allow the water the drain out of the tofu. Leave for at least 30 minutes.
Sesame Tofu
Mix together soy sauce, maple syrup, and rice vinegar in a large bowl. Cut the tofu into cubes and mix into marinade. Let the tofu marinate for at least 30 minutes, the longer the better.

Once the tofu has marinated long enough, preheat the oven to 375°F. Line a baking sheet with parchment paper.

Mix together flour, sesame seeds, garlic powder, salt, and pepper in a bowl. Coat each tofu cube in the flour mixture and place on the lined baking sheet. Make sure the tofu cubes are not touching. Bake for 25 minutes, or until tofu starts to brown. After the first 10 minutes, you can brush or spray the tofu with oil for crispier results.
Save for later!