This page may contain affiliate links. As an Amazon associate we earn from qualifying purchases. Please read our
disclosure
for more info.
These gluten-free snickerdoodles are just as addicting and easy to make as their gluten-filled counterparts. No fancy flour blends needed!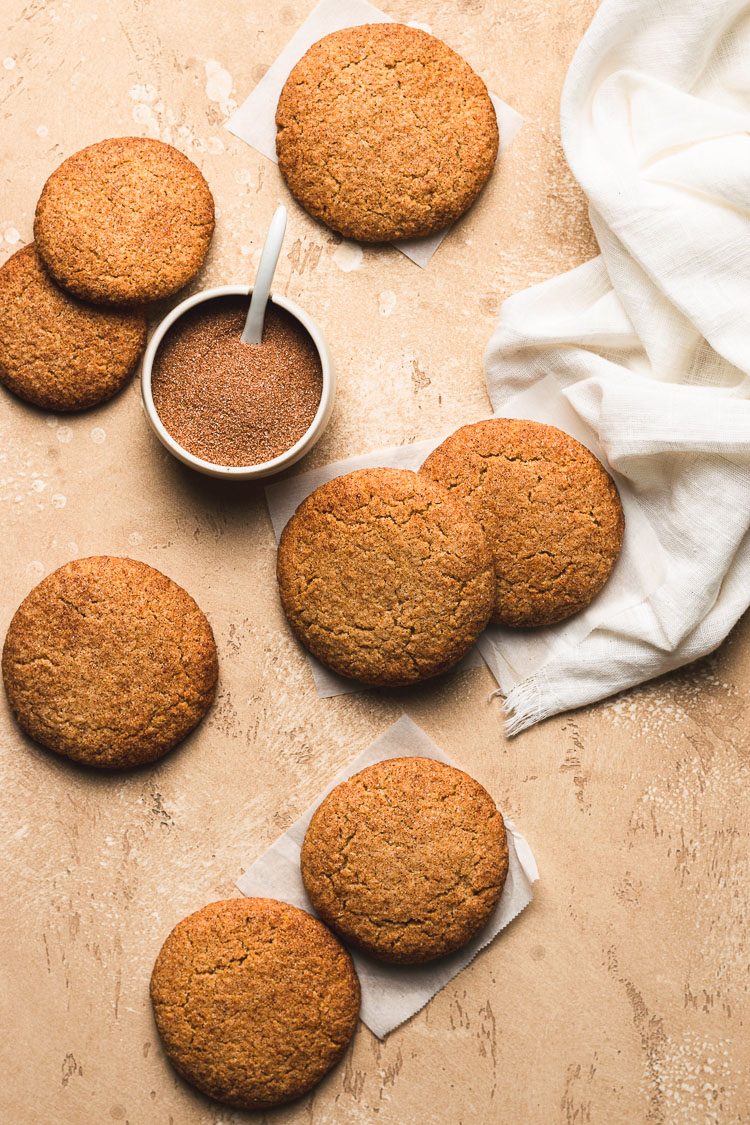 What are Snickerdoodles?
Snickerdoodles are a type of sugar cookie rolled in cinnamon sugar. However, they do contain a key ingredient distinguishing them from traditional sugar cookies (more on that below). They're soft, chewy, a little tangy, and perfectly sweet with that deliciously cozy cinnamon sugar flavor.
Where do Snickerdoodles come from?
The origin of snickerdoodles is not clear, and why they're called snickerdoodles is also up for debate. Some say it may be of German origin, others say it's just a whimsical cookie name with no particular meaning. Either way, it doesn't change the fact that snickerdoodles are absolutely delicious, and I'm so excited to share my easy recipe for gluten-free snickerdoodles! (If gluten isn't an issue for you, be sure to check out my Easy Vegan Snickerdoodles!)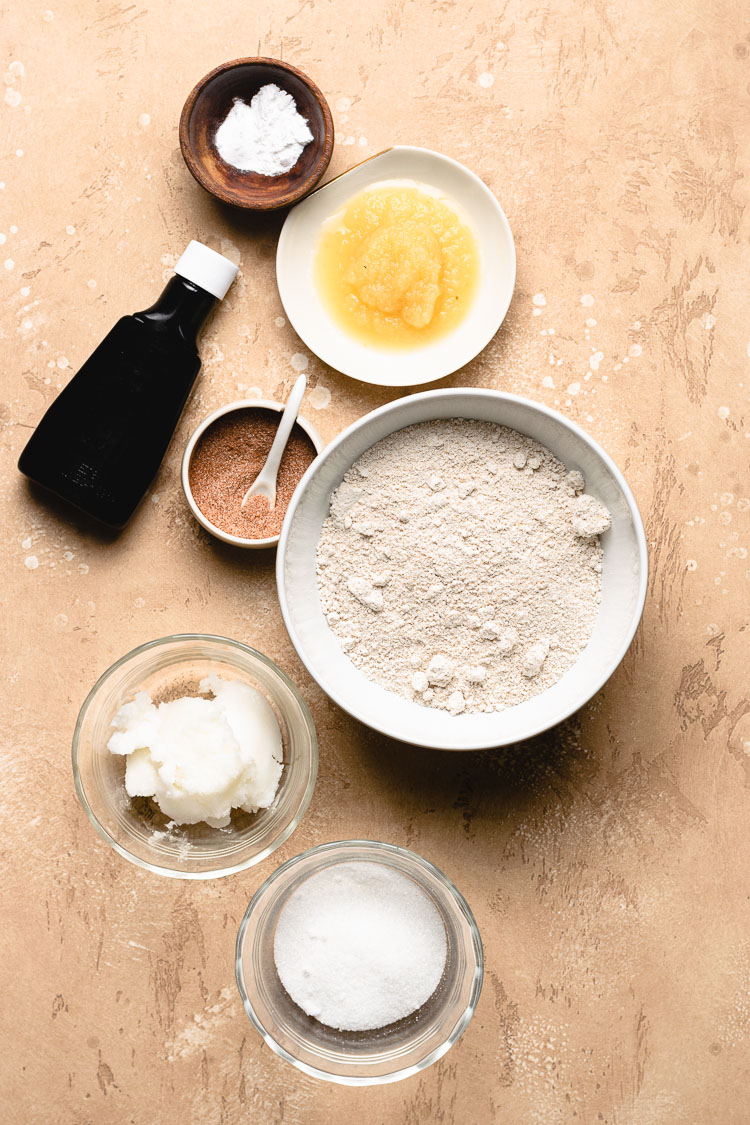 The Key Ingredient!
The secret ingredient that makes snickerdoodles so different from other cookie recipes — cream of tartar! Cream of tartar is an acid and works in unison with baking soda (a base) to leaven the cookies, resulting in a soft, chewy cookie with a characteristic crackly top and a slightly tangy flavor. Hence you can't just omit the cream of tartar from this recipe and still expect snickerdoodle perfection. (But if you're in a pinch and need a substitution, check the FAQ's below.)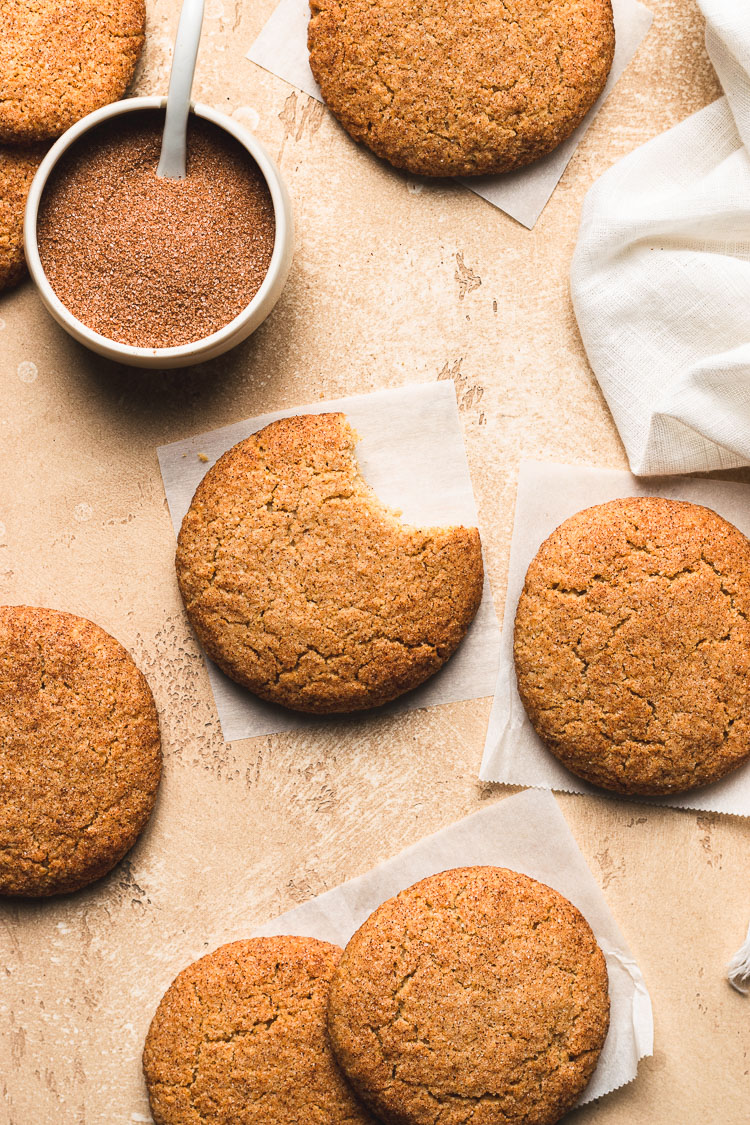 Snickerdoodle FAQ + Tips
What if I don't have cream of tartar?
You can try substituting equal amounts with another acid, such as lemon juice or vinegar. Note that you may need to add more flour if you do this.
You can also try replacing the cream of tartar AND baking soda with baking powder (use the same amount of cream of tartar for baking powder — i.e. 1 tsp cream of tartar:1 tsp baking powder). However, I haven't tested these methods myself, so I can't say how much it will change the final product.

Can I use vegan butter instead of coconut oil?
I don't recommend using vegan butter unless you like really soft cookies. The extra moisture in vegan butter makes these cookies much softer and the edges won't be as crispy. However, if you only have vegan butter, you can try using it and omit the applesauce, adding a little in only if needed to moisten the dough.

Do these snickerdoodles spread?
These gluten-free snickerdoodles don't spread too much, so I like to press down on the cookie dough balls before baking for thinner, slightly crispier cookies. If you like really soft, puffy cookies, then you can bake them in ball form and lightly press down on them with a fork after baking.

How long do snickerdoodles last?
Stored in an airtight container, these snickerdoodles stay fresh for about 3 days at room temperature. They will keep for longer but the taste and texture will start to deteriorate. For optimal taste and texture, I recommend freezing the cookies after 3 days.

How do I reheat snickerdoodles?
My favorite method is the air fryer! 325°F for 3-5 minutes until slightly crispy on the edges, then let them sit for a couple minutes and they'll firm up a bit more. So good, I might even like them more than fresh cookies. 😋
If you don't have an air fryer, you can use an oven preheated to 350°F for 5-10 minutes. I caution against using the microwave, since every time I microwave cookies they end up too soft for my liking. Sometimes my boyfriend just eats them straight from the freezer.
More Gluten-Free Cookies You'll Love!
If you try out these gluten-free snickerdoodles, don't forget to leave a comment/rating down below and tag me in your photos on instagram @ellielikes.cooking. I love seeing all of your tasty recreations!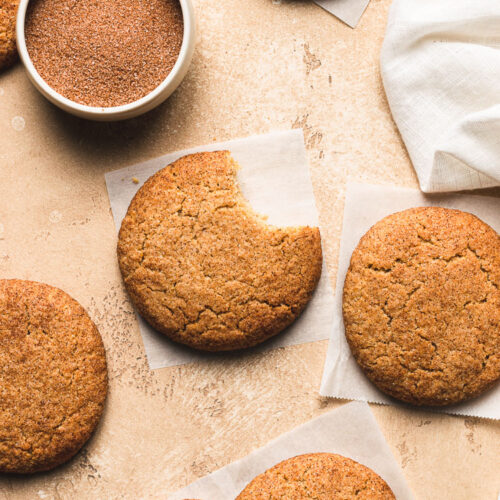 Easy Gluten-Free Snickerdoodles
These snickerdoodles are just as addicting and easy to make as their gluten-filled counterparts. No fancy flour blends needed!
Ingredients
Cinnamon Sugar Coating
1

tbsp

granulated sugar

1

tsp

cinnamon
Instructions
Preheat oven to 375°F. Line a cookie sheet with parchment paper or a silicone baking* mat and set aside.

Mix together cinnamon sugar coating in a shallow bowl and set aside.

Cream together coconut oil and sugar until smooth. Add applesauce (make sure it's room temperature) and vanilla extract and mix to combine.

Mix in flour, cream of tartar, baking soda, and salt until a thick and smooth dough forms.

Scoop cookie dough into balls and roll in cinnamon sugar mixture. Place on baking sheet. If you like flatter, crispy cookies, slightly flatten the cookie dough balls into discs.

Bake 11 minutes, until lightly golden and firm around the edges. (The center will still be soft but will firm up as it cools.) Leave on the baking sheet for about 2 minutes, then transfer to a cooling rack.

Let cookies cool completely before eating for best results. Store leftovers in an air-tight container at room temperature, or freeze to be eaten in the future.
**Notes
Follow gram measurements for best results.
COCONUT OIL: It should be the consistency of softened butter. I find room temperature coconut oil works well. I don't recommend using vegan butter (read more in the FAQ's and tips section of the blog post).
You can use unrefined coconut oil if necessary, but the cookies will have a slight coconut flavor.


*Disclosure: This page may contain affiliate links. As an Amazon Associate I earn from qualifying purchases, but the price remains the same to you. Thank you for supporting Ellie Likes Cooking!
Save for later!