This page may contain affiliate links. As an Amazon associate I earn from qualifying purchases. Please read our
disclosure
for more info.
This gluten-free banana bread is soft, moist, and lightly sweetened. Easy to throw together and perfect for a healthy breakfast or snack!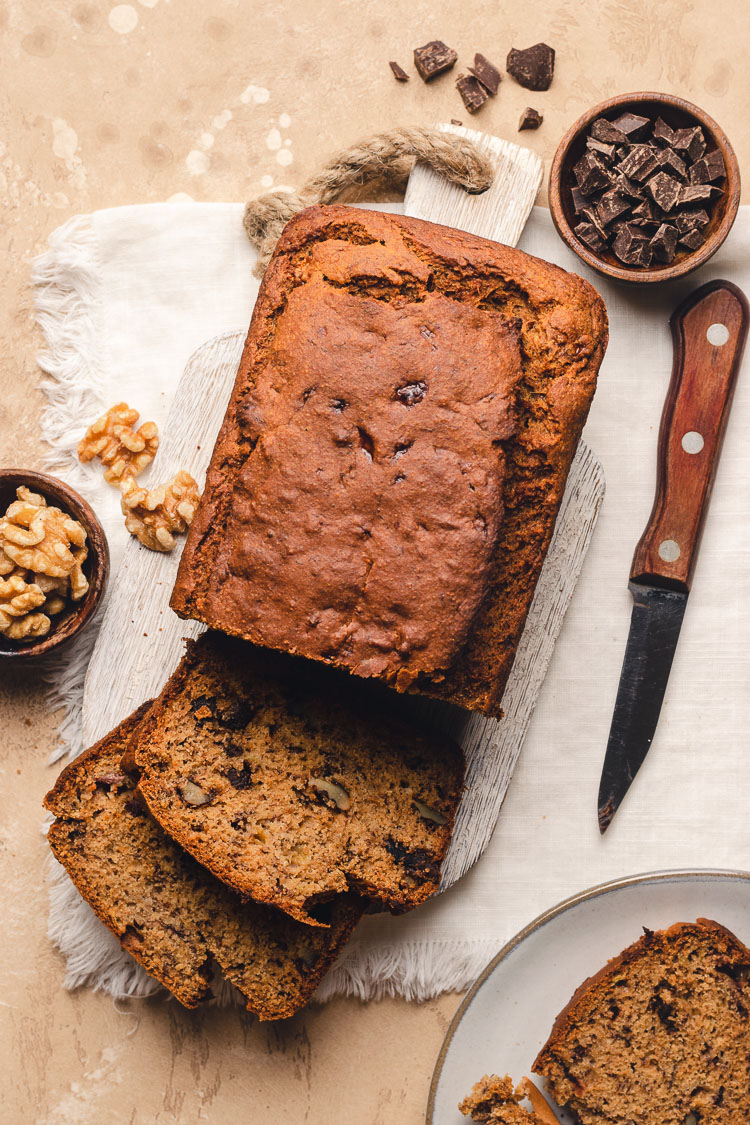 If you've browsed my blog before, you can probably deduce that I love banana bread. I've created multiple recipes for banana bread and banana muffins (including classic, double chocolate, chocolate chip, blueberry, snickerdoodle, orange, carrot, and sesame!). I do have a few gluten-free versions, but they often include almond flour to balance out the density of oat flour. However, I wanted to create a recipe without almond flour to highlight another gluten-free flour option that is nut-free and performs very similar to wheat flour.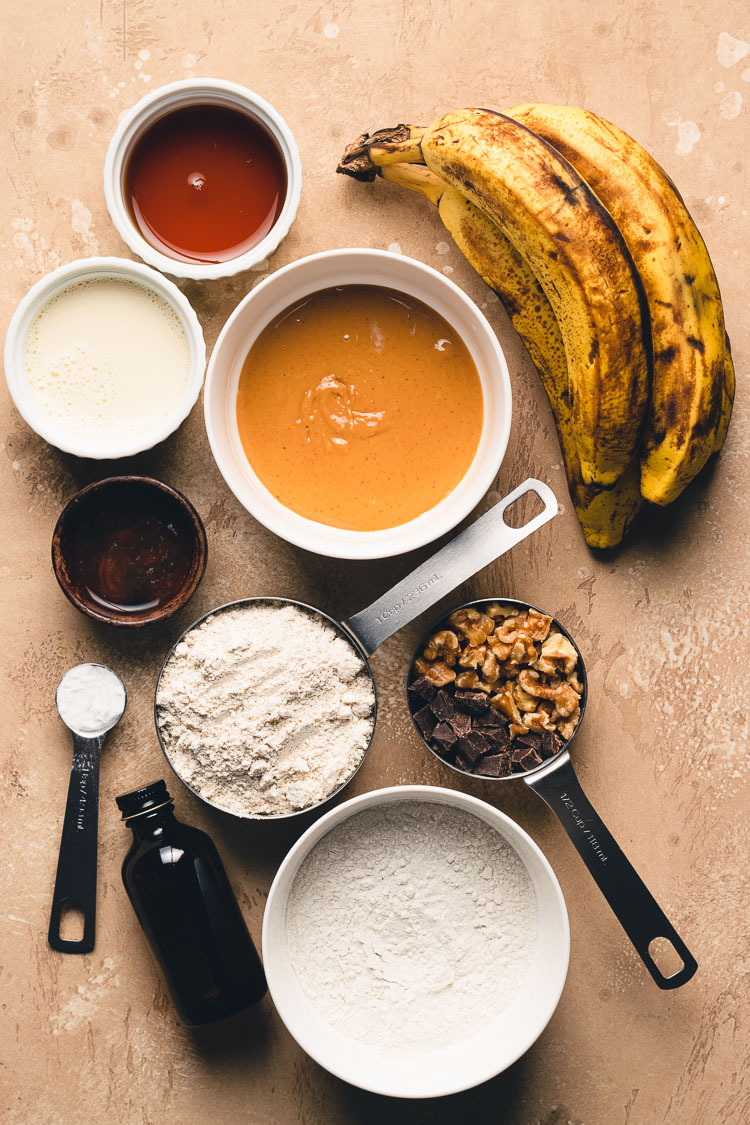 The Secret Ingredient for Fluffy Gluten-Free Banana Bread
The base flour for this banana bread is oat flour (gluten-free by nature, but prone to gluten contamination during processing, so look for gluten-free oat flour if necessary). However, often times just using oat flour results in a dense, gummy consistency. Many recipes will use a blend of oat flour and almond flour, but this recipe can be made nut-free by using buckwheat flour (and a seed butter instead of nut butter)!
What is buckwheat flour?
Despite having wheat in its name, buckwheat is actually a pseudograin/pseudocereal (like quinoa and amaranth) meaning it's naturally gluten-free! There are two types of buckwheat flour: light buckwheat flour and dark buckwheat flour.
Light buckwheat flour is made from hulled buckwheat and is mild in flavor. This is the kind of buckwheat flour I used for this banana bread and is the one I recommend if you aren't a fan of that earthy, slightly bitter buckwheat flavor. Buckwheat has a very intense flavor, so if you're new to buckwheat, make sure you use flour made from hulled buckwheat (also known as buckwheat groats).
Dark buckwheat flour is made from unhulled buckwheat and is darker in color, with dark specs throughout. It has a much more earthy, bitter flavor and can be quite pungent and takes a little getting used to.
Another thing to note, buckwheat, like oats, are naturally gluten-free but may be processed in a facility with other gluten-containing products. So if you are strictly gluten-free, make sure you purchase one that has been verified gluten-free.
Homemade Banana Bread Tips
Need a nut-free option?
Because we don't rely on almond flour for structure, this recipe can easily be made nut-free. Simply use a seed butter (such as sunflower seed butter or tahini) instead of nut butter.

Want muffins instead?
Divide the batter into a lined muffin tin (should make 10-12 standard size muffins) and bake at 350°F for 25-30 minutes, until a toothpick inserted in the center of a muffin comes out clean.

If possible, use a kitchen scale* to measure out the ingredients (especially ones with large amounts like bananas, flour, and nut/seed butter). I always measure by gram when baking to ensure similar results.
Banana Bread FAQ
How do I store gluten-free banana bread?
This banana bread can be stored at room temperature in an airtight container for about 2 days. However, if you live in a hot/humid environment, I recommend storing the bread in the fridge after 24 hours. You can refrigerate up to a week, or cut into slices and freeze for about 2 months without the flavor deteriorating.

How do I reheat banana bread?
Air Fryer ⟶ I love using an air fryer* (not the one I have but looking to upgrade to) to reheat and lightly toast my breads. I do 350°F for about 5-7 minutes, but the temperature and timing can vary slightly depending on your air fryer. If reheating frozen banana bread that hasn't been thawed yet, briefly thaw in the microwave (otherwise the middle will not cook when the outside is toasted), about 20 seconds should do the trick.

Toaster ⟶ Similar to using an air fryer, the edges of the bread will crisp up slightly. Again, if using frozen bread, briefly thaw in the microwave as noted above.

Oven ⟶ Preheat to 350°F Cover slices with foil and bake 5-10 minutes. You can remove the foil for the last 1-2 minutes if you want to crisp up the slices a bit.

Microwave ⟶ Cover with a damp paper towel and heat for 10 seconds. Check the banana bread and heat another 10 seconds if necessary. Consume immediately after heating as the bread will dry out quickly from the microwave.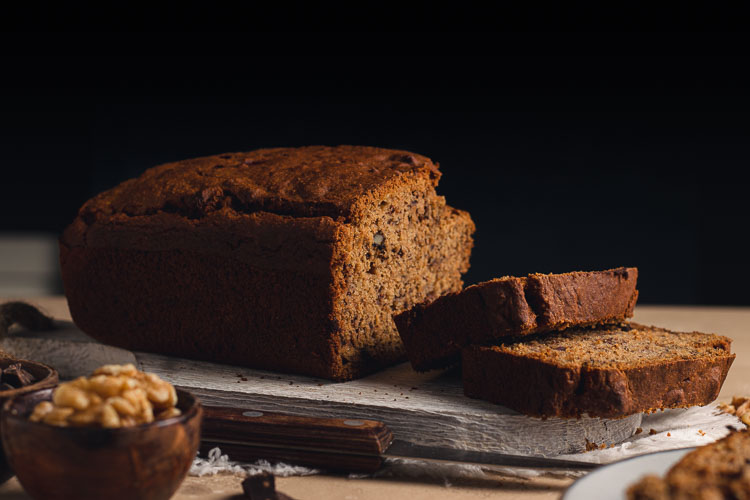 More Banana Breads and Muffins!
If you try out this classic gluten-free banana bread, don't forget to leave a comment/rating down below and tag me in your photos on instagram @ellielikes.cooking. I love seeing all of your tasty recreations!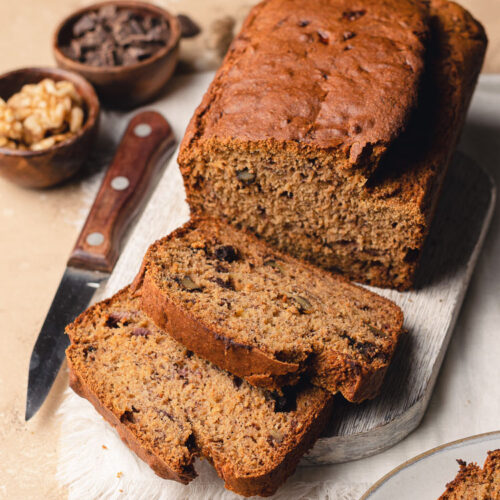 Best Healthy Gluten-Free Banana Bread
This gluten-free banana bread is soft, moist, and lightly sweetened. Easy to throw together and perfect for a healthy breakfast or snack!
Instructions
Preheat oven to 350°F. Grease or line a loaf pan with parchment paper and set aside.

In a large bowl, mix together mashed bananas, maple syrup, nut/seed butter, vinegar, milk, and vanilla extract.

In a separate bowl, whisk flours, baking soda, cinnamon, and salt (if using).

Add flour mixture into the banana mixture and gently mix together. Add an extra tablespoon or two of milk if the batter is very dry. Mix until ingredients are almost incorporated (some dry flour pockets are OK at this point), add walnuts/chocolate chips if using, and gently mix a couple more times to evenly distribute the add-ins. At this point no flour streaks should remain. Be sure to scrape down the sides and the bottom of the bowl for dry flour.

Pour batter into the prepared loaf pan. Bake for 60 minutes, or until a toothpick inserted in the center of the loaf comes out clean. Let the bread cool for about 5 minutes in the pan, then transfer to a cooling rack. Cool completely before serving.


*Disclosure: This page may contain affiliate links. As an Amazon Associate I earn from qualifying purchases, but the price remains the same to you. Thank you for supporting Ellie Likes Cooking!
Save for later!