This page may contain affiliate links. As an Amazon associate I earn from qualifying purchases. Please read our
disclosure
for more info.
This chocolate mousse is rich & creamy yet made with simple, healthy ingredients. It's also high in protein, vegan, and gluten-free!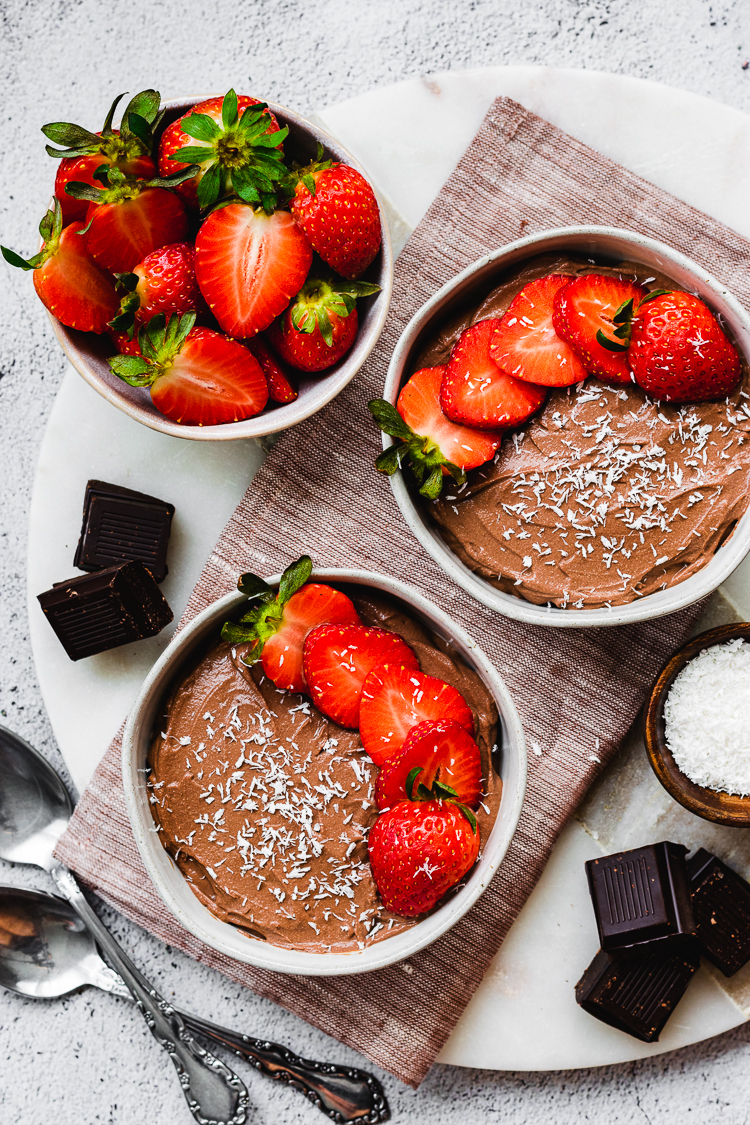 This chocolate mousse has been my go-to breakfast, snack, and dessert recently. It's rich and decadent enough for dessert, but also makes for a healthy, high-protein breakfast! Breakfast that tastes like dessert is an automatic win for me, especially when it involves chocolate. So, what makes this mousse silky rich while also being healthy and protein-packed?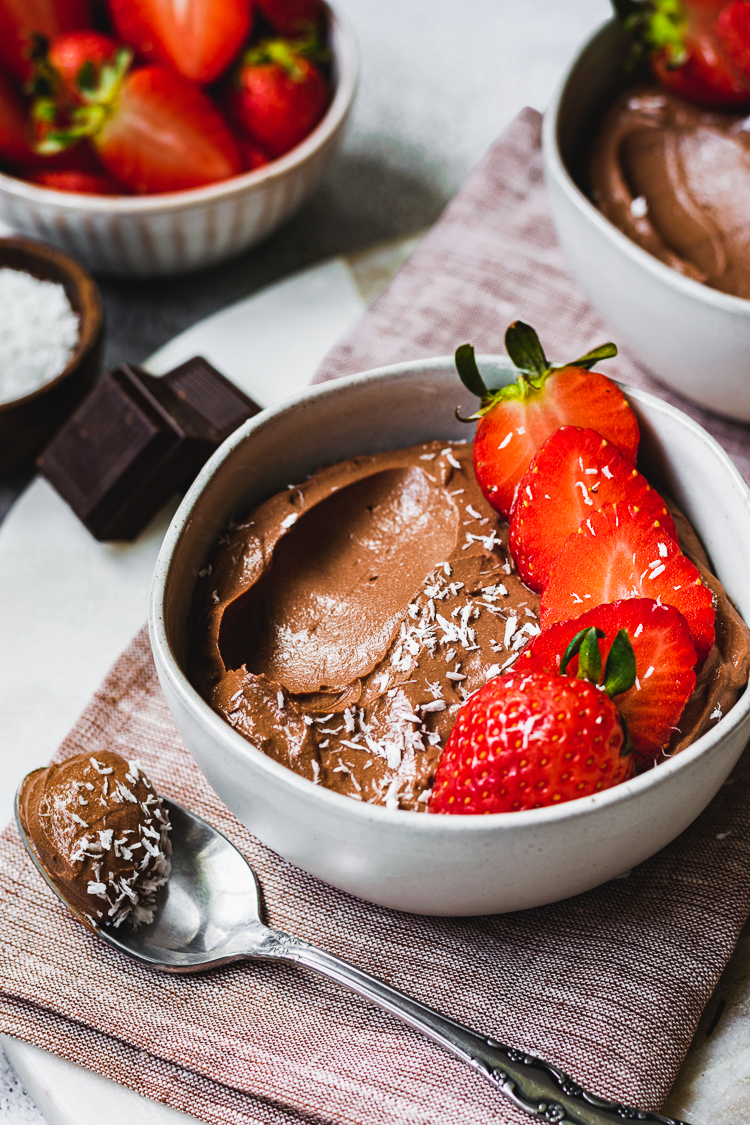 THE SECRET INGREDIENT: TOFU!
Yep, you read that right, tofu. The most seemingly mundane yet absolutely magical plant-based protein. It creates such a silky smooth yet thick texture and I am obsessed. Not only is tofu great in savory dishes, but it also creates delicious desserts! The kind of tofu you use (silken, soft, medium-firm, firm) is really up to you and the texture you're going for. I opted for firm tofu to create a really thick mousse, but silken/soft tofu will give you a more smooth, fluffy texture.
Along with tofu, there are 5 other key ingredients you'll need:
cacao powder or cocoa powder ⟶ I used cacao powder since I got a big bag of it at Costco, but I presume cocoa powder will work too
maple syrup ⟶ my preferred sweetener. You can also use coconut sugar, regular sugar, or even dates, just add more plant milk as needed.
dark chocolate ⟶ chips, chunks, or bars work; use your favorite!
plant milk ⟶ to help blend and create a smooth texture. My personal favorite is soy milk.
instant coffee ⟶ enhances the chocolate flavor, but can be omitted if necessary
you'll also want pantry staples like vanilla extract and salt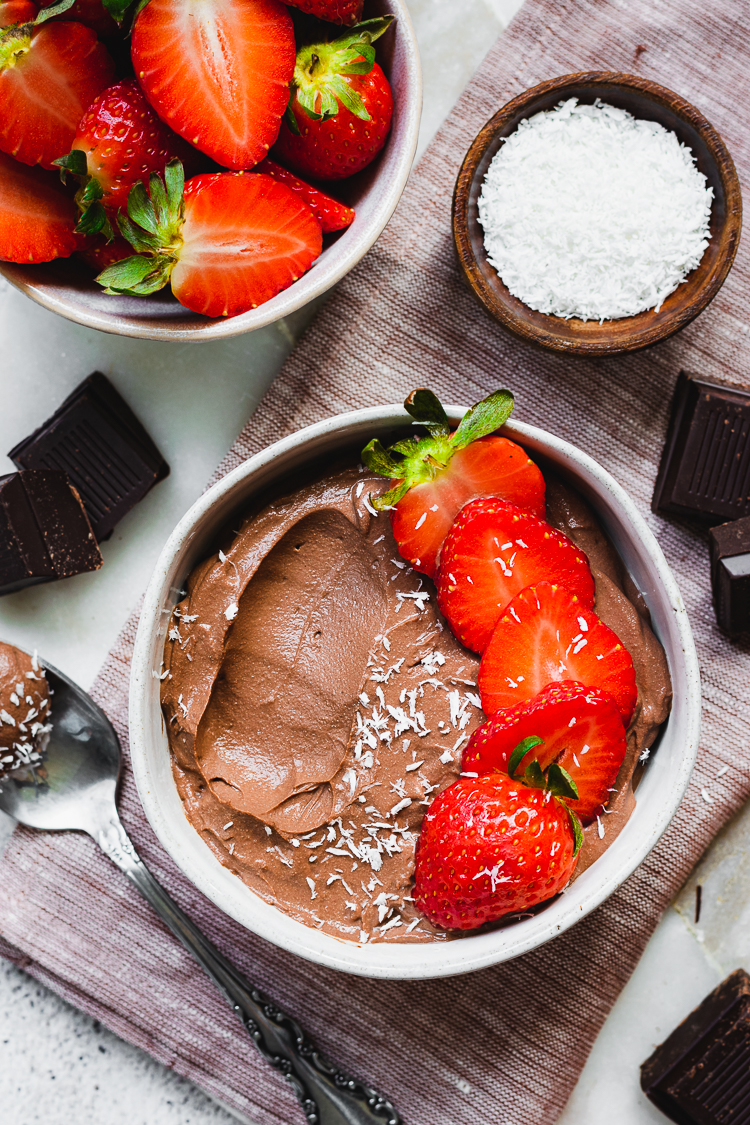 READY IN UNDER 15 MINUTES
This vegan chocolate mousse is so easy to make! All you have to do is melt your chocolate, then add everything to a food processor and blend until smooth! A super quick and simple breakfast, snack, or dessert ready in no time.
TIPS FOR THE BEST CHOCOLATE TOFU MOUSSE
What kind of tofu should I use? ⟶ Use soft/silken tofu for a smooth, fluffy texture, and firm tofu for a thicker, pudding-like texture. Add more milk as needed to reach your desired consistency.

How should I serve vegan chocolate mousse? ⟶ Add some berries (strawberries and raspberries are my favorite), shredded coconut, almonds, hemp seeds, peanuts, granola, or cereal! adding a crunch factor takes it to another level

What if I don't have a food processor? ⟶ You can probably make this in a high powered blender like a Vitamix. If your blender is on the weaker side, it may still work but you will probably need to add more milk. If you do a lot of cooking/baking, it may be worth it to buy a food processor. I've been using a Cuisinart for years and love it! There are some cheaper options, too.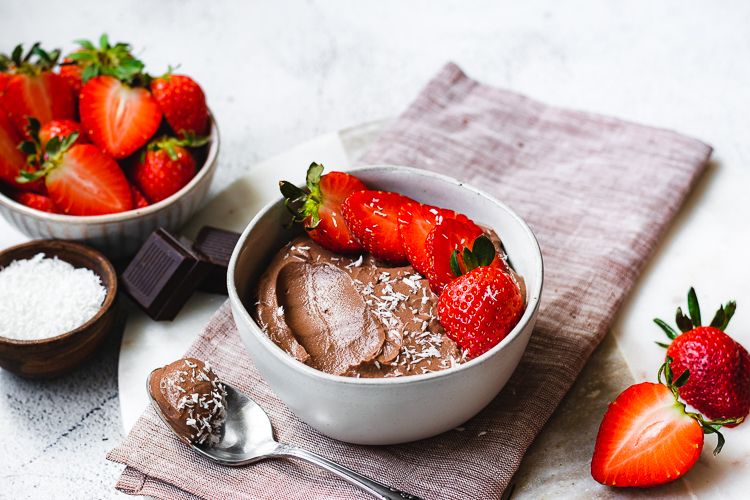 HELPFUL KITCHEN TOOLS
spatula ⟶ for scraping the sides of the food processor
STILL HUNGRY?
Check out these other healthy plant-based treats!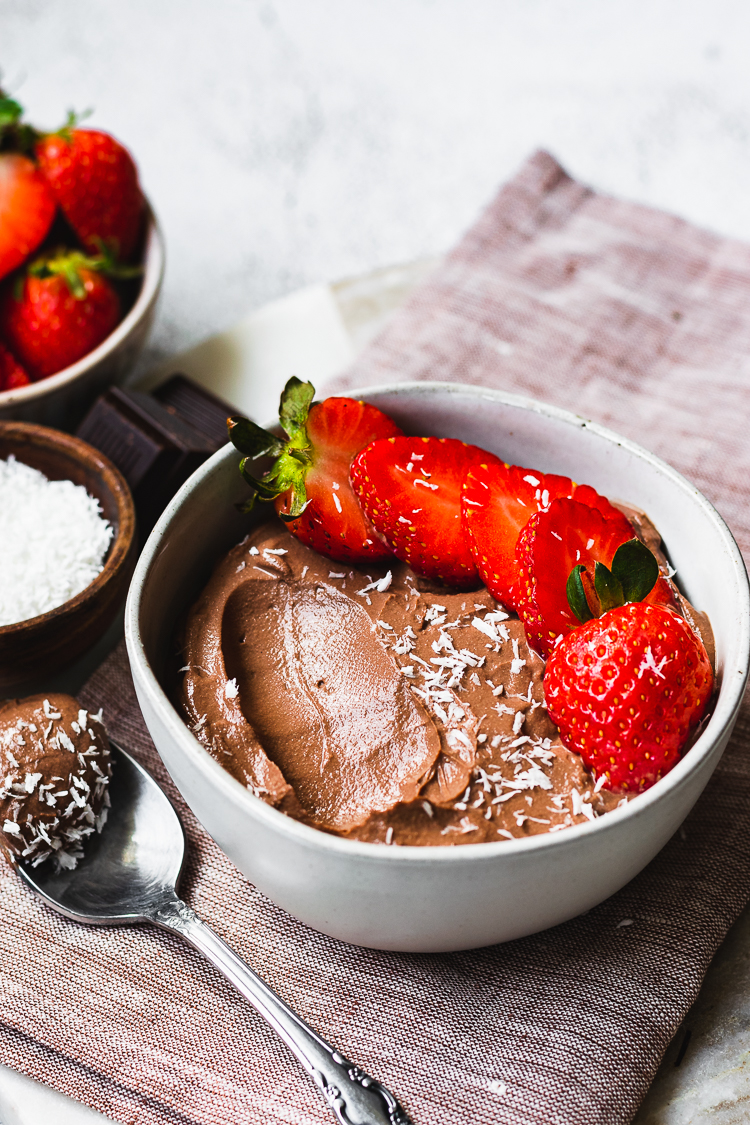 I hope I've inspired you to make this vegan chocolate mousse! If you do try it out, don't forget to tag me in your photos on instagram @ellielikes.cooking and/or leave a comment down below and let me know how you liked it! I love seeing you recreate my recipes in your own kitchen 🙂 Happy (no)baking!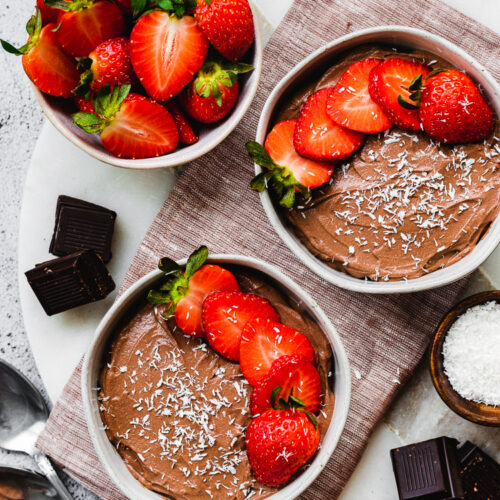 High Protein Chocolate Mousse (Vegan, GF)
This chocolate mousse is rich & creamy yet made with simple, healthy ingredients. It's also high in protein, vegan, and gluten-free!
Instructions
Add tofu, cacao powder, maple syrup, vanilla extract, instant coffee, and salt to a food processor. Blend until mostly combined, then add in melted chocolate. Blend again until smooth. Add plant milk, 1 tbsp at a time, as needed to help blend and achieve desired texture. (Less milk will make a thicker mousse.)

Store leftovers in an airtight container in the fridge. Leftovers will keep for about 3-4 days. The mousse also thickens as it sits in the fridge, so you may need to add extra plant milk before serving.
**Notes
*Use soft/silken tofu for a lighter, fluffy texture . Firm tofu will yield a thicker, pudding-like texture.
Disclosure: This page may contain affiliate links. As an Amazon Associate I earn from qualifying purchases, but the price remains the same to you. Thank you for supporting Ellie Likes Cooking!
Save for later!