This page may contain affiliate links. As an Amazon associate we earn from qualifying purchases. Please read our
disclosure
for more info.
This chocolate chip orange banana bread is flavorful, moist, slightly dense, and perfectly sweet. Plus it's healthy, vegan, and gluten-free!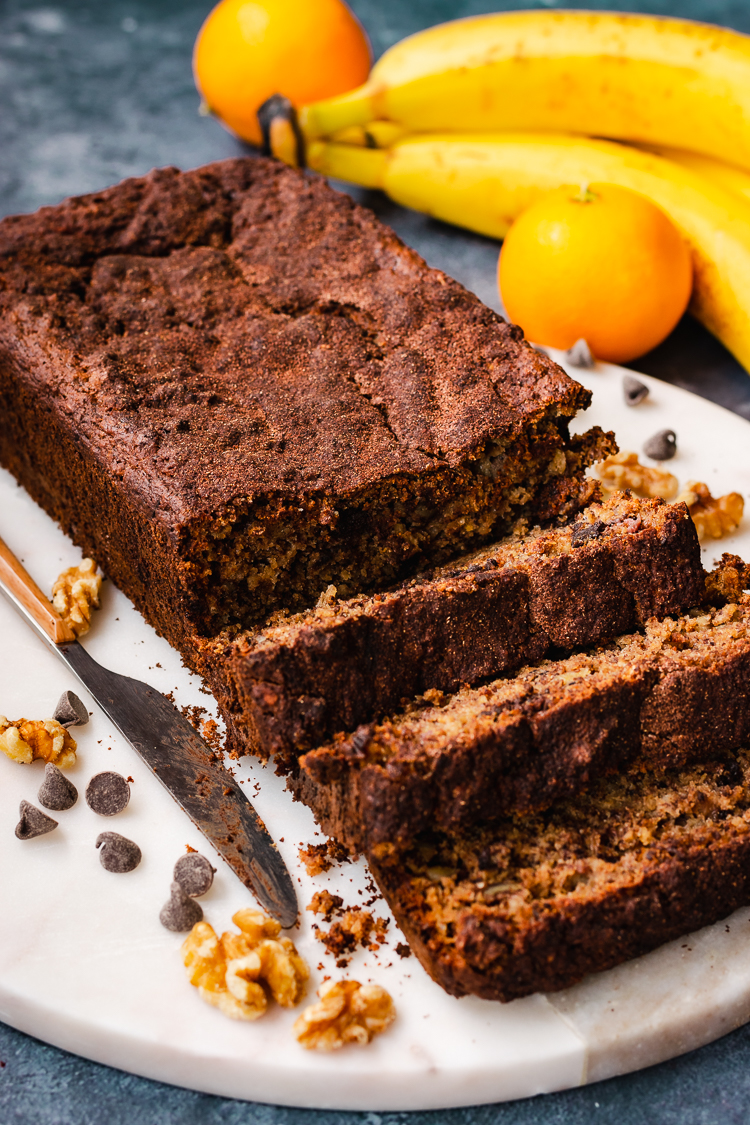 I LOVE banana bread. It's my favorite quick bread and favorite sweet breakfast, ever (yeah, even more than oats or donuts). That being said, sadly my blog does not currently represent my love for banana bread, so we're changing that. Expect lots more banana-flavored goodies in the coming months! (In the meantime though, you can check out my vegan blueberry banana bread and chocolate chip banana muffins.)
I figured there are already a bunch of classic vegan banana bread recipes on the internet, so I wanted to share a more interesting banana bread recipe. Since it's winter, I've been blessed with a plethora of oranges and orange trees all around me, so I've been playing with different ways to use them in baking and cooking. So far we have blueberry orange oat muffins and chocolate orange muffins. And now we're adding a banana bread twist to the mix!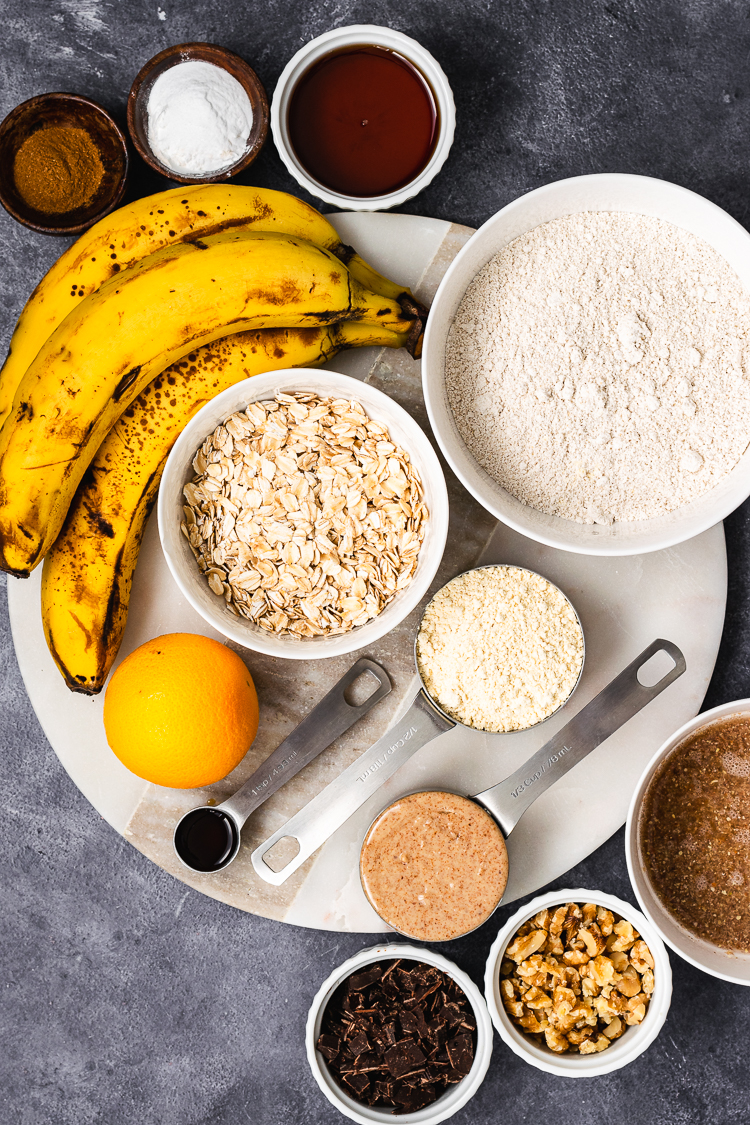 INGREDIENTS TO MAKE CHOCOLATE ORANGE BANANA BREAD
This chocolate chip orange banana bread is made with 13 plant-based ingredients:
bananas ⟶ Choose very ripe, spotty, or even brown bananas.
orange ⟶ Make sure to clean it well since we will be using the zest, too.
oats ⟶ We will be using oat flour and rolled oats. You can either make your own oat flour by blending rolled oats in a high powered blender until finely ground, or buy pre-made oat flour. Ensure your oats are gluten-free if this is an issue for you.
chickpea flour ⟶ adds protein and structure to the bread. I've used almond flour instead and it is also good.
ground flaxseed ⟶ acts as an egg replacer to help bind the ingredients together. You can also use ground chia seeds.
almond butter ⟶ acts as a butter/oil replacement. Feel free to sub any other nut/seed butter of choice.
maple syrup ⟶ sweetens and adds moisture
chocolate ⟶ use chunks or chips, dark or milk, whatever you like! This is a popular brand of vegan chocolate chips.
walnuts ⟶ optional but I love the extra texture it adds
we'll also be using a few pantry staples such as cinnamon, baking powder, baking soda, and vanilla extract
I also decided to top my banana bread with some cinnamon sugar, but that's completely optional.
BANANA BREAD BAKING TIPS
Most (if not all) quick bread recipes caution against over-mixing. This is mainly because over-mixing can cause over-development of gluten, resulting in a bread with a dense, chewy texture. Since this banana bread is gluten-free this isn't really an issue here, but don't go crazy with your mixing. The leavening agents (baking soda and baking powder) are activated as soon as liquid hits it, so we want to get the batter in the oven as soon as possible. Just mix until there are no flour pockets left.
Work quickly once the wet and dry ingredients are combined. Make sure your oven is preheated and your loaf pan is lined/greased before you combine the wet and dry ingredients.
Make sure you let the rolled oats soak long enough to soften. This helps make the banana bread soft and tender.
Use a kitchen scale to measure out your ingredients when possible. This is the most accurate way to measure your ingredients. If your banana bread doesn't turn out right, this is the first area I would check for mistakes.
Use nut/seed butter that is runny and easily scoopable, not the bottom-of-the-jar hardened part. It should also be mixable, so if it's stiff from being in the fridge, nuke it in the microwave for 15-30 seconds until softened.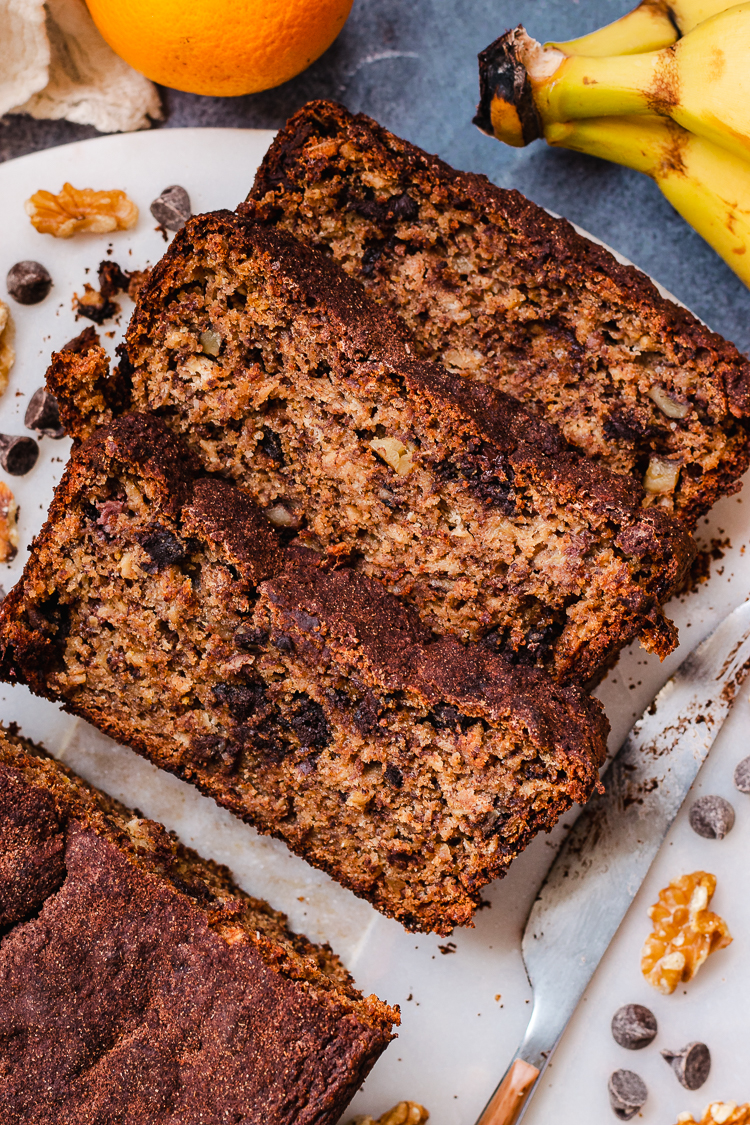 HOW TO STORE BANANA BREAD
Before you store banana bread, you have to let it cool completely first, out of the pan. It's important to thoroughly grease or line your loaf pan for easy removal of the banana bread. I recommend letting the bread cool for 5-10 minutes in the pan first to allow it to firm up a bit so it doesn't break when you remove it. Transfer to a cooling rack and let it cool completely.
Once cooled, wrap the banana bread in foil or place in an airtight container to prevent it from drying out.
room temperature ⟶ banana bread will last about 3 days at room temperature
refrigerator ⟶ you can also store banana bread in the fridge for up to a week, though it may dry out a little
freezer ⟶ for long-term storage (about 3 months), slice the banana bread and place into a freezer-safe bag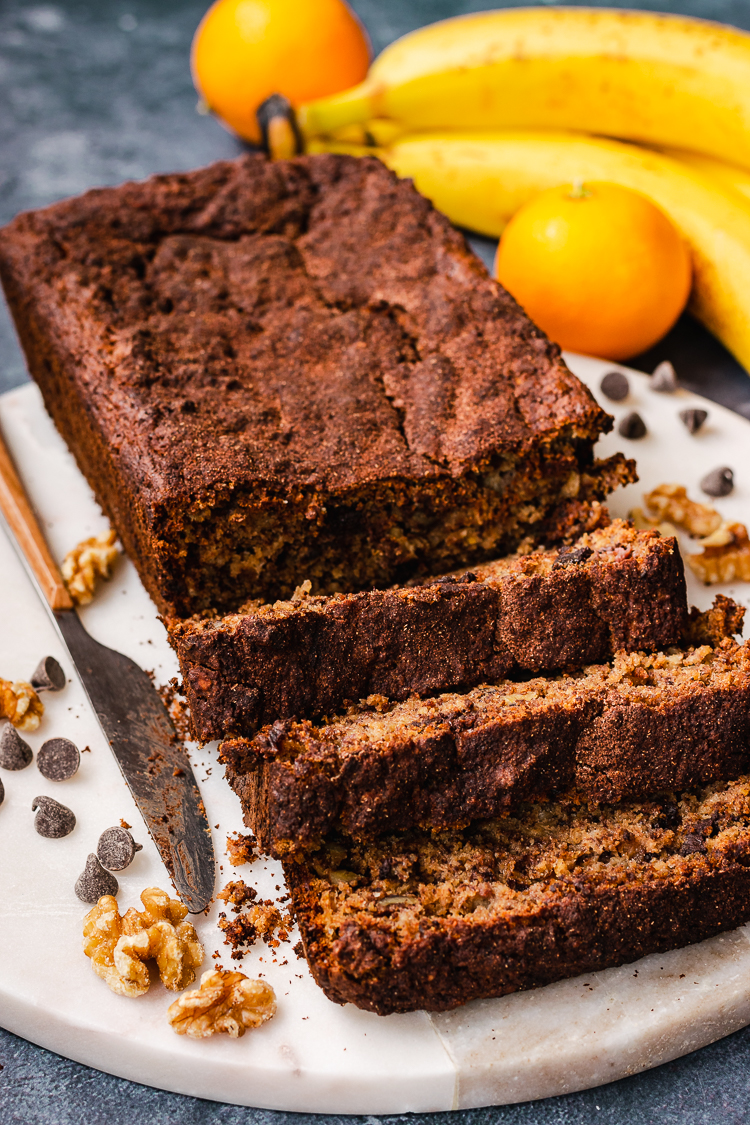 HELPFUL BAKING TOOLS
STILL HUNGRY?
Check out these other vegan quick breads and muffins!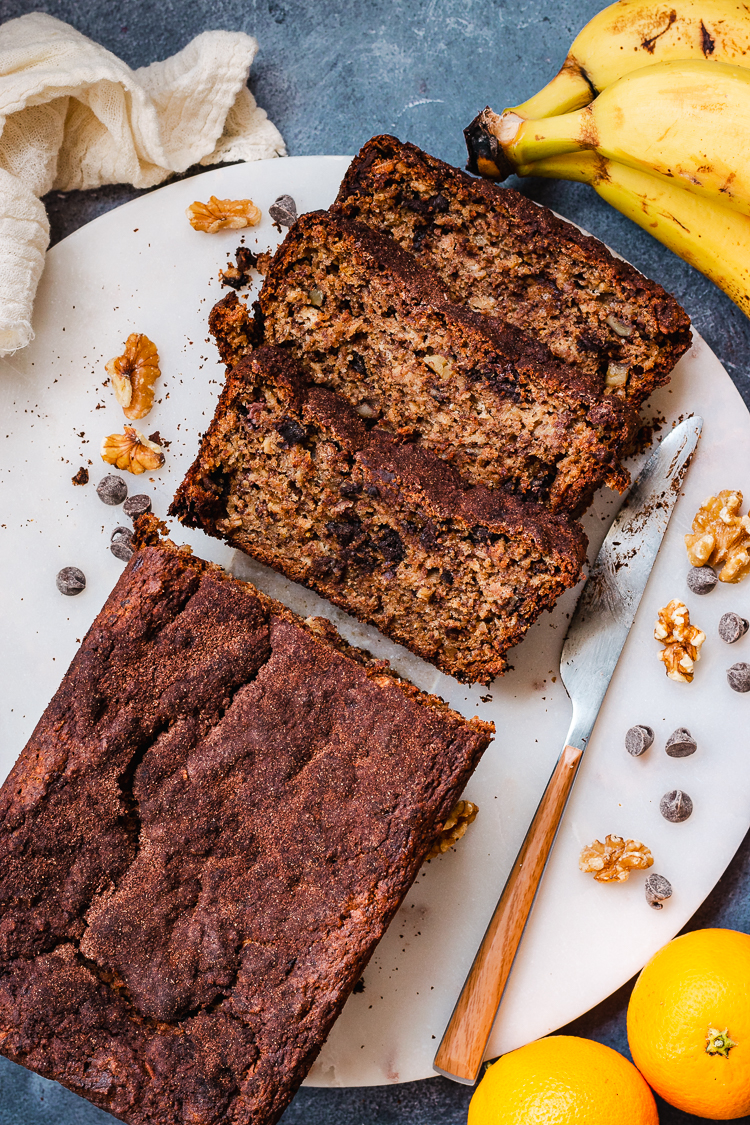 I hope I've inspired you to try out this chocolate chip orange banana bread! If you do try it out, don't forget to tag me in your photos on instagram @ellielikes.cooking and/or leave a comment down below and let me know how you liked them! I love seeing you recreate my recipes in your own kitchen 🙂 Happy baking ♡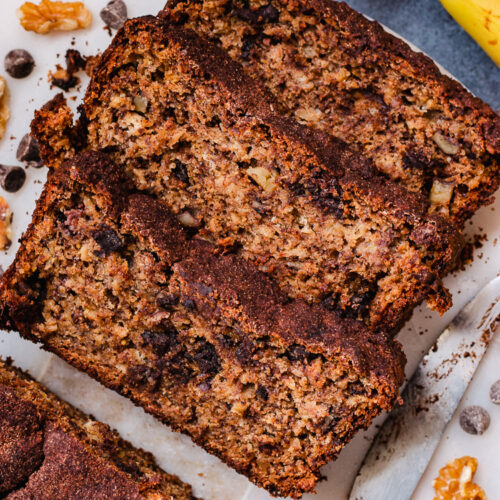 Chocolate Chip Orange Banana Bread (Vegan, Gluten-Free)
This chocolate chip orange banana bread is flavorful, moist, slightly dense, and perfectly sweet. Plus it's healthy, vegan, and gluten-free!
Ingredients
3

overripe bananas

mashed

1

small orange, juiced (about 1/4 cup juice) and zested

¾

cup (68g)

rolled oats*

⅓

cup

maple syrup

2

tbsp

ground flaxseed + 6 tbsp water

⅓

cup (90g)

almond butter

1

tsp

vanilla extract

1 ½

cups (180g)

oat flour*

½

cup (60g)

chickpea flour

1

tsp

cinnamon

2

tsp

baking powder

1

tsp

baking soda

½

cup

chocolate chips

½

cup

walnuts
Instructions
Preheat oven to 350°F. Grease a loaf pan or line with parchment paper and set aside.

Combine bananas, orange juice and zest, rolled oats, and maple syrup in a large bowl. Let the oats sit for 20 minutes to soften and soak up some of the liquid.

Combine ground flax and water and set aside to thicken.

In a separate bowl, whisk together oat flour, chickpea flour, cinnamon, baking powder, and baking soda.

When the oats have softened, add in almond butter, vanilla extract, and flax mixture and mix until well combined.

Add wet ingredients to dry and mix until just combined. Fold in chocolate chips and walnuts.

Pour batter into loaf pan and bake for 60-75 minutes, until a toothpick inserted in the center comes out clean. Poke a few times since you may poke a chocolate chip which will come out messy. Let the bread cool in the pan for 5-10 minutes, then transfer to a cooling rack to cool completely.
**Notes
*Ensure your oats/oat flour are gluten-free if this is an issue for you.
Disclosure: This page may contain affiliate links. As an Amazon Associate I earn from qualifying purchases, but the price remains the same to you. Thank you for supporting Ellie Likes Cooking!
Save for later!