This page may contain affiliate links. As an Amazon associate I earn from qualifying purchases. Please read our
disclosure
for more info.
Creamy mashed potatoes coated in a crispy panko crust. This Japanese korokke is made plant-based and with white beans for extra protein!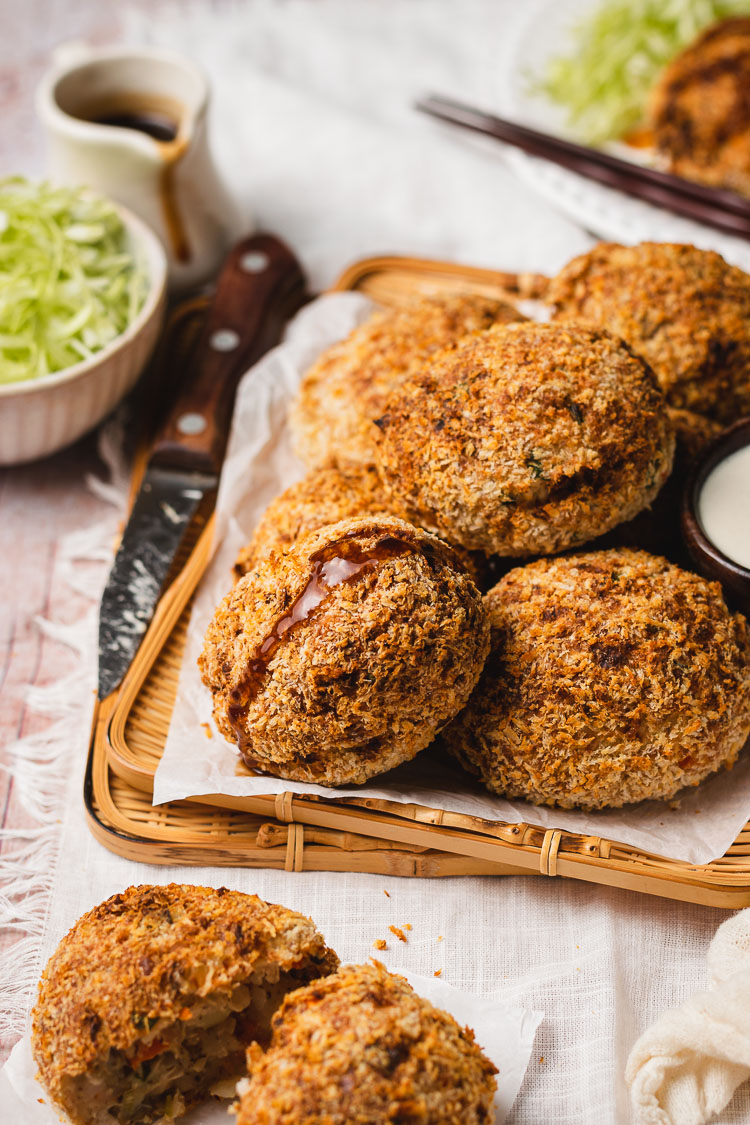 What is Korokke?
Korokke is the Japanese version of croquettes. It's basically a mashed potato patty mixed with some ground beef and onion, coated in panko, and deep-fried to crispy perfection. It's a popular Japanese street food but also common in home cooking. Many varieties exist with different vegetables, cheeses, cream sauce, seafood, kabocha, etc. This one's a little different though. Not only is this korokke vegan, but it also replaces some of the potatoes with white beans! White beans are mushy and starchy too though, like potatoes, so you really can't tell, and they add a good source of plant-based protein. Trust me, you need these in your life!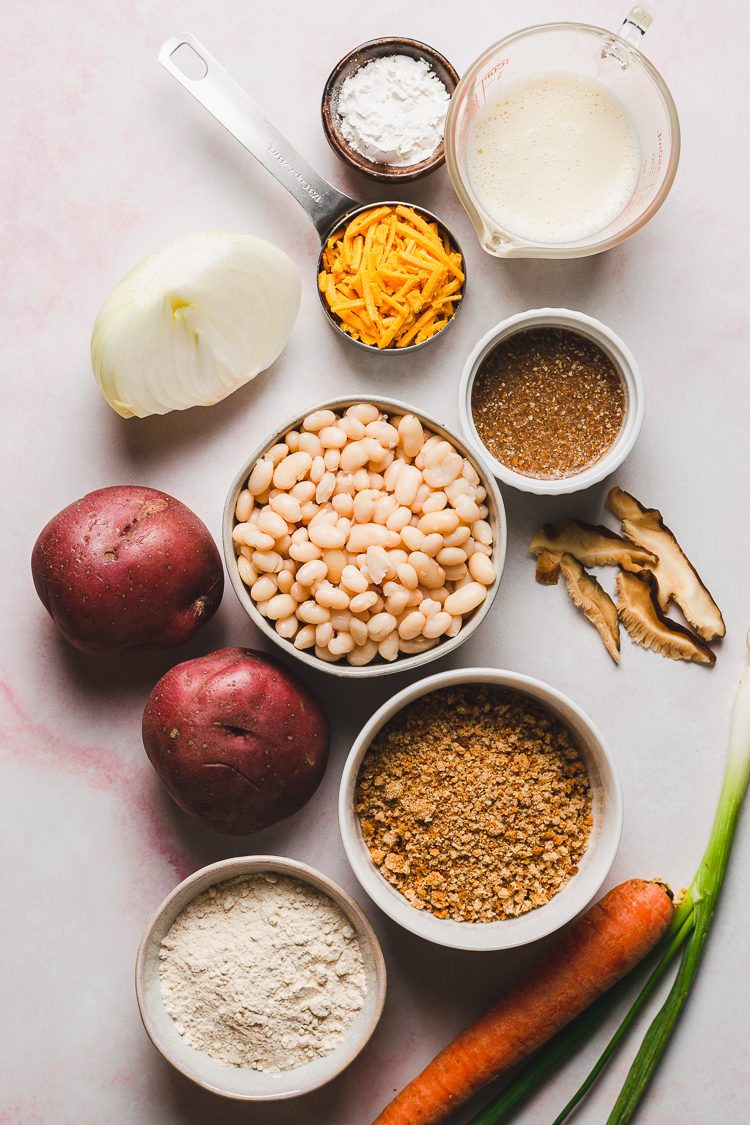 Key Ingredients
This white bean korokke is made with 10 main ingredients, many of which are customizable to suit your preferences:
To coat the korokke and make it nice and crispy, you'll need: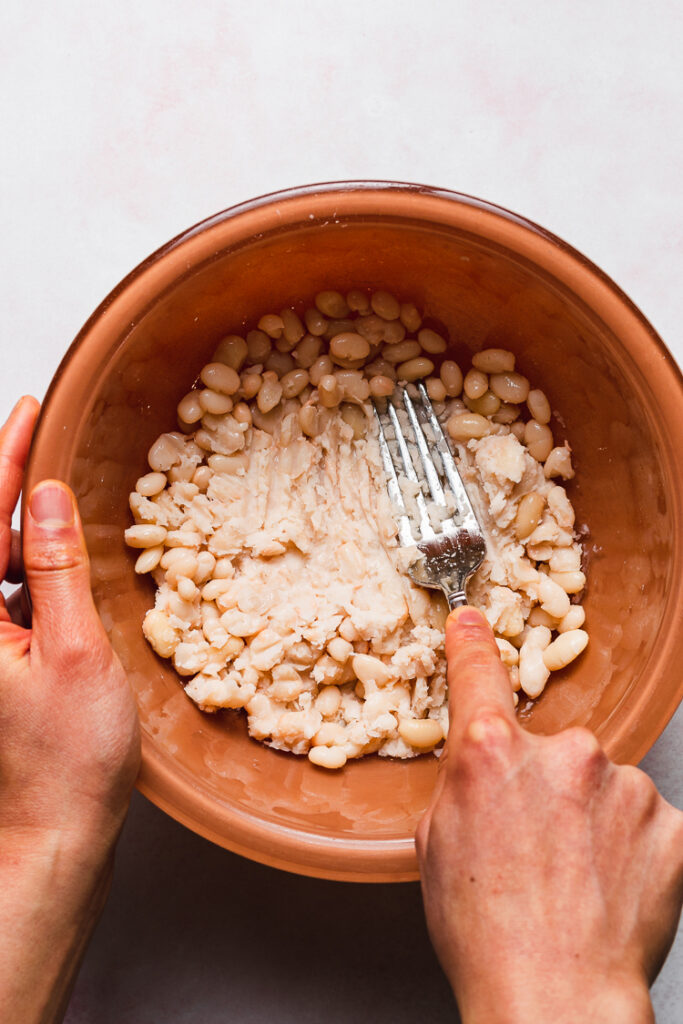 How to Make
Boil the potatoes until soft enough for a fork to easily pierce through the flesh.
Meanwhile, cook the veggies until tender.
Mash the beans with a fork or potato masher, leaving some chunks for texture.
Mash the potatoes in with the beans, again leaving some chunks for texture.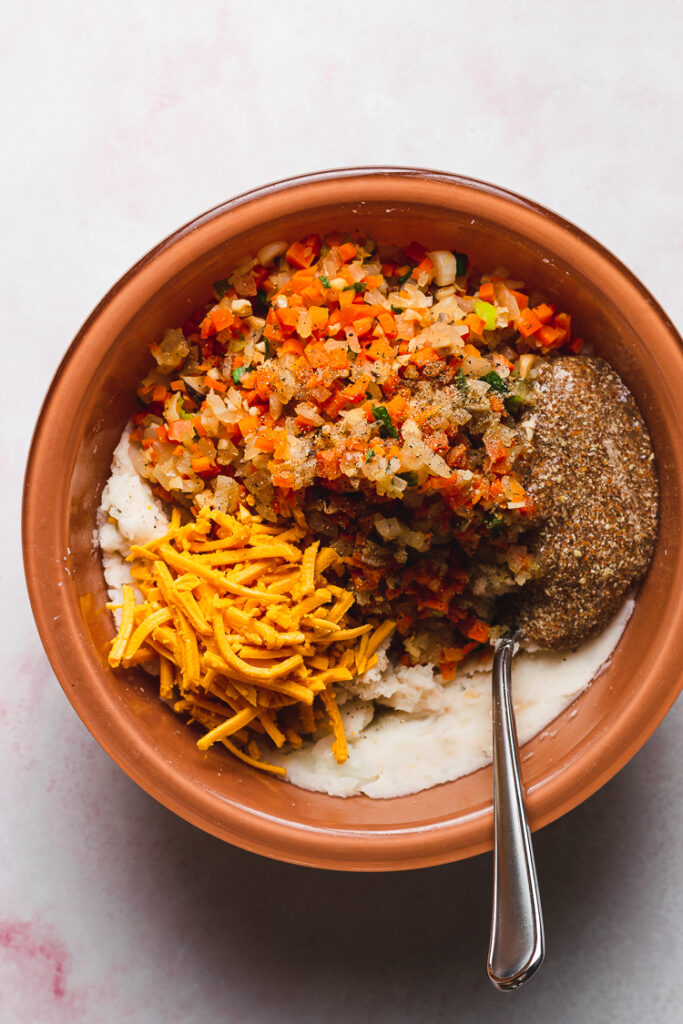 Add in the cooked veggies, vegan cheese, and flax egg and combine into a smooth, uniform mixture.
Scoop some of the korokke mixture into your hands and form into a thick patty or oval shape. Coat with flour, dip in the plant milk + cornstarch mixture, and coat with panko/breadcrumbs. Repeat with remaining korokke mixture. I ended up with 8 large korokke.
Brush the tops and bottom with oil, then place in your air fryer basket (leaving some space between each korokke). They probably won't all fit in your air fryer, so you will need to cook them in batches. Air fry at 375°F for 15-20 minutes, or until golden brown and crispy.
Serve with Japanese Worcestershire sauce* (some contain fish, so check the label — I use Chuno Sauce which usually doesn't contain fish/anchovy; or make your own homemade Japanese Worcestershire sauce!), ketchup, Japanese mayonnaise, or another sauce of choice.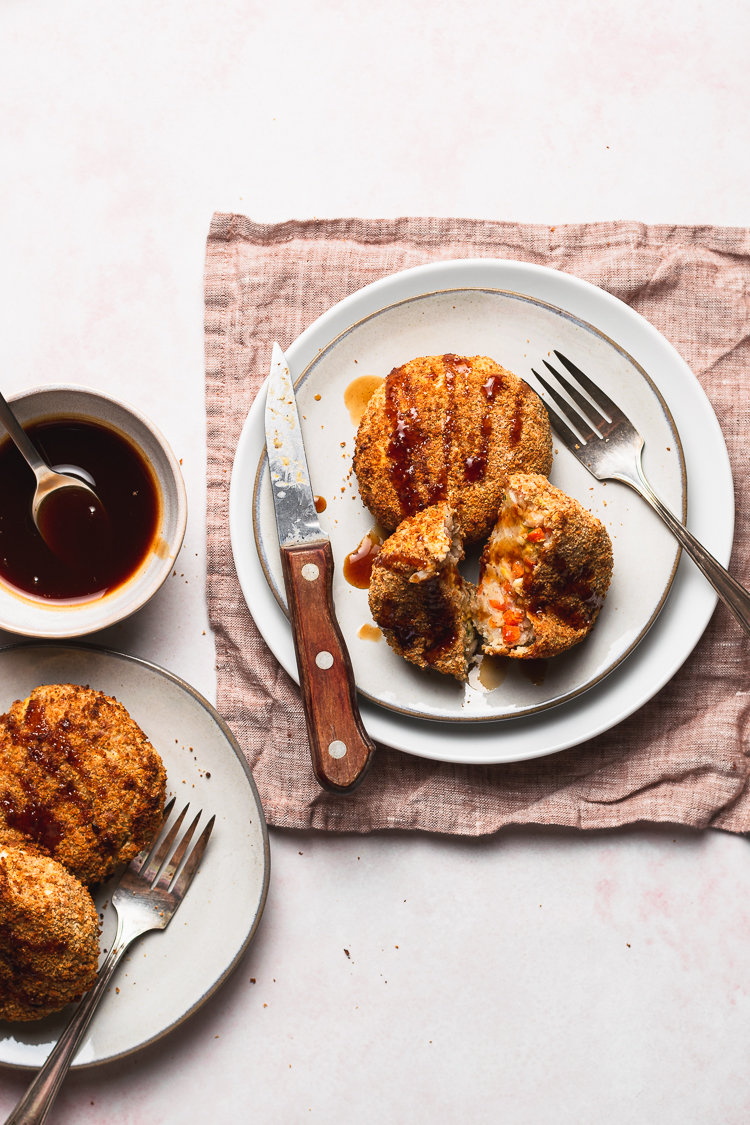 White Bean Korokke FAQ
What do I serve korokke with?
Korokke can be served as a main dish or side dish. If serving it as a main, I recommend including some extra protein in a side dish to make your meal more filling. This could be a simple side of steamed edamame, tofu in your miso soup, or this tofu and green onion salad. If deep frying, you might enjoy a side of shredded cabbage to balance out the grease. And don't forget to serve your korokke with a sauce (Japanese Worcestershire sauce and mayonnaise are commonly used).

How do I store leftovers?
You can store these in a container in the fridge for about 3-5 days, or in the freezer for up to a month.

How do I reheat leftovers?
To reheat, simply pop them back into your air fryer at 350°F and cook until crispy on the outside and warm in the center. Cooking time will vary depending on your air fryer and the storage method. Refrigerated korokke will crisp up pretty quickly, about 5-10 minutes. Frozen korokke may take up to 15-20 minutes.

Can I bake them?
Yes! To bake, arrange the korokke on a lined baking sheet and bake at 400°F for about 15-20 minutes, or until golden and crispy on the outside. You can turn them over halfway through to ensure the bottom gets crispy as well.

Can I deep fry them?
I personally haven't made them deep-fried yet, but if that's your thing then absolutely, go ahead! They'll be even crispier this way.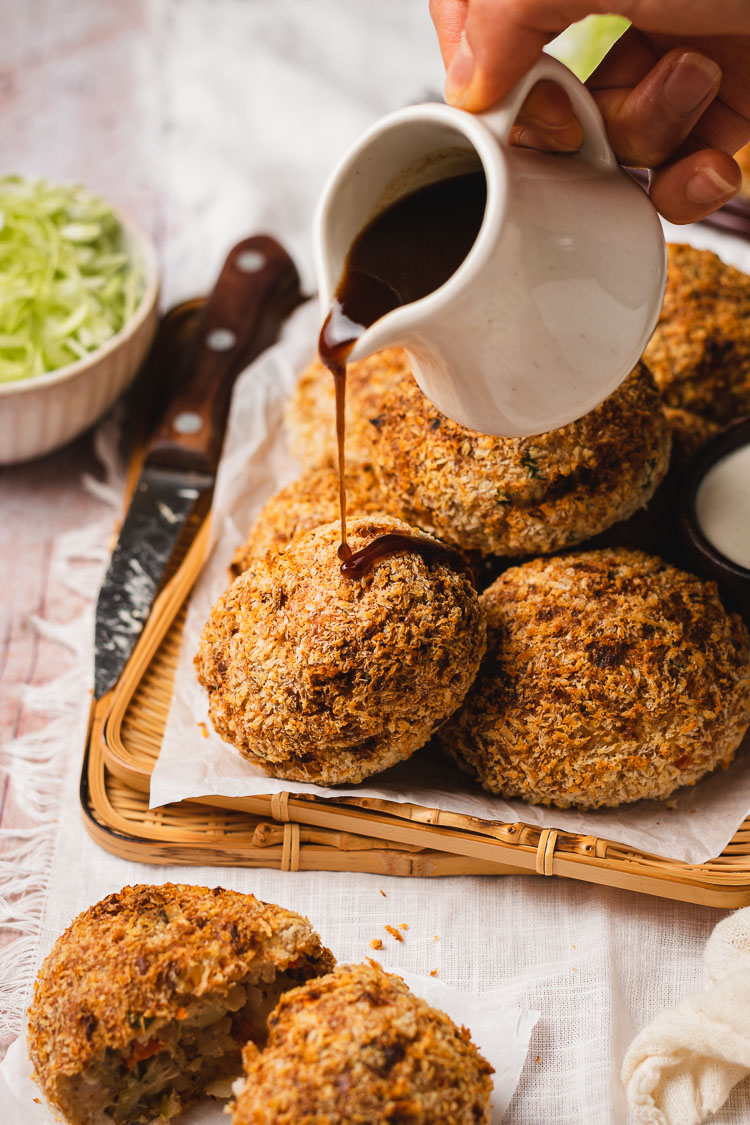 Helpful Cooking Tool
More Vegan Air-Fryer Meals!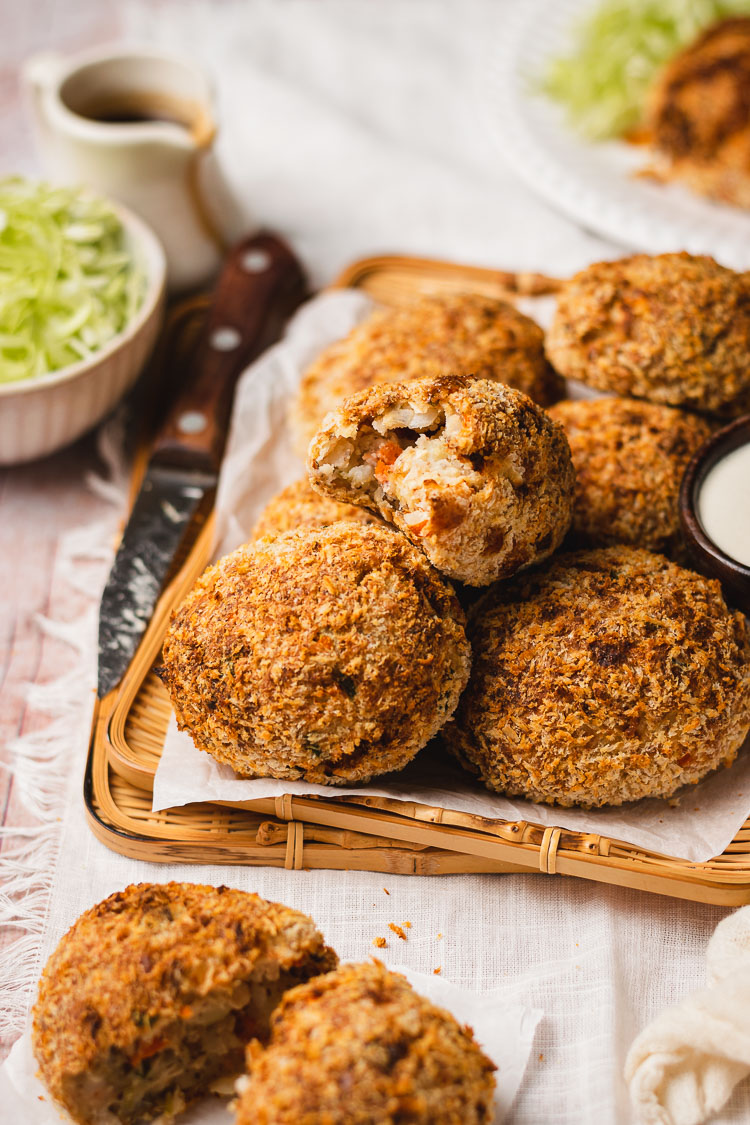 I hope I've inspired you to make this white bean korokke! If you try it out, don't forget to tag me in your photos on instagram @ellielikes.cooking, leave a comment/rating down below, and let me know how you liked it! I love seeing all of your tasty recreations 🙂 Happy cooking! ♡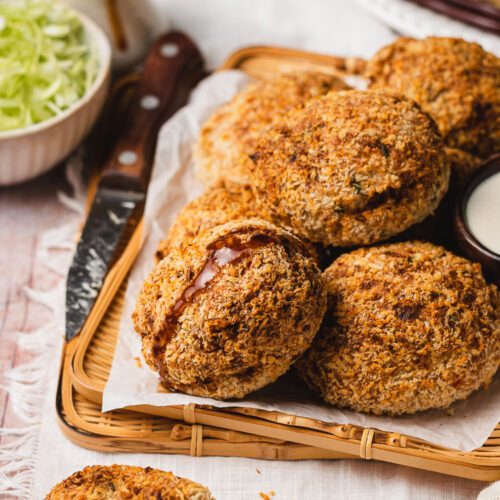 Vegan White Bean Korokke (Japanese Croquette)
This vegan twist on korokke (Japanese croquettes) is hearty, packed with plant-based protein, and made healthier in the air fryer!
Ingredients
2

tbsp

ground flaxseed*

6

tbsp

water

1 ½

pounds

starchy potatoes

3

cups

cooked white beans

drained and pat dry

1

onion

diced

2

carrots

diced

2

green onions

chopped

2

shiitake

chopped

⅔

cup

vegan cheese shreds

pinch of salt and pepper

½

cup

plant-based milk

1

tbsp

cornstarch

½

cup

all purpose flour

2

cups

panko or breadcrumbs*

oil for brushing
Instructions
Make flax egg: Mix together ground flax and water and set aside to thicken.

Boil potatoes: Peel potatoes and slice into cubes so they cook faster. Add potatoes to a pot of water and bring to a boil. Cook for about 10-15 minutes, until you can easily pierce the potatoes with a fork. Drain and set aside.

Cook Veggies: Meanwhile, add onions and carrots to a pan over medium heat with a splash of water or oil, and cook until onions turn translucent. Add green onion and mushrooms (if using) and season with salt and pepper. Stir and turn off heat.

Mash beans: Add white beans to a large bowl and use a fork or potato masher to mash the beans. They don't have to be completely mashed; leave some chunks for texture.

Mash potatoes: Add potatoes to the bowl and mash, again leaving some chunks for texture.

Combine: Add in veggies, vegan cheese, and flax mixture. Mix until well combined.

Form patties: Mix together plant milk and cornstarch. Form the potato mixture into thick patties or ovals. (You should be able to make about 8-10 patties.) Roll each patty in flour, dip in plant milk mixture, then coat with panko. You may need extra flour or panko, depending on how big your korokke are. 

Air-Fry: Brush the korokke with oil. Place in the air fryer, leaving a little space between each korokke so they aren't touching each other. You will probably have to fry in two or three batches, depending on the size of your air fryer.

Air fry at 375°F for 10-15 minutes, or until golden and crispy. Serve with Japanese worcestershire sauce, ketchup, mayonnaise, or plain. These are best right after they're made, but leftovers can be reheated in the air fryer to crisp up.
**Notes
POTATOES: Typically, starchy potatoes such as Russet, Idaho, and Yukon Gold are recommended, but I have also made this with red-skinned potatoes with good results.
SHIITAKE: You can use fresh or dried. If using dried, rehydrate in water first, and use the leftover liquid to make the flax eggs.
MAKE IT GLUTEN-FREE: Use gluten-free panko/breadcrumbs and gluten-free all purpose flour.
*Adapted from my original air-fryer korokke.


*Disclosure: This page may contain affiliate links. As an Amazon Associate I earn from qualifying purchases, but the price remains the same to you. Thank you for supporting Ellie Likes Cooking!
Save for later!