This page may contain affiliate links. As an Amazon associate I earn from qualifying purchases. Please read our
disclosure
for more info.
Vegan pesto made with nutritional yeast, nuts/seeds of choice, basil, and optional greens. This recipe is customizable and so easy to make!
What is Pesto?
Pesto is an Italian sauce traditionally made with garlic, basil, pine nuts, salt, and hard cheese such as Parmesan. These days there are thousands of pesto recipes online, utilizing anything and everything, from carrot tops to beet greens to kale; avocado to pistachios to hemp seeds; some even omitting the olive oil (which I'm sure is just blasphemy to many people). But what this tells me is that pesto, at least by western definitions, is very versatile and can be customized to our individual tastes and needs. I am by no means claiming my pesto recipe to be authentic (first off, it's vegan so there's no cheese); it's simply what I enjoy making and all the different ways you can try customizing it. So if you're out of basil, can't afford pine nuts, or don't eat cheese – I hope this helps!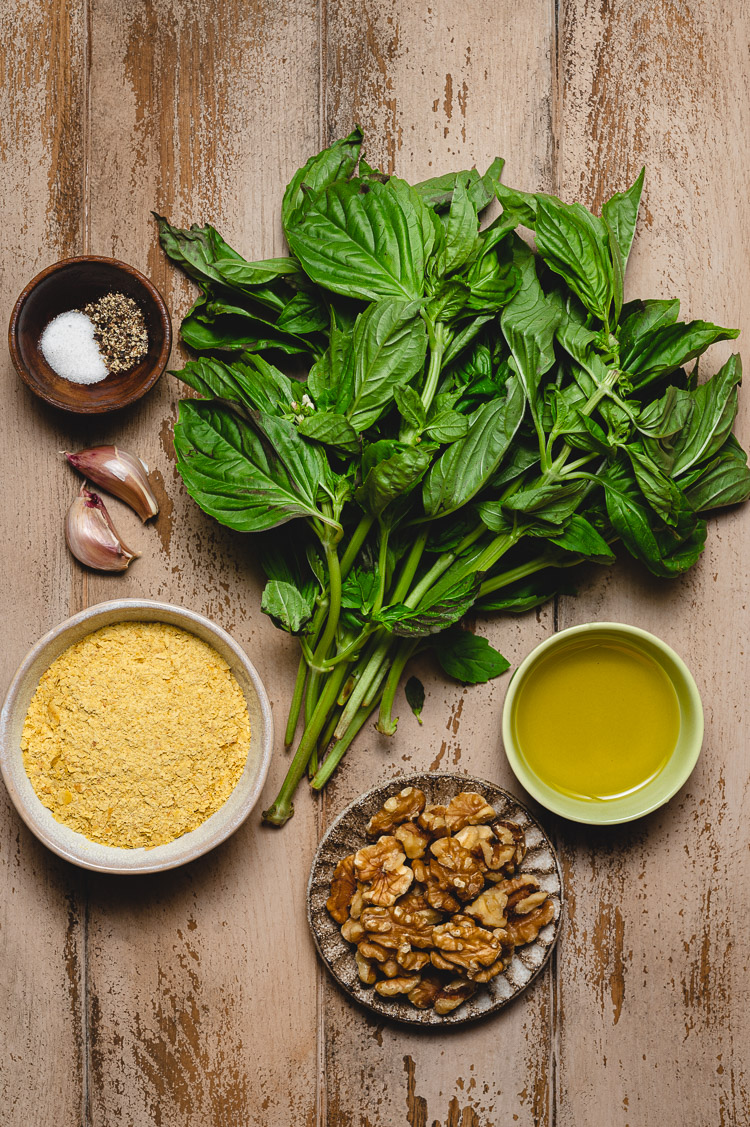 Key Ingredients & Substitutions
Nutritional Yeast* ⟶ Gives it a "cheesy" umami flavor. Nutritional yeast is a common vegan parmesan substitute. I highly recommend you keep some in your pantry if you do a lot of plant-based cooking!
Nuts/Seeds ⟶ Traditionally, pine nuts are used, but as they can be expensive and difficult to find (at least for those of us in the West), I say use your favorite nut/seed. I love using walnuts and hemp seeds, but cashews, almonds, pistachios, sunflower seeds, pumpkin seeds, or even avocado can also work!
Basil ⟶ I love basil so I really pack it in in my pesto. However, you can also substitute some or all the basil with other herbs like parsley, cilantro, mint, chives; or greens like spinach, kale, arugula, watercress, beet greens, carrot tops, or even peas!
Extra Virgin Olive Oil ⟶ Good quality EVOO adds body, flavor, and helps emulsify the ingredients.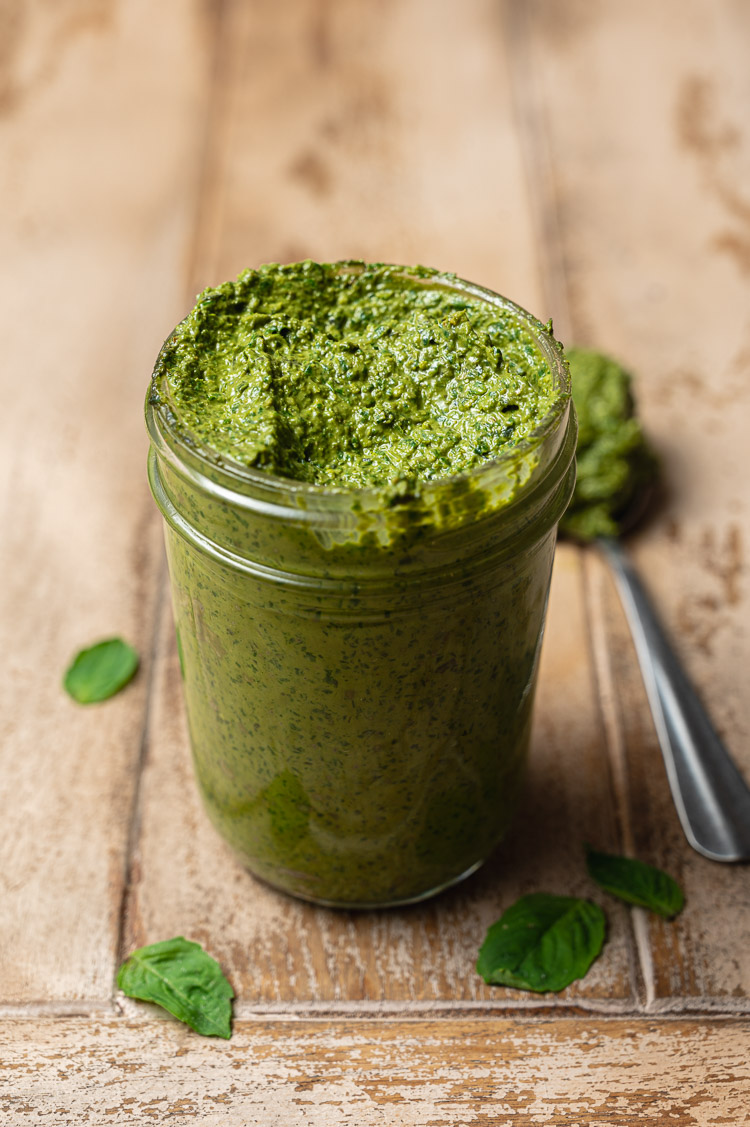 Vegan Pesto FAQ
How do I make nut-free pesto?
You can use sunflower seeds, pumpkin seeds or hemp seeds in place of nuts. You can also try omitting the nuts/seeds entirely and adding more olive oil to make up for the fatty flavor, or use avocado instead. Note that the avocado will brown, so it's best to use avocado pesto the day of.

What can I use instead of basil?
While pesto is typically made with basil, there are tons of recipes now that use other herbs or greens. I like to replace some of the basil with spinach or arugula (about 1 cup). You can also try kale, carrot tops, beet greens, watercress, parsley, cilantro, mint, peas, or even sun dried tomatoes!
Tips for Success
Do not omit olive oil ⟶ Olive oil adds flavor and helps emulsify the ingredients. How much you need will depend on the consistency you want, but start with at least 4 tablespoons.

Use good quality extra virgin olive oil for the best flavor ⟶ Admittedly I don't usually keep super high quality EVOO in my pantry since I don't use it very often, but if you have access to high quality EVOO it will make the pesto taste even better! I am not an olive oil connoisseur so I can't tell you what the best brands are, but I hear California Olive Ranch* is delicious and reasonably priced.
How to Use Pesto
Pasta is the obvious choice, but pesto complements a myriad of dishes!
roasted veggies: potatoes and eggplant are my current favorite

mix with some pesto before roasting, then top with extra pesto to serve

grilled tofu
salad dressing
stir into soup
spread in sandwiches
drizzle on pizza
More Homemade Condiments and Sauces!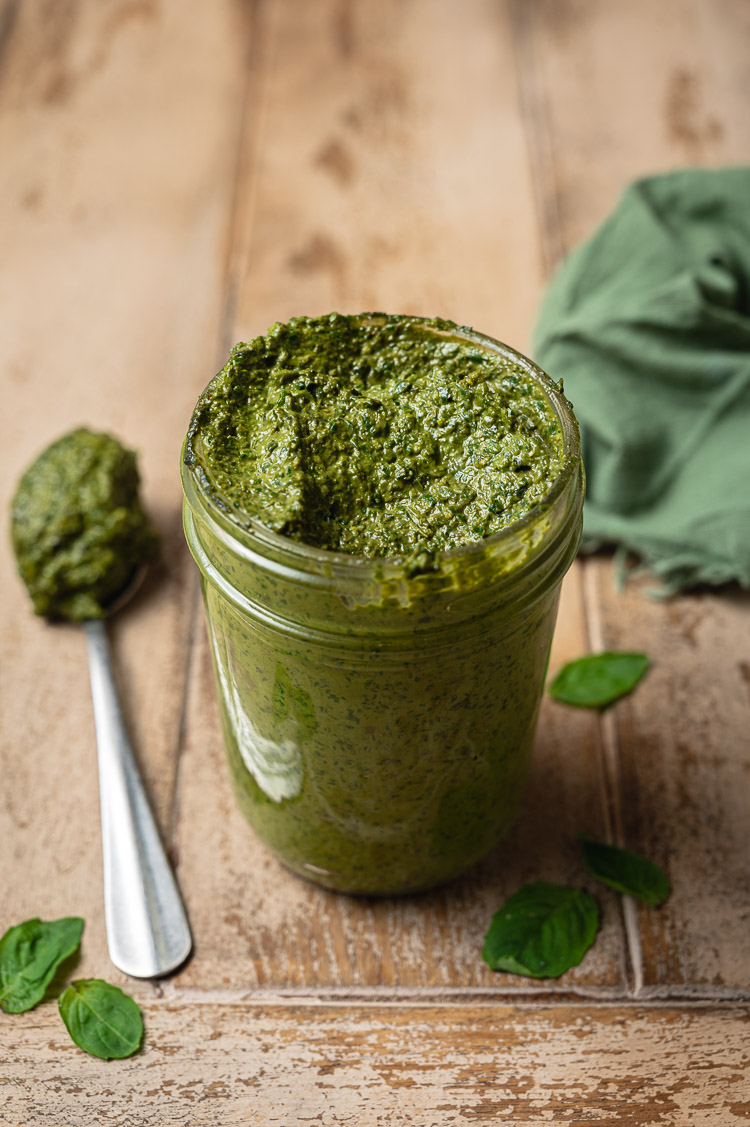 If you make this vegan pesto, don't forget to leave a comment/rating down below and tag me in your photos on instagram @ellielikes.cooking. I love seeing all of your tasty recreations!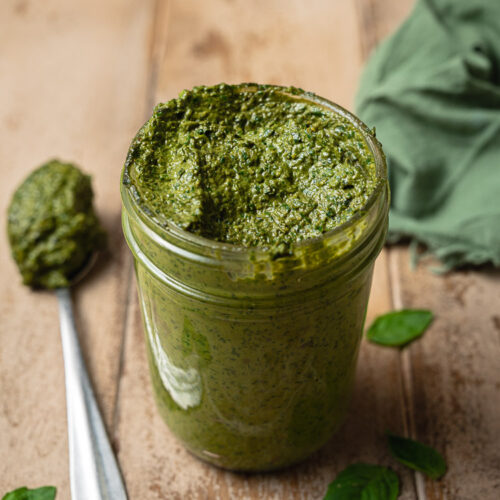 Easy Vegan Pesto (Customizable)
Vegan pesto made with nutritional yeast, nuts/seeds of choice, basil, and optional greens. This recipe is customizable and so easy to make!
Ingredients
4

cups (4 oz)

basil leaves**

6

tbsp

nuts/seeds**

½

cup

nutritional yeast*

2

cloves

garlic

chopped

1

tbsp

lemon juice

optional

½

tsp

salt

adjust to taste

ground black pepper

to taste

4-8

tbsp

olive oil
Instructions
Add all ingredients except olive oil to a food processor. Mix until a loose paste forms.

While the food processor is running, drizzle in olive oil. Start with 4 tbsp and add more as desired. You can also add some water to help make a smoother paste. (I like to keep my pesto somewhat thick, then when I make pasta I use some of the pasta water to thin it out.)

Taste and add more salt/pepper/lemon juice as desired.

Store in an air tight container in the fridge for up to 1 week.
Video
**Notes
Basil: You can replace up to 1 cup basil with 1 cup arugula, spinach, or kale. Nuts/Seeds: You can mix and match pine nuts, walnuts, almonds, cashews, pistachios, sunflower seeds, pumpkin seeds, and hemp seeds.


*Disclosure: This page may contain affiliate links. As an Amazon Associate I earn from qualifying purchases, but the price remains the same to you. Thank you for supporting Ellie Likes Cooking!
Save for later!