This page may contain affiliate links. As an Amazon associate I earn from qualifying purchases. Please read our
disclosure
for more info.
Enjoy this classic Korean rice dish with a plant-based twist! No eggs or meat necessary but still comforting and delicious like the original.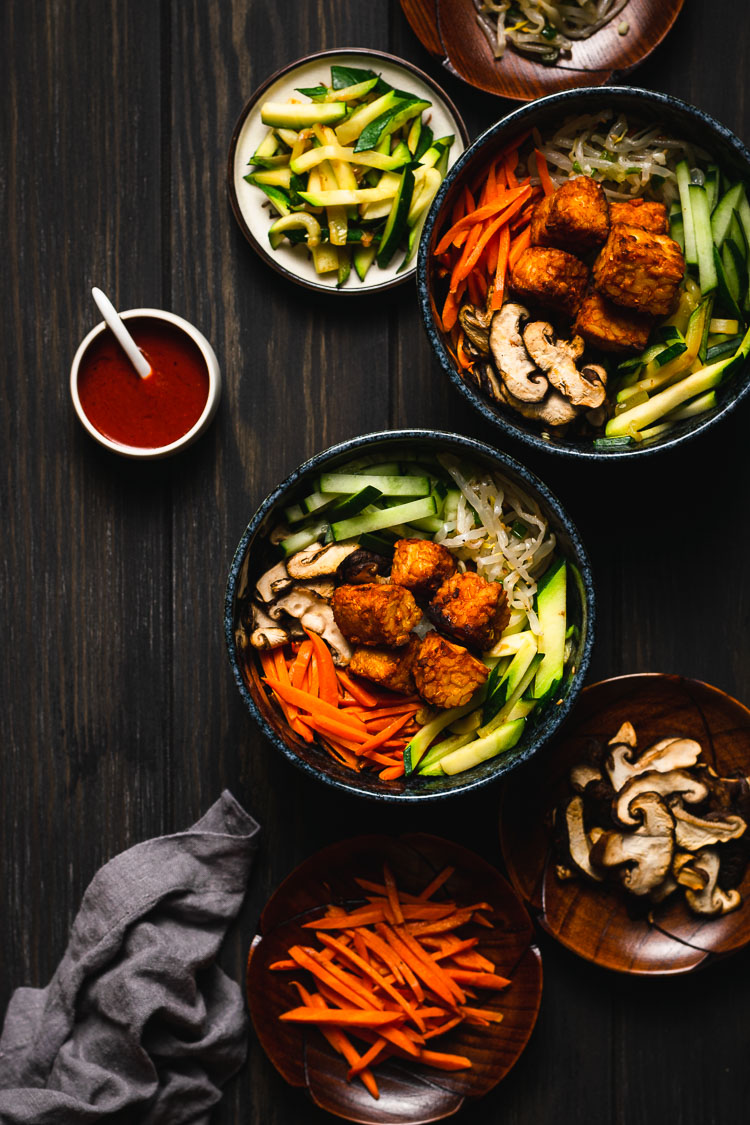 What is Bibimbap?
Unless you've been living under a rock, you've most likely come across this popular Korean mixed rice dish. (Just kidding, maybe you don't have any Korean restaurants near you, or you're not big on Korean food. But this dish is so popular in the West now that I'd be surprised if you've never seen or heard of bibimbap.) Bibimbap is customarily made with an assortment of vegetables (usually leftover Korean side dishes, called banchan), marinated beef, and a fried egg all over a bowl of rice. In my opinion, the side dishes and sauce are really what make bibimbap so good, so you can easily swap out the beef and egg for tofu/tempeh and make a vegan bibimbap!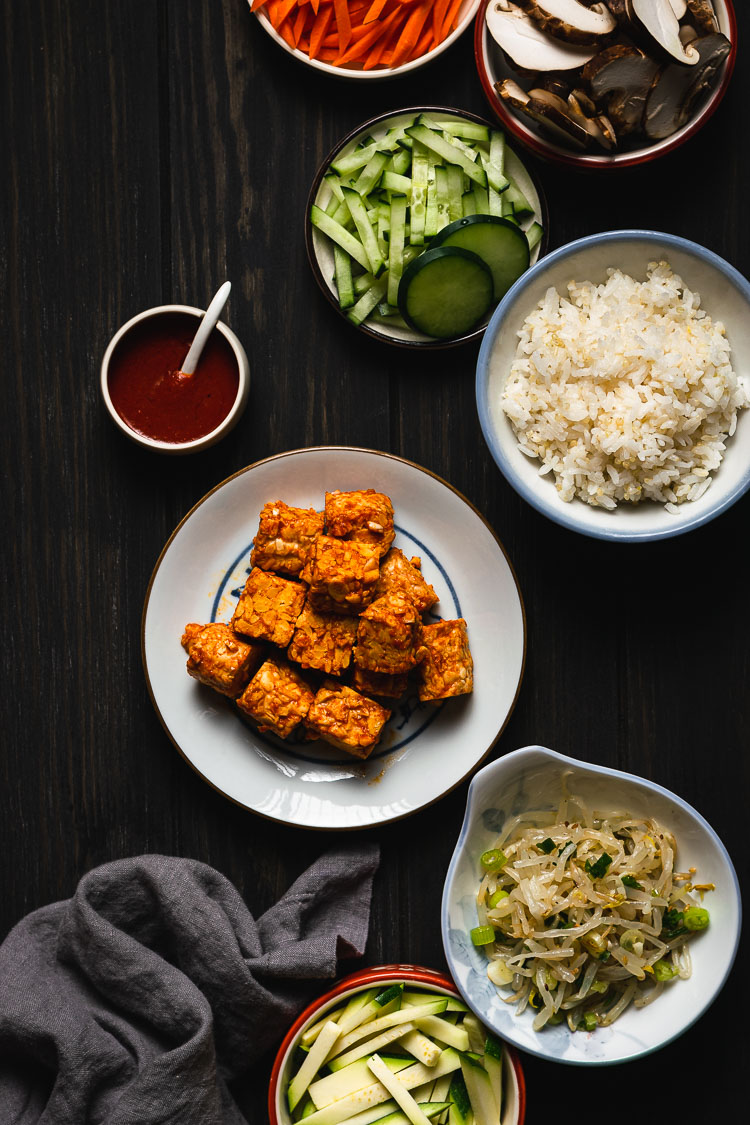 Ingredients
Bibimbap contains all the components of a complete meal: carbs/starch (rice), protein (usually beef and egg but in this case tempeh), veggies (various side dishes that may be left over from previous meals), and fat (oil used to cook and season).
Veggies
Bean Sprout Salad ⟶ Follow my recipe for spicy bean sprout salad and omit the gochugaru, add some black pepper instead.
Sautéed Zucchini
Sautéed Carrots
Sautéed Mushrooms
Cucumbers ⟶ I think cucumber tsukudani or these spicy marinated cucumbers would also be really good in this!
Seasoned spinach is also common, but I was out of spinach. For the spinach, blanch it first, chop, then add seasonings (similar to the bean sprout salad seasonings).
Sauce
Although the veggies and toppings are already seasoned, the bibimbap sauce really ties it all together. A mix of spicy, sweet, tangy, and nutty to really stimulate your taste buds!
Gochujang ⟶ Korean chili paste. This adds the heat and is used in many Korean dishes. So if you like Korean food, make sure you keep some gochujang in your pantry!
Toasted Sesame Oil ⟶ Adds that lovely nutty flavor. Don't omit!
Vinegar ⟶ For that zesty, tangy flavor. You can use rice vinegar or apple cider vinegar.
Sugar ⟶ Use any sweetener of choice. I actually like to use Japanese Worcestershire sauce instead. It's sweet but also a little tangy and has extra flavor from the seasonings used in it. I'll be sharing my homemade Japanese Worcestershire sauce soon!
Garlic ⟶ Optional, depending on how much you love garlic. I usually omit since my toppings already have plenty of garlic flavor.
Tempeh
I made a spicy marinated tempeh to top my bibimbap. You can also used fresh or fried tofu, plain or marinated. It's up to you!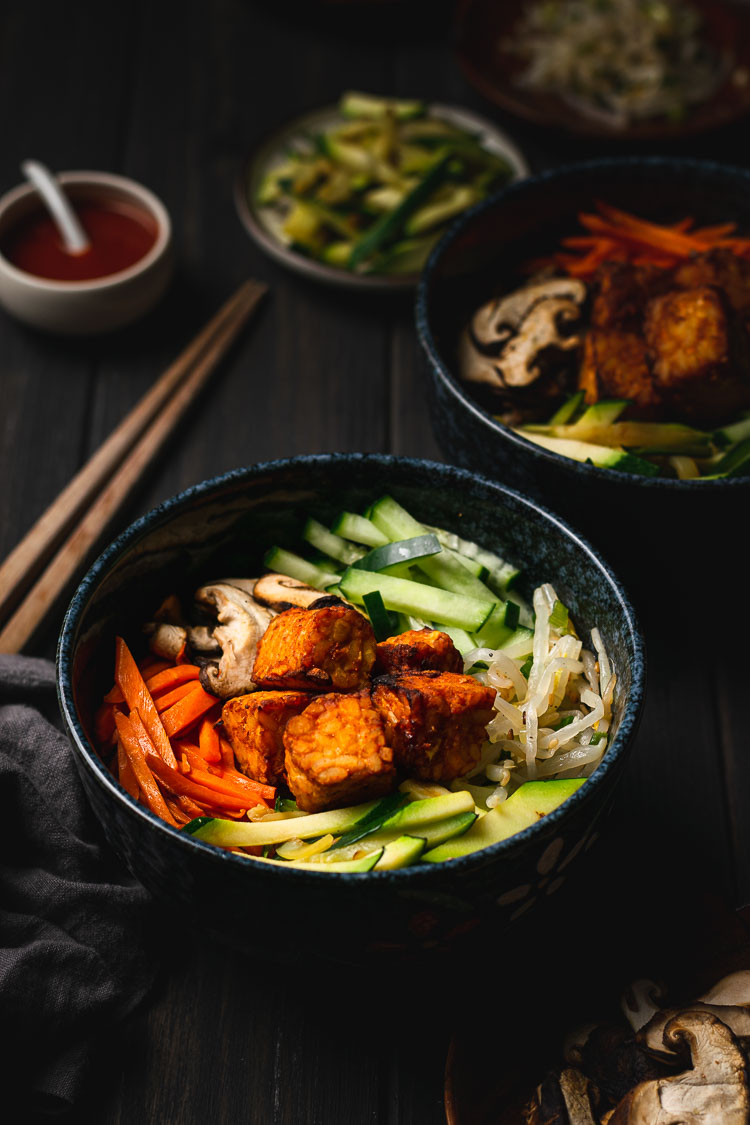 Bibimbap FAQ's & Tips
What kind of rice should I use?
Use Korean or Japanese rice. These are short grain and slightly sticky, so you can get clumps of rice in each bite rather than individual grains running about. You can use white, brown, or multigrain.

What is dolsot bibimbap?
At Korean restaurants, you'll often see bibimbap with two choices: bibimbap or dolsot bibimbap. The only difference is that dolsot bibimbap is served hot in a stone bowl* (dolsot). The stone bowl keeps the bibimbap warm and makes the rice on the bottom a little crispy. If you don't have a stone bowl, you can just assemble the bibimbap in a regular bowl.

Is bibimbap gluten-free?
Yes! As long as you're using a gluten-free gochujang. Some gochujang contain wheat so check the ingredients! Here's a gluten-free gochujang* I've used and enjoy.

How do I store bibimbap?
You can store the various toppings separately and build your bibimbap bowl again the next day. But since they'll all be mixed together anyway when you eat, you can just mix it all together and store in one container in the fridge if you prefer.

Do I eat bibimbap hot or cold?
It's up to you really! If you have leftovers, you can briefly microwave the ingredients. But if you're taking leftovers for lunch to school or work, you can eat it as is without heating.
More Tasty Dishes to Pair with Rice!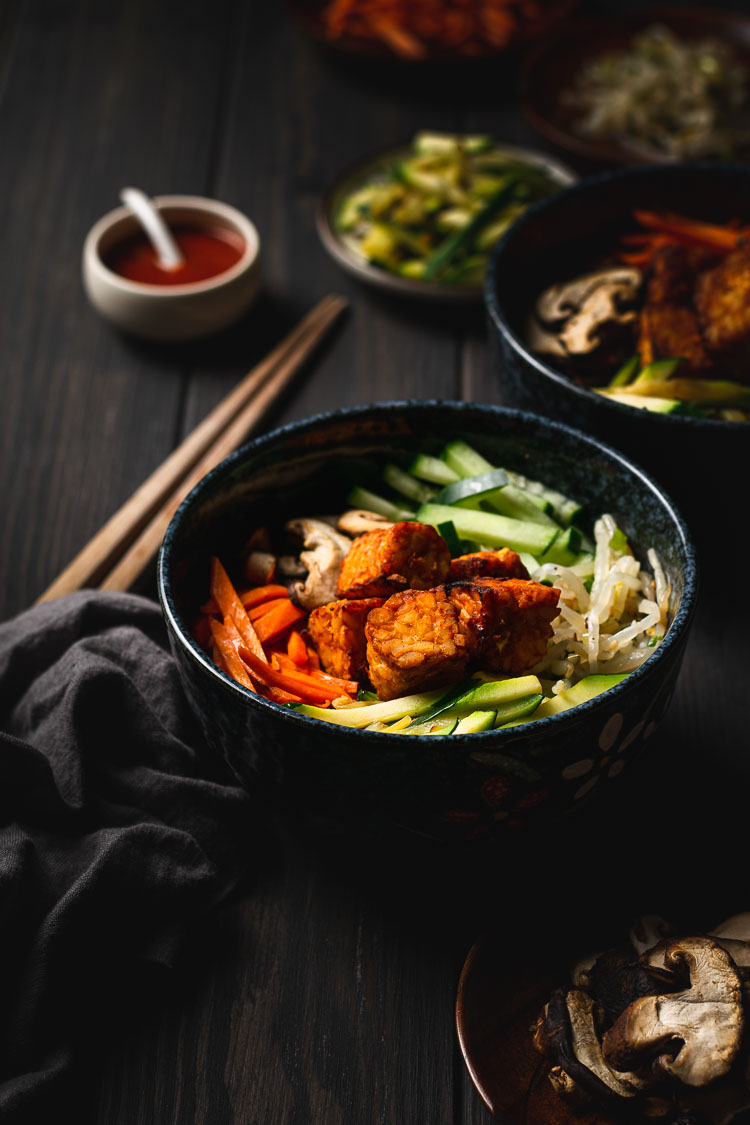 If you try out this vegan bibimbap with spicy tempeh, don't forget to leave a comment/rating down below and tag me in your photos on instagram @ellielikes.cooking! I love seeing all of your tasty recreations 🙂 Happy cooking!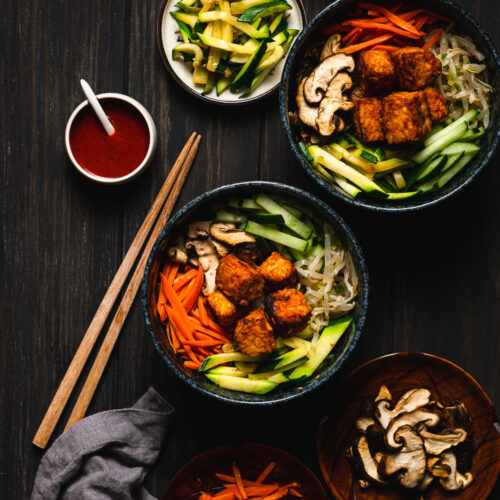 Vegan Bibimbap with Spicy Tempeh
Enjoy this classic Korean rice dish with a plant-based twist! No eggs or meat necessary but still comforting and delicious like the original.
Ingredients
Spicy Tempeh
8

oz

tempeh

cubed

1

tbsp

gochujang*

1

tbsp

soy sauce

½

tbsp

Japanese Worcestershire sauce**

½

tsp

rice vinegar or apple cider vinegar

1

tsp

toasted sesame oil*

1

small garlic clove

minced
Carrots
2

small carrots

julienned

¼

tsp

salt

1

tsp

cooking oil
Mushrooms
4

oz

shiitake mushrooms (or other mushrooms of choice)

sliced

1

tsp

soy sauce

1

tsp

cooking oil
Zucchini
2

small zucchini

juilenned

¼

tsp

salt

1

tsp

cooking oil
Other toppings
1

thin cucumber (such as Japanese or Persian cucumber)

julienned or thinly sliced

bean sprout salad

can omit gochugaru

2-3

cups

steamed rice
Instructions
Prep tempeh: You can do this the day before and let the tempeh marinate overnight, so you can throw together the bibimbap in about 30 minutes. Add tempeh to a saucepan filled with 1-2 inches of water. Bring to a simmer and cook for 10 minutes.

Make tempeh marinade: In a shallow dish or ziplock bag, mix together gochujang, soy sauce, Worcestershire sauce, vinegar, sesame oil, and garlic. Add tempeh and marinate at least 30 minutes, or overnight.

Bake tempeh: Preheat oven to 400°F. Line a baking sheet with parchment paper. Place tempeh cubes on parchment paper (shake off excess marinade), keeping some space between the tempeh so they crisp up. Brush the tops with marinade. Bake 10 min, flip tempeh over and brush with marinade. Bake for another 10-15 minutes or until golden and crispy.

While the tempeh is baking, prepare the bibimbap toppings: Cook carrots, mushrooms, and zucchini separately (technically you can cook them all together, but the presentation of your bibimbap won't be as nice). Heat oil in a pan, then add veggie and salt/soy sauce. Cook until tender.

Make sauce: Mix together gochujang, Japanese Worcestershire sauce (or sugar), sesame oil, and vinegar. Taste and adjust seasonings as desired.

Build bibimbap bowls: Place steamed rice on the bottom of your bowls. Top with cucumbers, bean sprout salad, carrots, mushrooms, zucchini, and tempeh. Drizzle with sauce, mix, and dig in! You can also garnish with some toasted sesame seeds.
**Notes
JAPANESE WORCESTERSHIRE SAUCE: Or sub sweetener of choice.
GLUTEN-FREE: Some gochujang contain wheat, so check the ingredients. I like this gluten-free gochujang.


*Disclosure: This page may contain affiliate links. As an Amazon Associate I earn from qualifying purchases, but the price remains the same to you. Thank you for supporting Ellie Likes Cooking!
Save for later!