This page may contain affiliate links. As an Amazon associate I earn from qualifying purchases. Please read our
disclosure
for more info.
Soft, tangy vegan snickerdoodles bursting with juicy, spiced apples! Apple pie meets snickerdoodle in these addictively tasty cookies.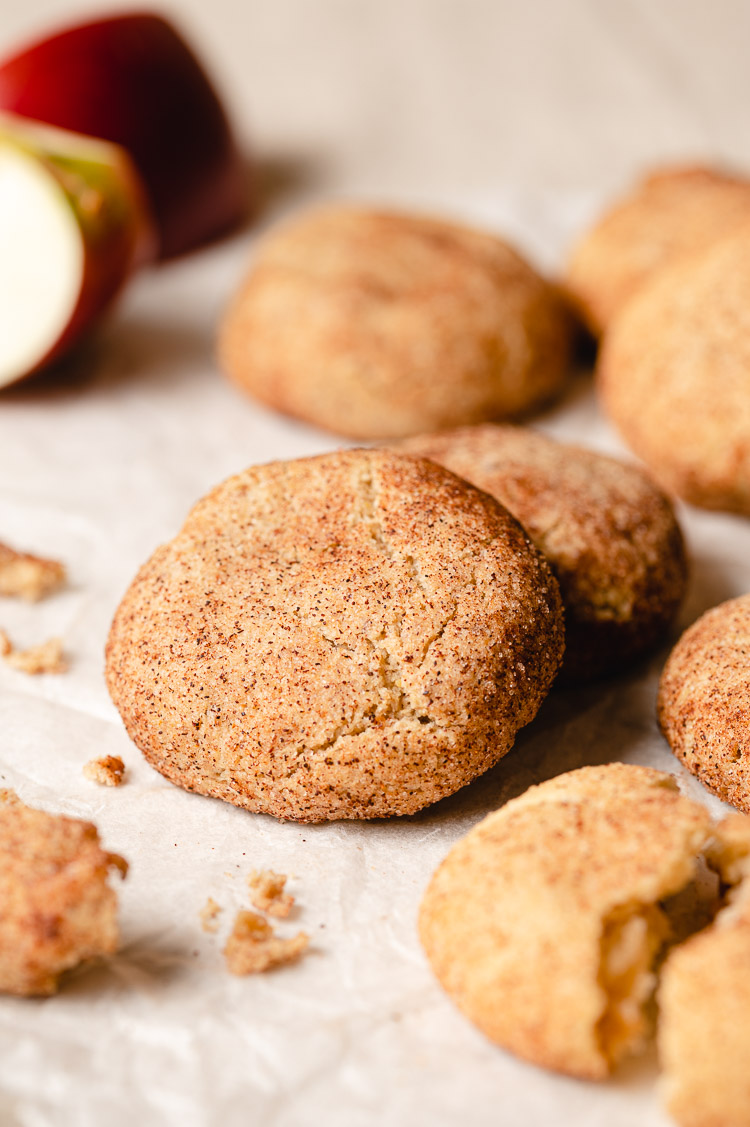 These vegan apple pie snickerdoodles are a must for your baking list this holiday season! I've posted a lot of snickerdoodle recipes already, but these are hands down my absolute favorite! They combine two of the best (imo) holiday desserts in one – apple pie and snickerdoodles. The filling of soft, gooey apples surrounded by a tender, buttery cookie is so cozy and delicious, you'll be hooked after the first bite – trust me. My boyfriend and I devoured these cookies in 24 hours. So if you're baking for a crowd, you likely want to double or triple this recipe. I promise it will be a crowd-pleaser!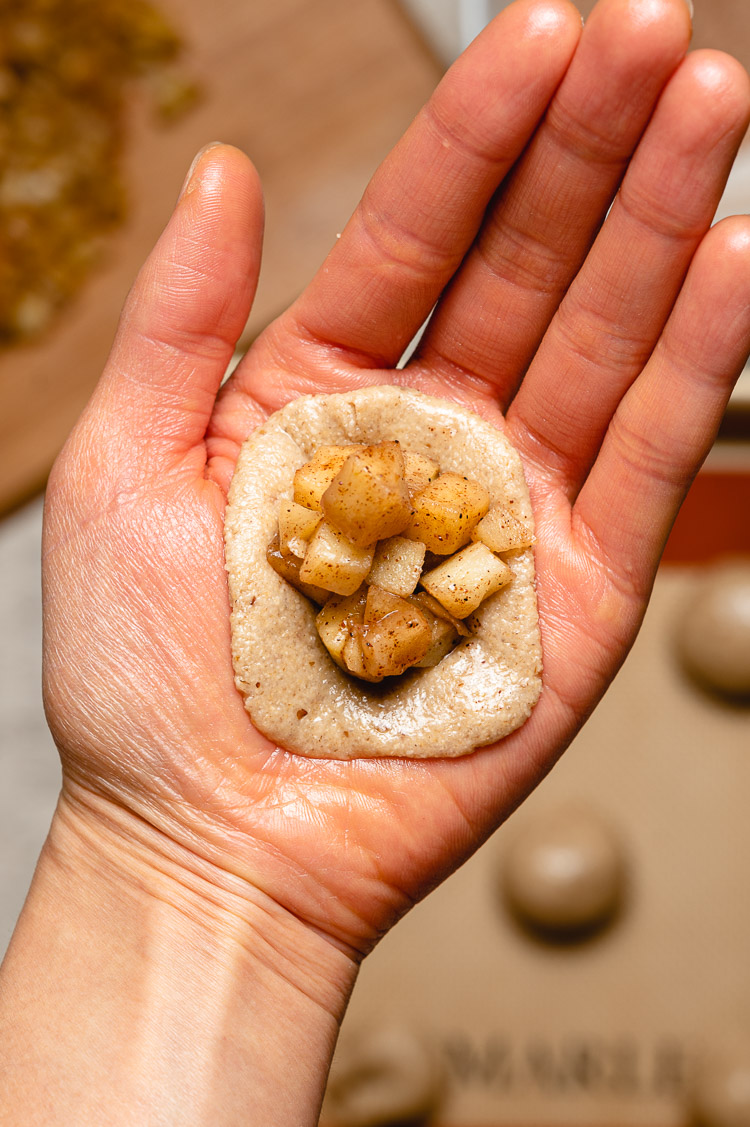 How to Stuff Cookies
Many recipes tell you to roll the cookie dough into a ball, make an indentation in the center for the filling, then wrap the dough around it. This is a fine method for stuffing with chocolate or any kind of solid filling that isn't too messy. But if you try that with these cookies, the apple filling can get messy and add too much moisture to the dough, making it difficult to enclose the filling. So for these apple pie snickerdoodles, I like to divide the dough ball in half and flatten each into a disc. Then place the filling in the center of one, and top with the other disc. Kind of like making dumplings. Then seal the edges around the filling and roll it into a ball. I find this method to be the least messy and allows you to really stuff in that filling (arguably the best part!).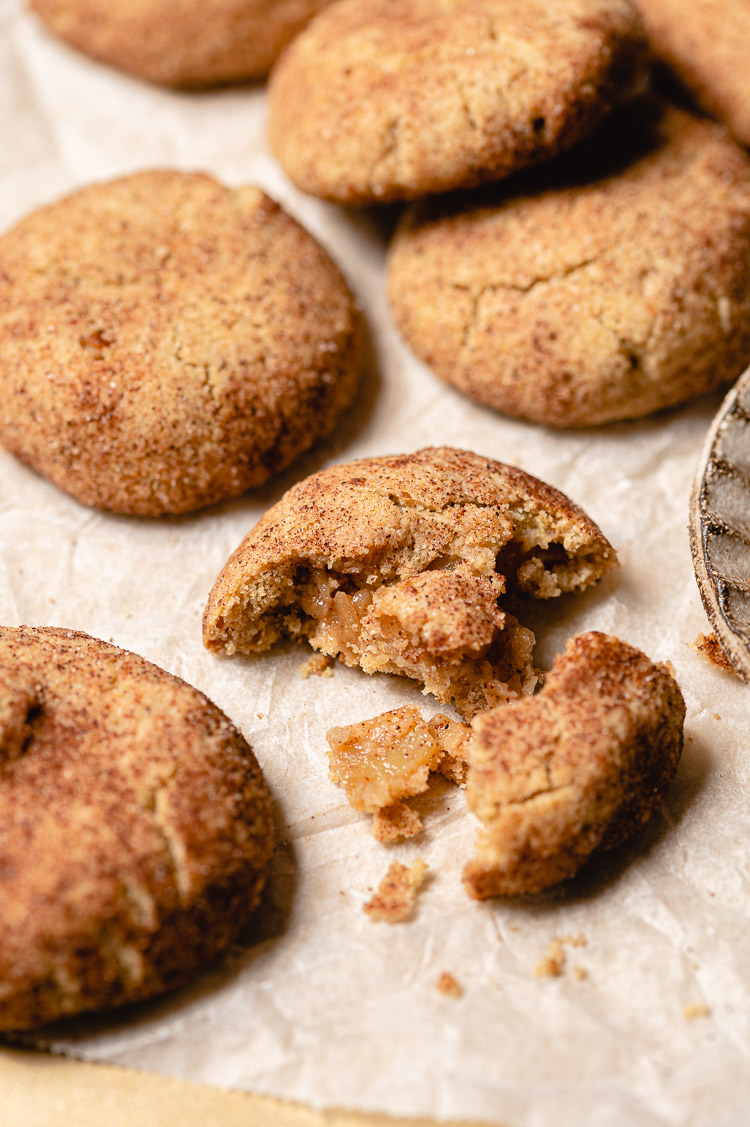 Apple Pie Snickerdoodle FAQ
How do I store apple pie snickerdoodles?
These cookies taste best fresh, when they are still crisp on the edges. As they sit they will soften due to the moisture in the apples (still delicious though!). Because of this I like to store them in the fridge, where the coconut oil stays solid so the cookies are more firm.
Tips for Success
Chill the dough if it gets too loose ⟶ Coconut oil melts around 78°F, so the more you handle the dough the looser it gets as the coconut oil starts to melt. If this happens, it will be very difficult to keep the apple filling enclosed. So we chill the dough twice during the process! Once when the dough is just mixed, and again after rolling into balls. If you're having trouble getting the dough around the apple filling, you may need to chill the dough longer so it's easier to form.

Finely chop apple filling ⟶ The filling will stay in more easily if the apples are chopped into small pieces.

Make a flax egg if using oat flour ⟶ The oat flour version is a bit more crumbly (but still tasty!), so be sure to mix ground flaxseeds with the milk first to create a flax egg (4 tsp ground flax for 4 tbsp of milk).
More Vegan Holiday Cookies to Bake!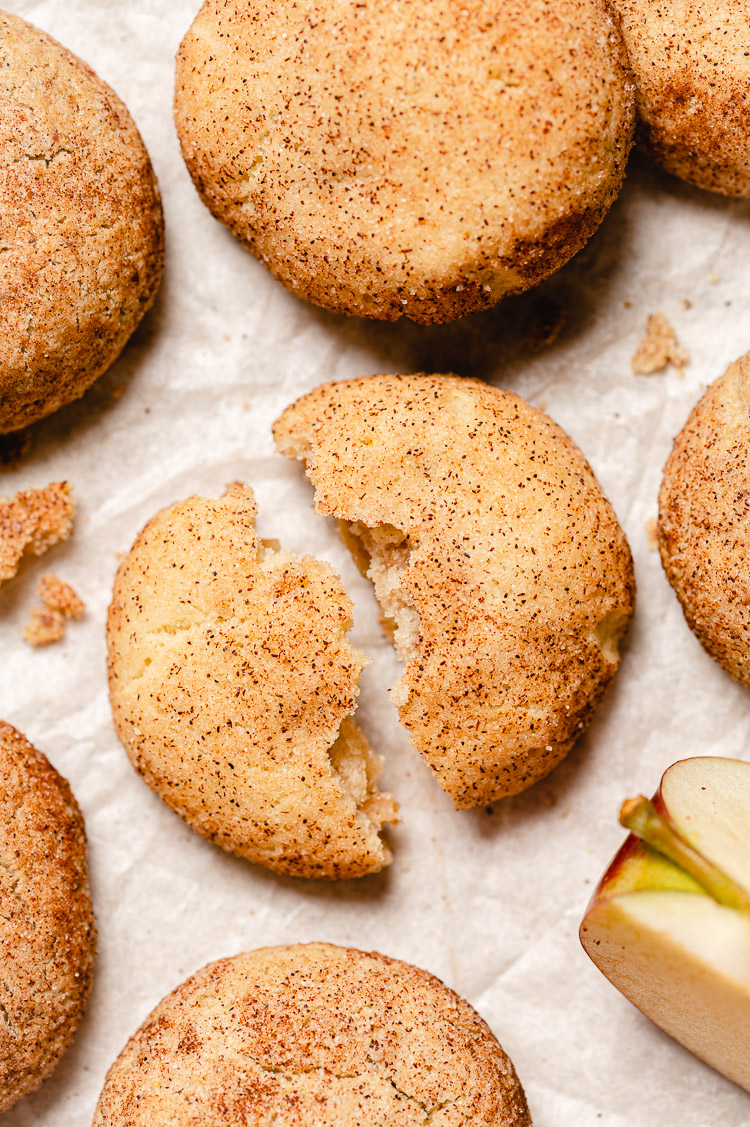 If you make these apple pie snickerdoodles, don't forget to leave a comment/rating down below and tag me in your photos on instagram @ellielikes.cooking. I love seeing all of your tasty recreations!
Apple Pie Snickerdoodles (Vegan, Gluten-Free Option)
Soft, tangy vegan snickerdoodles bursting with juicy, spiced apples! Apple pie meets snickerdoodle in these addictively tasty cookies.
Ingredients
60

grams (about 5 tbsp)

refined coconut oil**

softened

72

grams (6 tbsp)

granulated sugar

60

ml (4 tbsp)

soy milk

room temperature

1

tsp

vanilla extract

150

grams (1 ¼ cups)

all purpose flour**

see notes for GF option

1

tsp

cream of tartar*

½

tsp

baking soda

¾-1

cup

stewed apples/apple pie filling

finely chopped
Cinnamon Sugar Coating
1

tbsp

granulated sugar

½

tsp

cinnamon

½

tsp

apple pie spice

or more cinnamon
Instructions
Mix together cinnamon sugar coating in a shallow bowl and set aside.

Cream together coconut oil and sugar until smooth. Add milk (make sure it's room temperature) and vanilla extract and mix to combine.

Mix in flour, cream of tartar, baking soda, and salt until a thick and smooth dough forms. Cover and chill in the fridge for 10 minutes.

Scoop cookie dough into 12 balls. Take one ball and divide it in half. Flatten each half into discs about ¼" thick.

Place 1 heaped tbsp of stewed apples in the center of one of the discs. Top with the other disc and seal the edges. Gently roll into a ball and place on a lined baking sheet.

Repeat with remaining cookie dough. Place the baking sheet in the fridge for 10 minutes.

Take baking sheet out of fridge. Roll the cookie dough balls in the cinnamon sugar mixture. Place back on the baking sheet and slightly flatten into discs. Leave about 2 inches of space between each cookie.

Bake 11 minutes, until lightly golden and firm around the edges. (The center will still be soft but will firm up as it cools.) Leave on the baking sheet for about 2 minutes, then transfer to a cooling rack.

Let cookies cool completely before eating for best results. Store leftovers in an air-tight container in the fridge.
**Notes
Coconut Oil: It should be the consistency of softened butter. I find room temperature coconut oil works well. Use refined coconut oil so it doesn't leave a coconut-y flavor. Gluten-Free Option: Replace all purpose flour with the same amount (in grams) of oat flour. You will also need to add ground flaxseed with the milk to help the cookies hold together. Mix 4 tsp of ground flax with the 4 tbsp of milk called for in the recipe. Let this gel for a few minutes before mixing with the wet ingredients.


*Disclosure: This page may contain affiliate links. As an Amazon Associate I earn from qualifying purchases, but the price remains the same to you. Thank you for supporting Ellie Likes Cooking!
Save for later!