This page may contain affiliate links. As an Amazon associate I earn from qualifying purchases. Please read our
disclosure
for more info.
This spiced bean salad is made with fresh veggies and hearty beans tossed in an easy and flavorful dressing. The perfect meal prep lunch!
I am obsessed with this spiced bean salad and you will be too!
Why You Need to Make This
Quick & easy to throw together with virtually no cooking – just a brief minute or two to heat the oil.
So flavorful – no bland, boring salads here!
It's very versatile so you can use whatever veggies, fruits, beans, and spices you enjoy.
Great for meal prepping since the flavors concentrate as the salad sits.
Good source of protein, fiber, and healthy fats.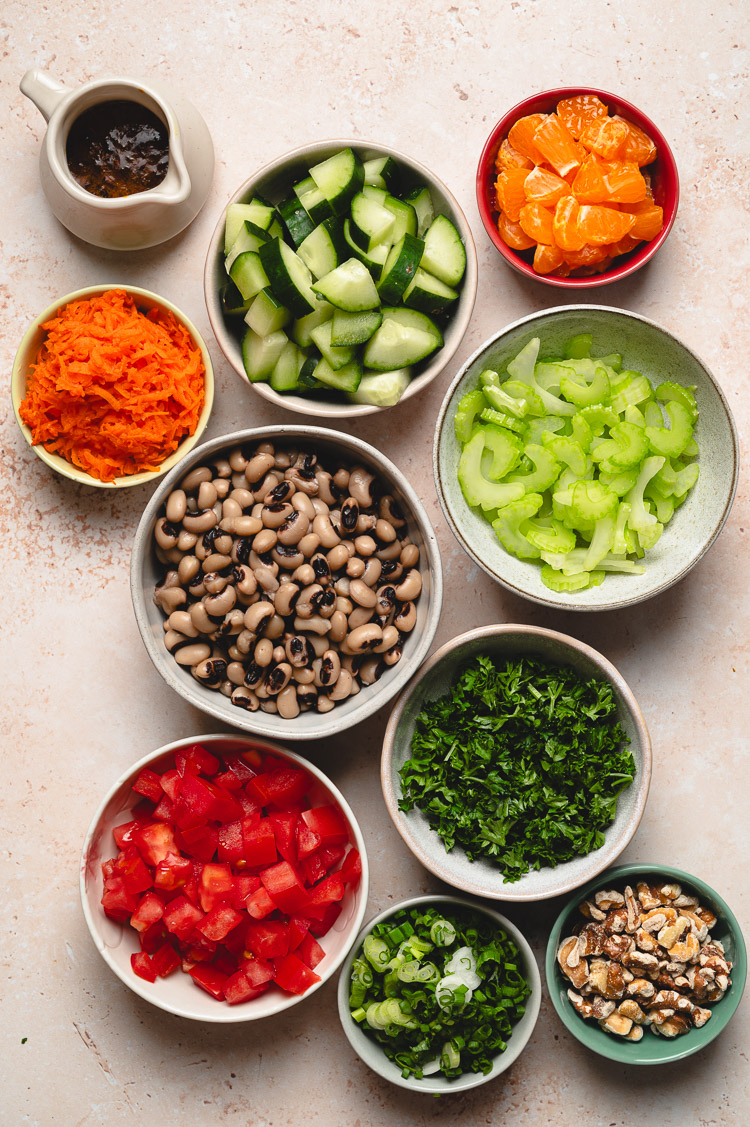 Key Ingredients
Beans or Lentils ⟶ Black eyed peas, chickpeas, kidney beans, white beans, green lentils, or even edamame!
Veggies ⟶ Use fresh, crisp vegetables like cucumbers, celery, carrots, tomatoes, bell peppers, green or red onions, etc.
Fresh herbs ⟶ Parsley and cilantro are my favorites, but you can also try mint, dill, chives, or basil.
Fruit ⟶ Fresh fruits like tangerines, oranges, apples, peaches, or mangos; or dried fruit like raisins, dried cranberries, dried cherries, dried apricots, or dates.
Nuts or Seeds ⟶ Walnuts, pecans, almonds, pistachios, cashews, peanuts, pumpkin seeds, sunflower seeds, or hemp seeds.
Spices ⟶ Get creative! I like smoked paprika, turmeric, cumin seeds, coriander, chile powder (for heat), nutritional yeast, and cinnamon. You can also use prepared spice blends like curry powder, BBQ seasoning, Cajun seasoning, or any Trader Joe's spice blends you like.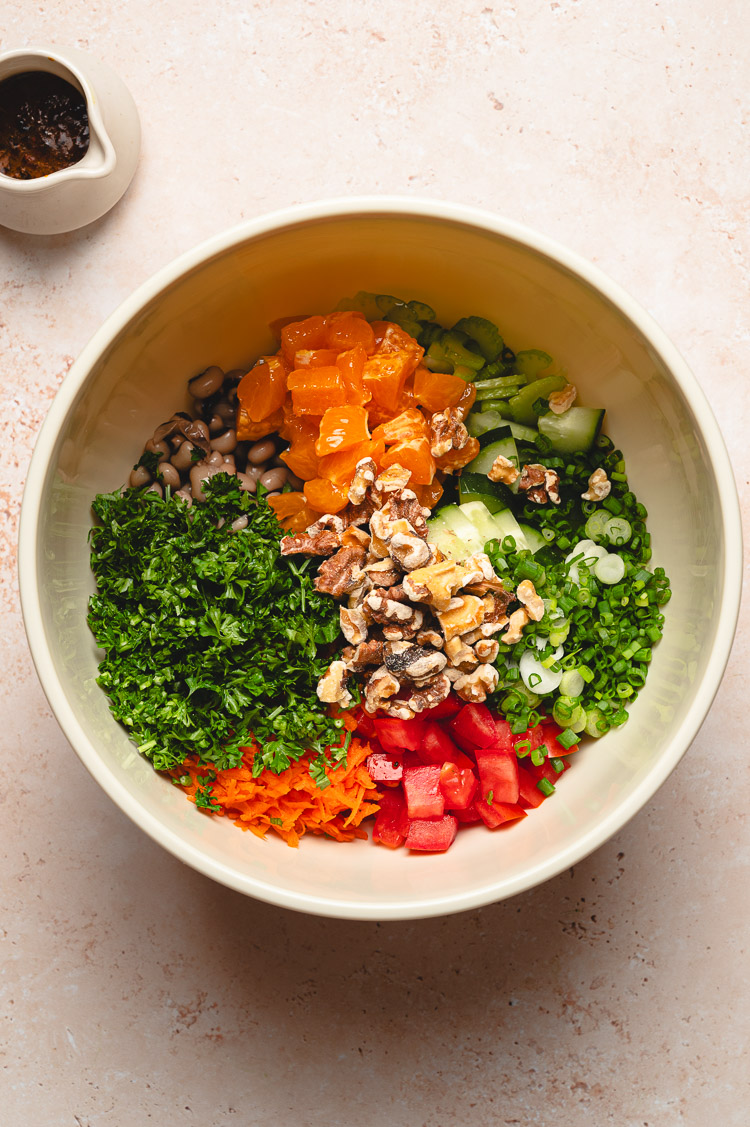 Spiced Bean Salad FAQ
Can I prep this salad ahead of time?
Yes, this bean salad is perfect for meal prepping because the leftovers taste even better! In fact, I recommend prepping the salad ahead of time and chilling in the fridge for a few hours before serving, so the beans and veggies have time to marinate in the dressing.

How long does it last in the fridge?
This salad will last up to 5 days if stored properly in the fridge. Place in an air-tight, covered container and use a clean utensil every time you take some out.

Can I use another oil?
You can, but olive oil imparts a really nice flavor to this salad.

Do I have to heat the oil first?
If you don't have access to a stove, you can technically skip the heating and cooking the garlic. However, you will lose some flavor if you skip this step. Cooking the garlic in the oil removes the harsh bite of raw garlic, and the hot oil also allows the spices to bloom, bringing out their flavors.
More Easy & Refreshing Salads
If you make this spiced bean salad, don't forget to leave a comment/rating down below and tag me in your photos on instagram @ellielikes.cooking. I love seeing all of your tasty recreations!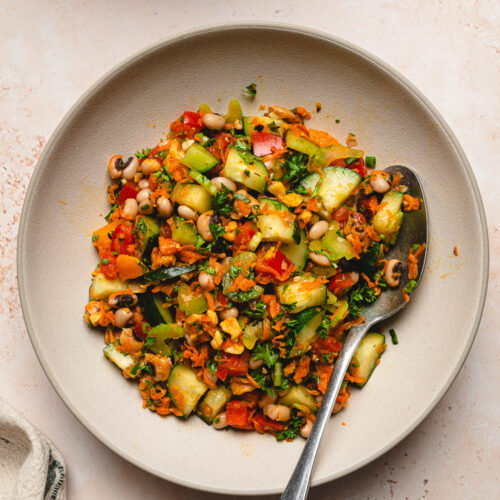 Spiced Bean Salad
This spiced bean salad is made with fresh veggies and hearty beans tossed in an easy and flavorful dressing. The perfect meal prep lunch!
Ingredients
Dressing**
½

tsp

coriander

½

tsp

smoked paprika

½

tsp

turmeric

¼

tsp

black pepper

½

tsp

salt

¼

tsp

chile powder or cayenne pepper

optional for heat

2

tbsp

olive oil

2

cloves

garlic

minced

1

tsp

cumin seeds

3

tbsp

lemon juice

zest of ½ lemon

½

tsp

mustard
Salad
2

cups

cooked beans**

1

English cucumber (or 2-3 Persian cucumbers)

diced

2

tomatoes

diced

1

carrot

grated

1

celery

thinly sliced

2

green onions

thinly sliced

1

cup

loosely packed parsley**

chopped

2

tangerines**

diced

½

cup

toasted walnuts**

chopped
Instructions
Make dressing: In a small bowl, mix together coriander, paprika, turmeric, salt, black pepper, and chile powder.

Heat olive oil in a small pan over medium heat. Add garlic and cumin seeds and stir constantly for 1 minute or until garlic just starts to turn golden.

Turn off heat and quickly pour the olive oil mixture into the bowl of spices. The oil should sizzle. Mix together the oil and spices and set aside to cool.

Prep salad: While the dressing is cooling, prepare the salad. Add all salad ingredients to a large mixing bowl

Finish dressing: Once the dressing has cooled, add lemon juice, lemon zest, and mustard. Whisk until well combined.

Toss salad: Pour dressing over salad and toss until well combined.

You can serve immediately, but the flavors will be better after marinating for a few hours in the fridge.
**Notes
Dressing: Feel free to play around with the spice mix to find what you like best. Try curry powder, Cajun seasoning, BBQ seasoning, nutritional yeast, onion powder, etc. Beans: Chickpeas, black eyed peas, kidney beans, white beans, or green lentils work well. Herbs: Instead of (or in addition to) parsley, try other herbs like cilantro, mint, or dill. Nuts: Pecans, pistachios, almonds, cashews, pumpkin seeds, sunflower seeds, or hemp seeds would be delicious too! Fruit: Try other fresh fruit like apples, peaches, or mangos, or use dried fruit like raisins, dried cranberries, or dried apricots.


*Disclosure: This page may contain affiliate links. As an Amazon Associate I earn from qualifying purchases, but the price remains the same to you. Thank you for supporting Ellie Likes Cooking!
Save for later!