This page may contain affiliate links. As an Amazon associate we earn from qualifying purchases. Please read our
disclosure
for more info.
This vegan banh mi salad is light, refreshing, and so easy to make! Sweet, tangy marinated tofu pairs with fresh veggies and a spicy mayo dressing in this healthy and delicious salad.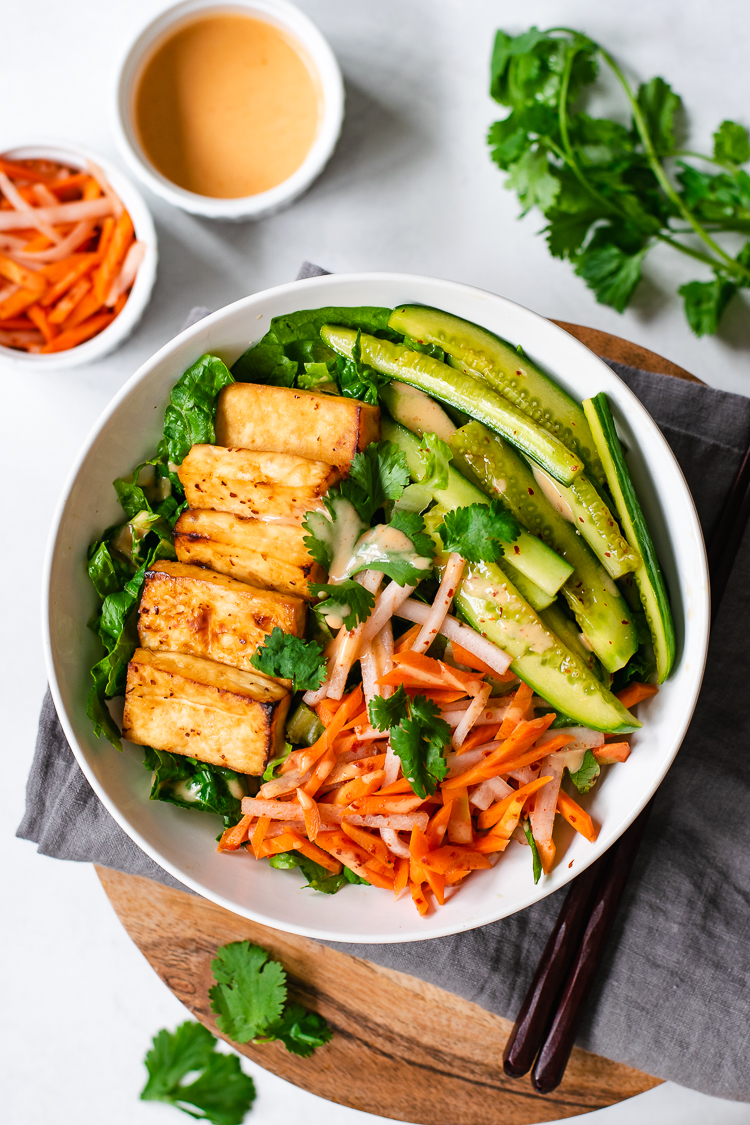 This tofu banh mi salad was inspired by a food vendor at the Earth Day festival I went to over the weekend. They were actually a taco shop, offering just two different tacos at the festival: pork belly or tofu banh mi. We got the tofu (duh) — well my boyfriend got the tofu, I had one bite — but it was so good! I haven't had many banh mi in my life but I should really change that because banh mi are so delicious and ridiculously simple to make! I went with a simple salad here because I wasn't hungry enough for a sandwich, and I wanted to get some extra greens in.
If you're extra hungry though, you can easily make this more filling by eating it with bread on the side, or throwing in some rice noodles. Or you can serve it as a side salad to go with your main dish. Or I think it would also make a great buddha bowl if you swap out half the lettuce with rice. Honestly, you can eat this however you want. It's so versatile and customizable, so you do you!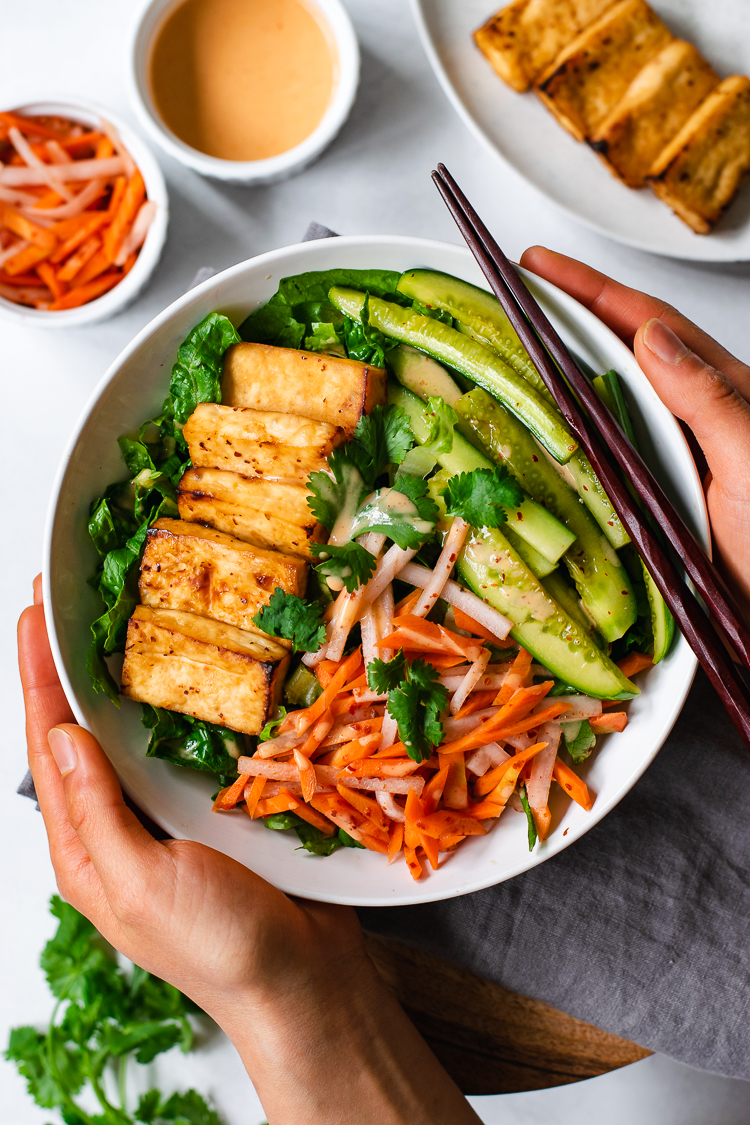 Ingredients
This Tofu Banh Mi Salad consists of 4 main components: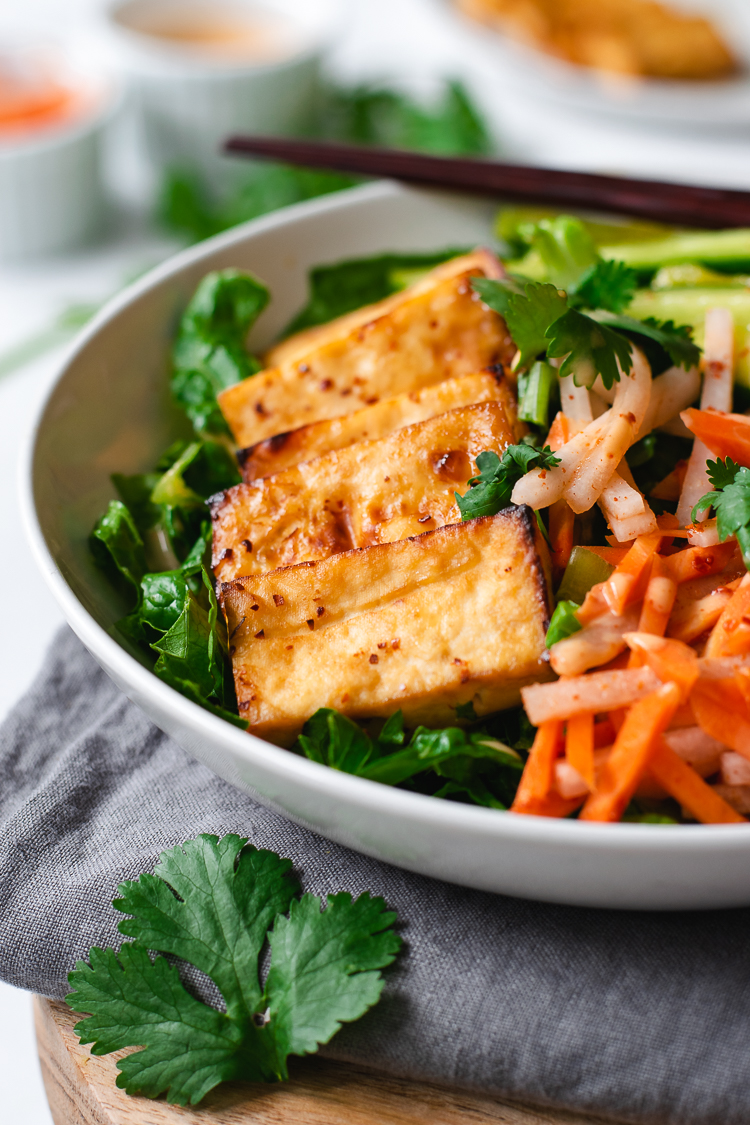 The star of this banh mi salad is inarguably the tofu: marinated in a sweet, tangy, spicy sauce then air-fried till crispy. It's packed with flavor and adds the perfect chewy texture to compliment all the crisp veggies.
I also decided to marinate the cucumbers in the leftover marinade, and it was a very good decision. The cucumber soaks up just enough of the marinade to add a little extra flavor and just slightly soften the tough cucumber. Incidentally, the marinade also makes for a nice dressing. But since we don't want everything in the salad to have the same flavor, we're still gonna add the spicy mayo.
Easy & Versatile
This salad is perfect for a quick lunch and is definitely being added in to my salad rotations for this summer. It's also great for meal prep as you can make the pickled veggies and marinated cucumber and leave them in the fridge for the week (they'll soak up more flavor the longer they sit!). The tofu can also be made in batches, though it won't keep its crispy exterior once stored in the fridge. You can leave the tofu in the marinade in the fridge though, and when you're ready to eat just pop some of the tofu slices in your air fryer. Do whatever works for you, either way this tofu banh mi salad is ridiculously easy to make but is so flavorful and healthy!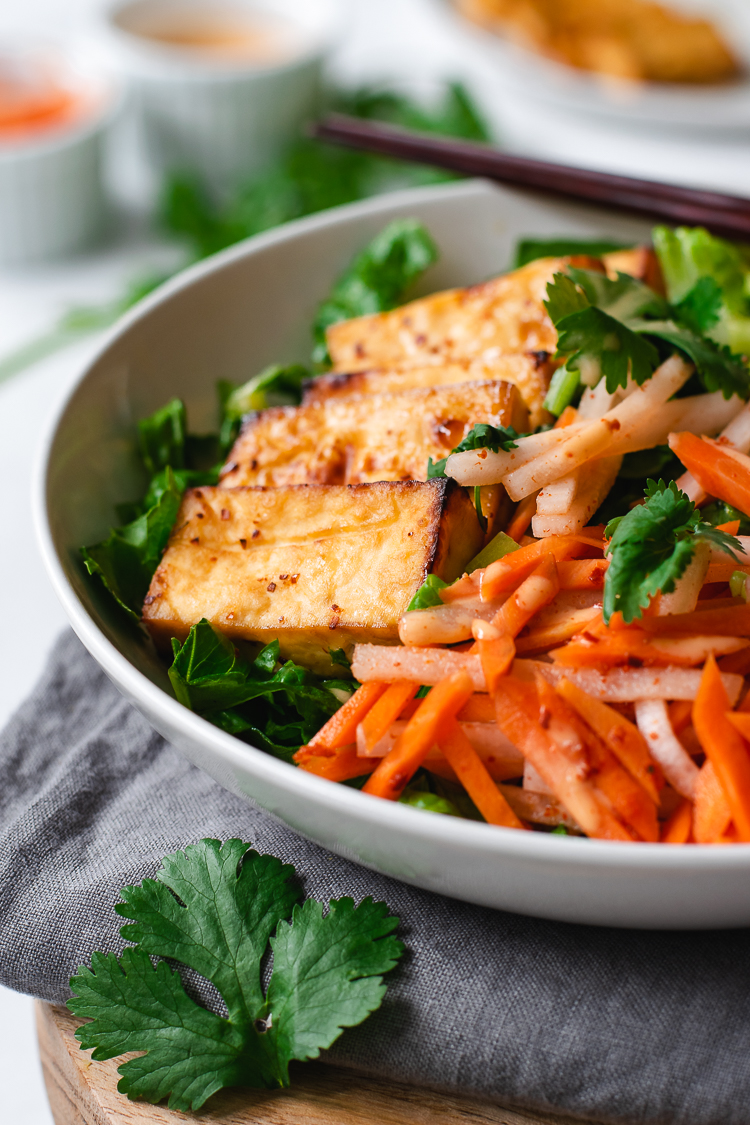 Still hungry?
Check out these other refreshing dishes & sides!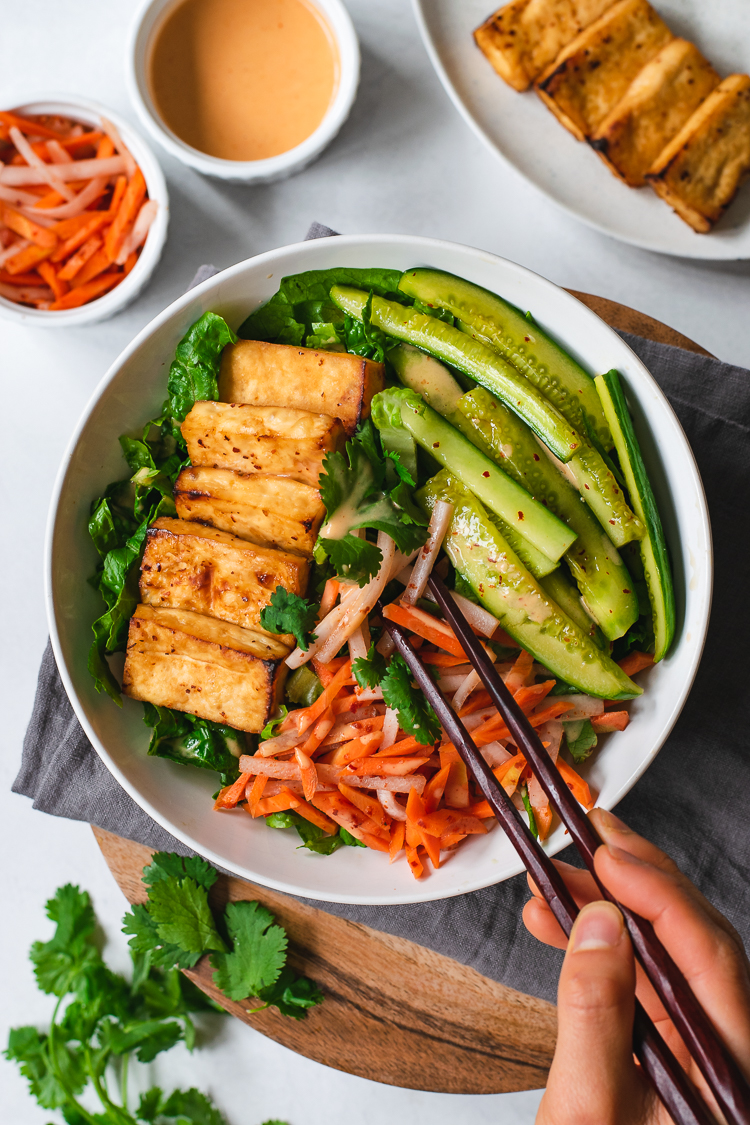 If you do try out this recipe, please don't forget to tag me in your recreations on instagram @ellielikes.cooking and/or leave a comment down below letting me know how you liked it. I love receiving comments and feedback from you! Happy cooking 🙂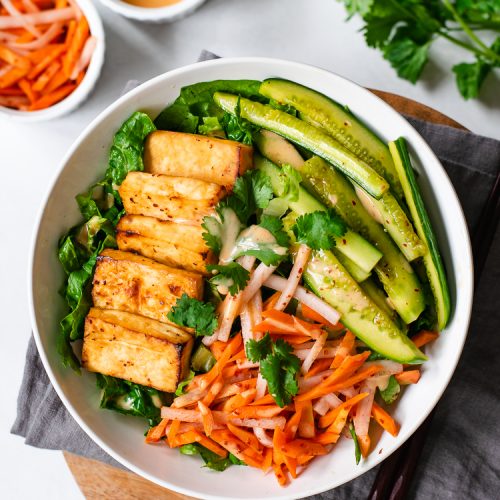 Vegan Tofu Banh Mi Salad
This vegan banh mi salad is light, refreshing, and so easy to make! Sweet, tangy marinated tofu pairs with fresh veggies and a spicy mayo dressing in this healthy and delicious salad.
Ingredients
Marinated Tofu
1/2

block

firm tofu

1

tbsp

soy sauce

1

tbsp

lime juice

1

tbsp

maple syrup

1

tsp

sesame oil

pinch of

red pepper flakes

optional for spice
Pickled Veggies
1

small carrot

cut into matchsticks

1/4

small daikon

cut into matchsticks

1/2

cup

rice vinegar

1

tbsp

sugar

½

tsp

salt

1/4

cup

water
Additional Veggies
1

cucumber

cut into sticks

4

cups

shredded lettuce

handful of cilantro
Spicy Mayo Dressing
2

tbsp

vegan mayo

1-2

tsp

hot sauce

depending on how spicy you want it

1

tbsp

lemon juice

2

tsp

hoisin sauce
Instructions
Mix together marinade for tofu in a shallow dish. Slice tofu into wide strips and place in marinade. Marinate for at least 5 minutes on each side, the longer the better.

While the tofu is marinating, prepare the pickled veggies. Mix together vinegar, sugar, salt, and water in a jar. Add in carrots and daikon, pressing them down so they are completely covered in the vinegar mixture. Add more water if they aren't completely covered. Let sit while you prepare the rest of the salad.

When tofu is ready, air-fry at 350°F for 12-15 minutes, until crispy all around. Be careful not to burn the tofu.

Soak cucumber slices in the leftover tofu marinade until ready to serve.

Mix together all dressing ingredients. Place lettuce in bottom of salad bowl, and top with tofu, pickled veggies, marinated cucumber, and cilantro. Mix in dressing and enjoy!
Save for later!


Disclaimer: This page may contain affiliate links. As an Amazon Associate I earn a small commission if you purchase something through one of my links, but the price remains the same to you. Thank you for supporting Ellie Likes Cooking!