This page may contain affiliate links. As an Amazon associate we earn from qualifying purchases. Please read our
disclosure
for more info.
This vegan somen salad is perfect for when it's too hot to turn on the oven, or when you just don't have time to cook. It's delicious, nourishing, and comes together in just under 20 minutes!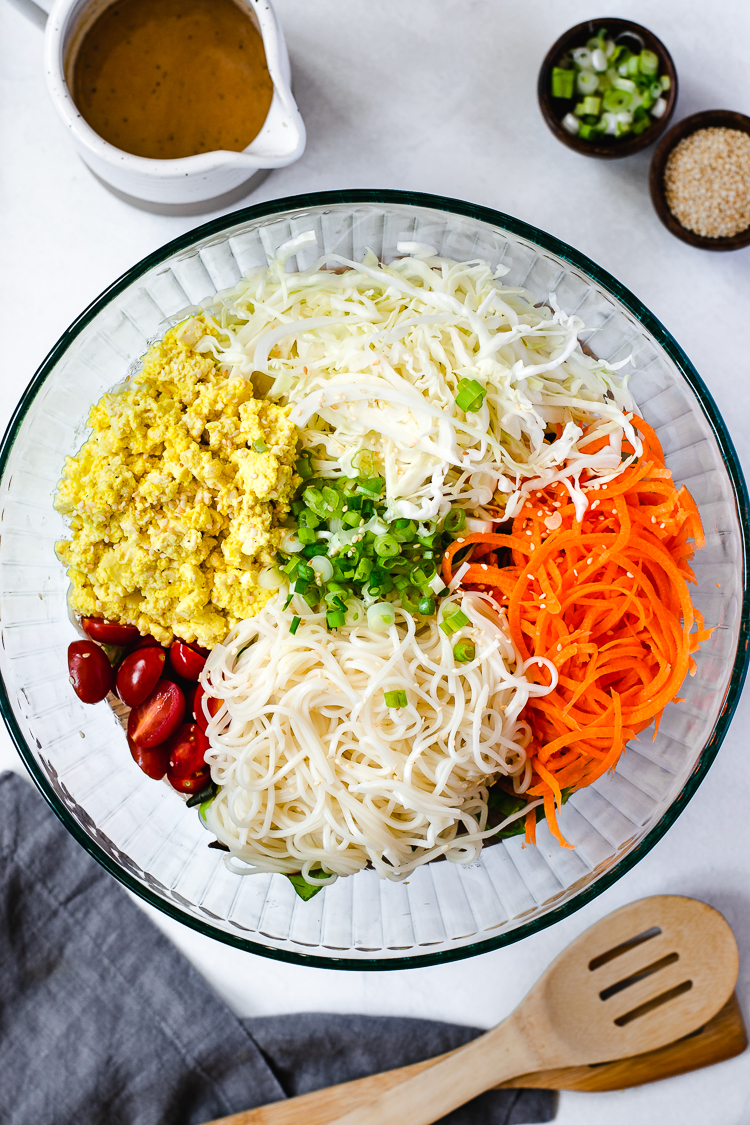 Somen salad is my favorite go-to summer potluck dish because it's so easy to make in bulk and is super refreshing and delicious on a hot day. With the weather getting warming and summer coming soon, I thought it was the perfect time to share this recipe. Traditionally, somen salad is made with iceberg lettuce, cucumber, imitation crab, egg, green onions, and sesame seeds. However, I decided to add in extra veggies and tofu for plant-based protein.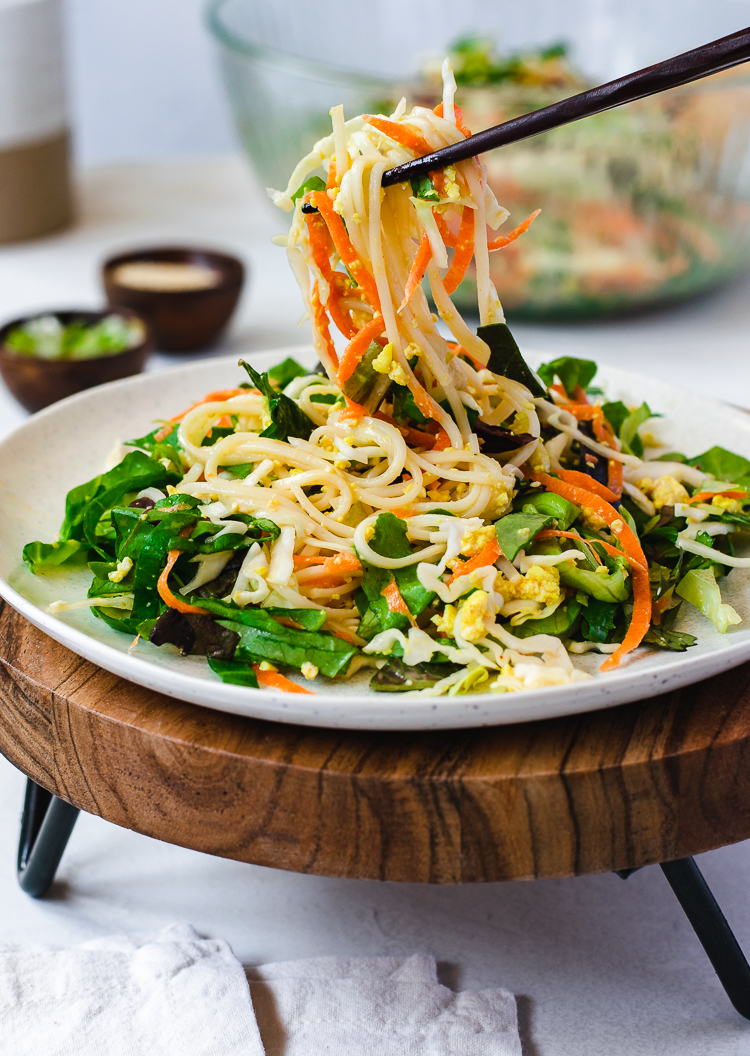 This somen salad is made from 100% plant-based ingredients and is perfect for a light, healthy, and satisfying lunch, or as a side salad with a main for dinner. Chewy noodles, fresh veggies, and tofu scramble combine with a tangy Asian vinaigrette in this Japanese noodle-based salad.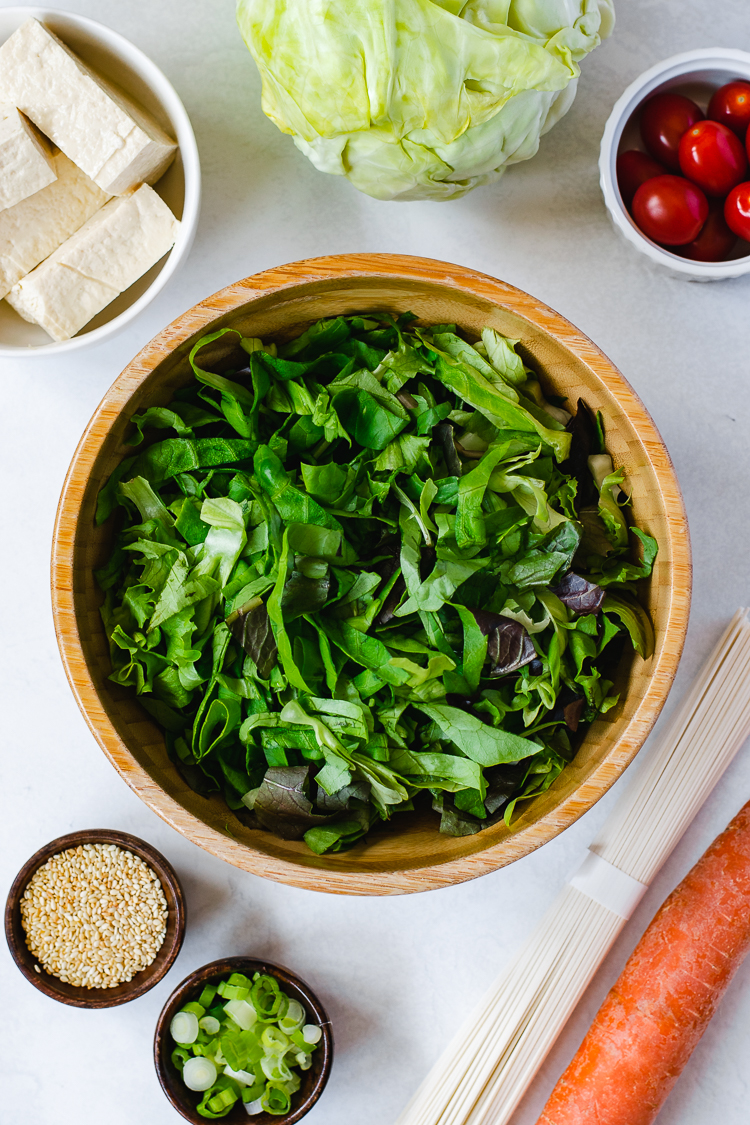 Key Ingredients
To make this salad you need 9 basic ingredients:
somen noodles ⟶ sub rice noodles for gluten-free
veggies ⟶ You can use just lettuce or a variety of salad veggies like carrots, cucumber, cabbage, bell peppers, tomatoes, etc.
green onion ⟶ I highly recommend keeping this in, it complements the dressing deliciously!
firm tofu ⟶ I like to make it into a tofu scramble to mimic scrambled eggs, but you can also just cube it.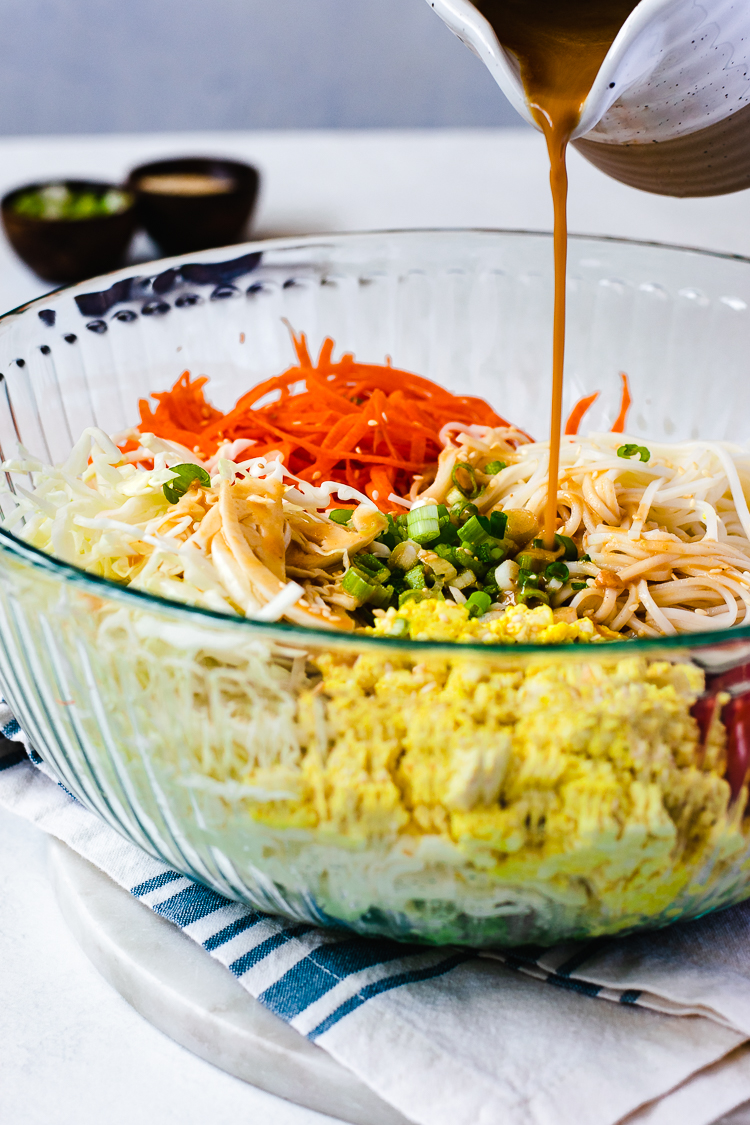 The dressing is a simple 5-ingredient vinegar-based dressing:
sugar ⟶ feel free to use other sweeteners like maple syrup or agave
salad oil ⟶ choose a neutral oil like canola oil, vegetable oil, or avocado oil
sesame oil ⟶ a little goes a long way!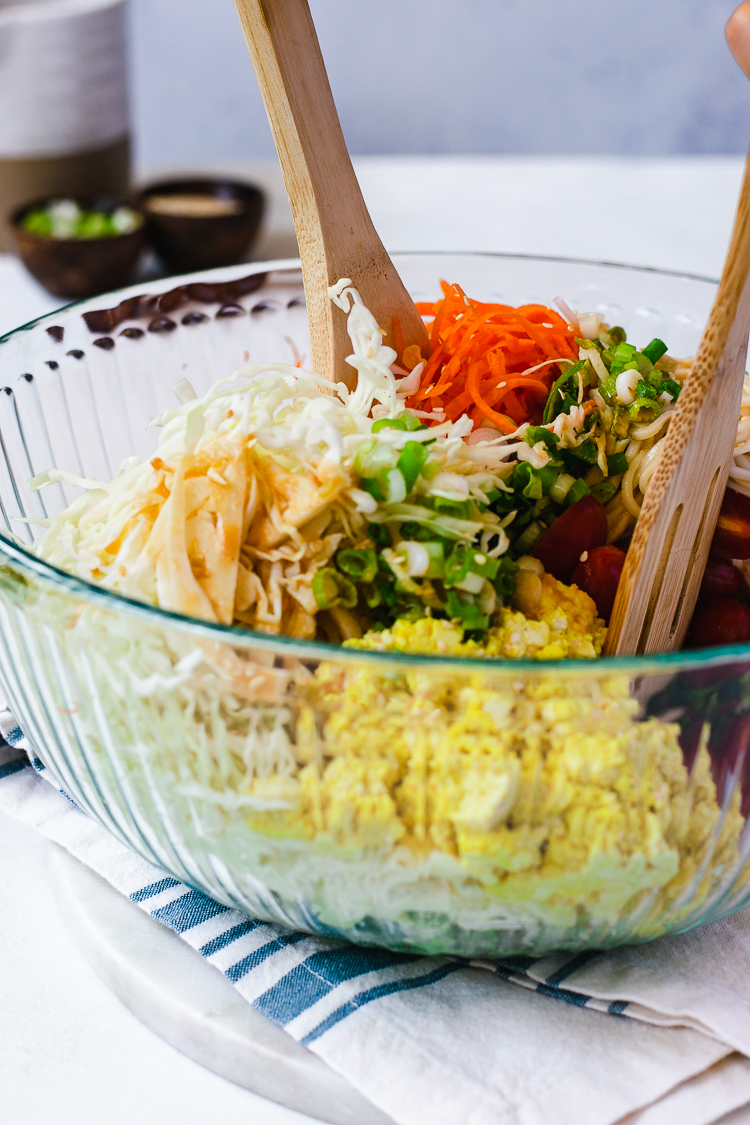 Easy & Versatile
This salad really could not be any easier to make. And if you don't have all the salad ingredients listed here, it's okay! Just use what you have, any salad veggies will be delicious I'm sure. The dressing really pulls it all together, but luckily it's made from just 5 staple ingredients for Asian cooking.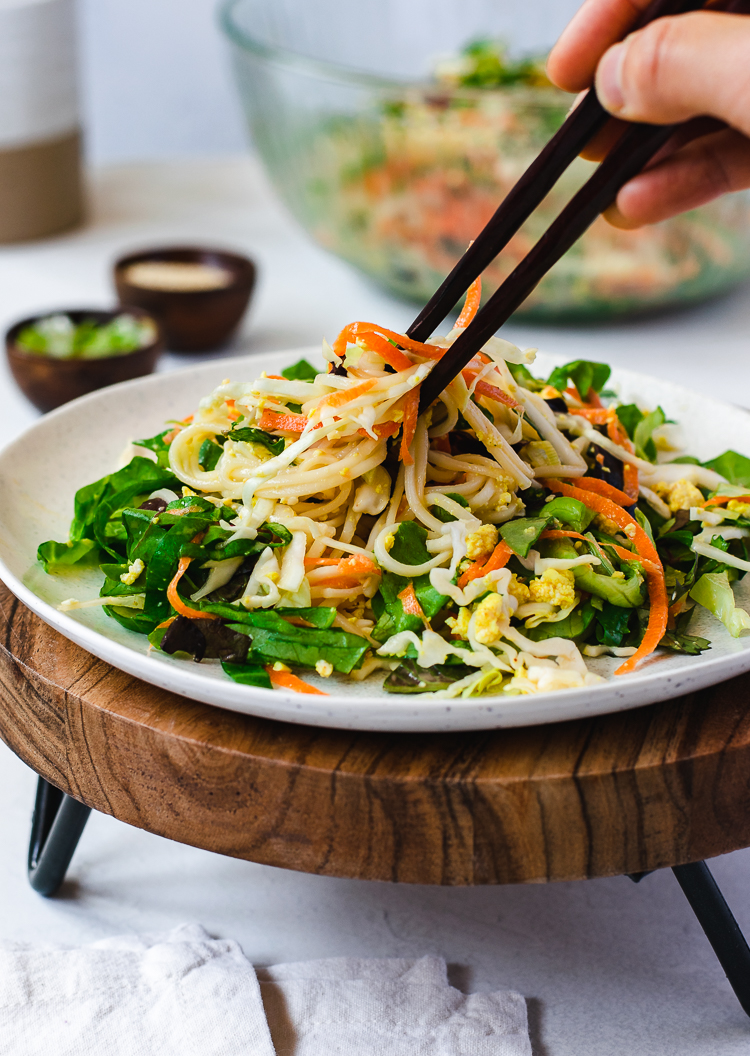 Make this for a potluck, family dinner, picnic, or a super quick lunch! It's guaranteed to be a hit because who doesn't love noodles? I've made this 3 times this week already (and it's only Tuesday) and I still can't get enough. I LOVE noodles but always have an internal debate about whether I should make soup noodles when it's 80°F out. Like, is my love for noodles greater than the regret I start to feel as my clothes stick to me and my forehead cries with sweat while I slurp down hot noodles? I still don't know. But with this salad, I don't have to wonder. I get to enjoy my noodles and still be at a comfortable body temperature 🙂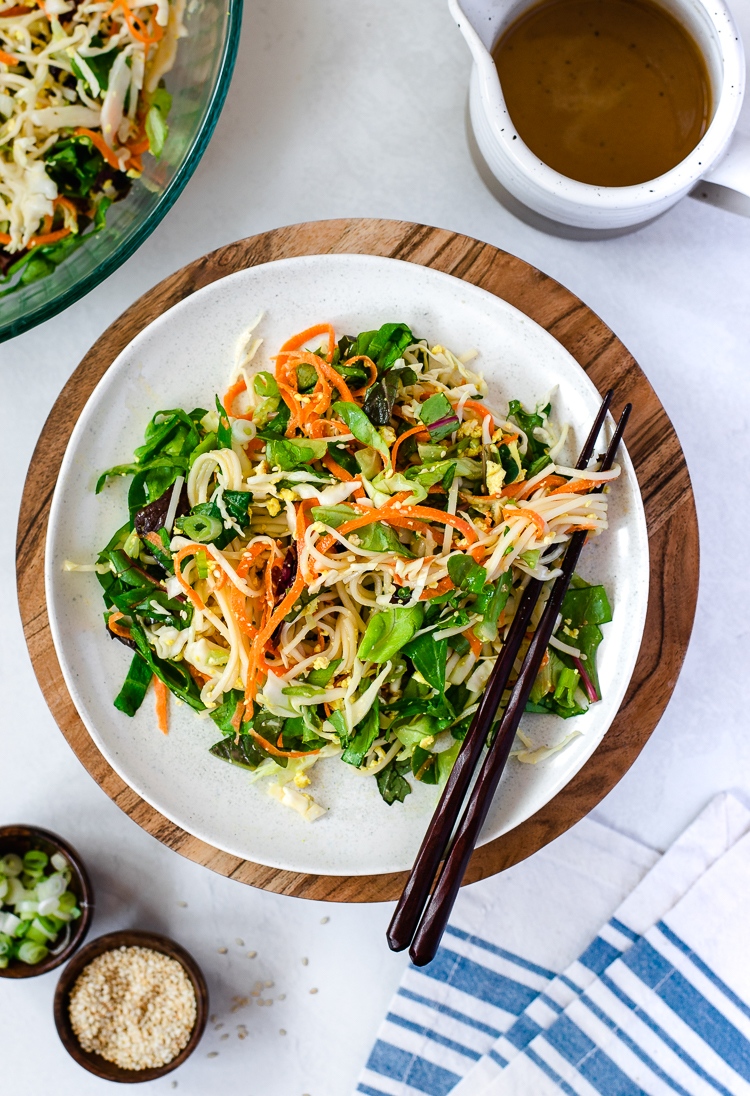 More Refreshing Salads!
I hope I've convinced you to try out this somen salad! If I did, please tag me in your recreations on instagram @ellielikes.cooking and/or leave a comment down below and let me know how you liked it. I love hearing from you and am always eager for feedback! Happy cooking 🙂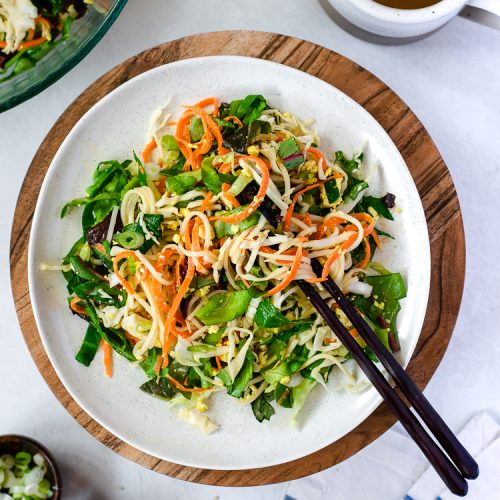 Somen Noodle Salad
This vegan somen salad is perfect for when it's too hot to turn on the oven, or when you just don't have time to cook. It's delicious, nourishing, and comes together in under 20 minutes!
Ingredients
1

bundle of

somen noodles

4

cups

shredded lettuce

1

small carrot

spiralized or julienned

½

bell pepper

thinly sliced

1

cup

cucumber

spiralized or julienned

1

green onion, sliced

1/2

block of

firm tofu

pinch of salt and pepper

1/4

tsp

turmeric

toasted sesame seeds for garnish
Dressing
5

tbsp

rice vinegar

1 ½

tbsp

soy sauce

2

tbsp

sugar or sweetener of choice

1/4

tsp

black pepper

1

tsp

sesame oil

2

tbsp

salad oil**
Instructions
Boil water and cook the noodles according to package directions. Drain and rinse under cold water to prevent the noodles from cooking further.

Heat a pan over medium heat and crumble the tofu into the pan. Season with salt, pepper, and turmeric. Stir until seasonings are evenly mixed and the tofu has turned a yellow color. Take off from heat and let cool.


Prepare the dressing by adding all ingredients except the oils to a small jar. Tightly seal the jar and then shake vigorously for a few seconds until the sugar dissolves. Add the oils and shake again to combine.

Add the veggies to a large salad bowl. Add in the noodles, tofu, and salad dressing and mix well. Sprinkle with sesame seeds.
**Notes
Salad Oil: Use a neutral flavored oil like vegetable oil, canola oil, avocado oil, etc. I do not recommend olive oil as it will alter the flavor. Oil-Free: For an oil-free option, you can swap the oil for a nut/seed butter. Veggies: Feel free to switch up the veggies and fillings as you see fit. You can keep it simple by just using lettuce, but I love adding in other ingredients like carrots, cucumber, cabbage, bell pepper, tomatoes, and edamame.


Disclosure: This page may contain affiliate links. As an Amazon Associate I earn from qualifying purchases, but the price remains the same to you. Thank you for supporting Ellie Likes Cooking!
Save for later!