This page may contain affiliate links. As an Amazon associate we earn from qualifying purchases. Please read our
disclosure
for more info.
Learn how to make your own vegan oyster sauce with just a handful of ingredients. It's sweet, salty, and savory – perfect for stir fries!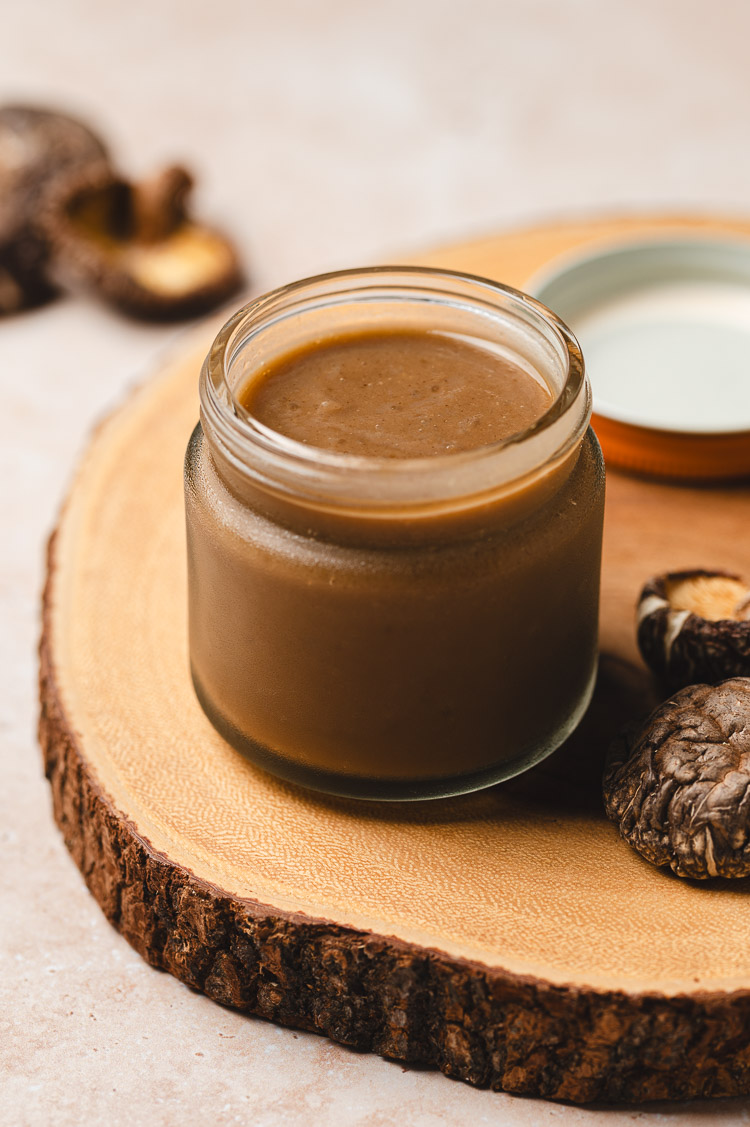 What is Vegan Oyster Sauce?
Vegan oyster sauce is a plant-based alternative to oyster sauce, a dark, thick condiment made with umami-rich oysters. Oyster sauce is a common ingredient in Chinese, Thai, Vietnamese, Malay, and Khmer cuisine. The vegan version is made with mushrooms instead of oysters because mushrooms are similarly packed with umami. It may also be called Vegetarian Oyster Sauce, Vegetarian Mushroom Oyster Sauce, or Vegetarian Stir Fry Sauce. Some common brands that make vegan oyster sauce are Lee Kum Kee, Wan Ja Shan, and Kikkoman. But if you can't find it at your local market, the good news is it's easy to make at home!
Vegan Oyster Sauce FAQ
How do I store vegan oyster sauce?
Store this mushroom oyster sauce in a sterile jar with a tight fitting lid in the fridge. Use a clean, sterile spoon to scoop out the sauce to prevent introducing harmful bacteria. It will last about 2 weeks in the fridge.
You can also freeze the sauce in ice cube trays, then transfer the frozen cubes to freezer-safe bags. It will last up to 2 months in the freezer.

Is this sauce gluten-free?
Store-bought vegetarian oyster sauce typically contains wheat. This homemade version can be made gluten-free with tamari instead of soy sauce.

Can I use a different starch?
Cornstarch can be swapped with potato starch, arrowroot starch, or tapioca starch.

How do I use vegan oyster sauce?
This mushroom oyster sauce can be used anywhere you'd use regular oyster sauce. It's great in stir fries or mapo tofu!
More Homemade Condiments
If you make this mushroom oyster sauce, don't forget to leave a comment/rating down below and tag me in your photos on instagram @ellielikes.cooking. I love seeing all of your tasty recreations!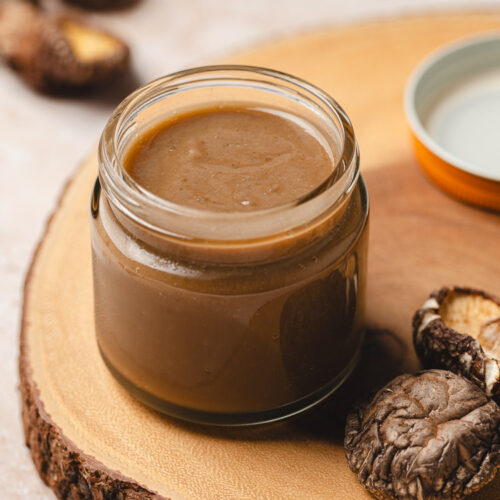 Vegan Mushroom Oyster Sauce (Stir Fry Sauce)
Learn how to make your own vegan oyster sauce with just a handful of ingredients. It's sweet, salty, and savory – perfect for stir fries!
Ingredients
Starch Slurry
1

tsp

cornstarch

1

tsp

water
Instructions
Rehydrate shiitake: Add dried shiitake mushrooms and water to a bowl. Set aside for a few hours to rehydrate the shiitake. If you're short on time, you can use boiled water to speed up the process.

Strain shiitake and liquid: Remove the rehydrated shiitake from the liquid but SAVE the liquid as we will be using this in the next step. Set a strainer over a bowl and pour the liquid into the strainer to get rid of any dirt or rocks that were on the mushrooms.

Blend mushroom mixture: Add mushrooms, reserved liquid, miso, salt, garlic, ginger, and soy sauce to a blender and blend until smooth.

Make caramel: Add sugar and water to a saucepan over low heat. Stir constantly until sugar dissolves. Raise the heat to medium and stop stirring. Boil the mixture until it turns amber in color.

Add mushroom mixture: Lower heat to medium low and pour in the blended mushroom mixture, whisking until combined. Simmer for 2-3 minutes.

Thicken: Whisk together cornstarch and water. While stirring, pour the cornstarch slurry into the mushroom sauce. Continue stirring until the mixture thickens, then remove from heat.

Cool: Let the stir fry sauce cool in the pan for 5 minutes, then transfer the sauce to jars to finish cooling. Lightly cover the jars with a breathable towel to prevent the top from drying out. Once cooled, cover the jars and store in the fridge for up to 2 weeks (or freeze in ice cube trays).
Nutrition per tablespoon: 10kcal | 1.6g carbs | 1.5g sugar | 167mg sodium
Hide


*Disclosure: This page may contain affiliate links. As an Amazon Associate I earn from qualifying purchases, but the price remains the same to you. Thank you for supporting Ellie Likes Cooking!
Save for later!