This page may contain affiliate links. As an Amazon associate I earn from qualifying purchases. Please read our
disclosure
for more info.
Japanese-style mapo tofu made without any meat! Tofu, mushrooms, and eggplant simmered in a spicy, flavorful, umami-rich sauce.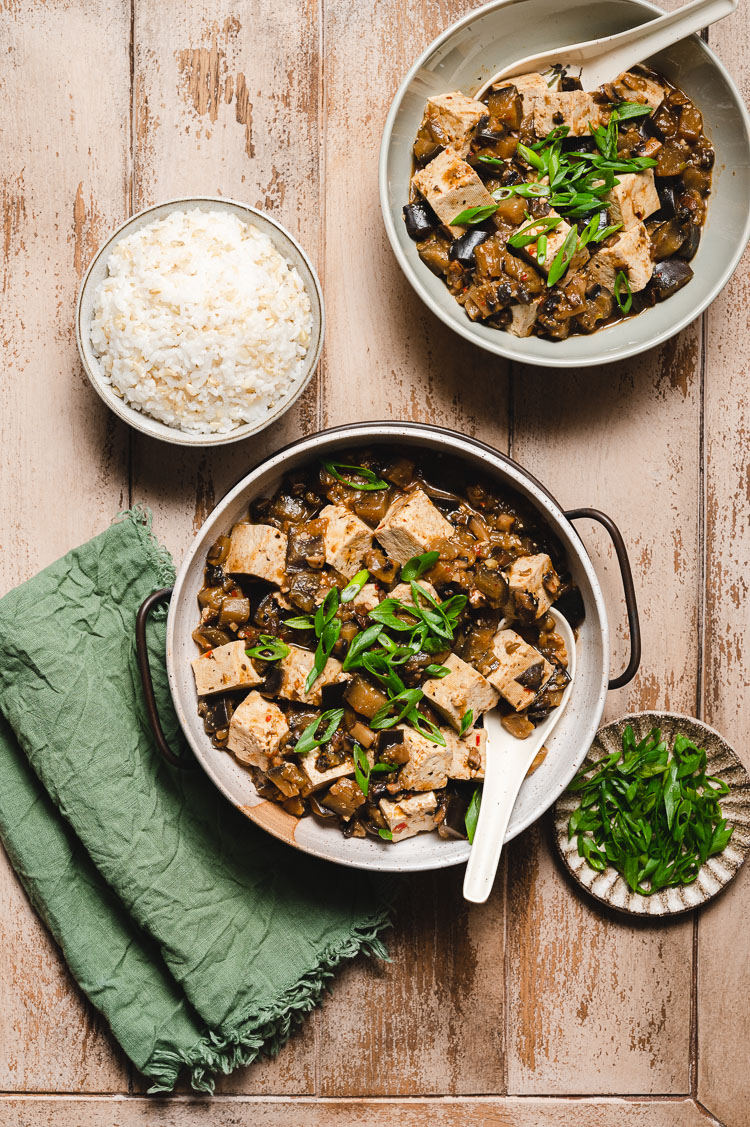 This is not your typical mapo tofu recipe. For one, it's vegan so it doesn't contain any meat. It's also based off the Japanese-style mapo tofu, so it isn't as spicy or mouth-numbing as its Chinese counterpart. However, it is still rich and flavorful, and (warning) may cause you to eat an extra bowl or two of rice. I haven't had mapo tofu since switching to a plant-based diet 5 years ago, so I am so happy to be able to eat one of my childhood favorites again (modified to my tastes of course)! And of course I can't wait to share the recipe with you, so let's dive in.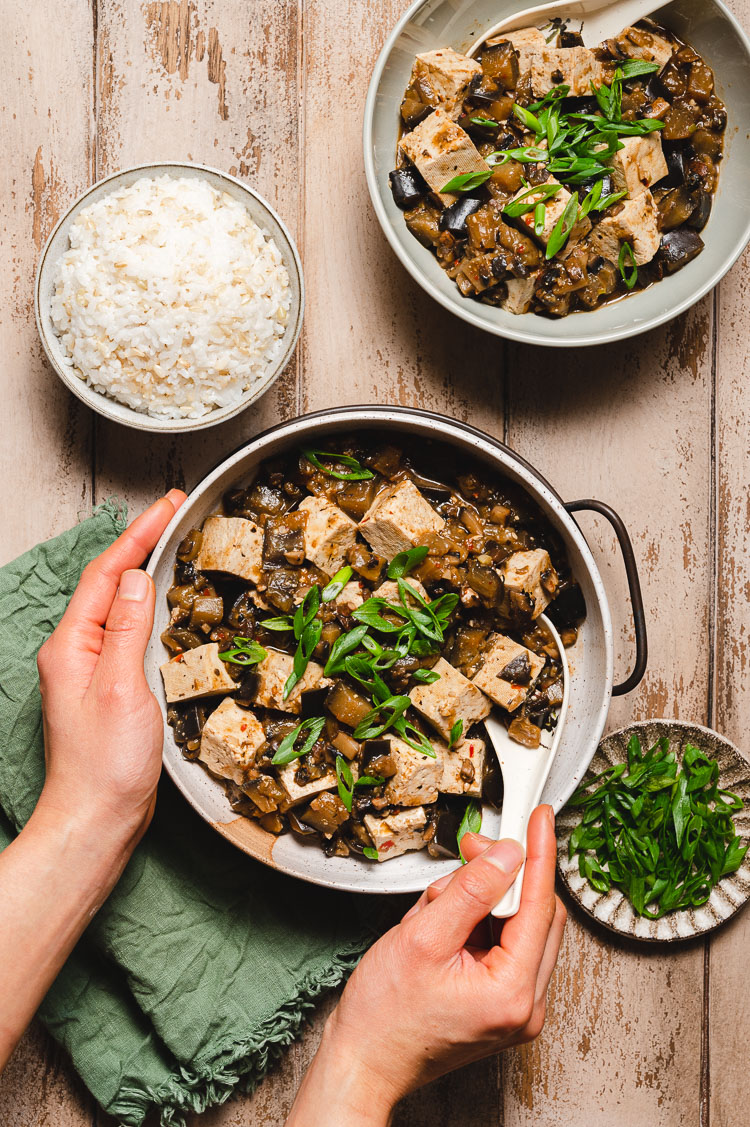 What is Mapo Tofu?
For those of you who don't know what mapo tofu is or have never eaten it before, it's a popular Sichuan dish consisting of tofu coated with a spicy, oily sauce that's also cooked with ground pork or beef. The original Chinese version uses a very spicy red sauce along with Sichuan peppercorns for even more spice. You definitely want to serve it with rice to cut the spiciness and enjoy the flavors more.
Mapo tofu is also very popular in Japan, and many home cooks have tweaked the recipe to suit Japanese tastes and ingredients. For Japanese-style mapo tofu, the peppercorns are left out and the only spice comes from doubanjiang (chili bean paste). The flavor is much more mild and suitable for most children.
Ingredients
This Japanese mapo tofu is made with 12 plant-based ingredients:
Tofu ⟶ medium firm, silken/soft, or a combination of both
Eggplant ⟶ Since we're chopping the eggplant, American globe eggplants work fine. If you want to make this with large slices of eggplant, use a Chinese or Japanese eggplant.
Mushrooms ⟶ I usually use white button mushrooms or crimini mushrooms since they are readily available and affordable where I live. Shiitake are also a great, flavorful addition — I usually use dried shiitake, rehydrate them, and use the leftover liquid for the sauce.
Garlic, Ginger, & Green Onions ⟶ for extra flavor
Spicy Doubanjiang* ⟶ A Chinese fermented broad bean paste mixed with chili peppers. Make sure you get the spicy Doubanjiang (called La Doubanjiang 辣豆瓣酱 in Chinese) as this is where all the heat comes from in this recipe.
Vegetarian Oyster Sauce ⟶ made from mushrooms instead for that umami punch (can omit and replace with more soy sauce if necessary)
Red Miso, Soy Sauce, & Sake ⟶ Japanese ingredients that make the sauce more mild but still rich and flavorful
Cornstarch ⟶ to thicken the sauce
Oil ⟶ a neutral cooking oil (canola, grapeseed, vegetable) and sesame oil added at the end for flavor
Japanese Mapo Tofu FAQ
Is mapo tofu gluten-free?
Mapo tofu can easily be made gluten-free by using tamari instead of soy sauce and using a gluten-free doubanjiang, such as this one*. Some doubanjiang contain wheat, so be sure to check the ingredients.

What if I don't have vegetarian oyster sauce?
You can omit the oyster sauce and use extra soy sauce. The vegetarian oyster sauce adds an extra depth of flavor, so I highly recommend buying some or making or your own at home! It's great for other Chinese and Japanese/Chinese fusion dishes.

What kind of tofu should I use?
I prefer medium firm tofu since it holds its shape well but is still soft and bouncy. Soft/silken tofu is also commonly used, just be aware that the tofu will fall apart very easily. You can also use a mix of silken and medium firm tofu for more texture.

How do I store mapo tofu?
Store leftovers covered in the fridge for up to 3-4 days. If your mapo tofu looks very dry the next day, reheat it on the stove with a little extra liquid (water, dashi, vegetable broth, soy sauce, whatever suits your taste).

Can I freeze mapo tofu?
I do not recommend freezing mapo tofu as the texture of the tofu and vegetables will change and may be very mushy when defrosted.

How do I serve mapo tofu?
Serve mapo tofu with plain steamed rice and enjoy it by the spoonful! You can also round out your meal with a small salad and miso soup, or check out some of these side dishes.
More Hearty Japanese Dishes!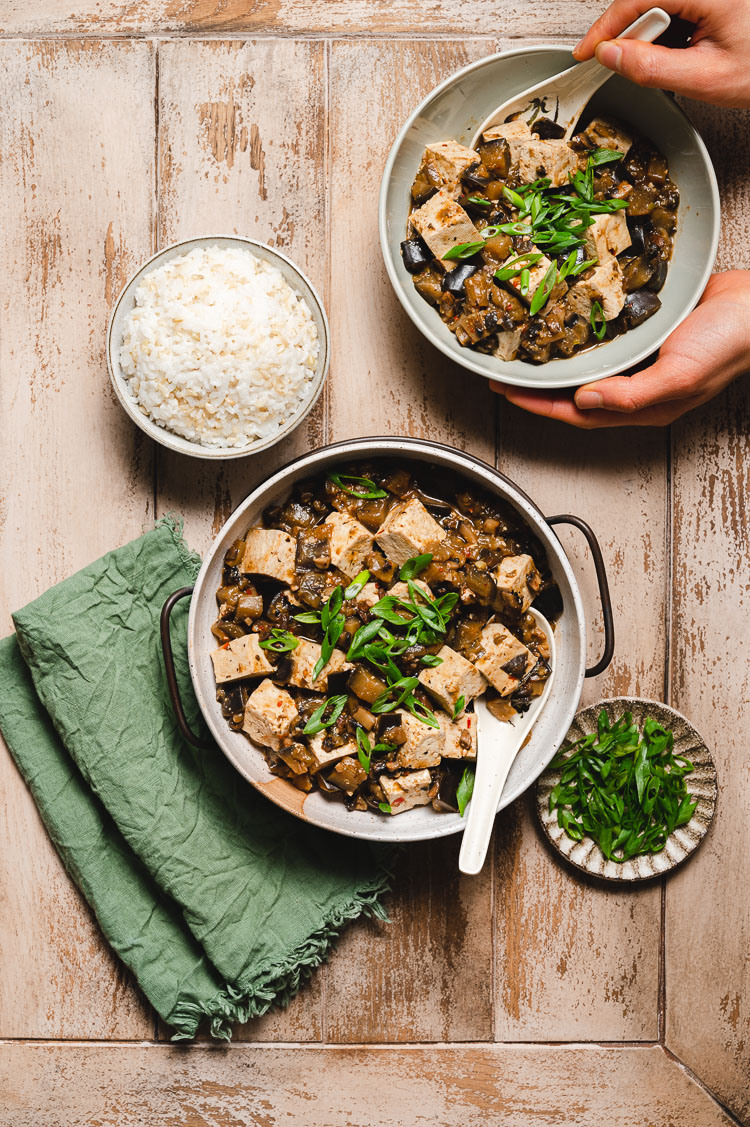 I hope I've inspired you to make this vegan mapo tofu! If you try it out, don't forget to tag me in your photos on instagram @ellielikes.cooking, leave a comment/rating down below, and let me know how you liked it! I love seeing all of your tasty recreations 🙂 Happy cooking! ♡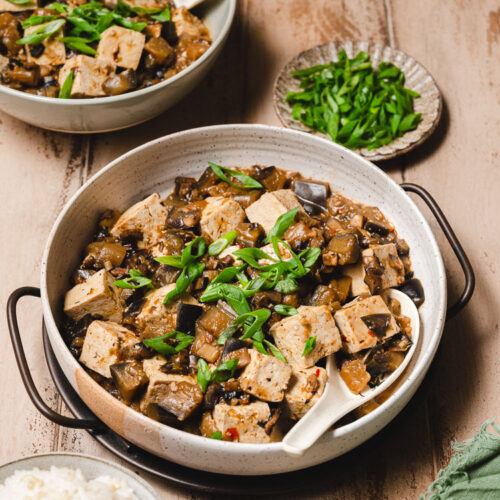 Vegan Mapo Tofu (Japanese-Style)
Japanese-style mapo tofu made without any meat! Tofu, mushrooms, and eggplant simmered in a spicy, flavorful, umami-rich sauce.
Ingredients
2

tbsp

neutral cooking oil

3

cloves of garlic

minced

1

inch

knob of ginger

minced

3

green onions

chopped, whites and greens separated

4

oz

mushrooms**

chopped

1

eggplant

chopped

16

oz

medium firm tofu**

cubed

2

tsp

cornstarch

2

tbsp

water
Instructions
Squeeze the water out of the rehydrated shiitake and save the liquid in a separate bowl. Chop the shiitake and set aside with the other mushrooms.

Add the rest of the seasoning ingredients to the bowl with the leftover shiitake liquid. Mix well and set aside.

Heat oil in a deep pan or wok over medium heat. Add garlic, ginger, and the white parts of the green onions. Once fragrant (about 30-60 seconds), add eggplant and mushrooms. Cook until the mushrooms have released their liquid and the eggplant is tender.

Add tofu and seasonings and stir thoroughly. It's OK if some of the tofu breaks apart.

Mix together cornstarch and 2 tbsp water to make a slurry. Once the sauce in the pan is boiling, add the cornstarch slurry and stir to incorporate. As soon as the sauce thickens, turn off the heat. Top with the green parts of the green onions. Serve immediately.
**Notes
MUSHROOMS: You can use any variety of mushroom you like. I usually use white button mushrooms or crimini mushrooms since they are readily available and affordable where I live. TOFU: Some mapo tofu recipes use soft/silken tofu. I prefer medium firm tofu since it has more of a bite to it but is still soft and bouncy. You can use silken tofu if you prefer, or a mix of both!  VEGETARIAN OYSTER SAUCE: You can omit and add another 1-2 tsp of soy sauce. 


*Disclosure: This page may contain affiliate links. As an Amazon Associate I earn from qualifying purchases, but the price remains the same to you. Thank you for supporting Ellie Likes Cooking!
Save for later!