This page may contain affiliate links. As an Amazon associate we earn from qualifying purchases. Please read our
disclosure
for more info.
Bored of regular natto and rice? Try this natto with kimchi and enoki mushrooms! It's delicious, satisfying, and quick and easy to prepare.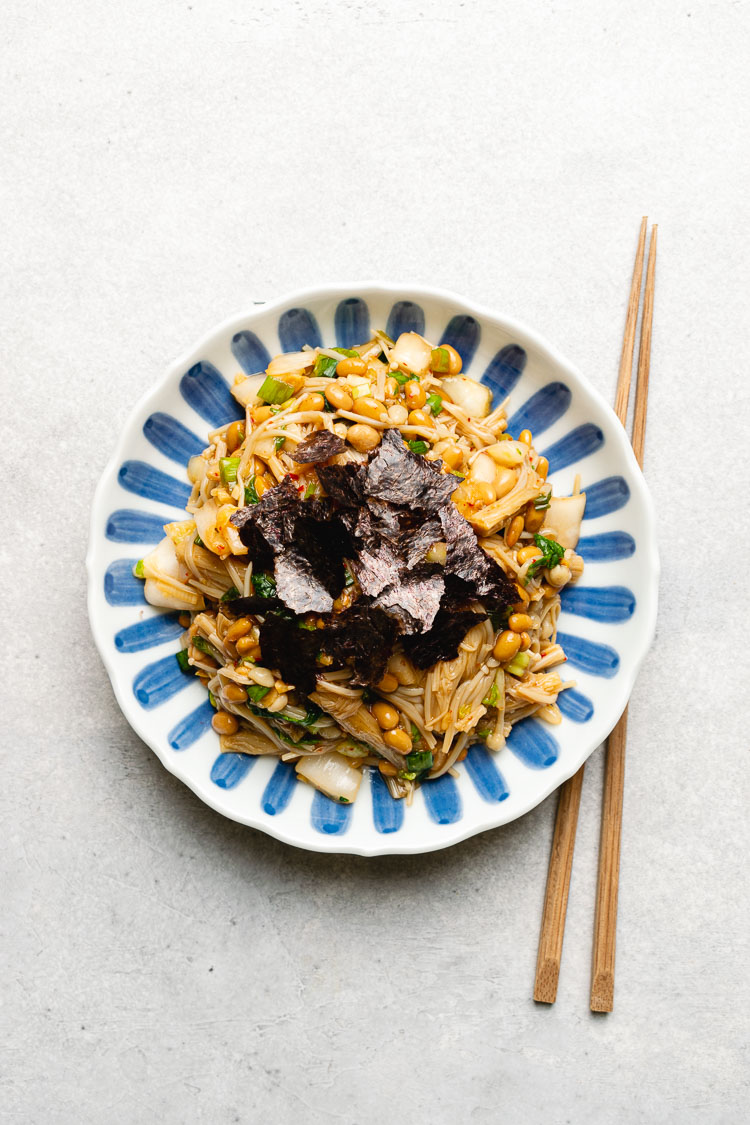 What is Natto?
Natto is a traditional Japanese food made from fermented soybeans. It's a staple in Japanese cuisine and is commonly served for breakfast. It has a strong smell with a sticky, slimy texture, so it's definitely an acquired taste. While you may be put off by the smell and slimy texture, I encourage you to try natto a few times before you decide to never eat it again. It is a rich source of nutrients thanks to the fermentation process, and it's something I could eat every day (and often do when I'm in Japan)!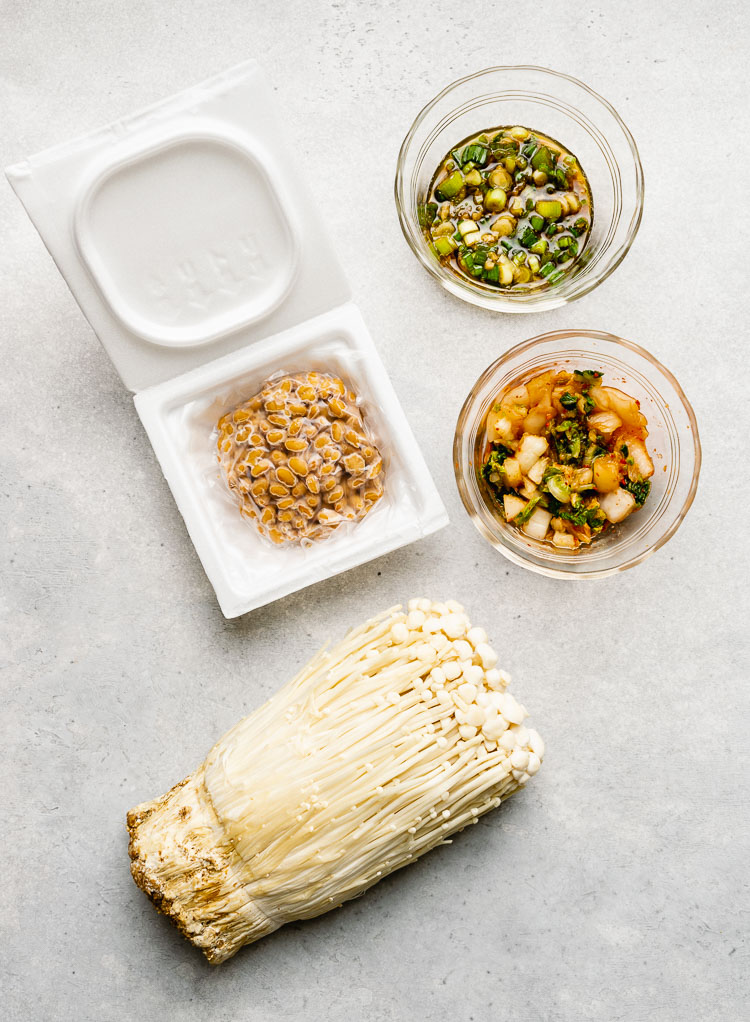 Ingredients
Natto ⟶ Found in the freezer section of Japanese/Asian markets.
Enoki Mushrooms ⟶ The only ingredient that needs to be cooked! You can quickly steam them in the microwave or stovetop.
Kimchi ⟶ Make sure it's vegan/check the ingredients if you don't eat fish.
Green Onion Sauce ⟶ You can also use your favorite Asian sauce or just soy sauce.
Nori, Toasted Sesame Seeds ⟶ Optional toppings to add another depth of flavor.
Natto FAQ
For natto basics (how to prepare, store, etc.), check out my Beginner's Guide to Natto.
Tips for Success
Microwave the enoki for a quick & easy meal ⟶ I use a Lekue steamer* to easily cook the enoki so I have a satisfying, tasty meal ready in under 10 minutes.

Check if your kimchi is vegan ⟶ Kimchi traditionally contains fish, so be sure to use a vegan kimchi if necessary.

Use your favorite sauce ⟶ I used my green onion sauce, but you can really use any soy sauce-based or even miso-based sauce you like (or even just soy sauce if you're feeling extra lazy).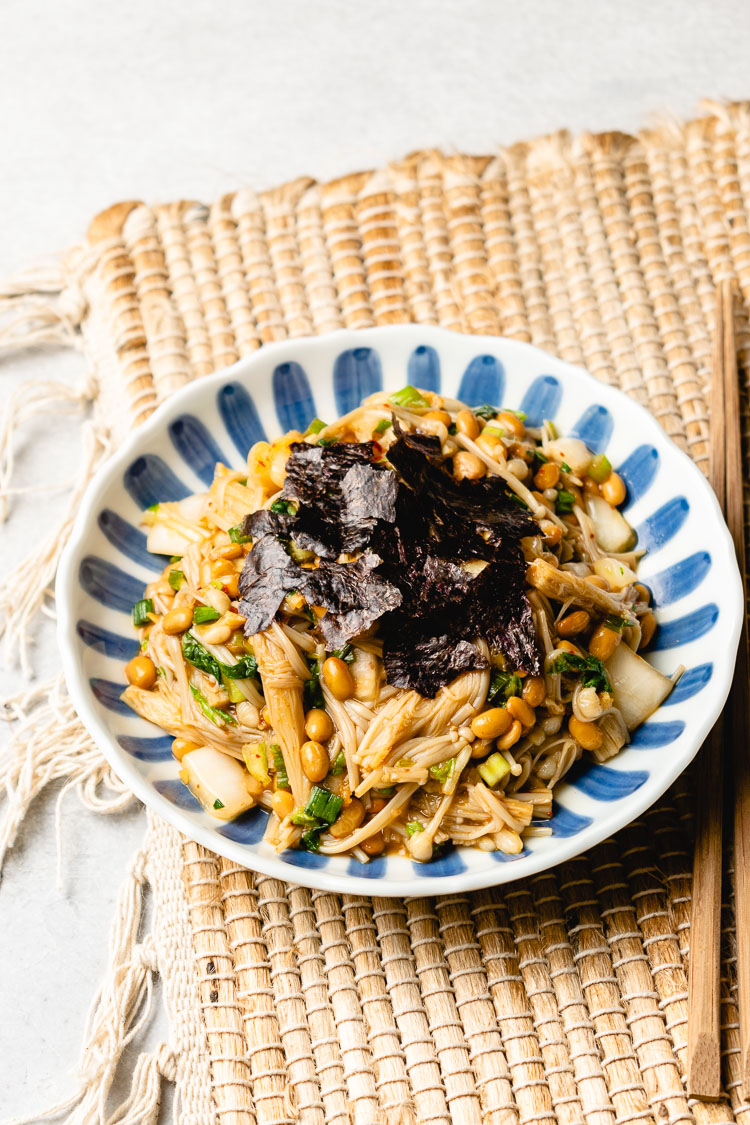 More ways to enjoy natto!
Natto Negi Maki (Natto and Green Onion Roll)
Natto Onigiri
in salads
in miso soup
with Japanese Curry
on toast with (vegan) cheese
mixed with kimchi and avocado
as a topping for hiyayakko (Japanese cold silken tofu)
check out more ideas in my Natto Guide
If you try out this natto with kimchi and enoki, don't forget to leave a comment/rating down below and tag me in your photos on instagram @ellielikes.cooking. I love seeing all of your tasty recreations!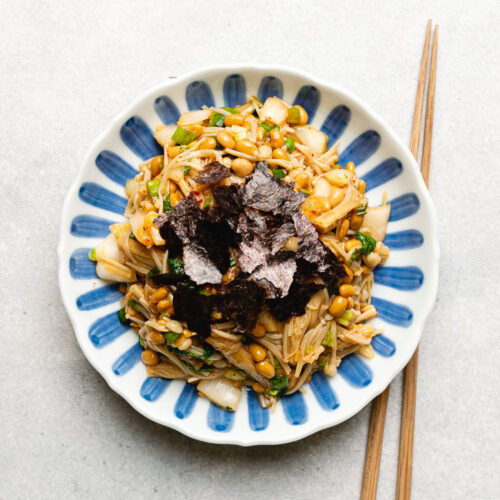 Natto with Kimchi and Enoki Mushrooms | えのきキムチ納豆
Bored of regular natto and rice? Try this natto with kimchi and enoki mushrooms! It's delicious, satisfying, and quick and easy to prepare.
Ingredients
200

grams

enoki mushrooms

1

packet

natto

2

tbsp

kimchi

chopped

cut or torn nori sheets*

optional
Instructions
Cut the roots off the enoki mushrooms. Gently rinse, cut in half, and add to a microwave-safe container with a cover (I use a Lekue*). Microwave 1 minute or until cooked.

Add natto to a bowl and mix a few times. Add enoki, kimchi, and sauce and mix well to combine. Top with nori if desired.

Serve as a side or eat with rice.


*Disclosure: This page may contain affiliate links. As an Amazon Associate I earn from qualifying purchases, but the price remains the same to you. Thank you for supporting Ellie Likes Cooking!
Save for later!