This page may contain affiliate links. As an Amazon associate I earn from qualifying purchases. Please read our
disclosure
for more info.
This creamy Japanese sesame dressing is an easy and delicious all purpose sauce that's great on salads, noodles, tofu, and more!
Japanese sesame dressing is creamy, nutty, tangy, and sweet. It's made with just a handful of ingredients but is so flavorful! Sesame dressing is a very common salad dressing at Japanese restaurants, and it's also a popular pantry staple at home. The downside is that it's not vegan by default since it's made with mayonnaise. Luckily it's very easy to make at home with vegan mayonnaise!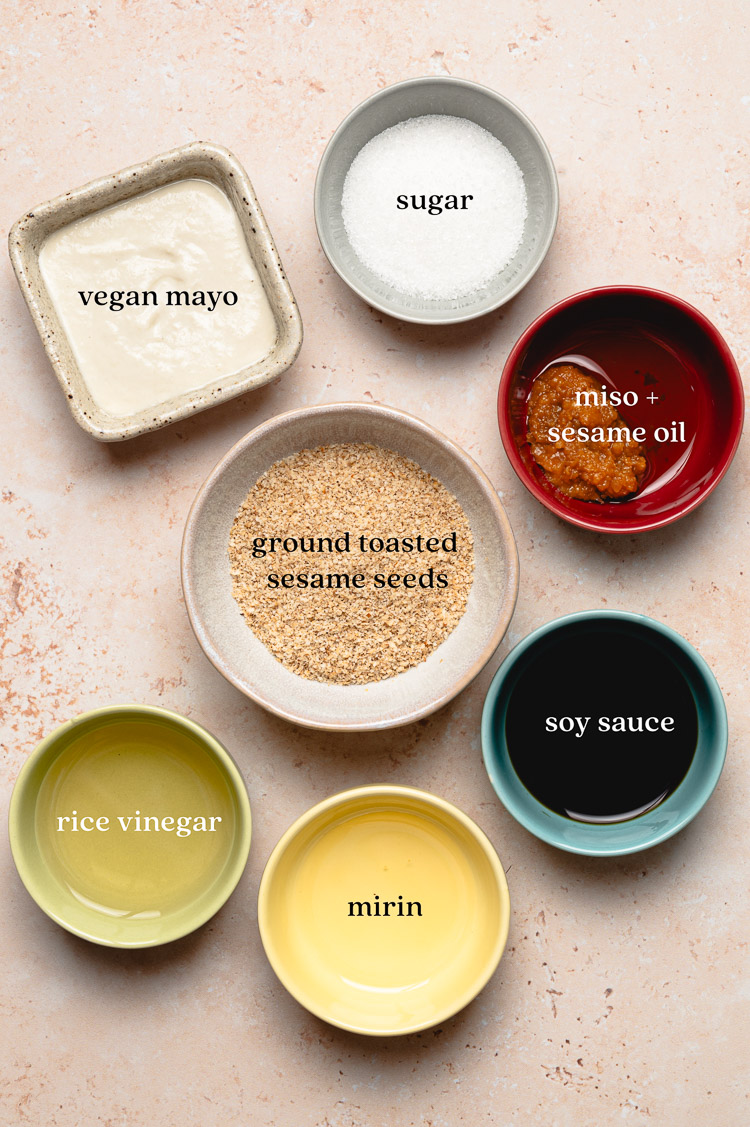 Key Ingredients
White Sesame Seeds ⟶ Toasted and ground. You can buy ground toasted sesame seeds (called surigoma すりごま) at Japanese grocers. Or make it yourself – it's easy and much more flavorful!
Vegan Mayonnaise ⟶ This is what makes the dressing really creamy. See notes below on what kind of mayo to use.
Rice Vinegar ⟶ For tangy flavor. You can also use apple cider vinegar.
Sugar and Mirin ⟶ To balance out the salty and tangy flavors.
Soy Sauce and Miso⟶ For salty, savory umami flavors.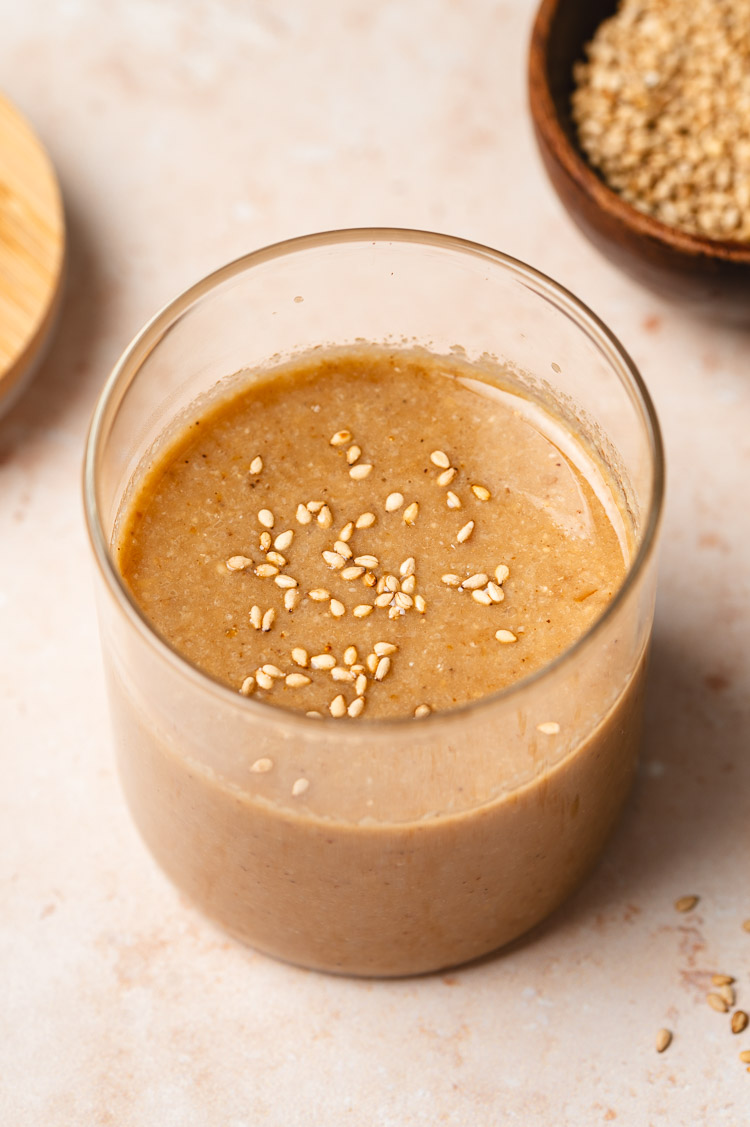 Tips for Success
Grind your own sesame seeds ⟶ Japanese grocery stores sell pre-ground toasted sesame seeds, called surigoma すりごま. While I do use this when I'm lazy, freshly ground sesame tastes so much better! Just toast sesame seeds in a pan for a few minutes until golden, then use a pestle and mortar to grind into a powder.

Use Japanese-style mayonnaise ⟶ If you can find it, there is a vegan kewpie mayo* that would be great for this. If you eat eggs, you can use regular kewpie mayo. Otherwise you can use any vegan mayonnaise (like my homemade cashew mayo).

Use a clean spoon to scoop ⟶ Be sure to use a clean spoon each time you remove some dressing, otherwise you run the risk of introducing harmful bacteria which will shorten the shelf life of the dressing.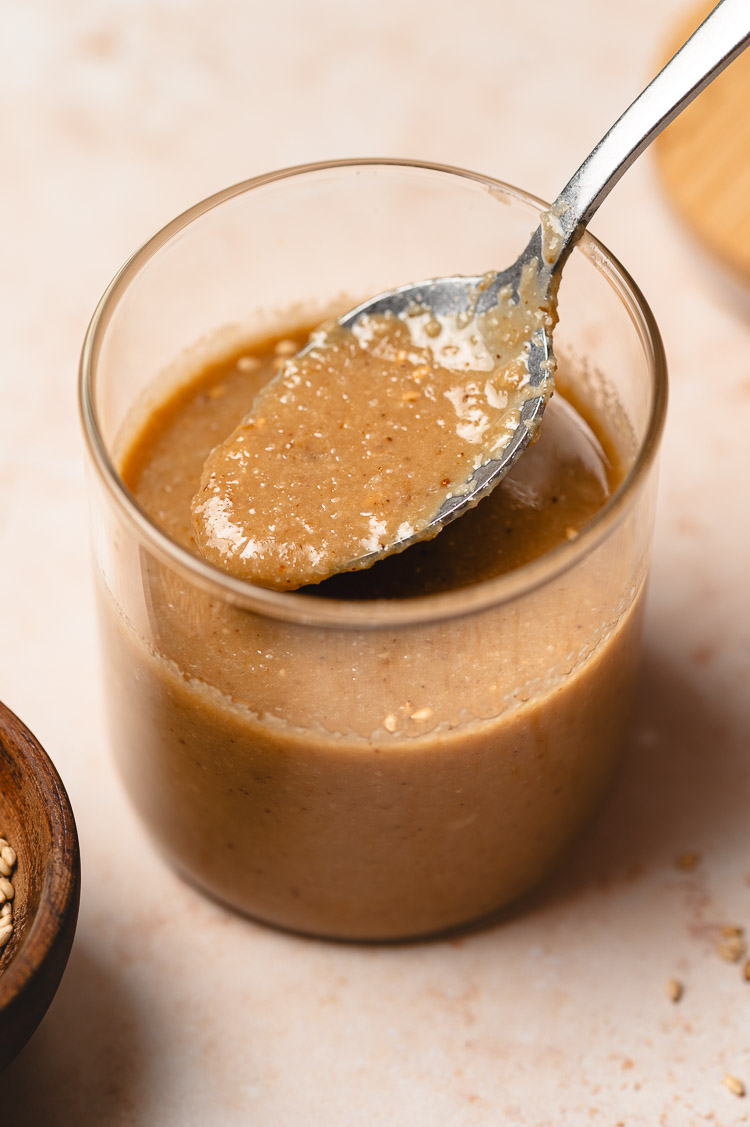 Japanese Sesame Dressing FAQ
What if I don't have mayonnaise?
You can make your own if you have time, or I've also subbed in peanut butter. It changes the flavor but it's still delicious! If using peanut butter instead of mayo, add an extra 2 tsp of rice vinegar.

How long does Japanese sesame dressing last?
This homemade dressing should last about a week in the fridge. If you use peanut butter instead of mayo, it could last up to 2 weeks.

Can I freeze the dressing?
I don't recommend freezing this since I think the dressing would separate, however I haven't tried this myself so you can try if you'd like.

Is it gluten-free?
You can make the dressing gluten-free by using tamari instead of soy sauce.
Try These Japanese Sauces Too!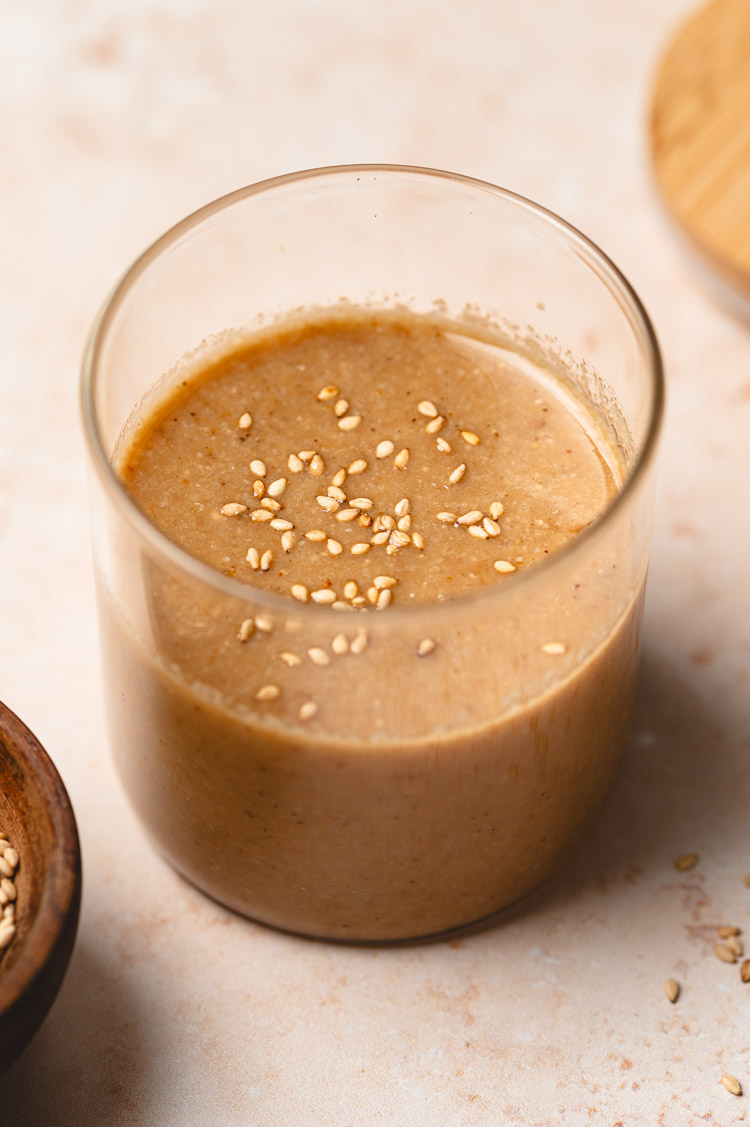 If you make this Japanese sesame dressing, don't forget to leave a comment/rating down below and tag me in your photos on instagram @ellielikes.cooking. I love seeing all of your tasty recreations!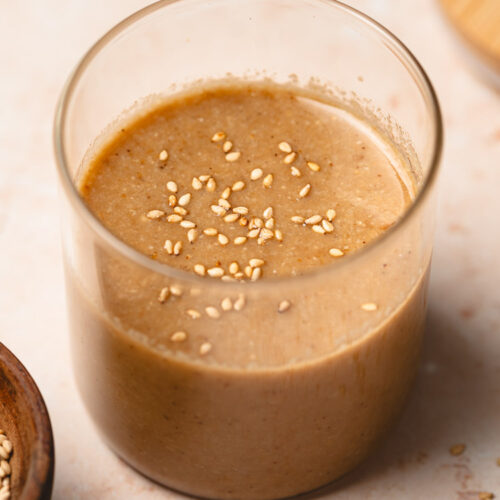 Japanese Sesame Dressing
This creamy Japanese sesame dressing is an easy and delicious all purpose sauce that's great on salads, noodles, tofu, and more!
Ingredients
Instructions
Add all ingredients to a jar and mix until well combined.

Store covered in the fridge for up to a week. If the dressing is too thick, you can thin with a bit of soy milk before serving.
**Notes
Mayonnaise: Preferably Japanese-style (like this vegan Kewpie mayo*) or you can use my homemade cashew mayo. In a pinch, I've also used peanut butter in place of mayo with an extra 2 tsp of vinegar.
Miso: White miso is better for a sweeter, more subtle flavor. Red miso is more salty/umami. I recommend white or awase (mixed) miso, but you can use whatever you have.
Nutrition per 1 tablespoon: 2.5g fat | 0.5g sat fat | 4g carbs | 2g added sugar | 150mg sodium
Hide


*Disclosure: This page may contain affiliate links. As an Amazon Associate I earn from qualifying purchases, but the price remains the same to you. Thank you for supporting Ellie Likes Cooking!
Save for later!