This page may contain affiliate links. As an Amazon associate I earn from qualifying purchases. Please read our
disclosure
for more info.
Easy, fluffy, egg-free vegan frittata made with tofu and vegetables! Perfect for a delicious, high protein breakfast.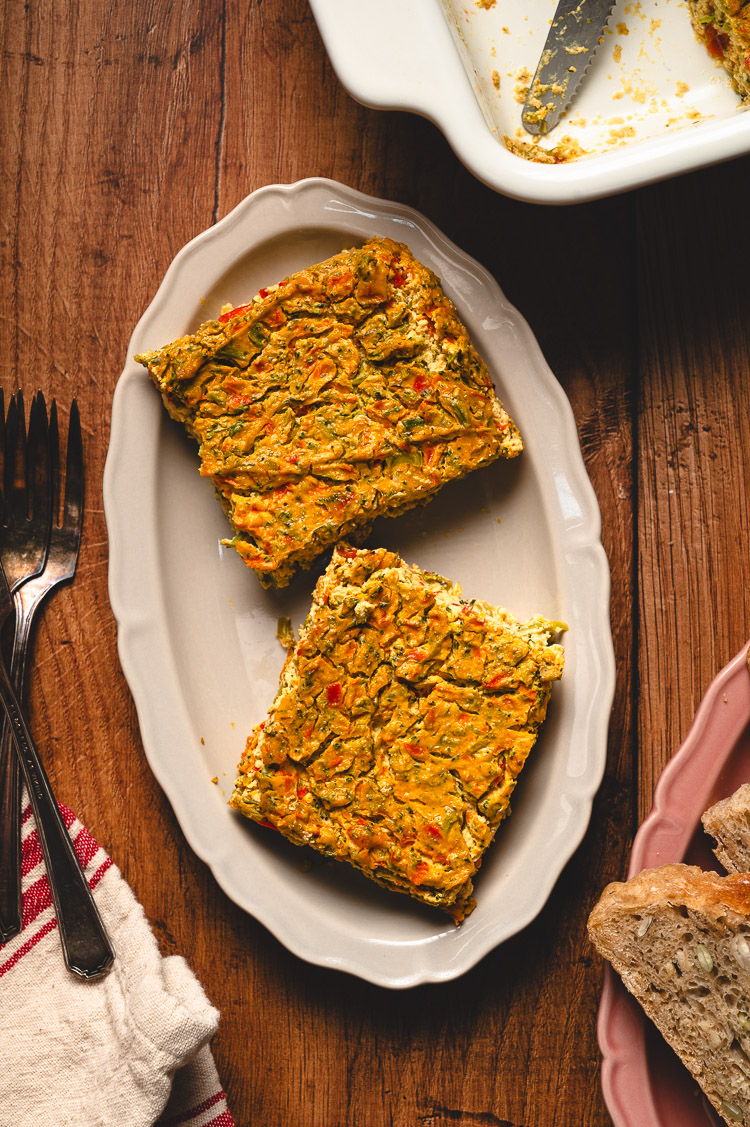 Frittata is an Italian egg bake usually filled with vegetables, meats, and/or cheeses. Imagine a quiche without a crust. But how can an egg-based dish be made vegan? Well, surprisingly easily with the simple swap of eggs for tofu! This tofu frittata is custardy and fluffy like a traditional egg frittata but made entirely from plants!
Key Ingredients
Extra Firm Tofu ⟶ Drained from its packaging liquid but no need to press.

You can use firm tofu but this will need to be pressed for about 20 minutes. Press the tofu while cooking the veggies to be time-efficient!

Cornstarch ⟶ Just a little bit to help the frittata hold together. Other starches can be used as well, such as potato starch, arrowroot starch, or tapioca starch.
Veggies ⟶ Cooked & chopped to remove as much excess moisture as possible.

Recommended veggies: onions, bell peppers, zucchini, mushrooms, tomatoes, spinach, broccoli, kale.

Spices ⟶ Feel free to switch up the spices, but nutritional yeast and salt are highly recommended. For an eggy flavor, use black salt* (kalak namak) .

Dried herbs like thyme, oregano, basil, and rosemary add nice undertones but can be omitted if necessary.
Smoked paprika is one of my favorite spices because it adds a savory, smoky flavor. Regular paprika is good too, though.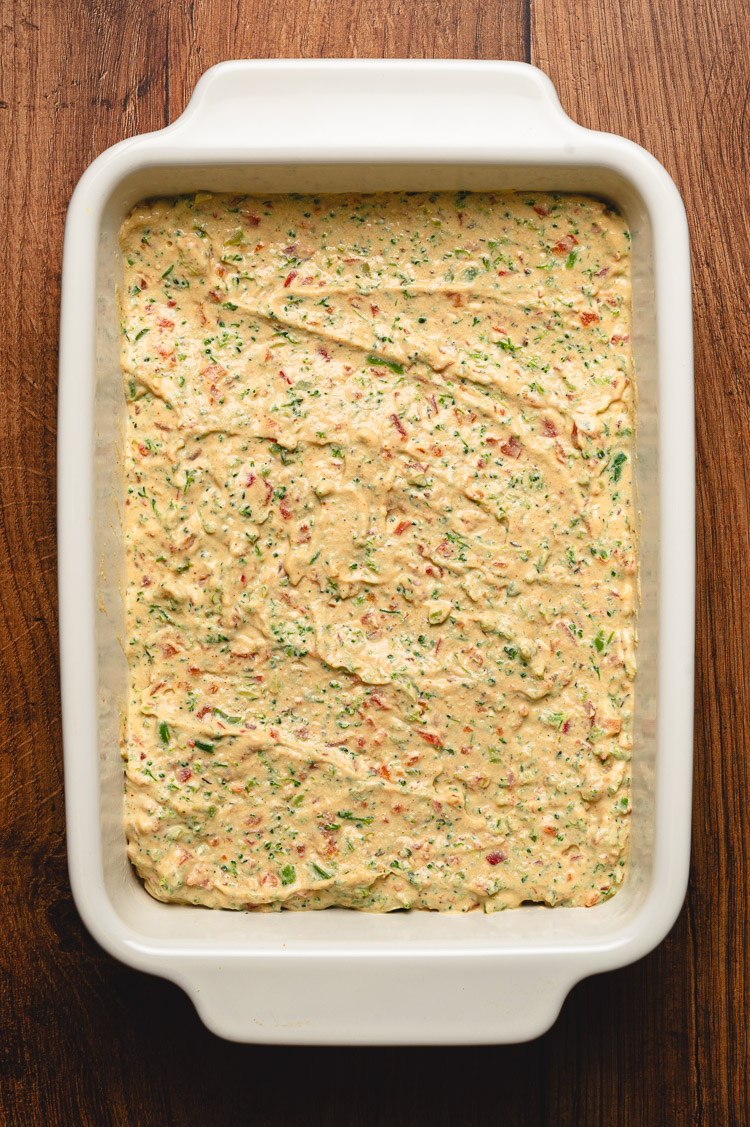 Vegan Frittata FAQ
Is vegan frittata good for meal prep?
Yes! This vegan frittata will last up to 5 days in the fridge, so prep a batch on the weekend and enjoy it for a quick, hearty breakfast during the week!

Can I use frozen veggies?
Yes, just be sure to reheat/cook them first to remove excess moisture. The easiest method is to microwave the veggies until thawed, then drain the water and lightly squeeze out excess moisture.

Can I use silken/soft tofu?
I haven't tested this recipe with silken or soft tofu so can't guarantee results. Silken/soft tofu will result in a very soft frittata, so you would need to increase the amount of cornstarch or add some chickpea flour to offset the extra moisture from silken tofu.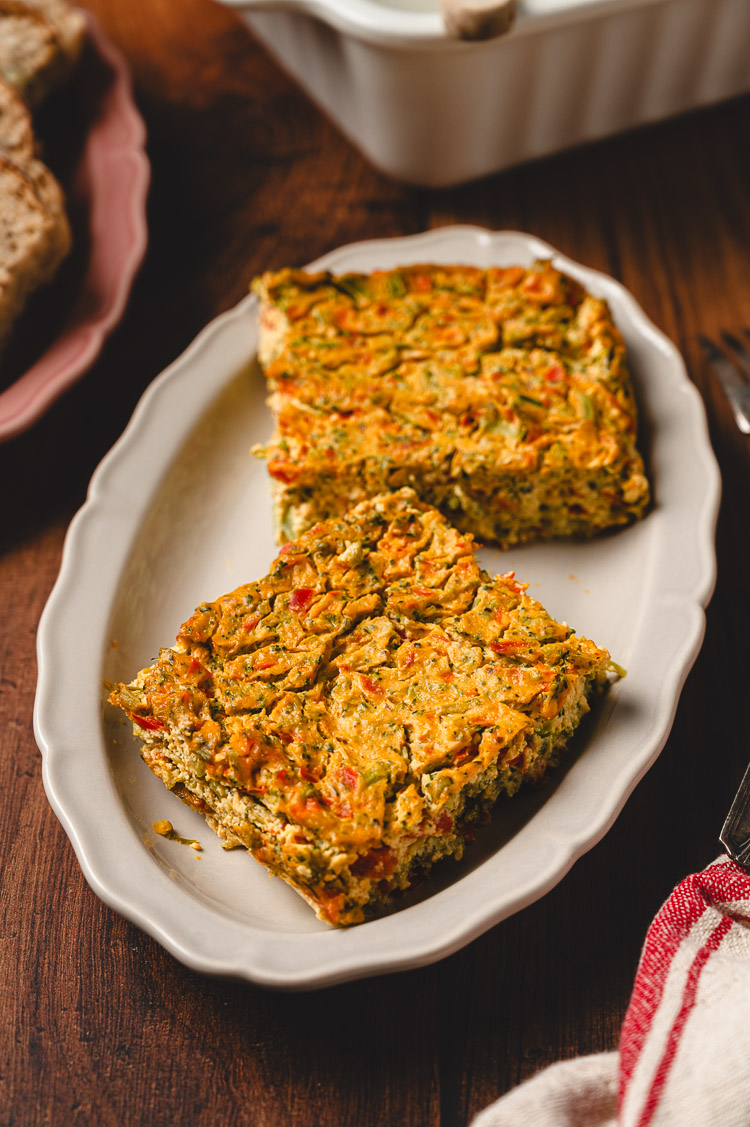 Tips for Success
Adjust bake time as needed ⟶ Lots of factors can affect the baking time, such as pan size, moisture in the veggies, oven reliability, etc. So use the baking time as a guide but use your best judgement to determine whether the frittata is done. The top should be firm with very little give (unless you prefer a custard texture). If it's still too soft (i.e. the top indents when you gently press on it), keep baking! Cover the top with foil if it's browning too much, then remove for the last minute or two to release the trapped steam.

Use any veggies you like, just be sure to cook them! ⟶ Cooking the veggies first is essential for getting rid of excess moisture which can make the frittata too soft.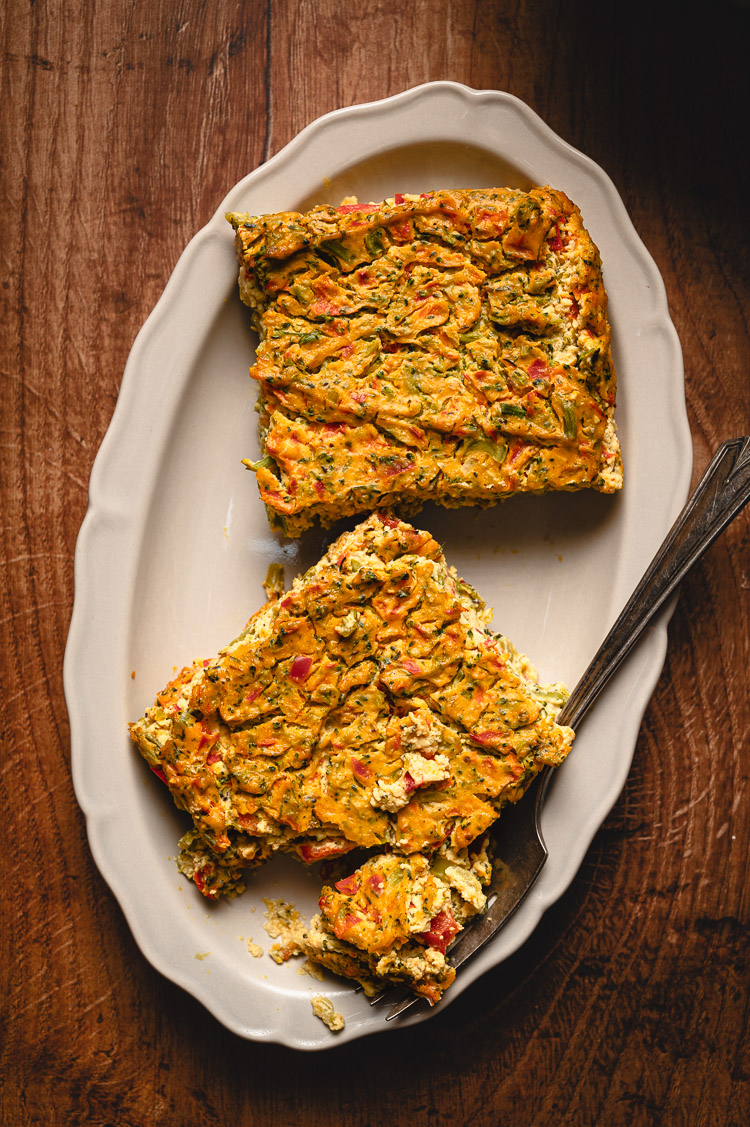 More Satisfying Vegan Breakfasts
If you make this vegan frittata, don't forget to leave a comment/rating down below and tag me in your photos on instagram @ellielikes.cooking. I love seeing all of your tasty recreations!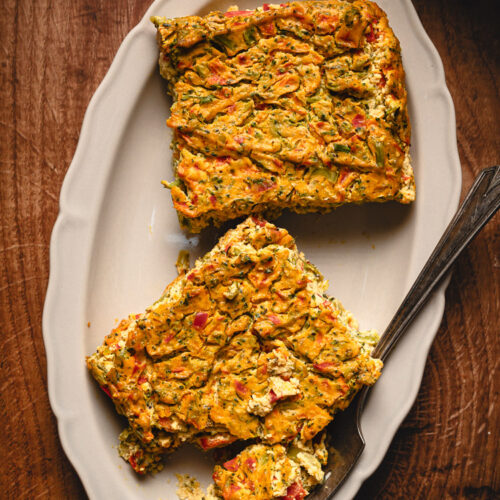 Vegan Vegetable Frittata
Easy, fluffy, egg-free vegan frittata made with tofu and vegetables! Perfect for a delicious, high protein breakfast.
Ingredients
1

tbsp

olive oil

2

cloves

garlic

minced

3

cups

finely chopped vegetables (onion, bell pepper, mushrooms, zucchini, spinach, broccoli)

16

oz

extra firm tofu**

drained

¼

cup

plant-based milk

1

tbsp

cornstarch

2

tbsp

nutritional yeast

½

tsp

salt or black salt* for eggy flavor

½

tsp

oregano

½

tsp

thyme

½

tsp

smoked paprika

¼

tsp

turmeric

⅛

tsp

black pepper
Instructions
Preheat oven to 350°F/180°C. Grease a baking pan (I used an 8×12" pan) with some olive oil, melted vegan butter, or spray.

Cook veggies: Heat olive oil in a skillet over medium heat. Add garlic and stir for 30 seconds until fragrant. Add in chopped veggies and a pinch of salt and cook 2-3 minutes until just tender. If using onions, I recommend cooking them down first for 3-5 minutes until they start to brown, then add in other veggies. Remove from heat and let the veggies cool for a bit while you prepare the filling.

Blend filling: To a food processor, add tofu, milk, cornstarch, nutritional yeast, salt, oregano, thyme, paprika, turmeric, and pepper. Blend until smooth.

Combine: Drain any excess liquid from the veggies, then pour in tofu mixture and mix until well combined. Transfer mixture to your greased baking pan.

Bake: Place in the oven and bake 45-60 minutes until golden brown and firm to the touch. If the top is browning too quickly, cover with foil.

Cool: Cool in the pan for at least 10 minutes to allow the frittata to firm up a bit more.

Serving: The frittata is delicious as is, but for a more well rounded meal, serve with some avocado and toast, oatmeal, or a smoothie.

Storing: To store leftovers, let the frittata cool completely, then cover and store in the fridge for up to 5 days.
**Notes
Tofu: Firm tofu can be used as well, but it will need to be pressed first to remove excess liquid.
Nutrition per serving: 130 kcal | 7g fat | 1g sat fat | 8g carbs | 2.5g fiber | 10g protein | 230mg sodium
Hide


*Disclosure: This page may contain affiliate links. As an Amazon Associate I earn from qualifying purchases, but the price remains the same to you. Thank you for supporting Ellie Likes Cooking!
Save for later!