This page may contain affiliate links. As an Amazon associate I earn from qualifying purchases. Please read our
disclosure
for more info.
These vegan banana oat pancakes are soft, fluffy, and so delicious! Made with nutrient-rich oats and banana for an easy, wholesome breakfast.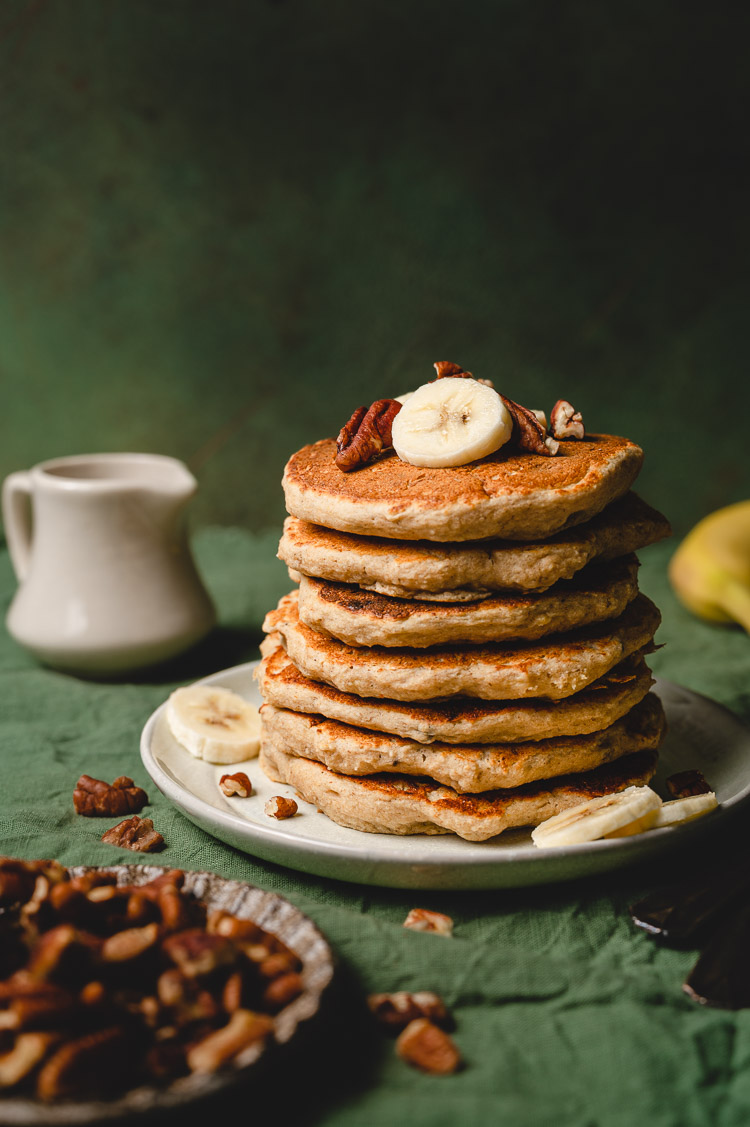 A couple weeks ago I posted these vegan pumpkin oat pancakes and they are so good, of course I had to make a banana version! I know not everyone is excited for pumpkin season, and maybe you've already eaten enough pumpkin this year, so here's a delicious and appropriate-any-time-of-year recipe for banana oat pancakes! Kind of like a cross between banana bread and oatmeal: sweet banana flavor with a slight chewiness from the oats – but not overtly so that they're gummy like some oat-based pancakes can be. To be honest, I didn't think it was possible to make pancakes with just oats as the base (no starches or almond flour) and not end up with gummy, dense pancakes. But these are the real deal! Soft, fluffy, easy to make, and so tasty!!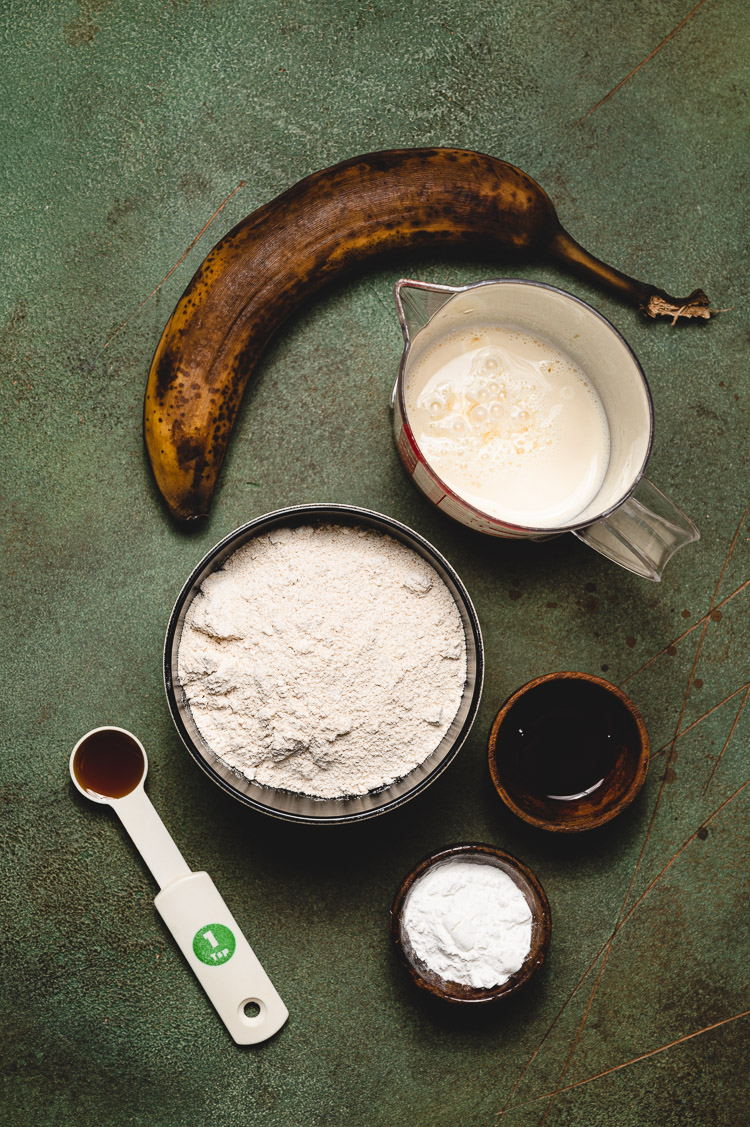 Key Ingredients
Ripe Banana ⟶ Use a banana that has at least some brown spots on it. If it's not ripe enough it will be hard to mash and won't be as sweet or flavorful.
Oats/Oat Flour ⟶ I make oat flour at home by blending rolled or quick oats in my Nutribullet* with the milling blade.
Soy Milk ⟶ Technically you can use any milk of choice, but I prefer soy milk since it's creamier and higher in protein.
Baking Powder ⟶ This makes the pancakes soft and fluffy. We use a whole tablespoon for 2 servings, that is not a typo! (See notes in recipe card for low sodium option.)
Tips for Success
Blending the batter ⟶ If you don't have oat flour, you can make your own by blending rolled oats. Depending on how powerful your blender is, you may not be able to get the oats to a fine flour consistency. In this case you can blend all the ingredients for the batter together, but do note that the batter is quite thick. You may need to add an extra tablespoon or two of milk to help blend (but this will also make for flatter pancakes).

Use about 120 grams of banana ⟶ The recipe calls for 1 large banana, which should be around 120 grams. You can go about 15 grams above or below without much noticeable difference in the pancakes.

Let the batter rest! ⟶ The oats will soak up the liquid as it rests and create a thicker batter, which results in thick, soft & fluffy pancakes. But don't leave the batter for too long, 5-10 minutes is perfect, otherwise the oats can soak up too much liquid and your pancakes may turn out dense.

Don't mix batter after resting ⟶ Just scoop the batter when it's ready to cook. You don't want to break all the air bubbles.

Cook on medium low ⟶ These pancakes need to cook low and slow to ensure they are cooked all the way through. Otherwise you will end up with a gummy, dense texture.

Let the pancakes rest ⟶ After cooking, rest the pancakes for a minute or two before eating. They will still be a little soft inside when you take them off the pan, but after a minute or so they should firm up a bit and finish cooking.
Still have ripe bananas to use up? Try these!
If you try these vegan banana oat pancakes, don't forget to leave a comment/rating down below and tag me in your photos on instagram @ellielikes.cooking. I love seeing all of your tasty recreations!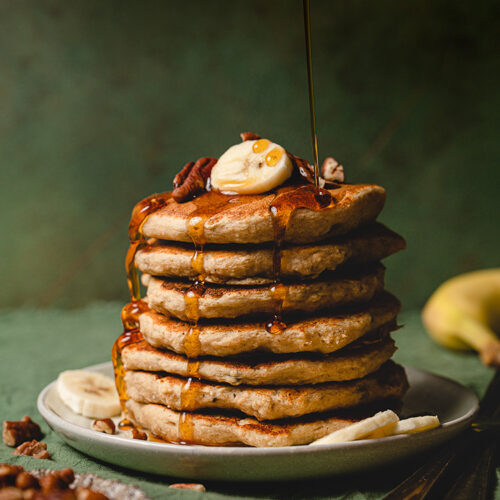 Vegan Banana Oat Pancakes (Gluten-Free)
These vegan banana oat pancakes are soft, fluffy, and so delicious! Made with nutrient-rich oats and banana for an easy, wholesome breakfast.
Ingredients
1

large banana

about 120 grams

120

ml (½ cup)

soy milk

2

tsp

apple cider vinegar

1

tsp

maple syrup

1

tsp

vanilla extract

100

grams

oat flour* or rolled oats

use gluten-free as needed

1

tbsp

baking powder**
Instructions
If using rolled oats, add to a high power blender and blend into a flour consistency.

Mash banana in a large bowl. Add milk, vinegar, maple syrup, and vanilla extract and whisk to combine. Add in oat flour and baking powder and whisk until well combined. Let the batter rest 5-10 minutes to thicken.

Grease a skillet with vegan butter or oil and heat over medium low. To test if your pan is hot enough, sprinkle a few drops of water on it. If the water sizzles immediately, it's ready.

Scoop about ¼ cup batter onto the skillet. Cook about 3 minutes or until the edges look dry and the bottom is golden brown, then flip and cook another 3 minutes. Lower the heat if your pancake cooks too quickly on the bottom.

Transfer pancakes to a plate and rest for 1 minute, then serve with maple syrup or toppings of choice (yogurt, pecans, walnuts, hemp seeds, pumpkin seeds, etc)!
**Notes
Low Sodium Option: Use low sodium baking powder, or reduce baking powder by half (so use 1 1/2 tsp instead of 1 tbsp). The pancakes won't be quite as fluffy but they're still delicious!
Nutrition per serving: 300kcal | 6g fat | 1g sat fat | 54g carbs | 5g fiber | 11g sugar | 10g protein | 670mg sodium
Hide


*Disclosure: This page may contain affiliate links. As an Amazon Associate I earn from qualifying purchases, but the price remains the same to you. Thank you for supporting Ellie Likes Cooking!
Save for later!