This chocolate banana bread is soft, fluffy, and moist without any butter, milk, or eggs. It's healthy, vegan, and made with 10 pantry-friendly ingredients!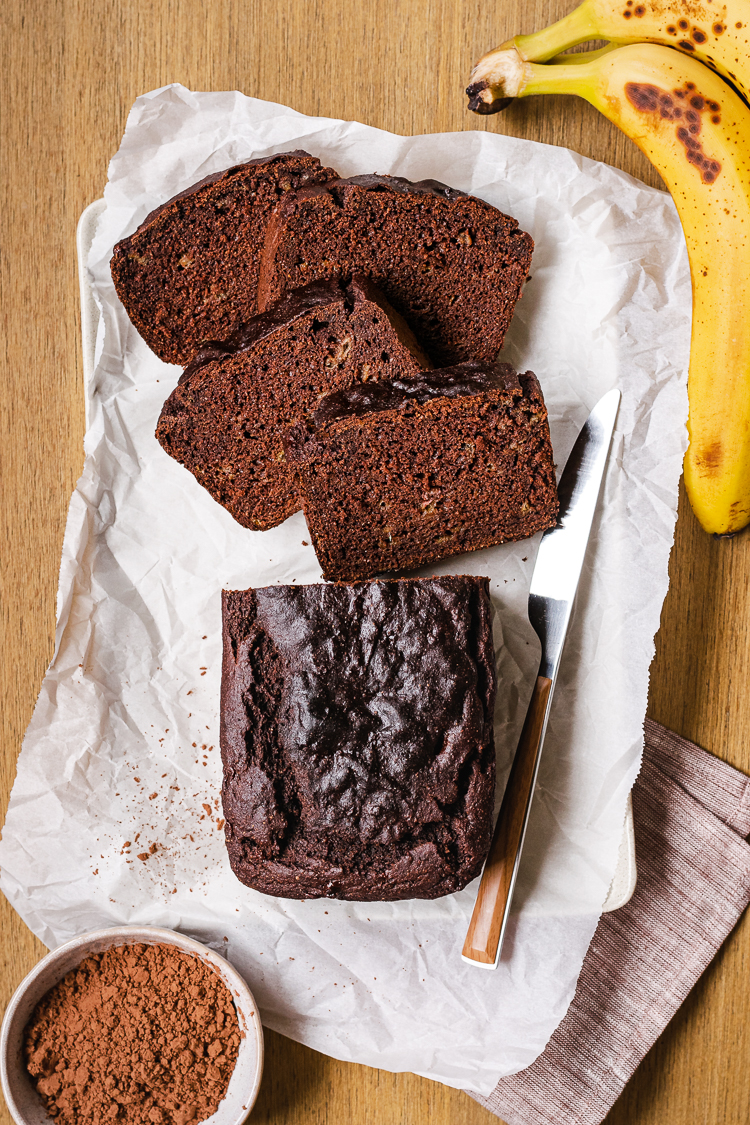 I don't know why banana bread has become such a popular quarantine baking item, but it's been popping up on my feed every day, multiple times a day. Like everyone is baking it, all the time! After about the 10th banana bread post, my cravings got the better of me and I just had to bake a loaf (or 5). I found an old(ish) container of whole wheat flour in my pantry and decided it was time to take a break from oat flour and go back to the OG health flour (you know, before the gluten-free craze). Thank you random-container-of-whole-wheat-flour for helping me produce this amazingly soft and fluffy healthy chocolate banana bread!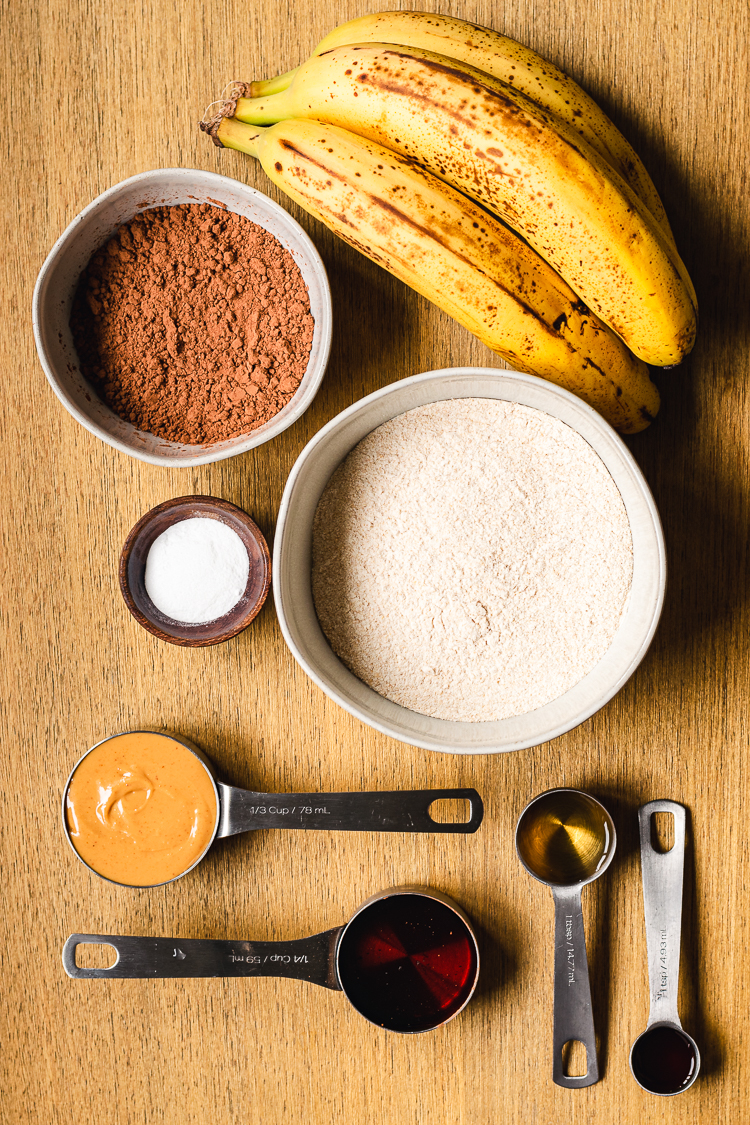 INGREDIENTS FOR WHOLE WHEAT CHOCOLATE BANANA BREAD
This vegan chocolate banana bread uses 10 simple ingredients you may already have in your pantry:
bananas ⟶ use soft, spotty bananas
whole wheat flour ⟶ I love the slightly more dense, hearty texture of whole wheat flour vs all purpose flour for quick breads. You could use all purpose flour, but you will need to add extra flour since whole wheat absorbs more liquid.
cacao powder ⟶ You can probably substitute with cocoa powder, but it doesn't absorb as much liquid as cacao powder so omit the soy milk, and add more whole wheat flour if needed.
maple syrup ⟶ adds moisture and just enough sweetness
peanut butter ⟶ adds moisture. You can replace with another nut/seed butter of choice. I find chocolate to be the dominant flavor, so you can't really taste the peanut butter.
soy milk ⟶ just a tablespoon to add a little extra moisture so the loaf isn't dense and dry
pantry baking staples ⟶ vinegar (apple cider vinegar, white vinegar, or even lemon juice will work), vanilla extract, baking soda, and baking powder
EASY METHOD TO LINE A LOAF PAN
Ever try lining a loaf pan with parchment paper but can't get the paper to hold its shape? I used to struggle with this all the time and would bend and crease the parchment paper all over just to get it to stay in the pan. It sounds like a trivial problem, I know, but this method has helped me so much!
First, cut a piece of parchment paper large enough to fit the bottom and up the sides of your loaf pan. Place the parchment paper on top of the loaf pan and press the paper down into the corners of the loaf pan. You want to make little creases in the parchment paper so you can see where the corners of the pan are.
Lay the parchment paper down horizontally and cut straight lines from the edge of the paper to each crease where the corners of the pan were. You should end up with 4 cuts in the paper.
Place the parchment paper back into the loaf pan and fold the sides of the parchment paper over so they're not sticking out of the pan.
You can also grease your loaf pan if you don't have parchment paper, but the parchment paper does help with easy removal of the bread.
QUICK & EASY TO PREPARE CHOCOLATE BANANA BREAD
Mash bananas and mix with the other wet ingredients.
Whisk dry ingredients separately.
Fold dry and wet ingredients together.
Pour batter into loaf pan.
Bake!
And the hardest part, waiting for it to cool before slicing.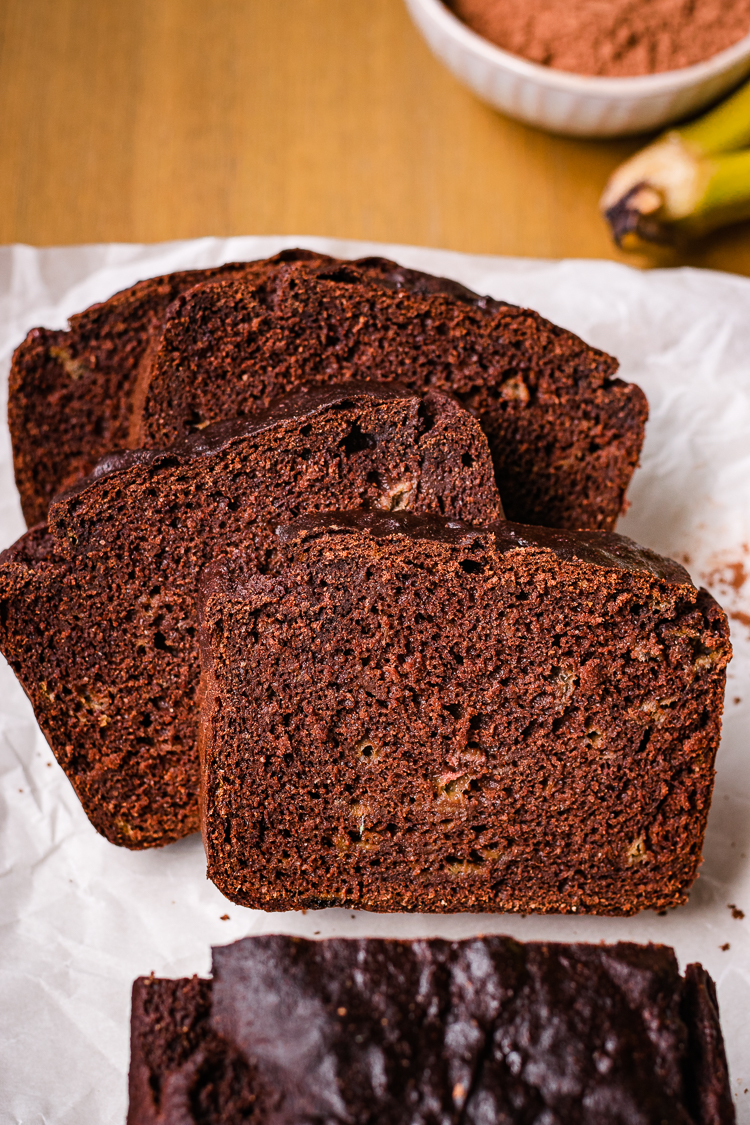 BAKING TIPS FOR PERFECT VEGAN BANANA BREAD
use a kitchen scale ⟶ This is the most accurate way to measure your ingredients and is how I measure all dry ingredients.
don't overmix! ⟶ With regular flour containing gluten, you need to be mindful of not overmixing, as this causes over-development of gluten, resulting in a dense, gummy bread. Use a rubber spatula to gently fold the batter together, just until a uniform batter forms and no flour streaks remain. Be sure to scrape the bottom and sides of the bowl for dry flour. It's OK if your batter is lumpy.
work quickly ⟶ The leavening agents (baking powder and baking soda) are activated as soon as they hit liquid, so get the batter in the preheated oven as soon as possible.
how do you know if your banana bread is done? ⟶ the toothpick test! Insert a toothpick in the center of the loaf, making sure you poke all the way through. If the toothpick comes back out clean then your banana bread is done. Otherwise, place it back in the oven for another 5 minutes and check again.
how to quickly ripen bananas ⟶ If you want to make banana bread in a day or two but your bananas don't look like they'll be ready in time, place them in a closed paper bag. This will trap the ethylene gas that allows bananas to ripen. If you need your bananas ready that day, place them in an oven preheated to 300°F for 15-20 minutes, until the skins turn completely black (don't worry, the inside won't be black).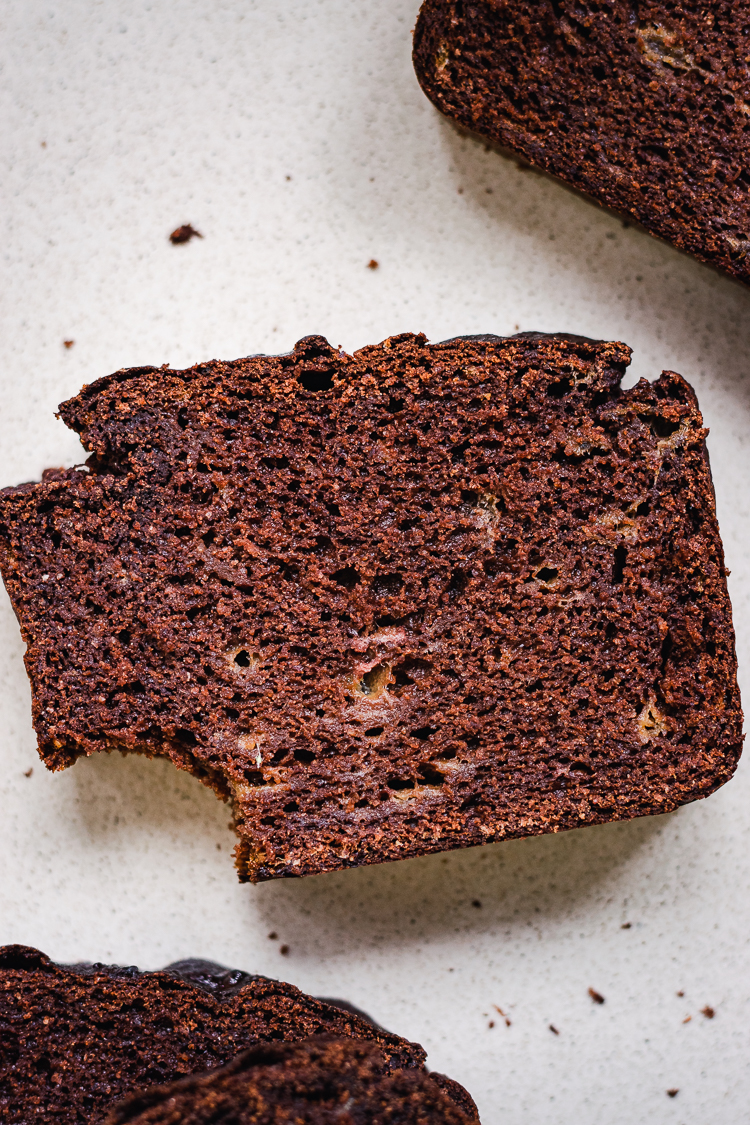 HELPFUL BAKING TOOLS
STILL HUNGRY?
Check out these other tasty recipes using bananas!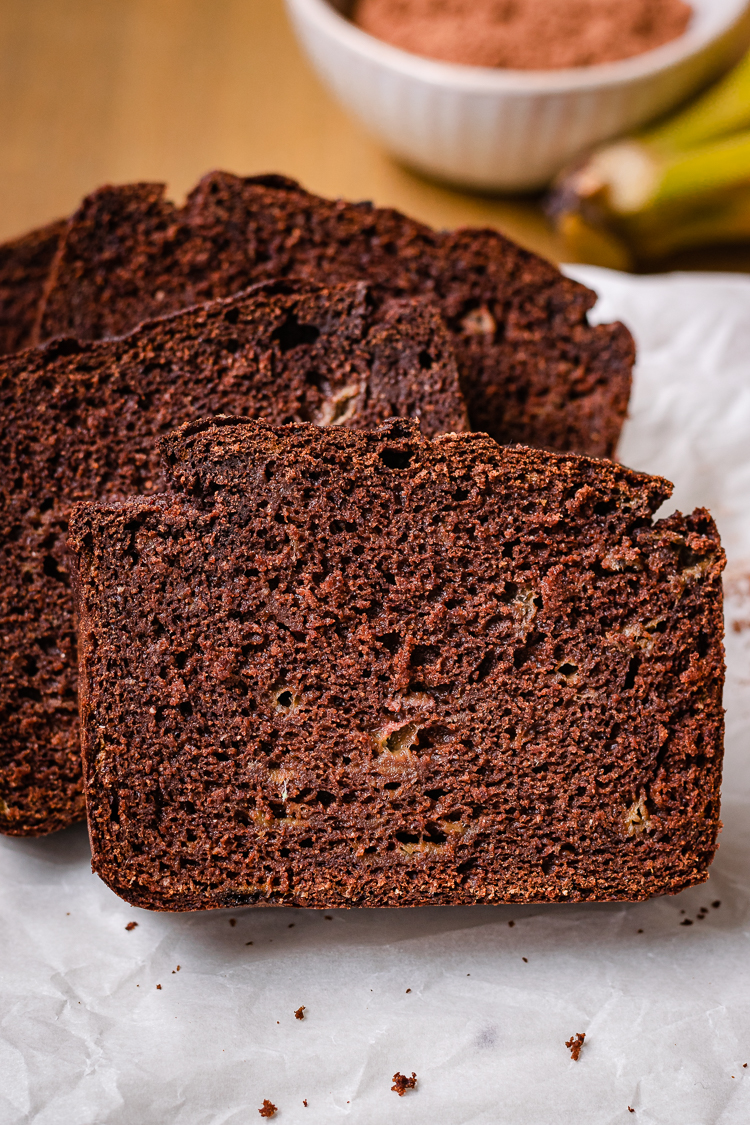 I hope I've inspired you to bake this whole wheat vegan chocolate banana bread! If you do try it out, don't forget to tag me in your photos on instagram @ellielikes.cooking, leave a comment/rating down below, and let me know how you liked it! I love seeing all of your tasty recreations 🙂 Happy baking♡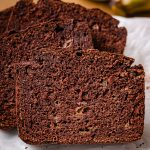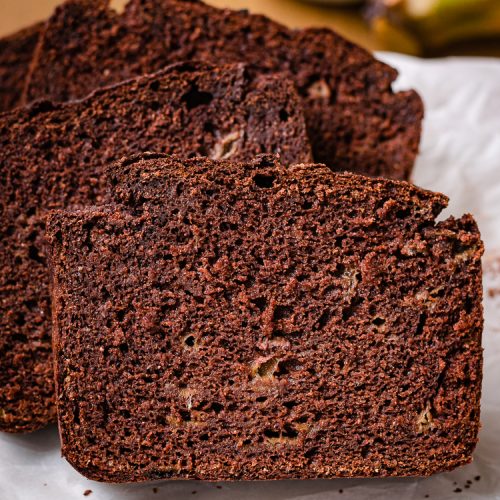 Print Recipe
Whole Wheat Chocolate Banana Bread (Vegan)
This chocolate banana bread is soft, fluffy, and moist without any butter, milk, or eggs. Plus it's healthy, vegan, and easy to make!
Ingredients
1 ½

cups

mashed banana (360g)

(about 3-4 medium bananas)

¼

cup

maple syrup

⅓

cup

peanut butter (85g)

1

tbsp

apple cider vinegar

1

tbsp

soy milk

1

tsp

vanilla extract

1 ½

cups

whole wheat flour (170g)

½

cup

cacao powder (40g)

1

tsp

baking soda

½

tsp

baking powder

½

cup

dairy-free chocolate chips

optional
Instructions
Preheat oven to 350°F. Grease or line a loaf pan with parchment paper and set aside.

In a large bowl, mix together mashed bananas, maple syrup, peanut butter, vinegar, milk, and vanilla extract.

In a separate bowl, whisk flour, cacao powder, baking soda, and baking powder. Add chocolate chips if using.

Add flour mixture into the banana mixture, and use a rubber spatula to gently fold together. Mix until ingredients are just incorporated and no flour streaks remain. Be sure to scrape down the sides and the bottom of the bowl for dry flour. Add an extra tablespoon or two of milk if the batter seems very dry.

Pour batter into the prepared loaf pan. Bake for 60 minutes for a 9-inch pan or 75-90 minutes for an 8-inch pan, or until a toothpick inserted in the center of the loaf comes out clean. Let the bread cool for about 5 minutes in the pan, then transfer to a cooling rack. Cool completely before serving.
Disclosure: This page may contain affiliate links. As an Amazon Associate I earn from qualifying purchases, but the price remains the same to you. Thank you for supporting Ellie Likes Cooking!
Save for later!