This page may contain affiliate links. As an Amazon associate we earn from qualifying purchases. Please read our
disclosure
for more info.
This spicy miso eggplant tofu is packed with umami flavor and heat to keep your tastebuds dancing. It's healthy, filling, and so easy to make!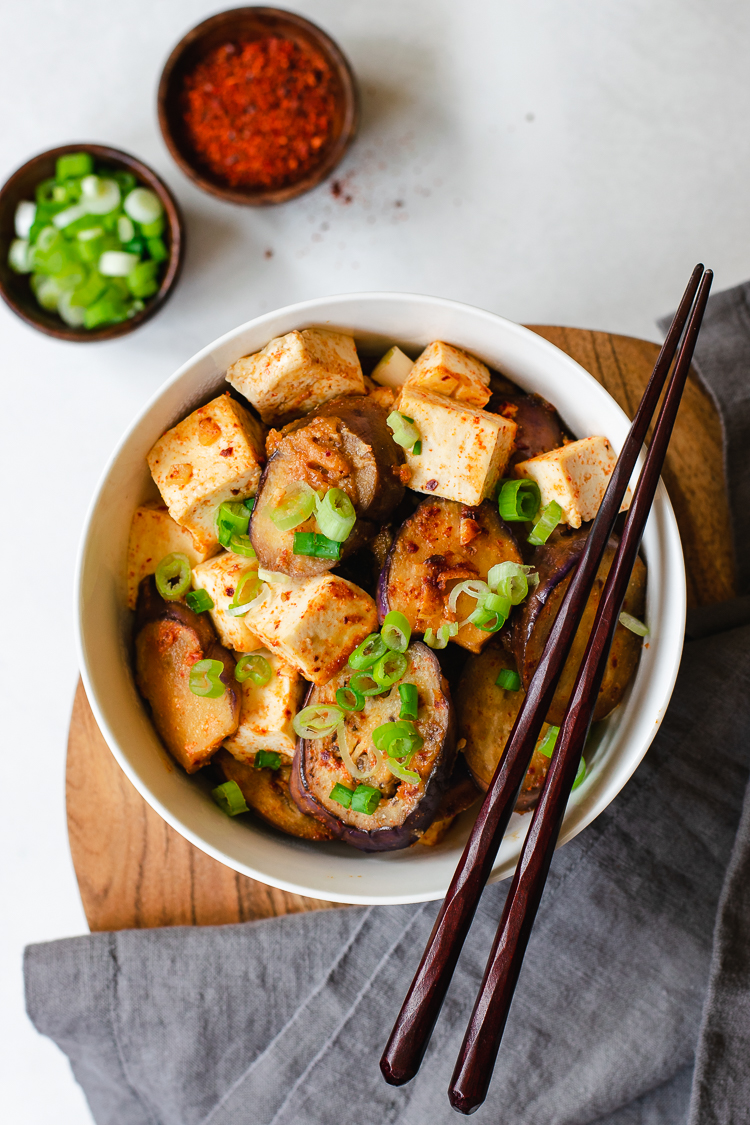 I love eggplant but can probably count on one hand the number of times I've actually cooked it. Partly because it's expensive and hard to find the Japanese kinds where I am, and partly because my boyfriend claims to not like eggplant. But that's probably because he's never had it Asian-style. Eggplant is very absorbent, so you just need a good sauce and a good cooking method. Grilling, stir-frying, broiling, or even just in miso soup are my favorite ways to enjoy eggplant. In this recipe we're going with the quick and easy stir-fry method, with a spicy, savory, and slightly sweet miso sauce.
Ingredients
To make this recipe you need 8 basic ingredients:
Japanese eggplant, you can use other kinds of eggplant but I prefer the long and thin Japanese kind
tofu, firm/medium firm is preferable since it will keep its shape
garlic, because garlic in everything, unless you can't eat garlic then omit
Korean red pepper flakes, also known as gochugaru. If you can't find Korean red pepper, you can try subbing with a different type of chili pepper, such as cayenne, but don't add as much. Start with a small pinch, maybe 1/8 tsp, and add more to taste. Korean red pepper flakes aren't super spicy so I used a full teaspoon in this recipe, but cayenne and normal red chili pepper is very spicy so be careful.
sake, Japanese rice wine, for extra umami and enhanced flavor
mirin, sweet Japanese rice wine, to balance out the salt and add more depth of flavor
maple syrup, to add just a hint of sweetness to the dish
you'll also need oil for cooking, and green onions to garnish if preferred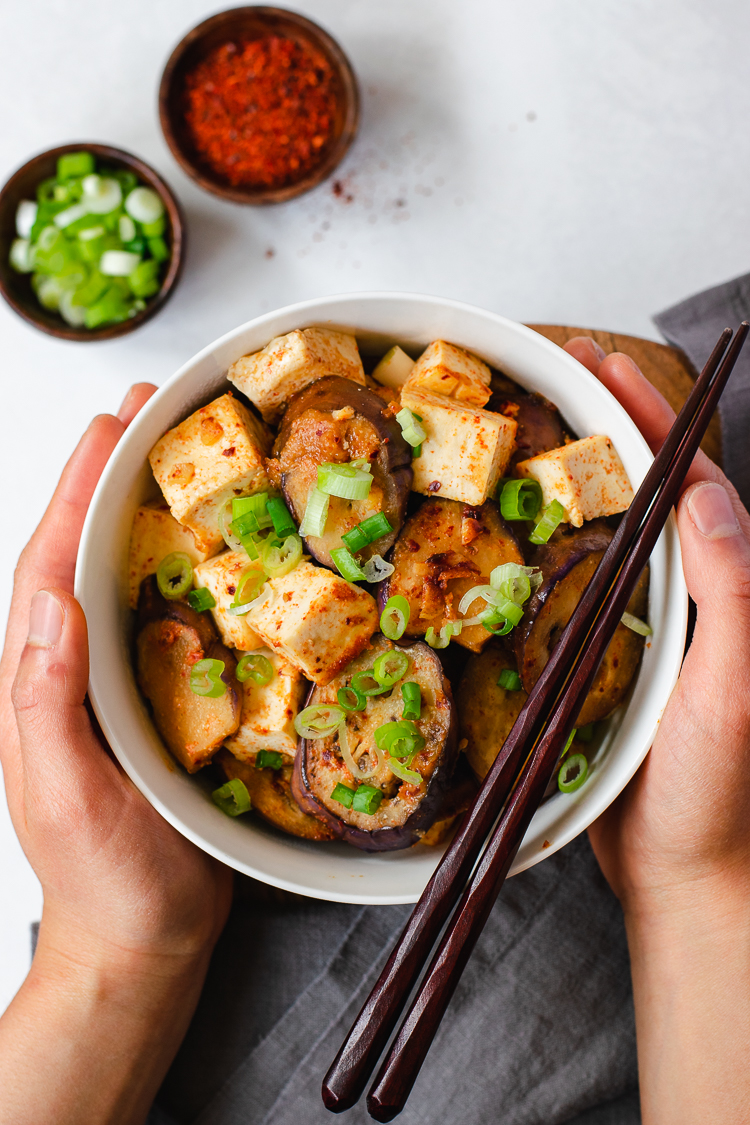 This recipe is so easy and comes together in just 20 minutes! Filled with plant-based protein, fiber, and micronutrients to keep your body happy and full. Pair it with your grain of choice (rice!!) and you'll have a healthy and filling meal in no time. Feel free to switch it up and add in different veggies too — I think carrots, zucchini, and mushrooms would be good.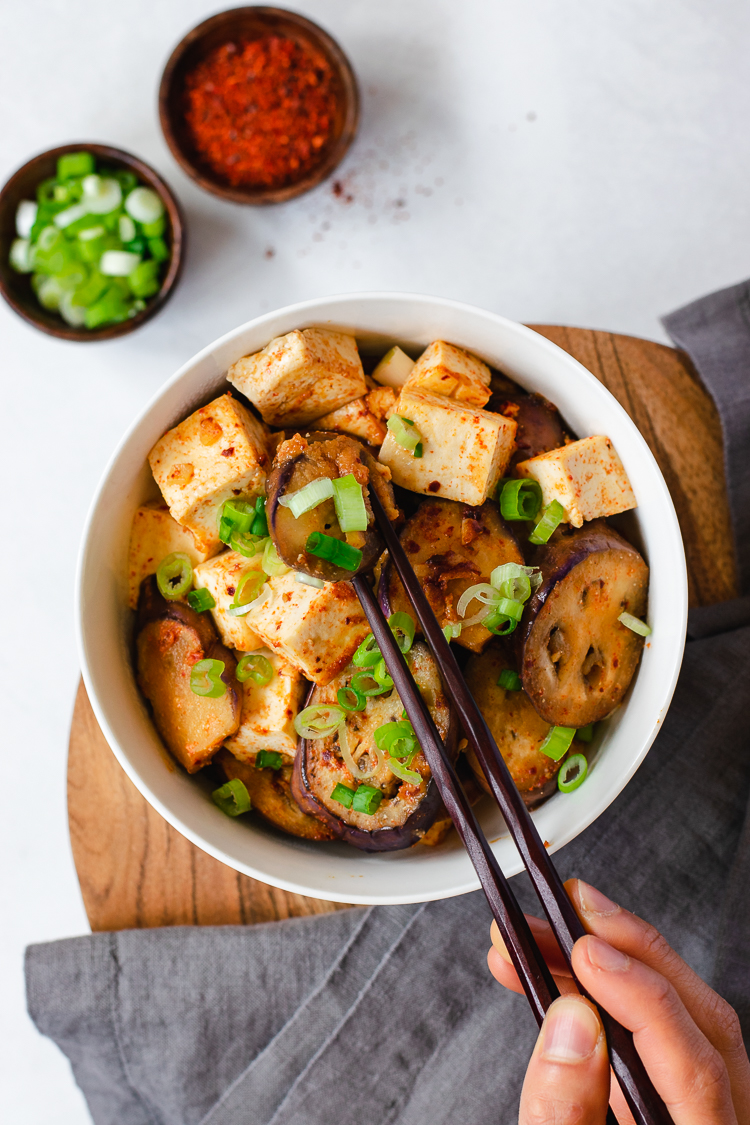 Still hungry?
Check out these other Asian-inspired dishes!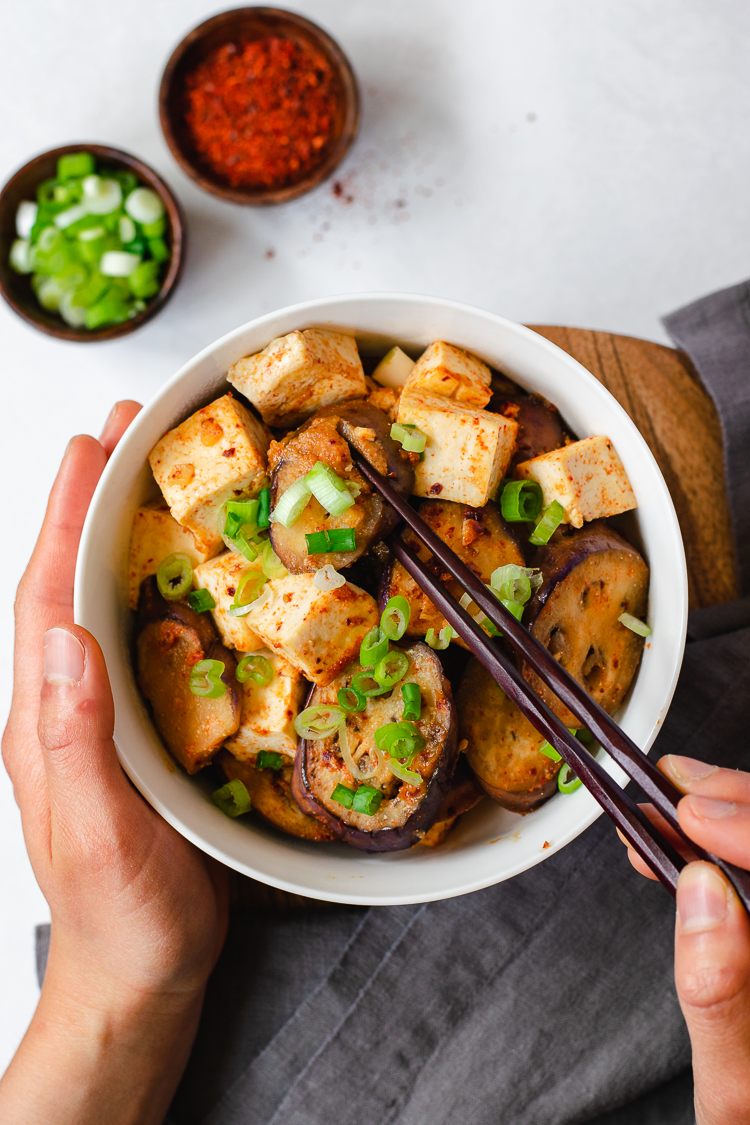 So, have I convinced you to try it yet?? I hope so! It's just so simple but so delicious and satisfies my Asian food cravings right away. If you do try it out, please tag me in your recreations on instagram @ellielikes.cooking and/or leave a comment down below letting me know what you think. I love getting feedback from you! Happy cooking 🙂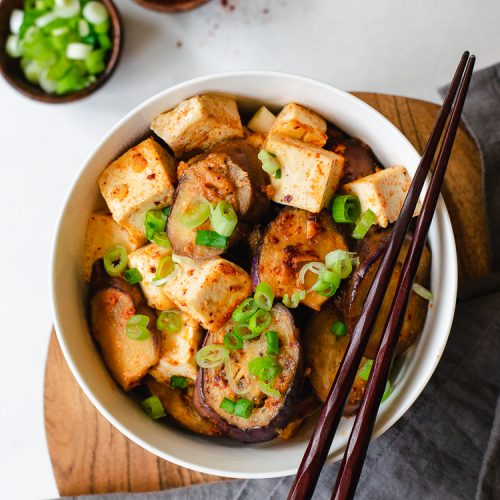 Spicy Miso Eggplant Tofu
This spicy miso eggplant tofu is packed with umami flavor and heat to keep your tastebuds dancing. It's healthy, filling, and so easy to make!
Ingredients
1

Japanese eggplant

sliced

1/2

block of

firm tofu

cubed

2

garlic cloves

minced

1

tbsp

olive oil

1

tsp

Korean red pepper flakes (gochugaru)

1

tbsp

red miso

1

tbsp

sake

1

tbsp

mirin

1/2

tbsp

maple syrup

1

green onion

sliced
Instructions
Mix together red pepper flakes, miso, sake, mirin, and maple syrup, and set aside.


Heat olive oil in a large frying pan over medium high heat. Add minced garlic and eggplant slices and cook until eggplant starts to soften, stirring frequently.


Add tofu cubes and miso sauce and stir until sauce is evenly distributed. Take off from heat.


Garnish with green onion slices and serve hot.

Save for later!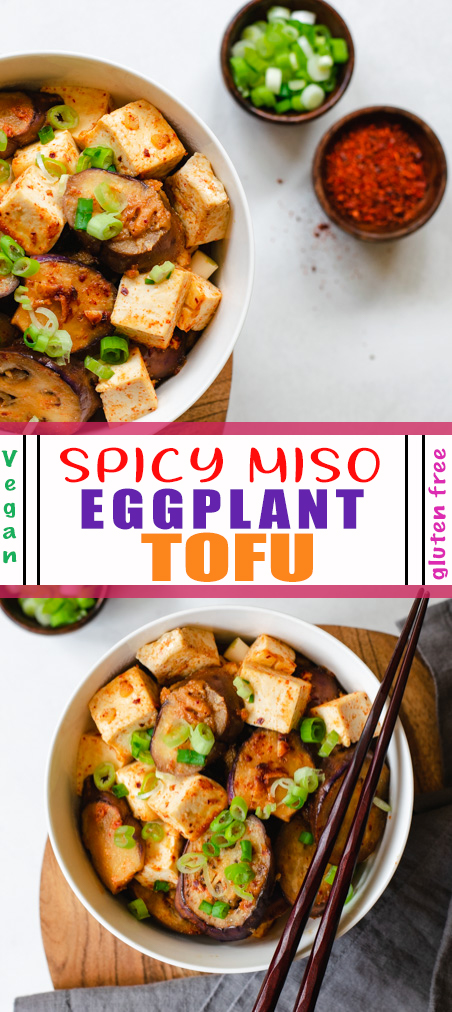 Disclaimer: This page may contain affiliate links. As an Amazon Associate I earn a small commission if you purchase something through one of my links, but the price remains the same to you. Thank you for supporting Ellie Likes Cooking!