This page may contain affiliate links. As an Amazon associate I earn from qualifying purchases. Please read our
disclosure
for more info.
This vegan apple crumb cake is the perfect breakfast treat. Made healthier with whole grains, olive oil, and just the right amount of sugar — but still SO good!
This post is sponsored by One Degree Organics.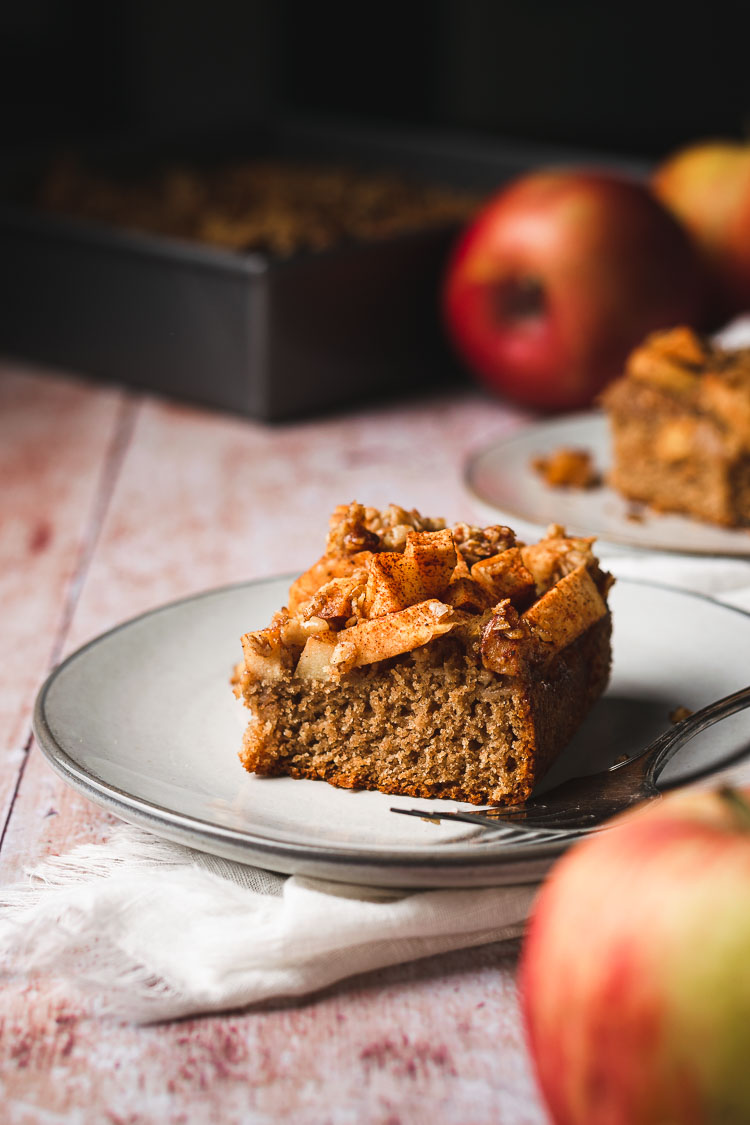 With the holidays coming to an end, you're probably wondering what the heck I'm doing post a fall-themed recipe for apple crumb cake at the end of December. Well, I'm not gonna lie, I've fallen behind a lot this year and have struggled a lot creatively. I didn't share any where near as many recipes as I had hoped to, but it's just been that kind of year. It's been hard for all of us, and sometimes taking it slow is just what we need. But this recipe is just too good not to share!! I don't care if it's winter, apples may not technically be in season in the US, but you can find apples all year round. So there's really no reason why you can't make this to kick off the new year. Plus, this apple crumb cake is vegan and made healthier with whole grain spelt flour, olive oil, and just a bit of coconut sugar!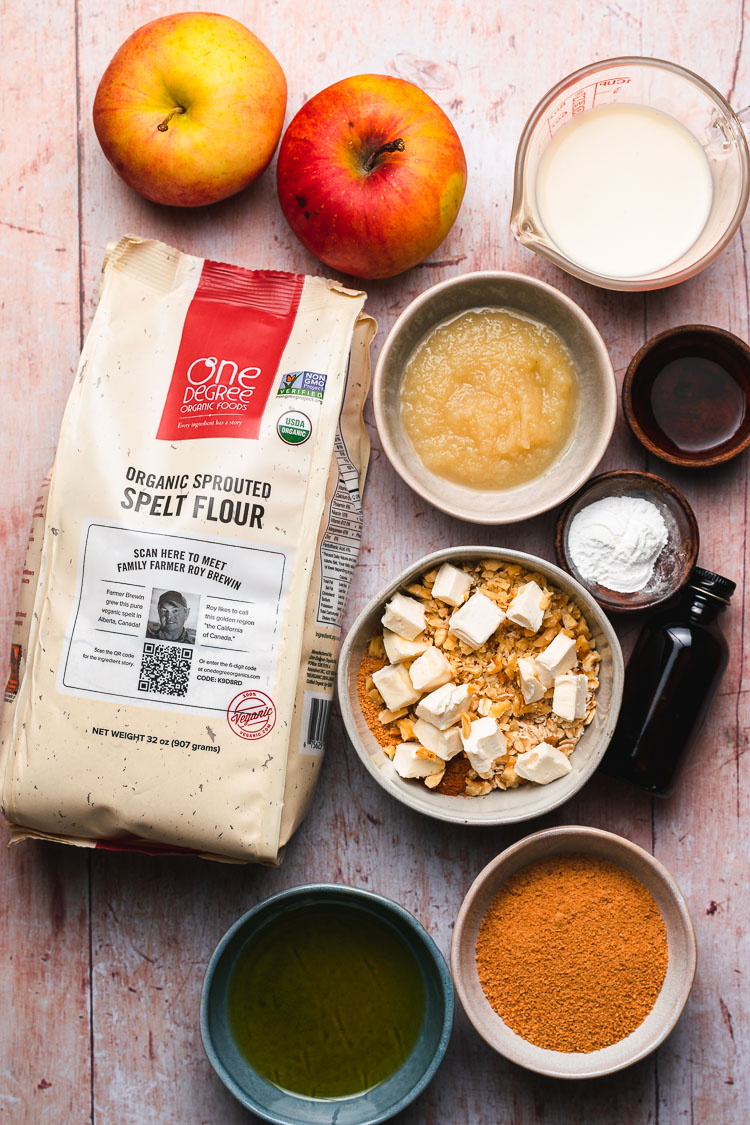 Ingredients
This apple crumb cake is comprised of three components:
The Cake
One Degree Organics Sprouted Spelt Flour ⟶ I love using spelt flour as an alternative to wheat flour, since its lighter than whole wheat flour but still high in fiber, vitamins, and minerals compared to regular all purpose flour. Plus, when the spelt is sprouted, its nutrients are more bioavailable and easier to digest!

SUB: If you can't find spelt flour (sprouted or not), you can replace with half all purpose and half whole wheat flour.

Olive Oil ⟶ Fat adds moisture and tenderness to baked goods. I do not recommend omitting the fat source.

SUB: The olive oil flavor complements the apples nicely, but you can use other neutral oils as well (such as refined coconut oil, light olive oil, canola oil, avocado oil, or vegetable oil).
If using coconut oil, melt it first and let it cool for a bit so it's not hot when you add it with the other ingredients. Also make sure the rest of the ingredients are at room temperature and not cold, otherwise the coconut oil will solidify and it will be very difficult to form an even batter.

Applesauce ⟶ Adds moisture, flavor, and bit of sweetness.
Coconut Sugar ⟶ I prefer the slight caramel flavor of coconut sugar, but granulated sugar or even brown sugar will work as well.
Soy Milk ⟶ This is my go-to plant milk since its nutrient profile is most similar to dairy milk, but I think any plant milk will work.
Apple Cider Vinegar, Baking Powder, Baking Soda ⟶ The leavening agents essential to create a fluffy cake.
Spiced Apples
Apples ⟶ I used Fuji apples since they're sweet and crisp, but use any crisp apple that will hold its shape after baking. If using Granny Smith or another tart apple, add 1-2 tbsp of sugar to the apples and spices.
Cinnamon & Nutmeg ⟶ Cinnamon and apples belong together, am I right? Nutmeg adds a nice little flavor boost as well, but you can also add in other spices like cloves, allspice, ginger, or lemon. Spice them to your (or your guests') tastes.
Crumb Topping
Vegan Butter ⟶ I used Country Crock Plant Butter. Many recipes call for melted butter, but I like to use cold butter straight from the fridge. Vegan butter is usually not as solid as dairy butter (at least the ones I've used), so it's soft enough to work with straight from the fridge. However, if your butter is very hard, let it soften at room temperature for 5-10 minutes before using.

SUB: Softened coconut oil is the best substitute. Add a pinch of salt to the crumb topping as well.
Most vegan butters are salted, but if yours is unsalted then add a pinch of salt to the crumb topping.

Rolled Oats ⟶ I love the bite and nuttiness that oats add to the topping.

SUB: Quick oats would also be good.

Walnuts ⟶ Add nutty flavor and crunchy texture, perfect paired with apples!

SUB: Other nuts such as almonds and pecans would taste great too!

Coconut or Brown Sugar & Cinnamon ⟶ For deeper flavor.
Apple Crumb Cake FAQ's & Tips
Can I make it gluten-free?
I have not personally tested this cake with gluten-free flour yet, but if you want to try I would start with a gluten-free all purpose flour blend (I have success with Bob's Red Mill*) and substitute up to half with oat flour if you want to add some whole grains.

Can I bake it into muffins instead?
Yes! Follow the same process: add the batter to the greased/lined muffins cups, top with apples, and sprinkle with crumb topping. Bake at 375°F for 18-20 minutes or until a toothpick inserted in the center of a muffin comes out with little to no crumbs (if the toothpick comes out wet, make sure it's wet with batter and not apples or the crumb topping).

How do I store apple crumb cake?
You can leave it, covered, at room temperature for 1-2 days. If you're eating it throughout the week, cover and refrigerate it. For longer storage, cut into slices and freeze.

How do I reheat apple crumb cake?
The quickest and easiest method is to just pop a slice in the microwave for 30-40 seconds or until heated through to your liking. You can also bake it in a 350°F oven until heated through and crisp on top, about 10-15 minutes.

If possible, use the gram measurements!
I highly highly recommend using a kitchen scale to measure out your ingredients when gram measurements are given. Scooping ingredients into measuring cups isn't always accurate, so for best results please weigh your ingredients!
More Healthy Breakfast Treats!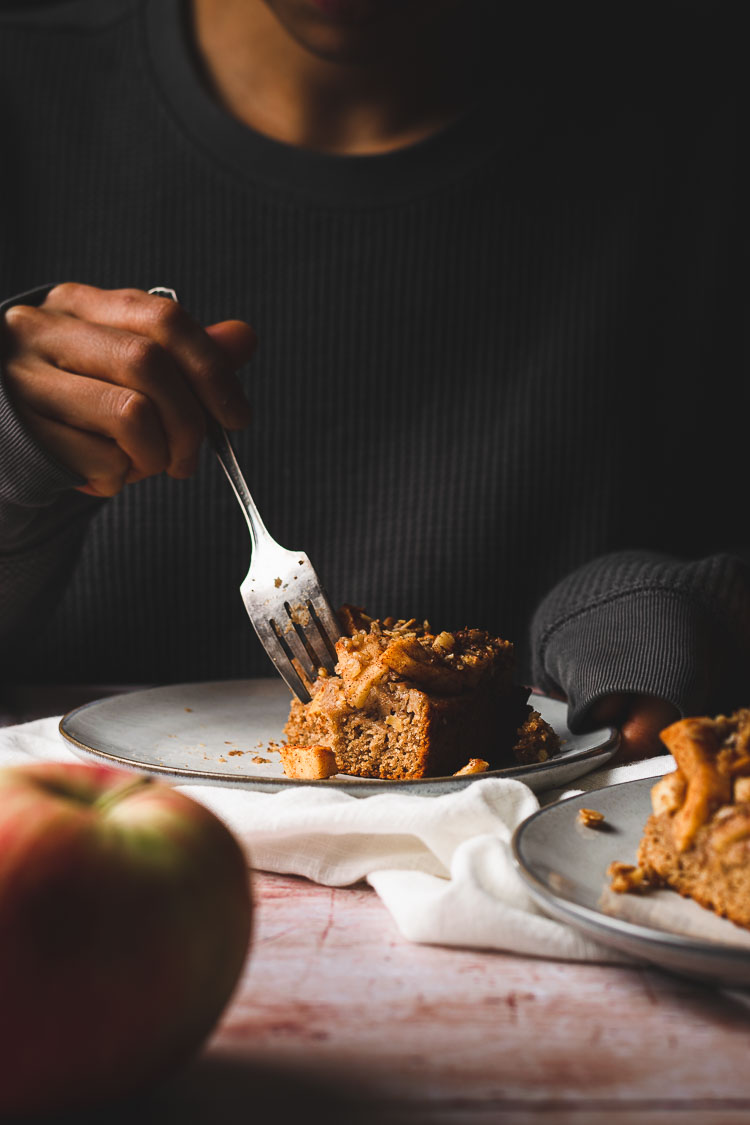 I hope I've inspired you to make this healthy apple crumb cake! If you try it out, don't forget to tag me in your photos on instagram @ellielikes.cooking, leave a comment/rating down below, and let me know how you liked it! I love seeing all of your tasty recreations 🙂 Happy baking! ♡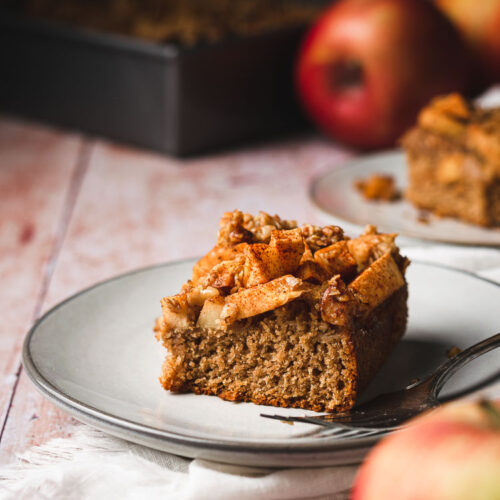 Apple Crumb Cake (Vegan, Whole Grain)
This vegan apple crumb cake is made with whole grains, apples, oats, and walnuts for a satisfying and delicious treat. Perfect with a cup of coffee at breakfast or snack time!
Ingredients
Cake
½

cup (120ml)

soy milk

2

tsp

apple cider vinegar

¼

cup (60g)

applesauce

¼

cup (52g)

neutral oil

(vegetable oil, canola oil, light olive oil, melted refined coconut oil, avocado oil)

1

tsp

vanilla extract

1 ½

cup + 2 tbsp (195g)

One Degree Organics Sprouted Spelt Flour*

⅓

cup (45g)

coconut sugar*

1 ½

tsp

baking powder

¼

tsp

baking soda

pinch of salt
Spiced Apples
2

medium apples**

chopped

1

tsp

ground cinnamon

¼

tsp

ground nutmeg
Crumb Topping**
2

tbsp (26g)

vegan butter**

3

tbsp (36g)

brown sugar or coconut sugar

¼

cup (20g)

rolled oats*

¼

cup (28g)

chopped walnuts*

¼

tsp

ground cinnamon
Instructions
Preheat oven to 375°F. Grease or line a 9×9" square baking pan and set aside.

Prepare crumb topping: Add vegan butter, brown sugar, rolled oats, walnuts, and cinnamon (and salt if butter is unsalted) to a bowl. Use your hands to mix all the ingredients together until a thick mixture forms. Place in the fridge while you prepare the rest of the cake.

Prepare apples: Combine chopped apples, cinnamon, and nutmeg in a bowl and set aside.

Make cake: In a large bowl, mix together soy milk, vinegar, applesauce, olive oil, and vanilla extract.

In a separate bowl, whisk together flour, sugar, baking powder, baking soda, and salt.

Add dry ingredients to wet and use a spatula to fold the ingredients together until a uniform batter forms.

Add the batter to the prepared baking dish. Use a spatula to smooth out the top, then add apples. Take the crumb topping out of the fridge and use your hands to sprinkle the crumble over the apples.

Bake for 25-30 minutes or until a toothpick inserted in the center of the cake comes out clean. Place on a wire rack to cool. Let the cake cool completely before serving.
**Notes
APPLES: I used fuji apples which are already quite sweet on their own, so I didn't add extra sugar to the apple filling. If you use a more tart apple like Granny Smith, I recommend adding 1-2 tbsp of sugar to the apples. CRUMB TOPPING: Feel free to double the crumb topping if you want a thick layer of streusel on top. VEGAN BUTTER: Vegan butter is typically not as solid as normal dairy butter, so it's soft enough to work with cold from the fridge. If your vegan butter is very solid, however, let it soften at room temperature for 5-10 minutes before using. If you don't have vegan butter, softened (not melted) coconut oil will probably work as well. If you're using coconut oil or unsalted vegan butter, add a pinch of salt to the crumb topping.


*Disclosure: This page may contain affiliate links. As an Amazon Associate I earn from qualifying purchases, but the price remains the same to you. Thank you for supporting Ellie Likes Cooking!
Save for later!