These carrot banana muffins are a delicious way to sneak in some veggies and extra nutrients for breakfast. They're tender, moist, and 100% plant-based!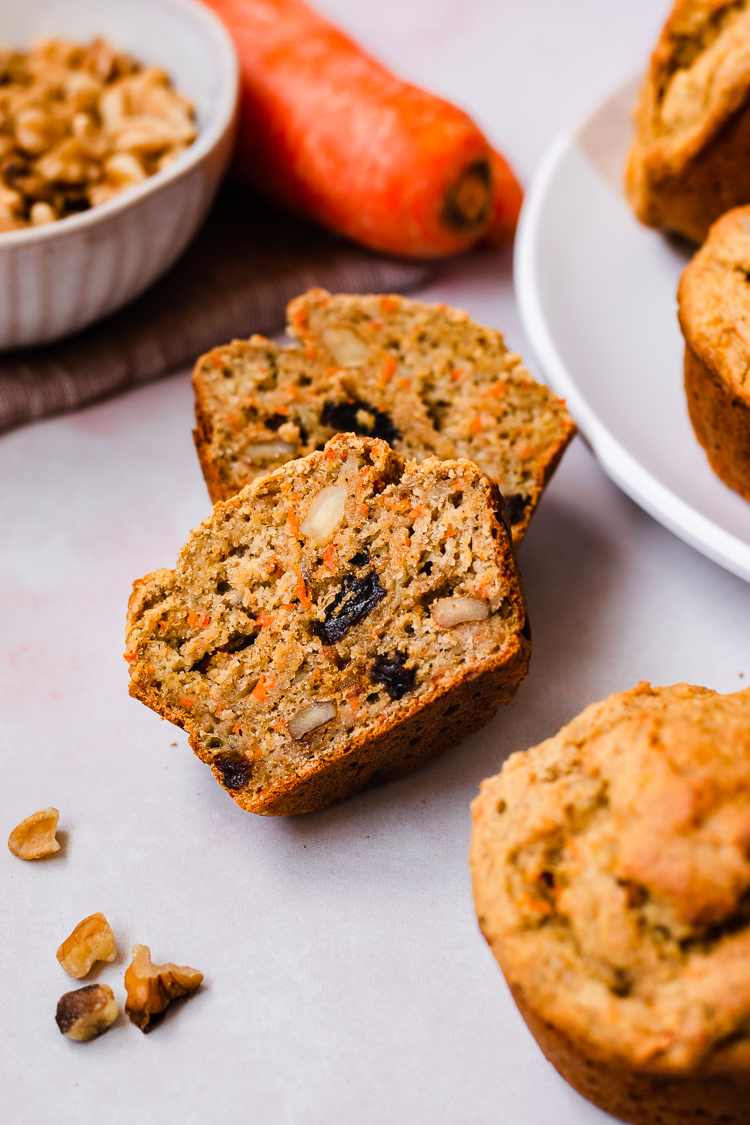 Who else loves including some veggies in their breakfast? I usually do this in savory style, whether it be a salad, miso soup, or a tofu/black bean & veggie scramble. But when I'm craving something sweet, I love sneaking veggies into my oatmeal and muffins. And as long as you don't overdo it, you can't even taste them! Carrots work especially well in these muffins since they don't add much extra moisture (as zucchini would), and they're a great long-lasting vegetable to keep in your fridge. I buy 5 pound bags and they last me a couple weeks 🙂 In fact, all these ingredients are pantry-friendly or long-lasting in the fridge!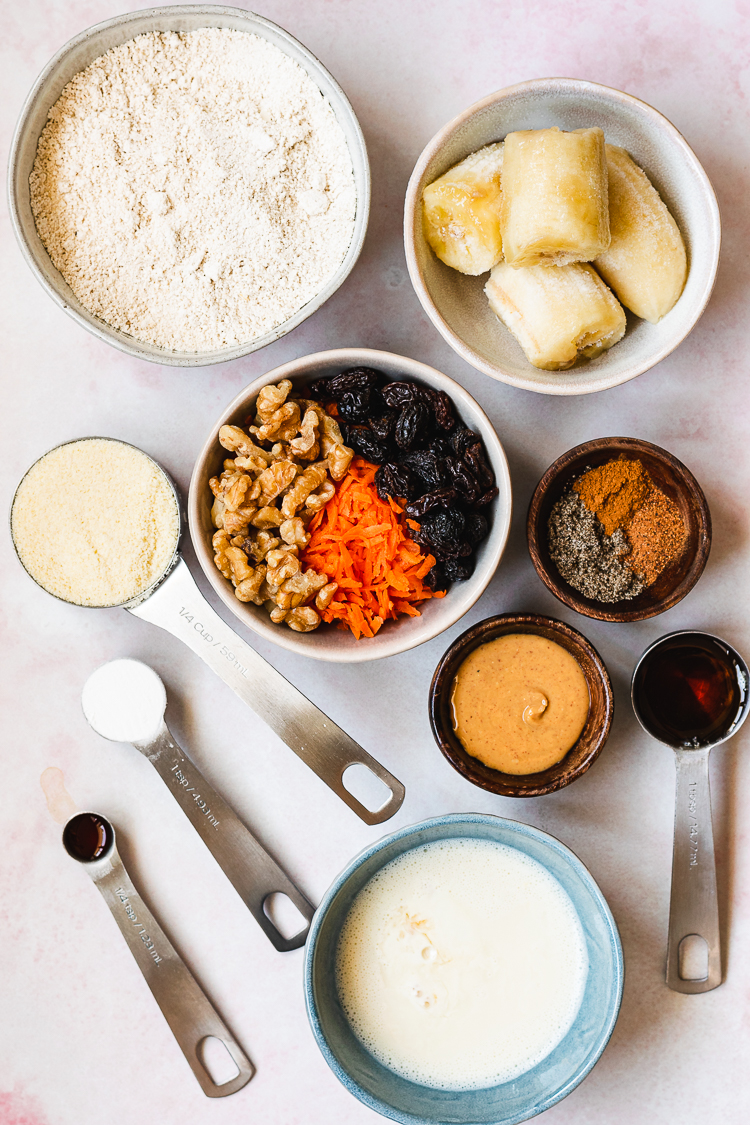 INGREDIENTS
Don't be intimidated by the amount of ingredients! You can easily swap out or omit the add-ins depending on what you have, and many of these ingredients are probably in your pantry (or fridge) already!
Oat Flour ⟶ makes the muffins hearty and filling
Almond Flour ⟶ makes the muffins moist and soft
Gluten-Free All Purpose Flour ⟶ makes the muffins tender so they don't become gummy from the oat flour

SUB: you can use regular all purpose flour if gluten isn't an issue for you, otherwise you can try using rice flour (regular, not sweet) but I haven't tested this yet

Bananas
Soy Milk

SUB: another creamy non-dairy milk such as coconut milk or cashew milk

Apple Cider Vinegar ⟶ reacts with the baking soda to make fluffy muffins

SUB: white vinegar or lemon juice

Cinnamon & Nutmeg ⟶ Feel free to omit one or the other depending on what you have. They are not essential but complement the flavors well.
Vanilla Extract, Baking Powder, & Baking Soda
Carrots, Walnuts, & Raisins ⟶I love this combo but feel free to swap/add in other nuts, seeds, or dried fruit.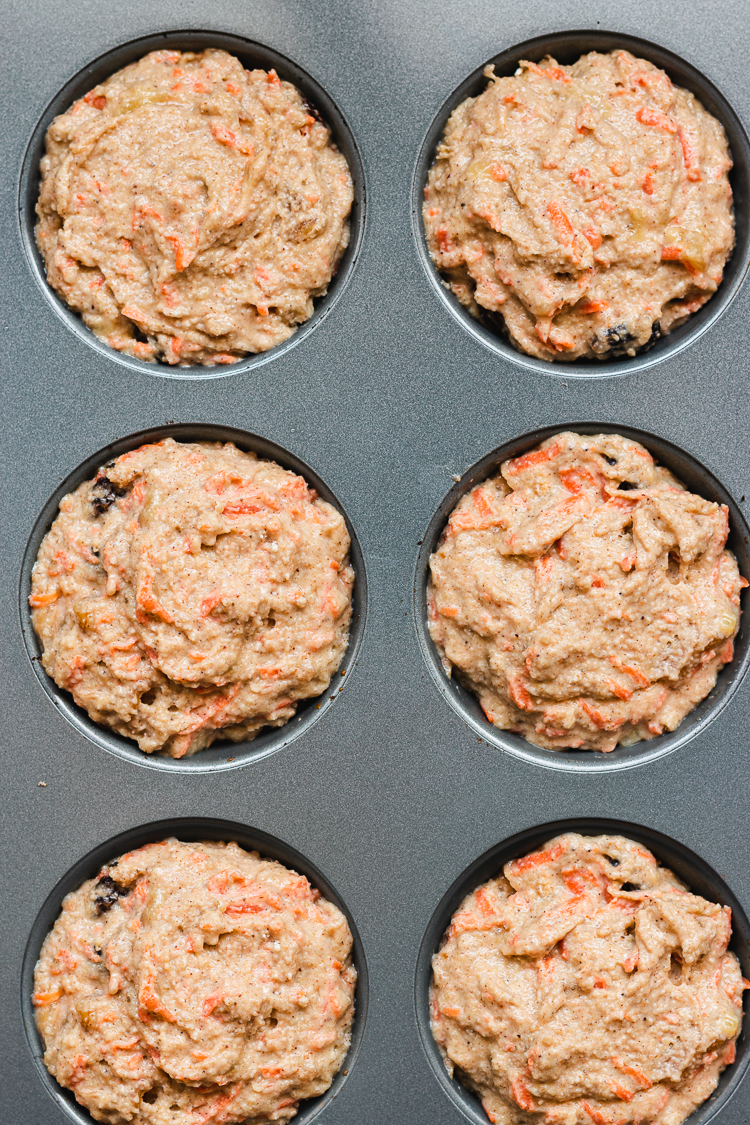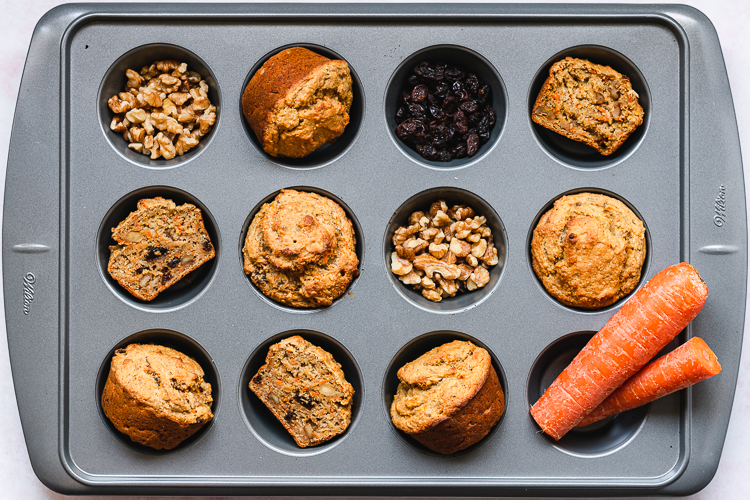 HOW TO STORE
Short Term Storage (2-4 days)
Muffins tend to become soggy over time, as their moisture migrates to the surface and evaporates, only to be trapped by the container and fall right back on the muffins. To prevent this from happening, line the bottom of your container or ziplock bag with a paper towel. Arrange the muffins on top but do not stack them. (You may need to use multiple containers.) Place another paper towel on top of the muffins, then cover the container. Store them at room temperature.
Long Term Storage (up to 3 months)
To store muffins longer than four days, place them in a freezer bag or wrap tightly in foil and store in the freezer up to 3 months. To reheat them, place a slightly damp paper towel on top and microwave for 30-45 seconds. Or, let them thaw at room temperature the day/night before eating.
Whichever storage method you use, make sure the muffins are completely cooled first.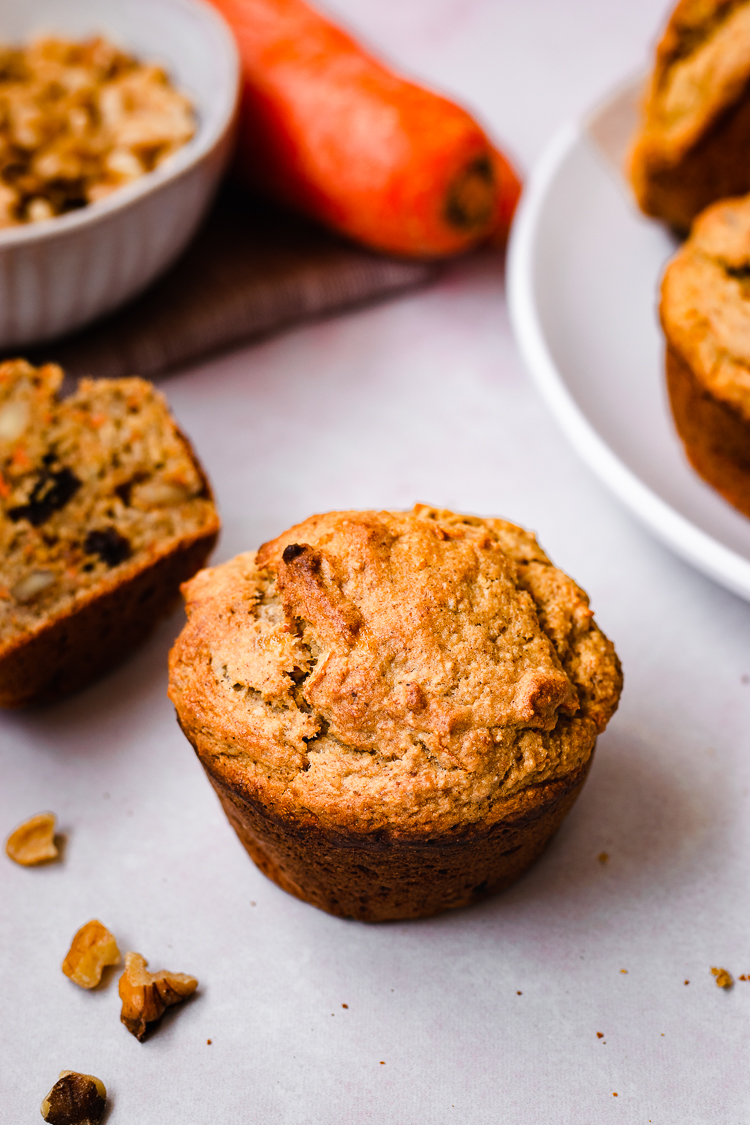 BAKING TIPS
use a kitchen scale ⟶ this is the most accurate way to measure your ingredients and is how I measure all dry ingredients
using silicone baking cups? ⟶ you may have to adjust baking time and/or the number of muffins made. For the photos I just greased a muffin pan, but I do love baking with my silicone baking cups since it's easy to remove the muffins after baking. However, they can vary in size and I've found mine to be smaller than my muffin pan, yet they require a few extra minutes to bake.
how do you know if your muffins are done? ⟶ the toothpick test! Insert a toothpick in the center of a muffin, making sure you poke all the way through. If the toothpick comes back out clean then your muffins are done. Otherwise, place them back in the oven for another 2 minutes and check again. Make sure to test a few different muffins.
how ripe should your bananas be? ⟶ typically, banana bread recipes call for overripe, brown bananas as these are the sweetest and softest. However, I often use spotty, but not completely brown, bananas. Just make sure they're soft and easy to mash.
how to quickly ripen bananas ⟶ If you want to make banana bread in a day or two but your bananas don't look like they'll be ready in time, place them in a closed paper bag. This will trap the ethylene gas that allows bananas to ripen. If you need your bananas ready that day, place them in an oven preheated to 300°F for 15-20 minutes, until the skins turn completely black (don't worry, the inside won't be black).
HELPFUL BAKING TOOLS
STILL HUNGRY?
Check out these other healthy plant-based muffins!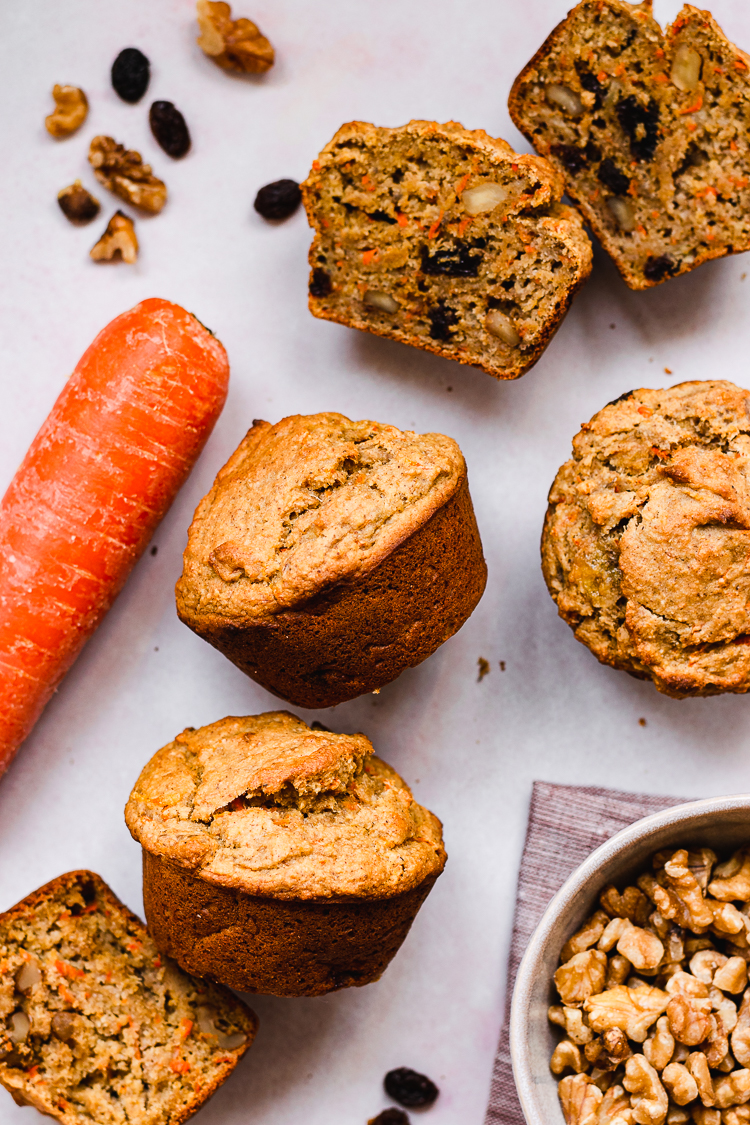 I hope I've inspired you to bake these healthy carrot banana muffins! If you do try them out, don't forget to tag me in your photos on instagram @ellielikes.cooking, leave a comment/rating down below, and let me know how you liked them! I love seeing all of your tasty recreations 🙂 Happy baking♡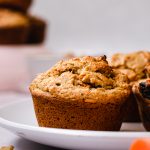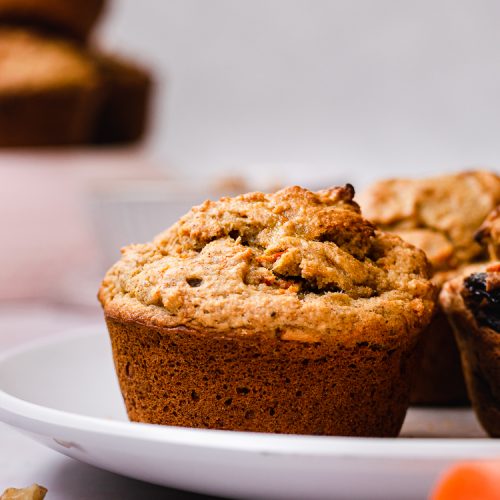 Print Recipe
Carrot Banana Oat Muffins (Vegan, Gluten-Free)
These carrot banana muffins are a delicious way to sneak in some veggies and extra nutrients for breakfast. They're tender, moist, and 100% plant-based!
Ingredients
1

cup

oat flour (120g)

¼

cup

gluten-free all purpose flour (37g)

½

cup

almond flour (56g)

¼

cup

rolled oats

1

tsp

baking powder

¾

tsp

ground cinnamon

¼

tsp

ground nutmeg

2

ripe bananas

mashed (250g)

2

tbsp

maple syrup

½

cup

soy milk

1

tbsp

apple cider vinegar

½

tsp

vanilla extract

½

tsp

baking soda

1

cup

shredded carrots

loosely packed

¼

cup

raisins

¼

cup

chopped walnuts
Instructions
Preheat oven to 425°F. Set aside a lined or greased muffin tray.

Whisk together oat flour, all purpose flour, almond flour, oats, baking powder, cinnamon, and nutmeg.

In a separate bowl, mix together mashed bananas, maple syrup, soy milk, vinegar, and vanilla extract.

Add flour mixture into wet ingredients and mix until combined. Let the batter rest for about 10 minutes.

Fold in baking soda, carrots, raisins, and walnuts and mix until evenly combined.

Scoop batter into muffin cups, filling all the way. Bake at 425°F for 7 minutes, then reduce heat to 350°F and bake another 20-22 minutes or until a toothpick inserted in the center of a muffin comes out clean.

Cool in the pan for 5 minutes, then transfer muffins to a cooling rack to cool completely.
Disclosure: This page may contain affiliate links. As an Amazon Associate I earn from qualifying purchases, but the price remains the same to you. Thank you for supporting Ellie Likes Cooking!
Save for later!