This page may contain affiliate links. As an Amazon associate I earn from qualifying purchases. Please read our
disclosure
for more info.
Learn how to make this easy vegan red lentil curry with simple, pantry-friendly ingredients. It's creamy, comforting, and ready in about 30 minutes!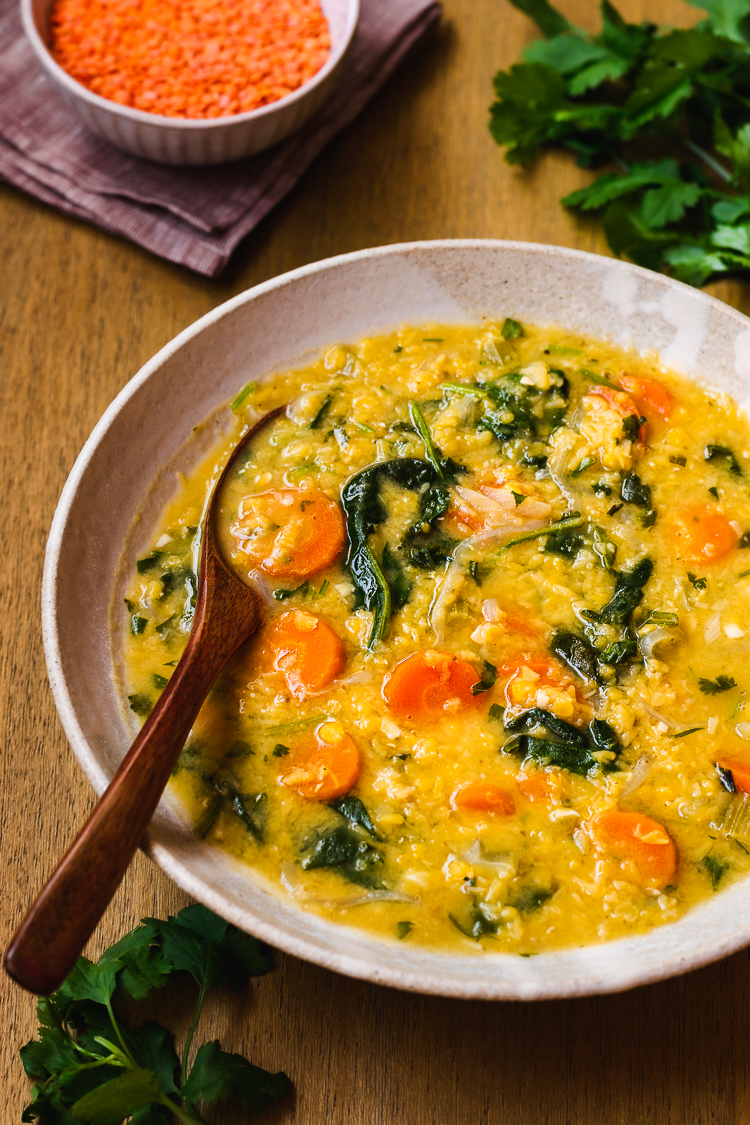 Since businesses have shut down and we've been ordered to stay at home, I've been doing even more cooking (my legs are always tired at the end of the day from standing all day in the kitchen😂). We used to eat/take out a couple times a week so I could take a break from cooking, but we've even stopped that for the time being. But to be honest, I don't really miss it since there aren't that many restaurants here that I crave food from. The Asian food scene here is pretty sad, and I can make my own Japanese food at home.
The one cuisine I've been craving: Thai food! For the last two weeks I've been waking up with serious pad thai and coconut milk curry cravings. So finally I decided it was time to just make my own at home! Enter this red lentil green curry. Creamy, hearty, and healthy! I love making my own at home now since the ones I get from restaurants often have too much oil for me, like it's just a pool of oil. I don't mind oil, but I don't want to drink it, ya know?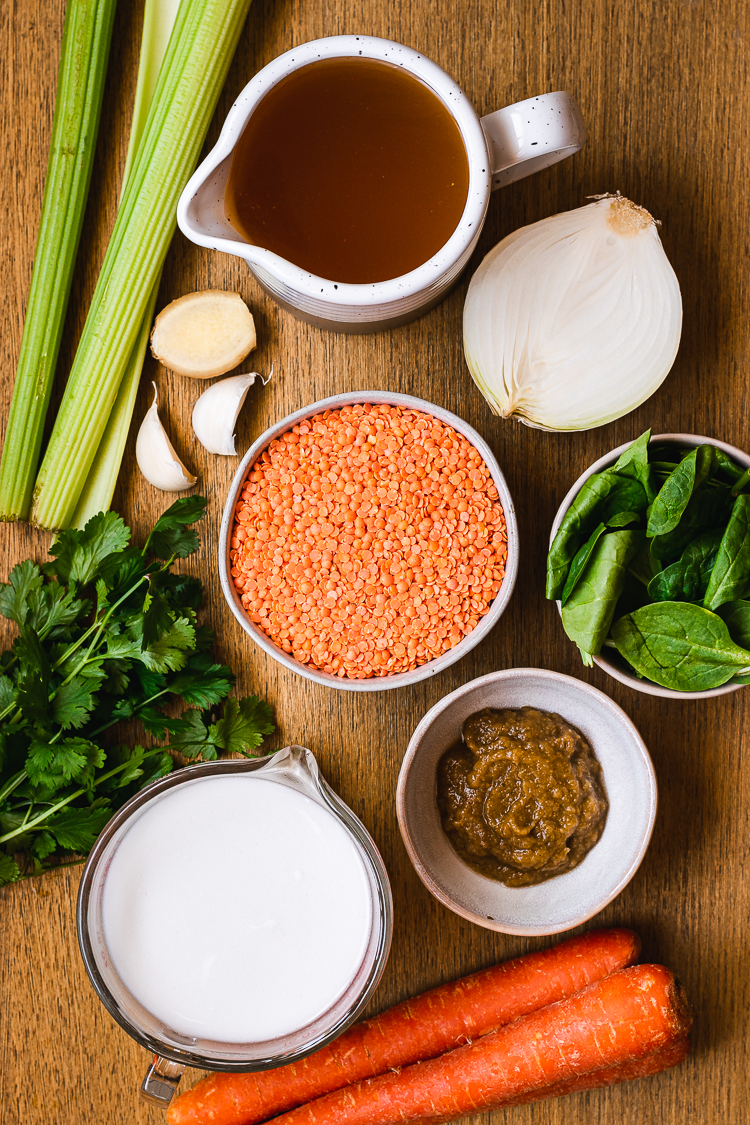 INGREDIENTS FOR RED LENTIL GREEN CURRY
This vegan coconut milk curry is made with 11 simple ingredients:
red lentils ⟶ I don't recommend using other types of lentils (brown, green, French) as the curry won't be as creamy and they take longer to cook. You can use split red lentils to cut the cooking time in half.
green curry paste ⟶ I use curry paste from World Foods since that's what I can find at the store, but Thai Kitchen also makes a good curry paste
coconut milk ⟶ makes the curry rich and creamy. If needed, you can replace some with more vegetable broth, but the result won't be as creamy.
vegetable broth ⟶ I use Better Than Bouillon and mix a small spoonful into water to make veg broth
aromatic veggies ⟶ onions, garlic, ginger, carrots, celery, cilantro. Since the curry paste already adds a lot of flavor, you can omit some of these ingredients if you want. I like to add them for extra flavor and veg.
spinach ⟶ can be omitted with no noticeable change in flavor, it just adds more veggies to your meal 🙂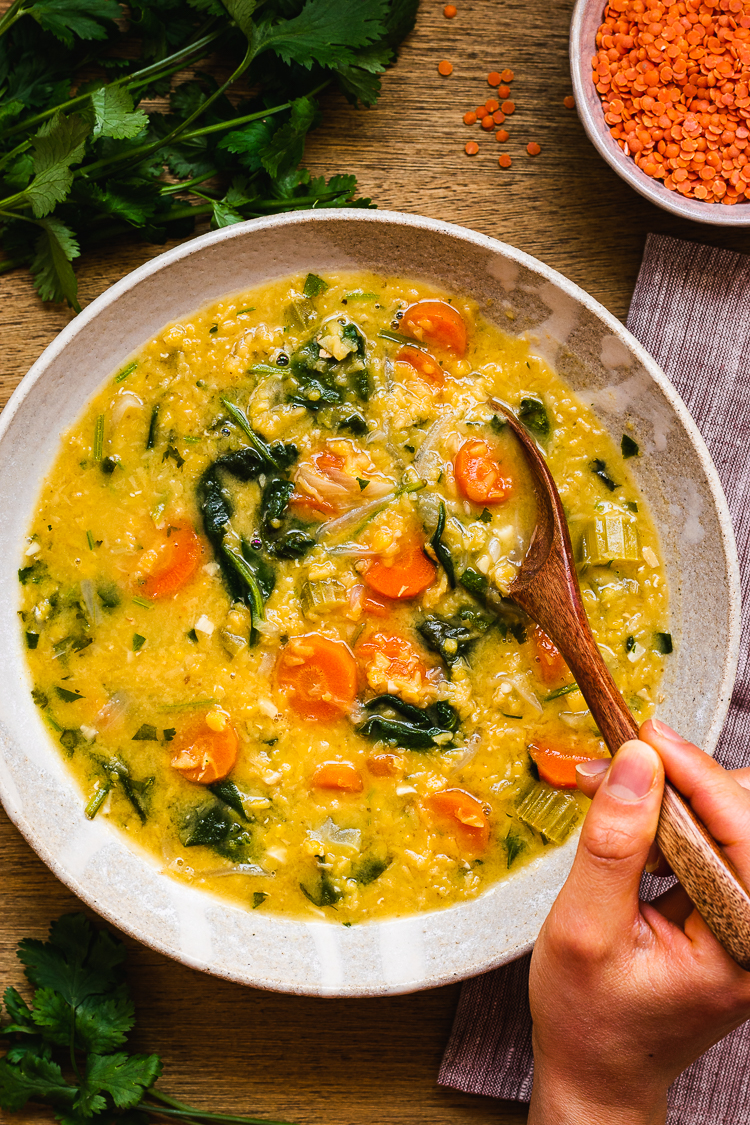 HOW TO SERVE RED LENTIL CURRY
This curry packs a good amount of plant-based protein, fiber, and fat already, but to make it a more satisfying, complete meal, I recommend adding in some extra components:
grains ⟶ I love serving this green curry over steamed rice. Because this curry has more of a soup-y consistency, it would also be really good with rice noodles! You can also eat it with bread or pita if you're not into rice.
veggies ⟶ This curry does contain about a full serving of veggies (per serving of curry), but if you don't typically get many vegetables in at breakfast or lunch, I recommend serving this with a veggie side dish. It could be something as simple as steamed broccoli or a salad. Or you can check out some of these side dishes.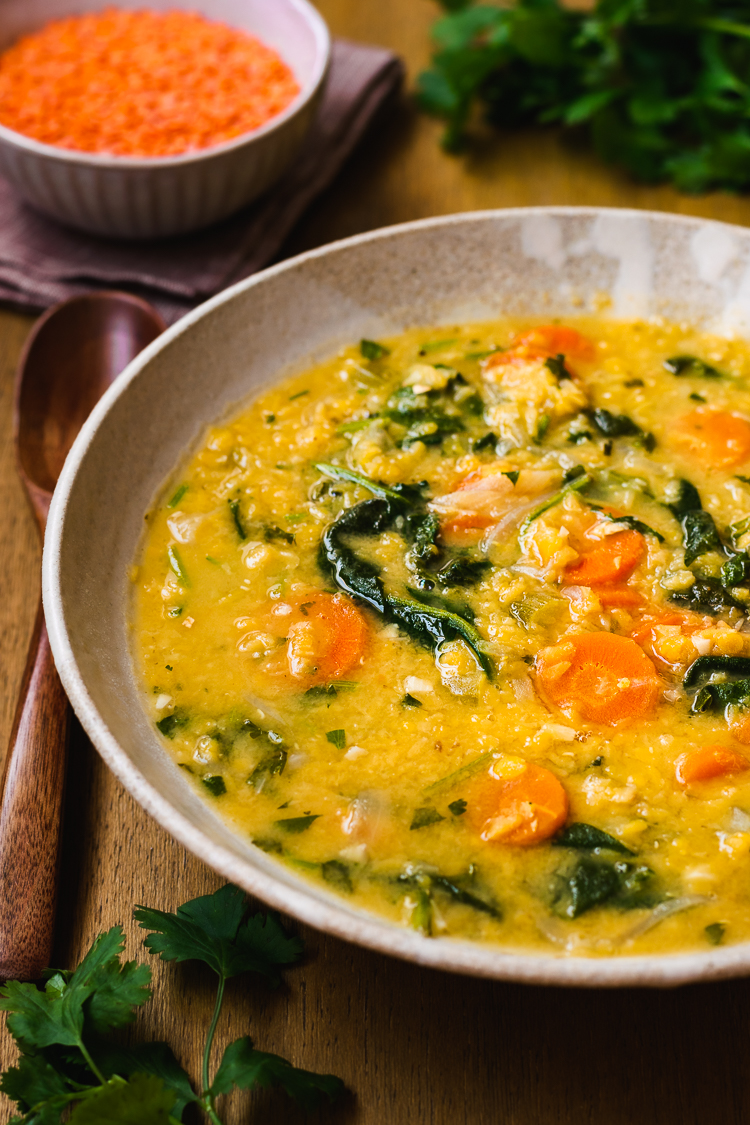 HELPFUL KITCHEN TOOLS
large cooking pot ⟶ I use a Staub for all my soups & stews
STILL HUNGRY?
Check out these other tasty curries!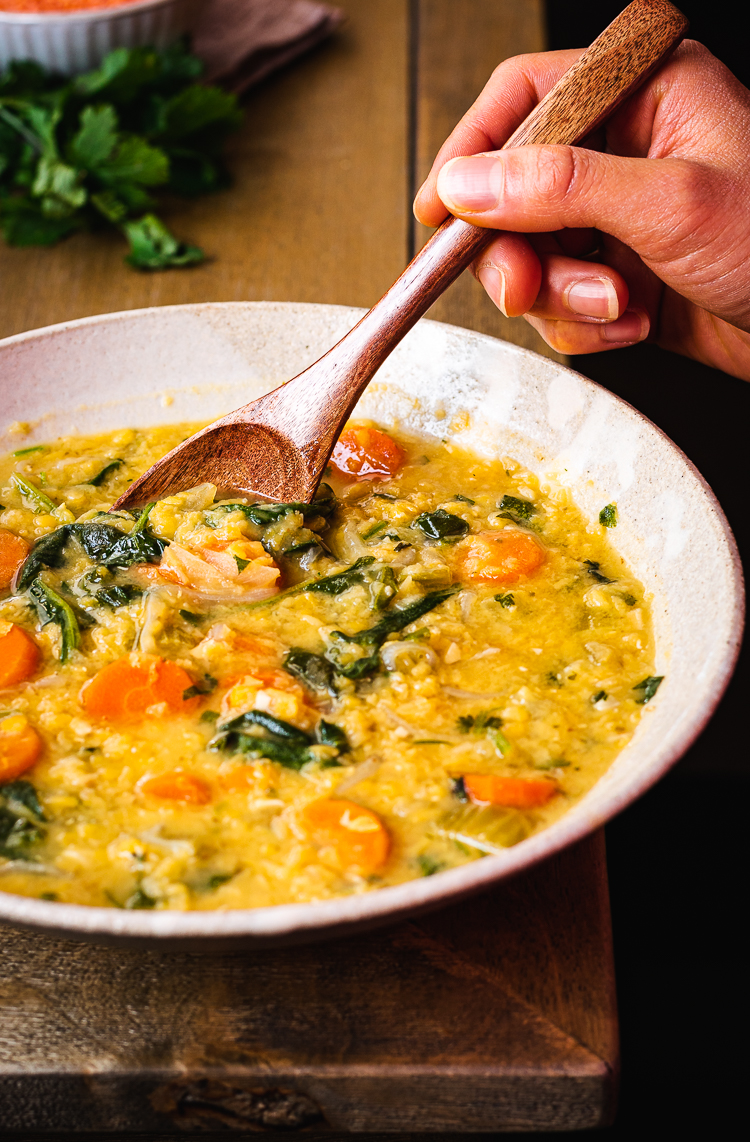 I hope I've inspired you to make this red lentil green curry! If you do try it out, don't forget to tag me in your photos on instagram @ellielikes.cooking, leave a comment/rating down below, and let me know how you liked it! I love seeing all of your tasty recreations 🙂 Happy cooking ♡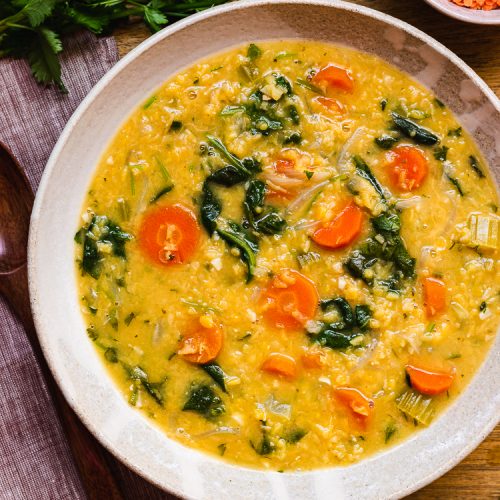 Red Lentil Green Curry (Vegan, Gluten-Free)
Learn how to make this easy vegan red lentil curry with simple, pantry-friendly ingredients. It's creamy, comforting, and ready in about 30 minutes!
Ingredients
½

onion

thinly sliced

1

tbsp

ginger

minced

2

garlic cloves

minced

3

carrots

sliced

3

ribs of celery

sliced

3

tbsp

green curry paste*

2

cups

low sodium vegetable broth

2

cups

coconut milk

1 ½

cups

red lentils

rinsed

4

cups

baby spinach

½

cup

cilantro

chopped
Instructions
Add about 2 tbsp of coconut milk to a large pot over medium heat. When the coconut milk starts bubbling, add in onion, ginger, and garlic and cook 5 minutes, stirring frequently. Add carrots and celery and cook another 2 minutes.

Add curry paste and stir into veggies. Add vegetable broth and coconut milk and bring to a low boil. Add lentils, stir, and reduce heat to simmer. Simmer 15-20 minutes, until lentils are soft.

Add spinach and stir into curry. Cover and let the spinach wilt for a minute. Turn off heat and stir in cilantro. Taste and add salt or soy sauce to taste.

Serve warm over rice, noodles, or with bread!
**Notes
*Some curry pastes contain fish, so make sure to check the ingredients before purchasing. 
Disclosure: This page may contain affiliate links. As an Amazon Associate I earn from qualifying purchases, but the price remains the same to you. Thank you for supporting Ellie Likes Cooking!
Save for later!