Soft, chewy, and perfectly spiced, these vegan pumpkin snickerdoodles are the perfect easy holiday treat. Made with 8 plant-based and gluten-free ingredients!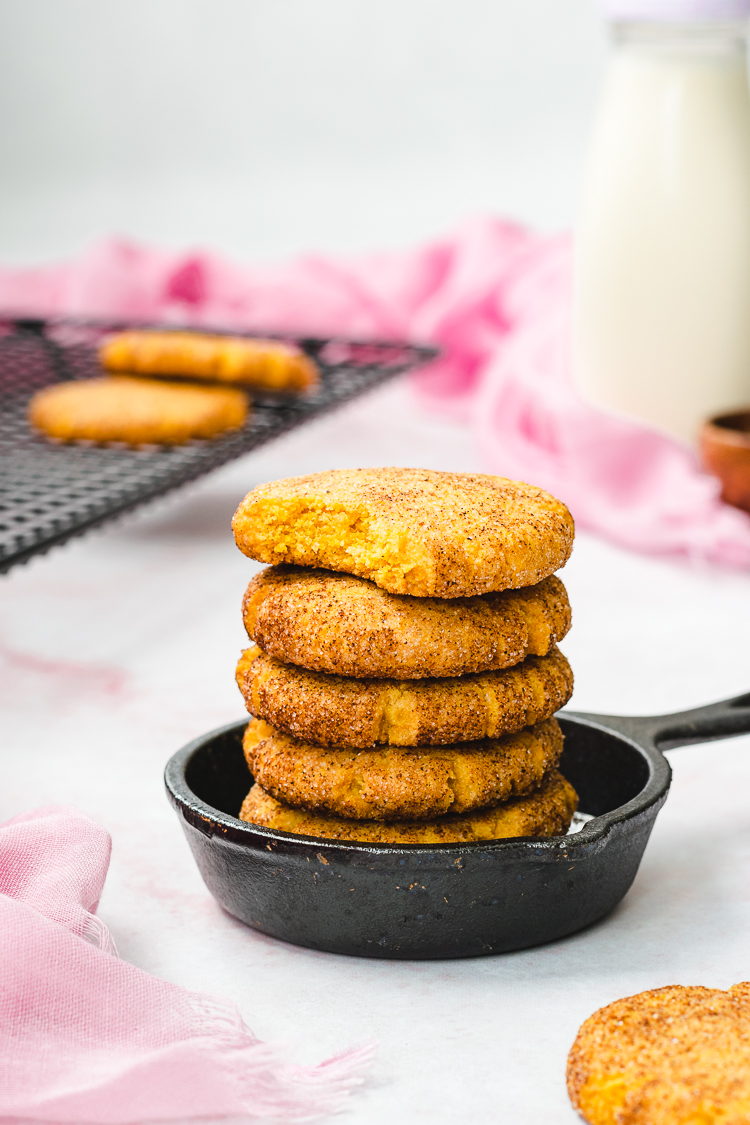 A couple months ago, I posted this vegan snickerdoodles recipe. It's still a big favorite around here — crispy on the outside yet soft and chewy on the inside, indulgent but not overly sweet, and so easy to make! As soon as October hit I went into full pumpkin-everything-mode and started brainstorming all the different pumpkin goodies I could make. And first on the list was this pumpkin version of my favorite vegan snickerdoodles — this time made gluten-free and rolled in a pumpkin pie spice/cinnamon/sugar coating. I will definitely be making these multiple times this holiday season. Bring on all the pumpkin!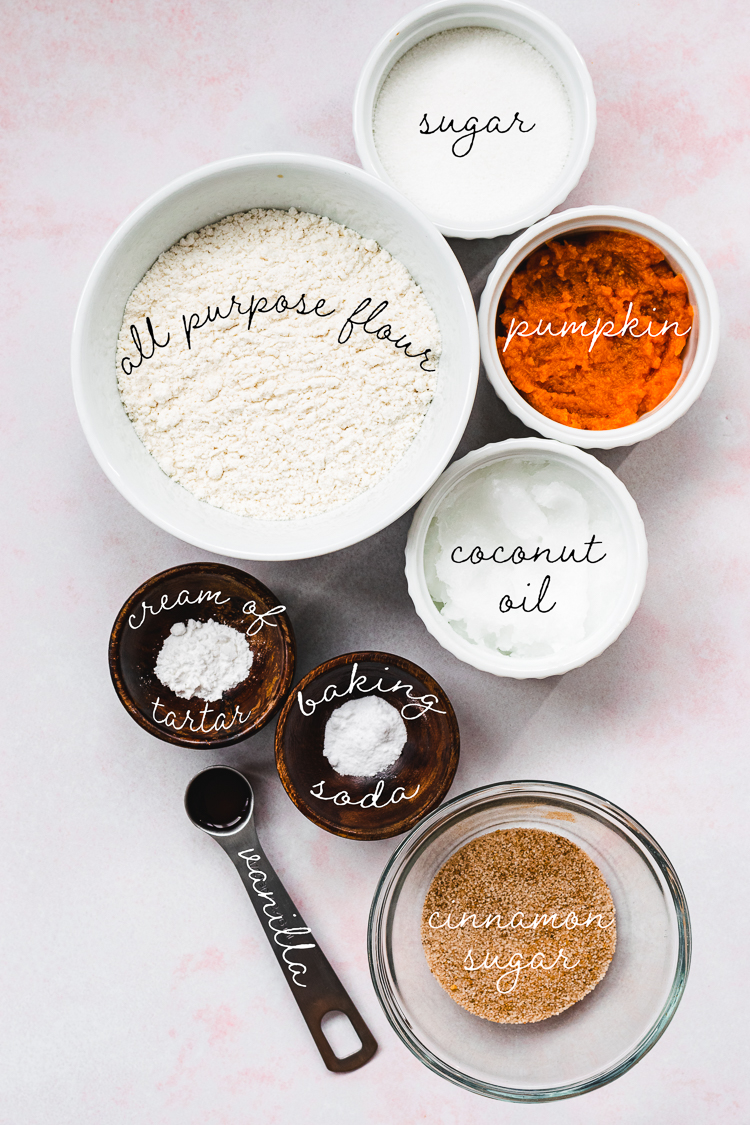 INGREDIENTS
These vegan pumpkin snickerdoodles require just 8 basic ingredients:
You may also need a splash of plant milk if your dough is too dry.
METHOD
These vegan pumpkin snickerdoodles are so easy to make and can be thrown together in just 10 minutes! All you have to do is:
Cream together the coconut oil and sugar.

Add pumpkin puree and vanilla and mix gently till combined.

Add in the dry ingredients (except cinnamon sugar mixture) and mix well (you can mix the dry ingredients in a separate bowl first to ensure even blending, but I usually just add them directly into the wet mixture so I don't have an extra bowl to wash). Add 1/2 – 1 tsp of plant milk if the dough looks too dry.

Roll dough into balls, coat in cinnamon sugar, and place on a lined baking sheet (I like to use this silicone mat). Slightly flatten into discs (smooth out any cracks if you want perfectly round cookies), then bake at 375°F for 10 minutes.

Let them cool for 5 minutes on the baking tray, then transfer to a cooling rack to finish cooling.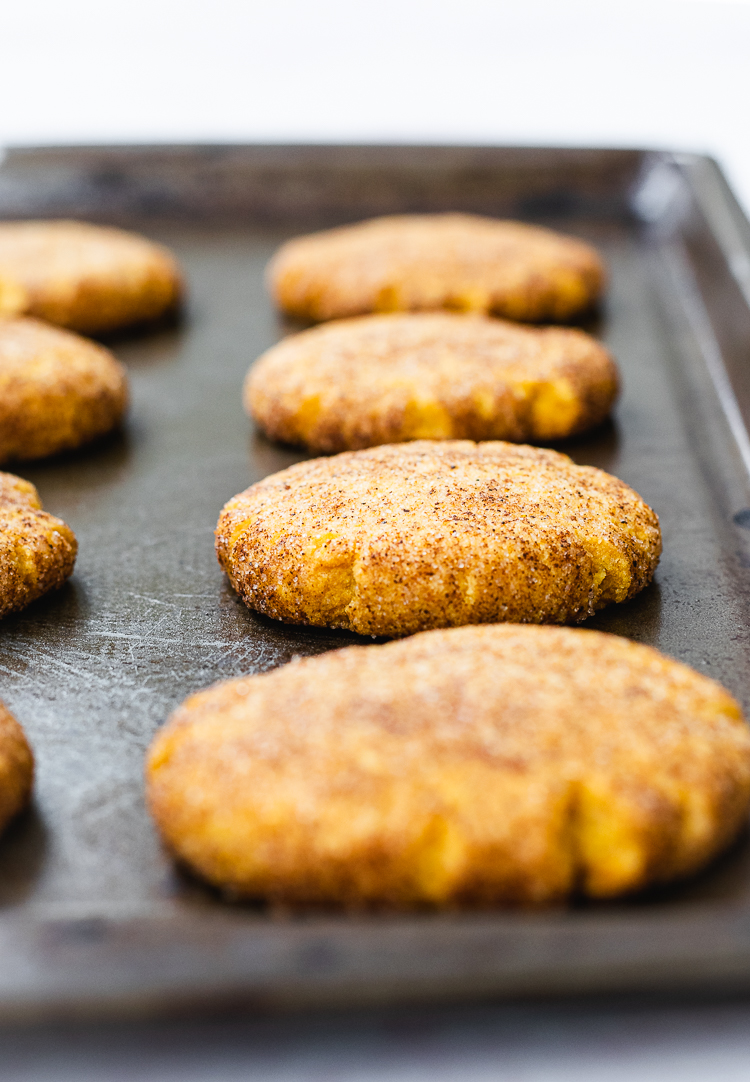 TIPS & TRICKS
If possible, opt for cookie sheets that are light in color as these absorb less heat. Dark cookie sheets get hot very quickly and may burn the bottom of the cookies. If using a dark cookie sheet, reduce temp to 350°F.
For best results, line your baking sheet with parchment paper or a silicone baking mat.
Because I cut back on the sugar and fat in this recipe, they don't spread the same way most oil/butter-based cookies do. So make sure to slightly flatten the cookies before baking.
The cookies should still feel soft on top (but should be more firm around the edges) when you take them out of the oven, but they will firm up as they cool. Let them cool completely before eating for best results.
Make sure your coconut oil is solid but soft enough to cream, think softened butter consistency. Coconut oil stored at room temperature (about 72-75°F) will work best, but if your coconut oil is liquid then place in the fridge for a few minutes to firm up. Or if your coconut oil is too solid then you can briefly warm it in the microwave (but don't melt it!).
The pumpkin puree should also be at room temperature before mixing into the dough. If it is too cold it will freeze the coconut oil and your dough will not form properly.
Moisture content in pumpkin puree can vary, especially if you make your own vs buying canned pumpkin puree. So you may or may not need to add plant milk. The dough should roll easily and not stick to your hands.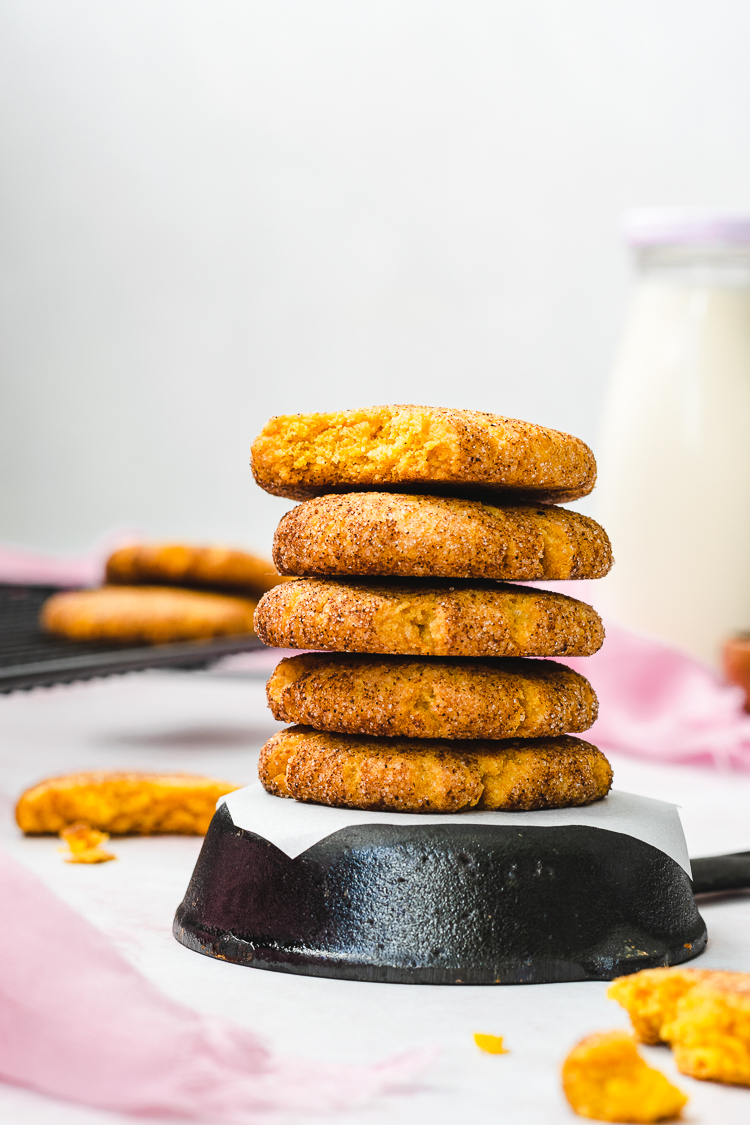 SUBSTITUTIONS
While I recommend following the recipe as closely as possible, I understand that some ingredients may be more difficult to find depending on where you live, you may have different ingredients in your pantry and you don't want to buy new things, etc. So here are my suggestions (note: I haven't personally tested all of these substitutions so I can't vouch for them, these are just recommendations that I think, based on past experience, will work) and some substitutions I suggest you avoid:
Refined Coconut Oil: Unrefined coconut oil will function the same in the recipe, but it may leave a slight coconut flavor to the cookies. I do not recommend using any other vegetable oils, as they are liquid at room temperature and will make the cookies very soft. Vegan butter will probably work fine.
Granulated Sugar: I do not recommend subbing coconut sugar or any liquid sweetener. Coconut sugar makes the cookies dense and liquid sweetener will ruin the texture. Smaller granulated sugar crystals will produce the best tender crumb.
Gluten-Free All Purpose Flour: If not gluten-free, you can sub with regular all purpose flour.
Cream of Tartar: This is what gives snickerdoodles their distinct tangy flavor, differentiating them from regular sugar cookies. However, if you can't find cream of tartar, replace the baking soda and cream of tartar with 3/4 tsp baking powder.
Pumpkin: Obviously these would not be pumpkin snickerdoodles without the pumpkin, so if you don't have pumpkin, just make regular snickerdoodles instead.
Pumpkin Pie Spice: You can replace with more cinnamon, or make your own. I make a small batch of pumpkin pie spice by combining 1 tsp cinnamon, 1/2 tsp nutmeg, 1/4 tsp ginger, and 1/4 tsp cloves. Feel free to adjust the ratio of spices to your tastes.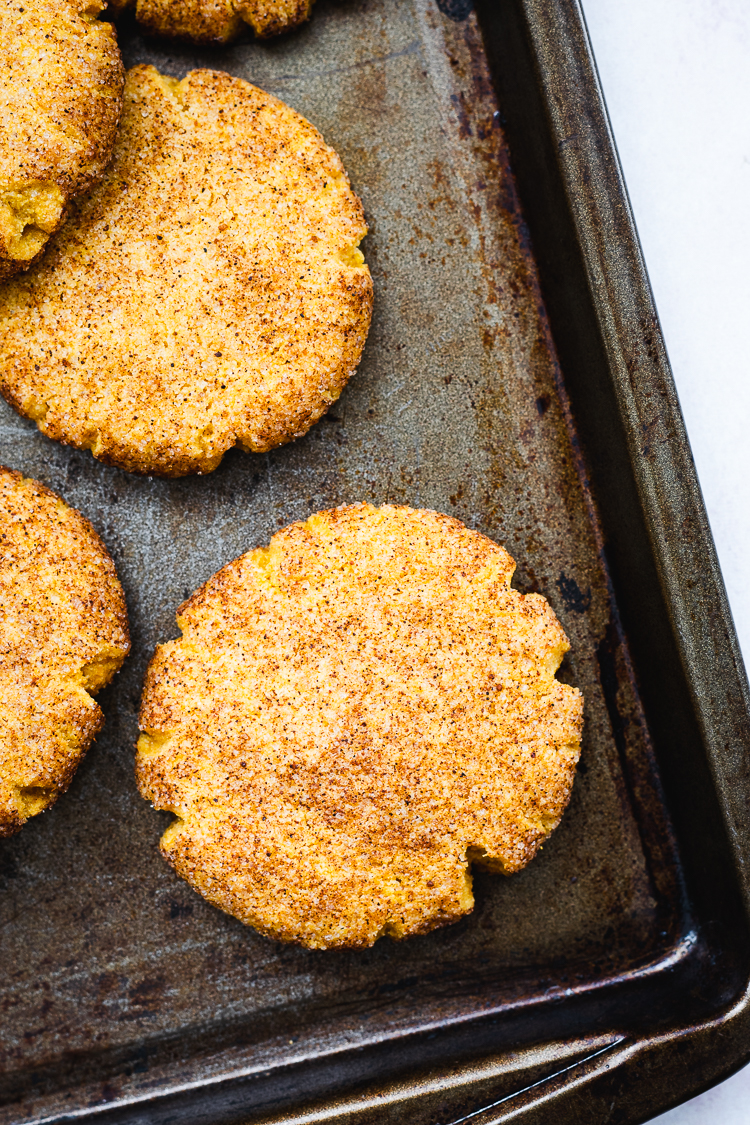 EQUIPMENT
Baking Sheet: Obviously, for baking the cookies on.
Silicone Baking Mat: This is optional, as I have baked cookies straight on my baking sheet with great results. But if you find your cookies to stick or spread too much, a silicone baking mat may help.
Cooling Rack: This is essential for cooling the cookies evenly.
Other than that, all you really need are a bowl and a wooden spoon. It's that simple!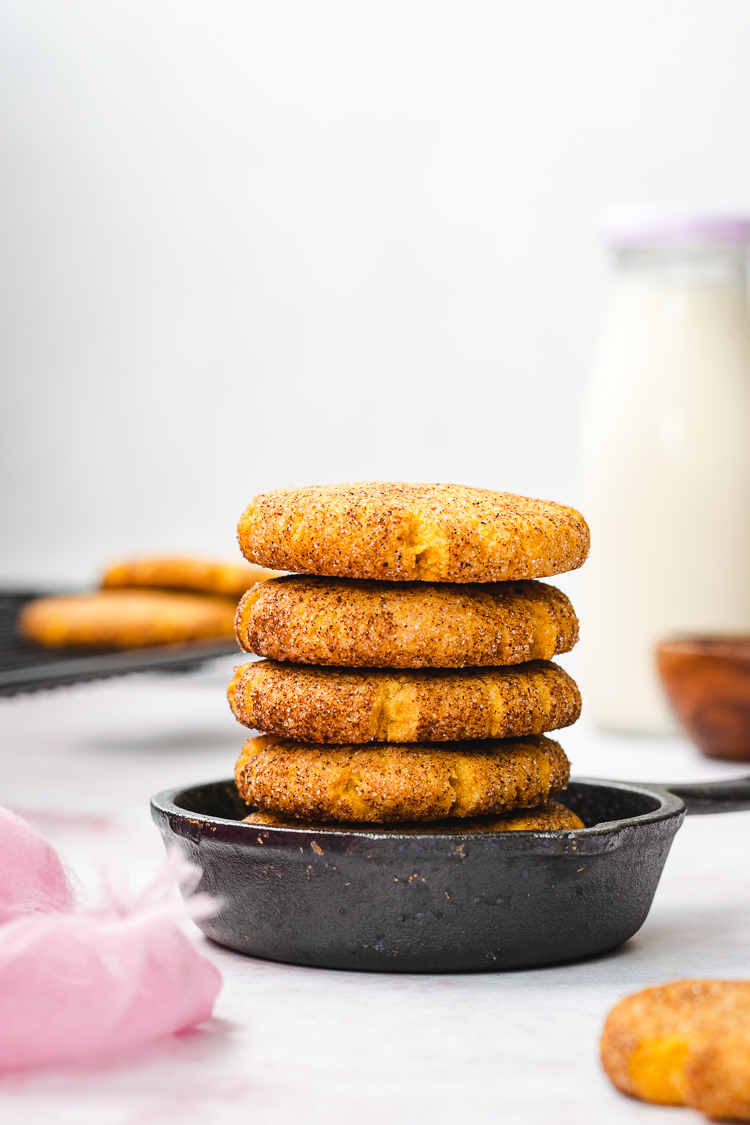 Still hungry?
Be sure to check out these other plant-based cookie recipes (and more to come)!
If you try out these vegan pumpkin snickerdoodles, don't forget to tag me in your photos on instagram @ellielikes.cooking and/or leave a comment down below and let me know how you liked them! I love seeing your tasty recreations 🙂 Happy baking!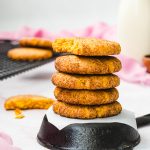 Print Recipe
Pumpkin Snickerdoodles (Vegan, Gluten-Free)
Soft, chewy, and perfectly spiced, these vegan pumpkin snickerdoodles are the perfect easy holiday treat. Made with 8 plant-based and gluten-free ingredients!
Ingredients
3

tbsp

coconut oil

softened

3

tbsp

vegan granulated sugar

2

tbsp

pumpkin puree

room temperature

½

tsp

vanilla extract

½

cup + 2 tbsp

gluten-free all purpose flour

¼

tsp

cream of tartar

¼

tsp

baking soda

½

tsp

plant milk, if needed
Pumpkin Spice Sugar Coating
1

tbsp

vegan granulated sugar

½

tsp

cinnamon

½

tsp

pumpkin pie spice
Instructions
Preheat oven to 375°F. Set aside a lined baking sheet for the cookies.

Mix together pumpkin spice/sugar coating in a shallow bowl and set aside.

Cream together coconut oil and sugar. Add pumpkin puree and vanilla extract and briefly combine.

In a separate bowl, mix together flour, cream of tartar, baking soda, and salt. Add to wet ingredients and mix until a cookie dough forms. Add a splash of plant milk if the batter is too dry.

Scoop cookie dough into balls (about 1 tbsp in size) and roll in cinnamon sugar mixture. Place on baking sheet and flatten slightly into discs.

Bake 10 minutes, until lightly golden and firm around the edges. (The center will still be soft but will firm up as it cools.) Leave on the baking sheet for about 5 minutes, then transfer to a cooling rack. Let cookies cool completely before eating for best results. Store leftovers in an air-tight container at room temperature, or freeze to be eaten in the future.
Disclosure: This page may contain affiliate links. As an Amazon Associate I earn from qualifying purchases, but the price remains the same to you. Thank you for supporting Ellie Likes Cooking!
Save for later!