A hearty plant-based twist on a classic Japanese "hashed beef" stew. Japanese comfort food made gluten-free, vegan, and with NO boxed roux!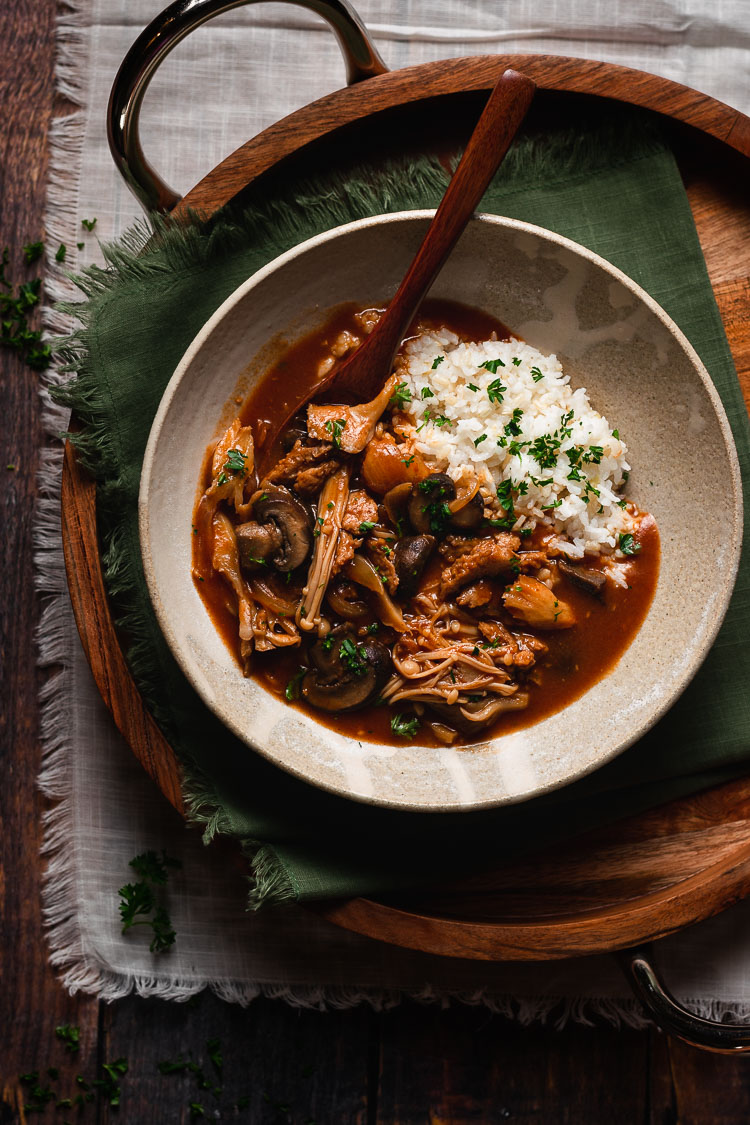 Traditionally, hayashi rice is made of thin strips of beef, onions, and mushrooms stewed in a demi-glace sauce. Hayashi rice is very popular in Japanese home cooking, and with the boxed roux widely available these days, hayashi rice can be made at home very quickly and easily. Some boxed roux do contain animal products though, amongst other additives. And if you don't have access to an Asian grocer, you may not be able to find the boxed roux that easily. So here I'm sharing my homemade vegan hayashi rice filled with tons of mushrooms! It's hearty, comforting, and so satisfying — perfect for the colder weather in the fall and winter.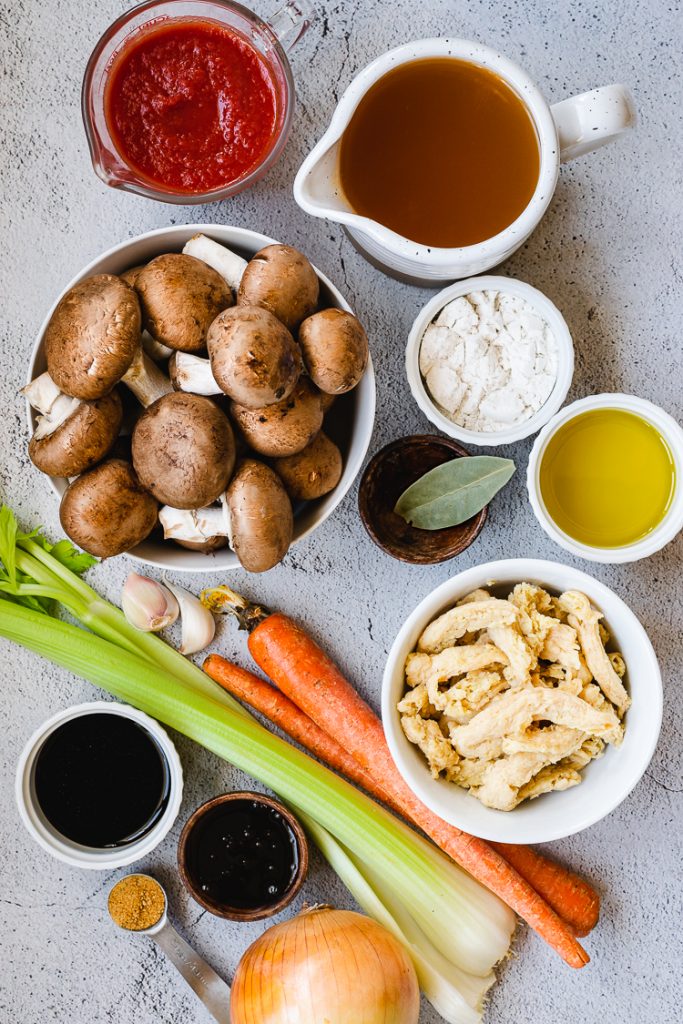 INGREDIENTS
There are a few different components to this vegan hayashi rice. First the roux:
Then the shortcut "demi-glace" sauce:
And finally the additional seasonings and ingredients to complete the hayashi rice:
TIPS & TRICKS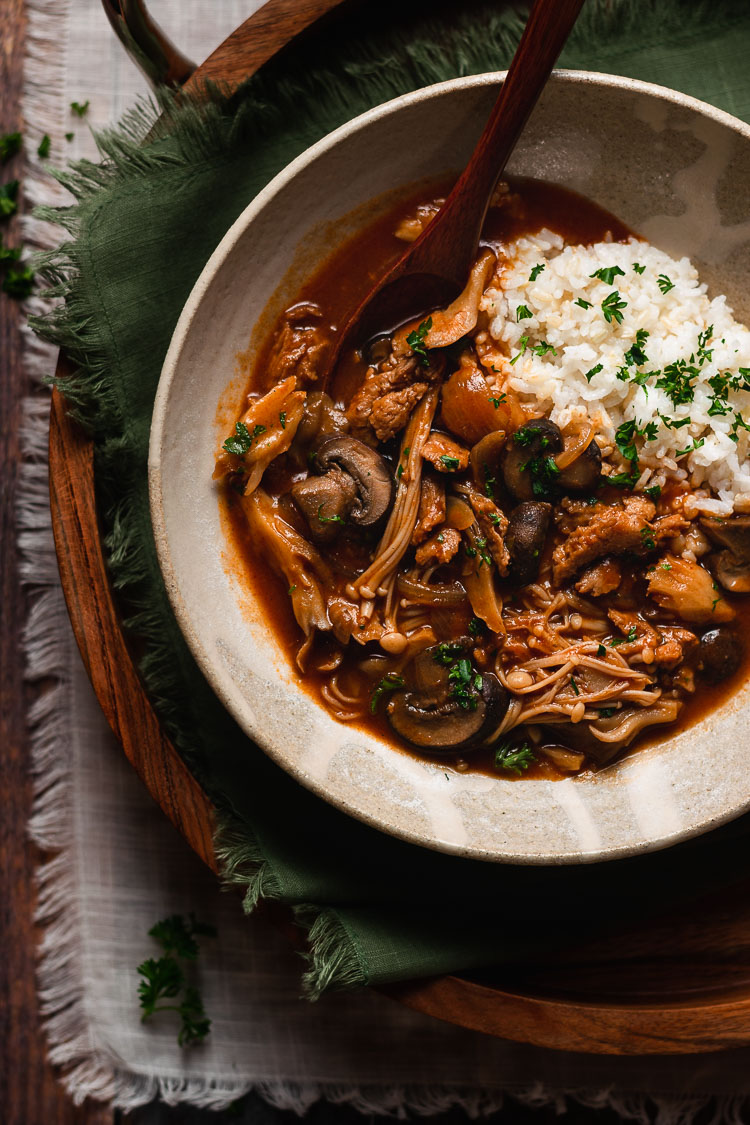 SUBSTITUTIONS
For best results please follow the recipe as written, but here are my suggestions for ingredients that can be substituted: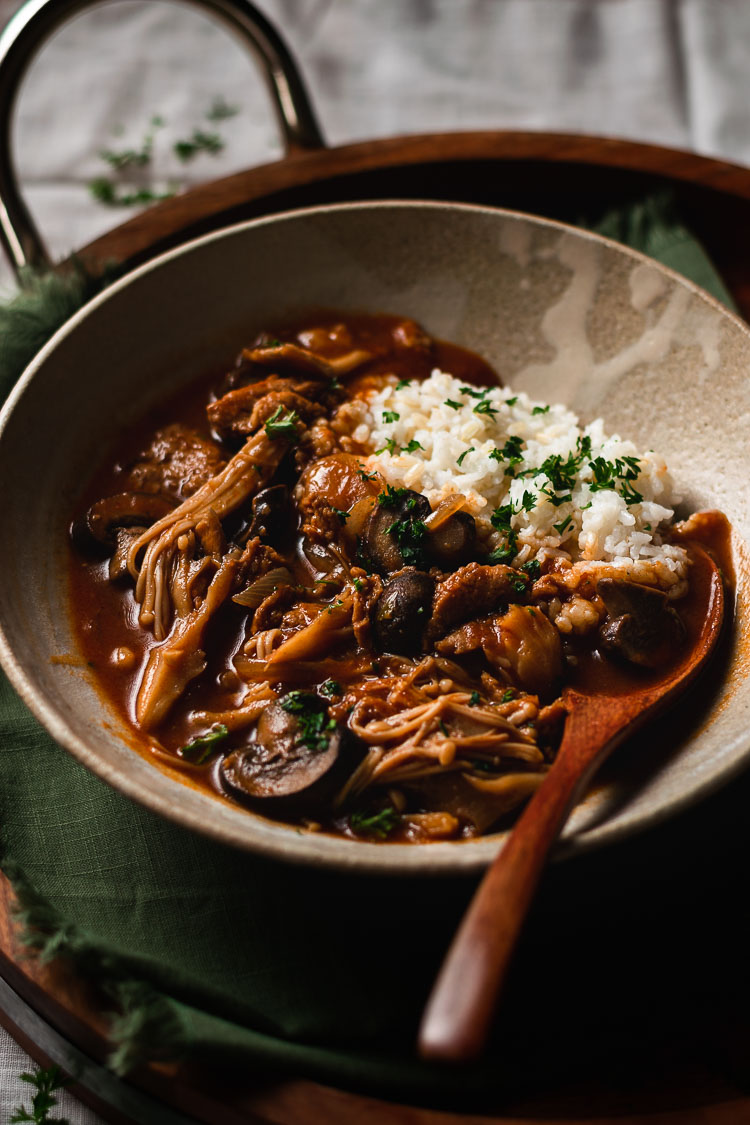 EQUIPMENT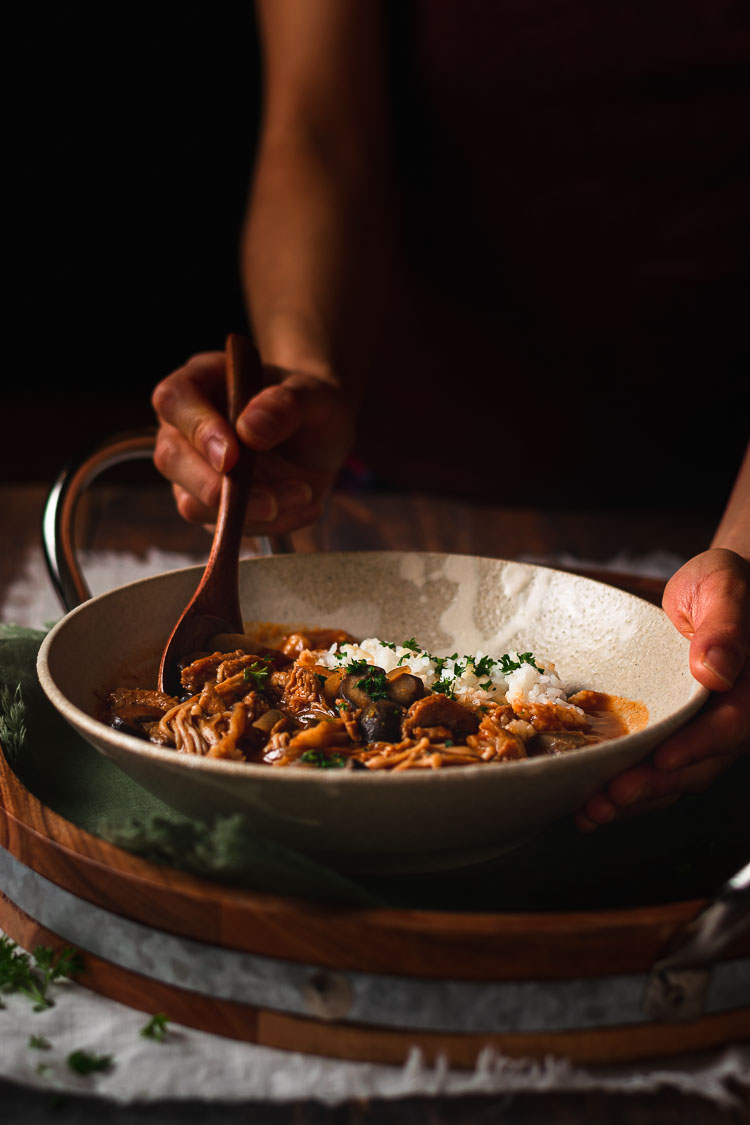 STILL HUNGRY?
Be sure to check out these other hearty Japanese dishes!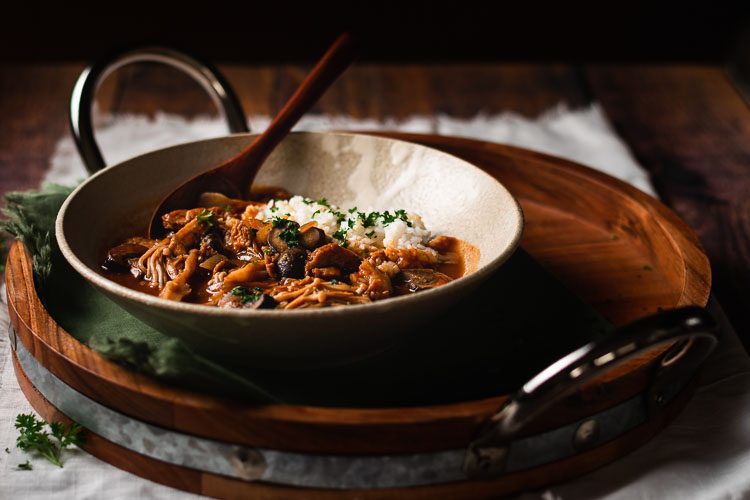 If you try out this Shortcut Vegan Hayashi Rice, don't forget to tag me in your photos on instagram @ellielikes.cooking, leave a comment and rating down below, and let me know how you liked it! I love seeing your tastry recreations 🙂 Happy cooking! ♡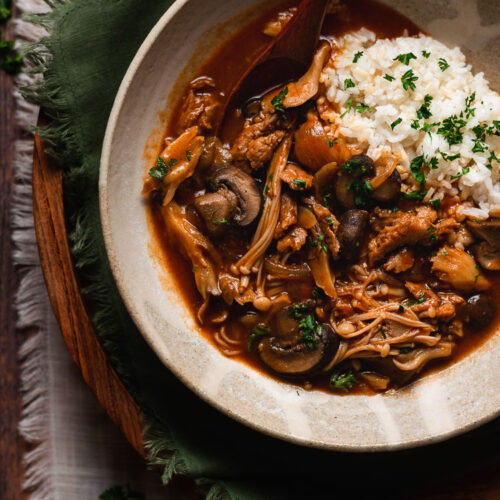 Print Recipe
Vegan Hayashi Rice | ビーガンハヤシライス
A hearty plant-based twist on a classic Japanese "hashed beef" stew. Japanese comfort food made gluten-free, vegan, and with NO boxed roux!
Ingredients
3

oz

soy curls

6

cups

vegetable broth

4

tbsp

olive oil

divided

¼

onion

chopped

2

carrots

chopped

2

ribs of

celery

chopped

1

cup

tomato puree*

2

tbsp

red wine

1

tbsp

coconut sugar

1

tbsp

soy sauce

1

bay leaf

½

onion

sliced

2

cloves of

garlic

minced

1

lb

mushrooms

sliced

salt and pepper

to taste
Instructions
Heat ½ tbsp of olive oil in a pan and add chopped onion, carrots, and celery and sauté 5-10 minutes until browned. Add 1 ½ cups vegetable broth, 1 tbsp olive oil, tomato puree, red wine, Worcestershire sauce, coconut sugar, soy sauce, and bay leaf and stir to combine. Simmer for 30-60 minutes**.

Meanwhile, heat 2 cups of vegetable broth in a pot on the stove. Once it starts boiling, turn off the heat and add soy curls to the pot. Let the soy curls rehydrate in the vegetable broth for 10 minutes, then drain. Gently press on the soy curls to remove excess liquid.

Make the roux: heat 2 tbsp olive oil in a pot over medium low heat. Once hot, add the flour and stir constantly until the roux turns brown, about 15-20 minutes. Take the roux off the heat and transfer to a bowl.

When the vegetables are done simmering, strain and reserve the sauce. Save the vegetables for another recipe.

Heat remaining ½ tbsp olive oil and add onion slices and a pinch of salt. Cook until browned and caramelized, stirring frequently. Add a splash of vegetable broth every minute or so to deglaze the pan.

Add garlic and sauté a minute until fragrant.

Add the reserved tomato mixture, roux, 1 cup vegetable broth, mushrooms, and soy curls. Cover and simmer 15 minutes.

Taste and add salt/pepper as desired. Serve with steamed rice.
Notes
*TOMATO PUREE: Can also use tomato passata, unseasoned tomato sauce, crushed tomatoes, or diced tomatoes depending on what you have. Note that if using crushed or diced, some of the tomatoes will be lost when straining the sauce. **SIMMER TIME: The flavor will develop more the longer it simmers, but if you don't want to wait as long you can stop after 30 minutes (it's still delicious!).  MUSHROOMS: You can use any variety you like. My favorites are crimini, enoki, shimeji, shiitake, and maitake.


Disclosure: This page may contain affiliate links. As an Amazon Associate I earn from qualifying purchases, but the price remains the same to you. Thank you for supporting Ellie Likes Cooking!
Save for later!