This page may contain affiliate links. As an Amazon associate I earn from qualifying purchases. Please read our
disclosure
for more info.
Chewy, fudgy, rich, chocolate-y brownie decadence in cookie form. These brownie cookies are a quick & easy plant-based treat!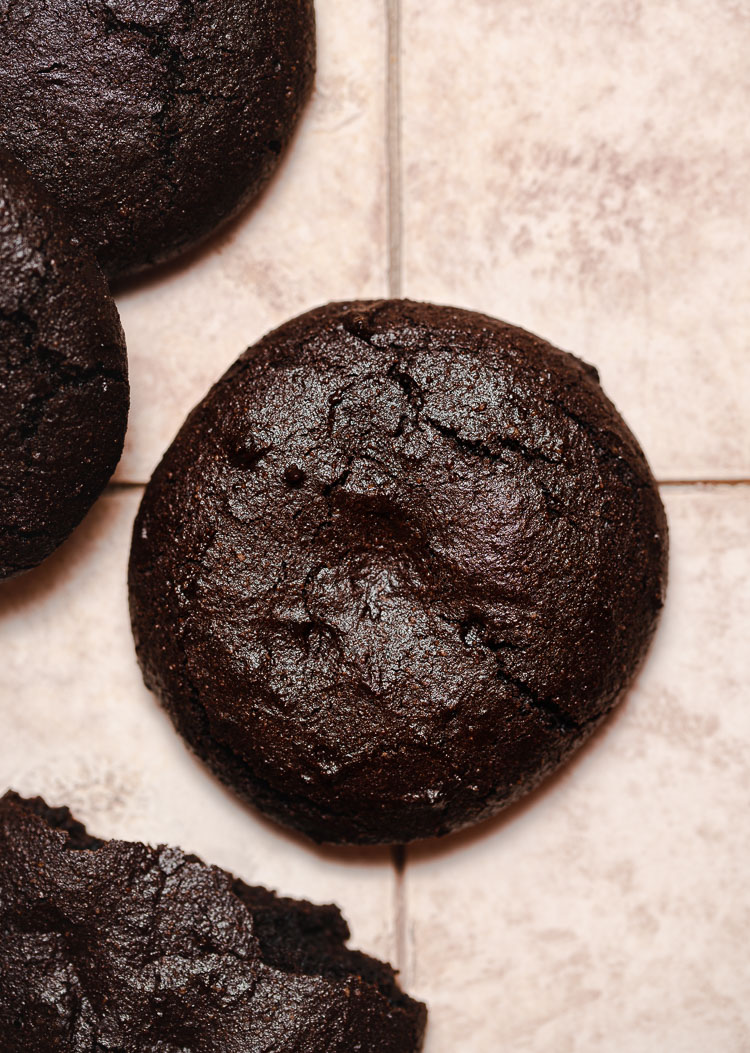 Can't decide between brownies or cookies? Or maybe you don't have the patience to wait for brownies to bake? Enter: the brownie cookie! A rich, fudgy, decadent chocolate cookie that tastes like a brownie, but is ready to eat in under 30 minutes! Plus it makes a small batch (about 9 cookies) so you can satisfy your chocolate/brownie craving without a bunch of leftovers you don't know what to do with. These chocolatey treats are plant-based, gluten-free, and flourless but still super rich and indulgent!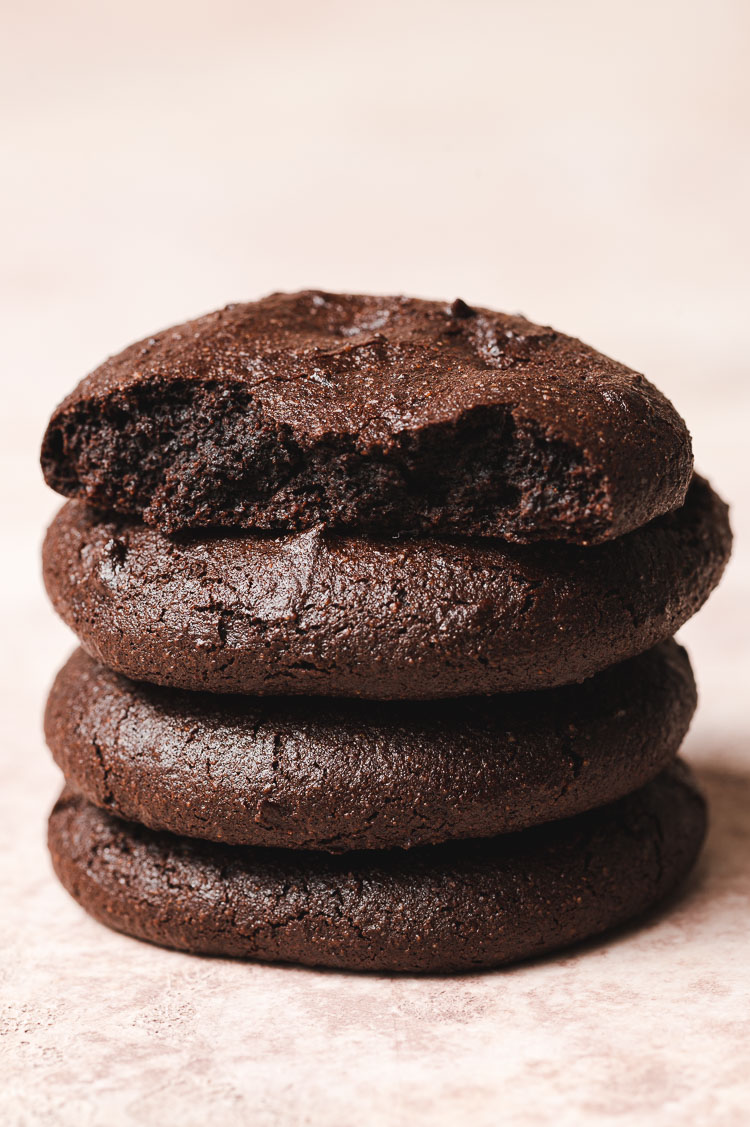 Key Ingredients
Refined Coconut Oil ⟶ Oil keeps the cookies moist and makes the edges crispy. However, if you're oil-free you can use nut butter (but the cookies will be a bit more dry). You can also use another neutral oil like avocado oil, but the cookies will be softer.
Almond Flour ⟶ adds moisture and chewy texture
Sugar ⟶ We dissolve the sugar in a bit of water first to create a simple syrup. This makes for a more moist cookie with a crispy top.
Cocoa Powder ⟶ for rich chocolate flavor. Cacao powder works as well.
Ground Flax ⟶ binds the cookies so they aren't super crumbly.
Cornstarch ⟶ also helps bind the cookies together and adds chew
Baking Tips
Nut Butter ⟶ If going the oil-free route, make sure your nut butter is smooth and runny for easy mixing and optimal results. Don't use bottom-of-the-jar hard and clumpy nut butter. If your nut butter is cold and stiff from the fridge, microwave it for 15-30 seconds until runny.

Cookie Sheets ⟶ Use cookie sheets that are light in color as these absorb less heat. Dark cookie sheets get hot very quickly and may burn the bottom of the cookies. If using a dark cookie sheet, line with parchment paper or a silicone baking mat. You can also reduce the oven temperature by 5-10 degrees.

Use a cookie scoop ⟶ The dough will be quite loose and sticky (think brownie batter) so you won't be able to use your hands. If you don't have a cookie scoop, you can just use a spoon (and silicone spatula to scrape the dough off the spoon) but your cookies might not look as pretty.

Tap the pan on the counter after baking ⟶ The cookies will dome slightly when baking, so when you take them out of the oven, tap the pan on the counter a few times to release some air. This will make the cookies flatter.

Cool completely ⟶ The cookies will still be soft in the center when you take them out of the oven, but they will firm up as they cool.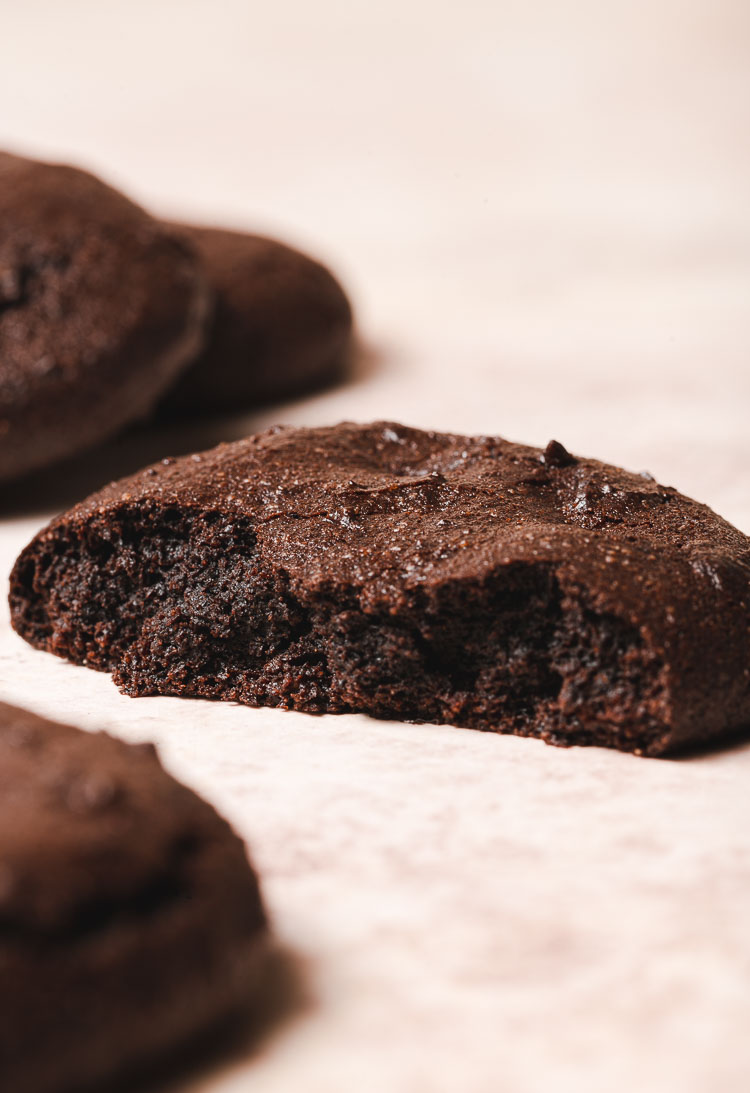 How to Store
Make sure the cookies have completely cooled before transferring to a container.
Short Term (1 week)
For extra fudgy cookies, store them in an airtight container in the fridge for up to a week. You can also store them in an airtight container at room temperature for about 2 days, but the cookies will be quite soft.
Long Term (3 months)
Store in the freezer in a freezer-safe container or bag for up to 3 months. Thaw in the fridge a day before or microwave for 15-30 seconds until softened.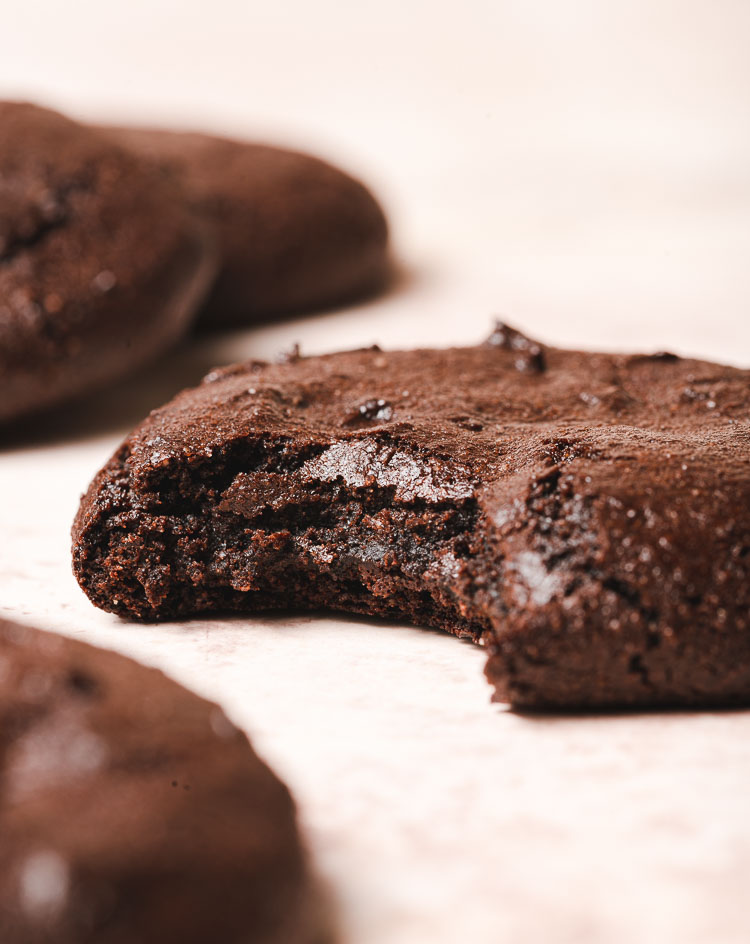 Helpful Baking Tools
More Vegan Cookies!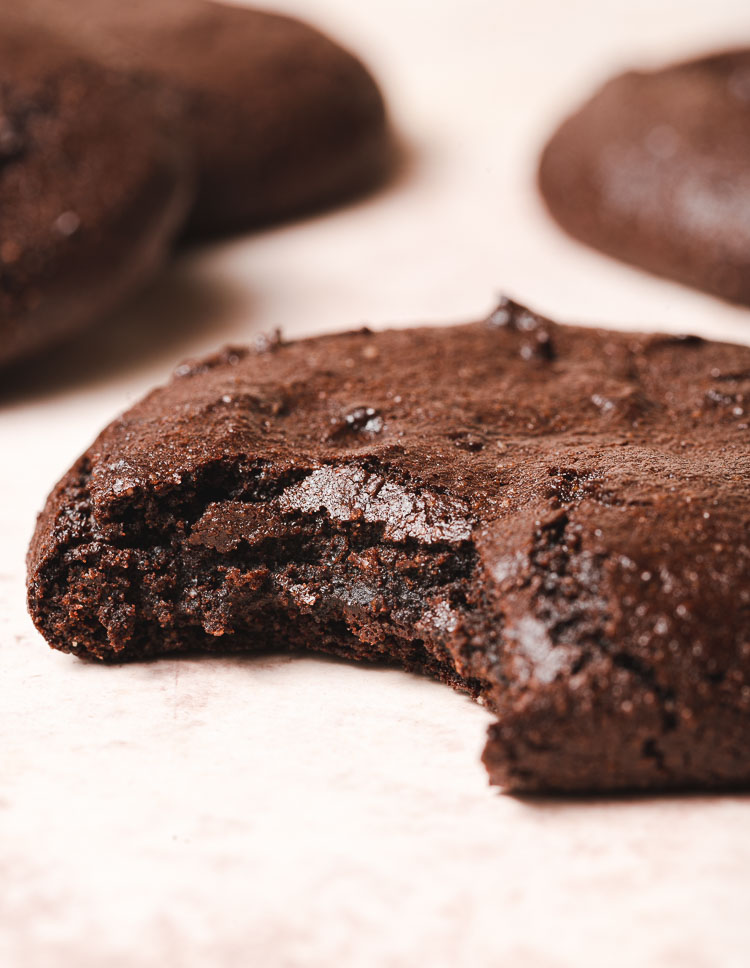 If you try out these vegan brownie cookies, don't forget to leave a comment/rating down below and tag me in your photos on instagram @ellielikes.cooking. I love seeing all of your tasty recreations!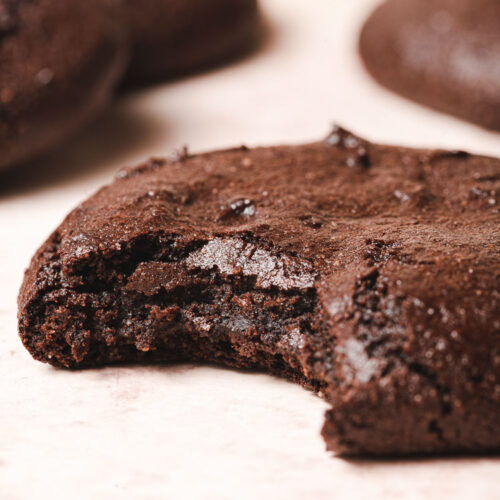 Vegan Flourless Brownie Cookies
Chewy, fudgy, rich, chocolate-y brownie decadence in cookie form. These brownie cookies are a quick & easy plant-based treat!
Ingredients
1 ½

tsp

ground flaxseed

4

tsp

coffee, water, or plant milk

⅓

cup (64g)

granulated sugar

2

tbsp (32g)

water

2

tbsp (26g)

refined coconut oil**

½

tsp

vanilla extract

½

cup (56g)

almond flour*

½

cup (40g)

cocoa powder*

2

tsp (5g)

corn starch

¼

tsp

baking soda

pinch of salt
Instructions
Combine flaxseed and coffee/water/milk in a large bowl. Set aside to gel while you prepare the sugar syrup.

Add sugar and water to a saucepan and heat over medium low. Whisk constantly until sugar dissolves. Reduce heat if necessary; you don't want the mixture to simmer. Remove from heat and cool for a few minutes until warm but not hot.

To the flax mixture, mix in oil and vanilla. Add sugar syrup and mix until well combined.

Add in almond flour, cocoa powder, corn starch, baking soda, and salt. Mix until a smooth dough forms.

Use a cookie scoop to scoop dough onto a cookie sheet, leaving about 2 inches of space between each cookie. Bake 11 minutes.

Remove cookies from the oven and tap the pan on the counter a few times to deflate the cookies.

Let cookies cool for 2 minutes on the cookie sheet, then transfer to a cooling rack. Let cool completely before serving.

Store in an airtight container. After the first day I like to put mine in the fridge to make them extra fudgy.
**Notes
Oil-Free Option: Please note the oil-free cookies are a bit dry on the edges and the dough is more thick (you can use your hands to roll the dough). Replace oil with 3 tbsp (48g) nut butter, and replace sugar with 2 tbsp (30ml) maple syrup + 3 tbsp (36g) sugar. You do not need to dissolve the sugar for the oil-free cookies, so skip step 3 and just add the sweeteners with the rest of the liquid ingredients.

Disclosure: This page may contain affiliate links. As an Amazon Associate I earn from qualifying purchases, but the price remains the same to you. Thank you for supporting Ellie Likes Cooking!
Save for later!