This page may contain affiliate links. As an Amazon associate I earn from qualifying purchases. Please read our
disclosure
for more info.
This kabocha soup is creamy, satisfying, and made with under 10 plant-based ingredients. Gluten-free, easy to make, and packed with nutrients!
I'm going to be completely honest here and admit that kabocha is not my favorite vegetable, not even in my top 10 list. I rarely buy it and have very few ways of cooking with it, but I know it's packed with nutrients and is very common in Japanese cooking, so I'm trying to branch out. I don't actively avoid eating kabocha anymore, and if it's on the dinner table I'll usually eat a piece or two — but it's still not my favorite. I'd rather eat a sweet potato. That being said though, I'd take this kabocha soup over a sweet potato any day. Kabocha soup is my favorite way to cook kabocha right now, and it's probably one of my top 3 favorite soups. It makes the soup so creamy and filling, with a light sweetness to it that just rounds it out so well. Plus this soup is super easy to make and packed with fiber and nutritients!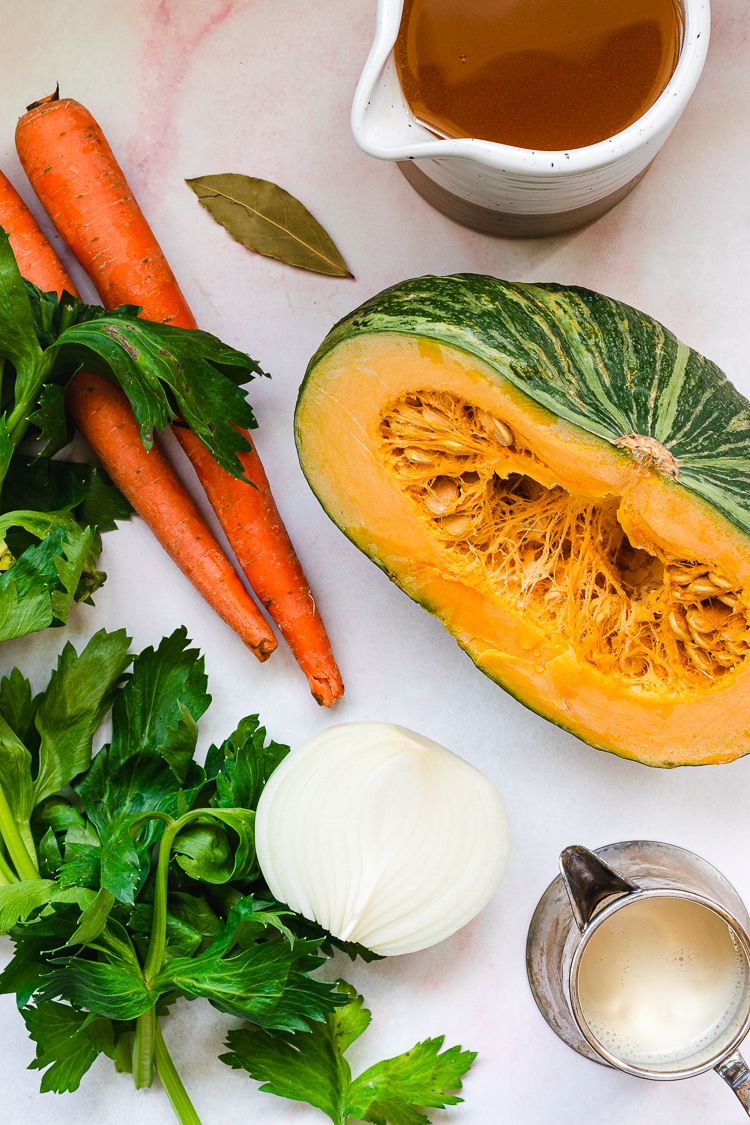 Ingredients + Substitutions
Kabocha ⟶ Tips on how to pick a good, ripe kabocha down below!
Carrots
Onion
Celery Leaves ⟶ can be omitted or swapped with leeks or green onions
Bay Leaf
Vegetable Broth
Coconut Milk ⟶ Use full-fat. I don't recommend using other plant milks since it won't be as creamy.

If you don't like the slight coconut flavor, use 1/3 cup cashews instead.
Tips & Tricks
When peeling the kabocha, I find it easiest to first chop the kabocha into pieces, then slice the skin off each individual piece. It's a little time-consuming, but kabocha is very hard so be careful not to cut yourself.

You can also use a peeler to peel the skin. Again be careful not to cut yourself!

This recipe is quite versatile so feel free to switch up the veggies. I do recommend leaving in the onion and carrots, but you can omit the celery leaves and add leeks or green onion instead. I think some garlic and ginger could also create nice flavors in this, as well as some curry powder for a curried kabocha soup, or red pepper flakes to make it a little spicy.
This soup is a great way to use up old or unripe kabocha, so don't worry about needing a perfectly ripe kabocha (but of course will taste even better with a good dark yellow kabocha).
What to Look for in a Ripe Kabocha
Dark Green Skin
The kabocha skin should be dark green and glossy. It should also be hard so that when you press on it it doesn't sink in.
Thick, Dry Stem
The stem should be thick and dried out, almost like a cork. The area around the stem should also be sunken in a little. This means it's been a while since the kabocha was harvested, so it's had ample time to ripen.
Dark Orange Flesh
For precut kabocha, look for ones with dark orange flesh and tighly packed, plump seeds.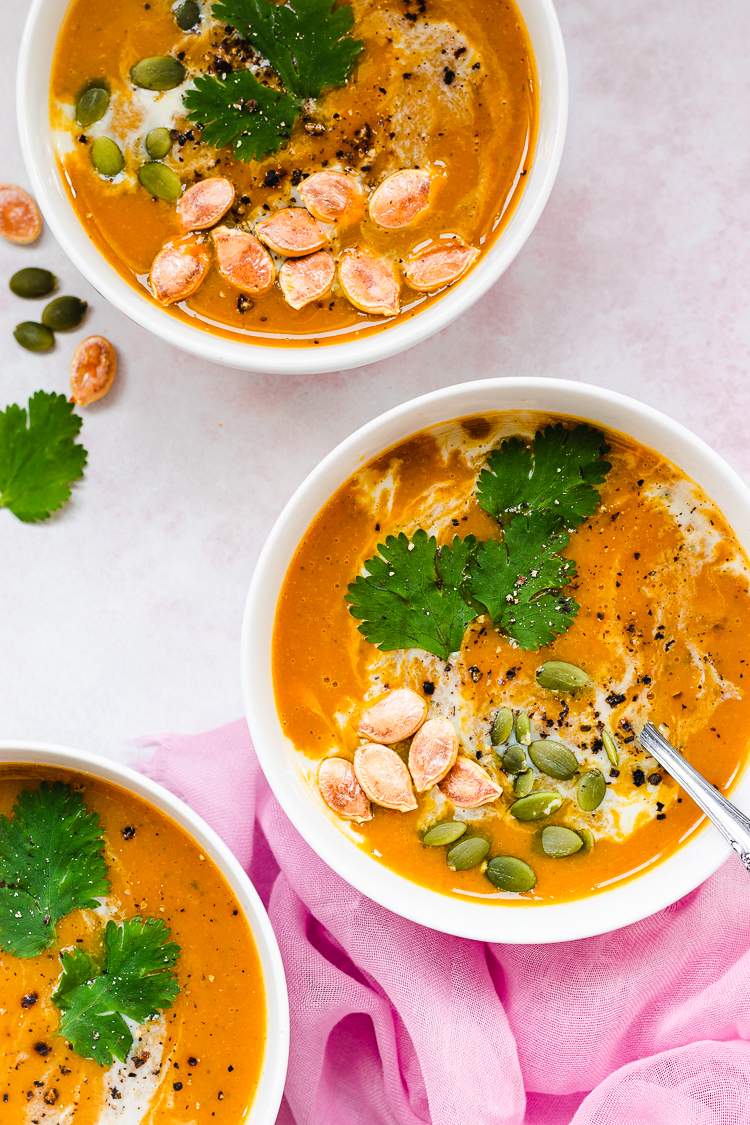 Equipment
large pot ⟶ for cooking and blending all the ingredients in
immersion blender ⟶ for easily blending all the ingredients in the same pot. If you don't have an immersion blender, transfer the ingredients to a blender (you may have to do this in batches depending on the size of your blender) and blend on high until smooth, then pour back into the pot.
More Comforting Soups & Stews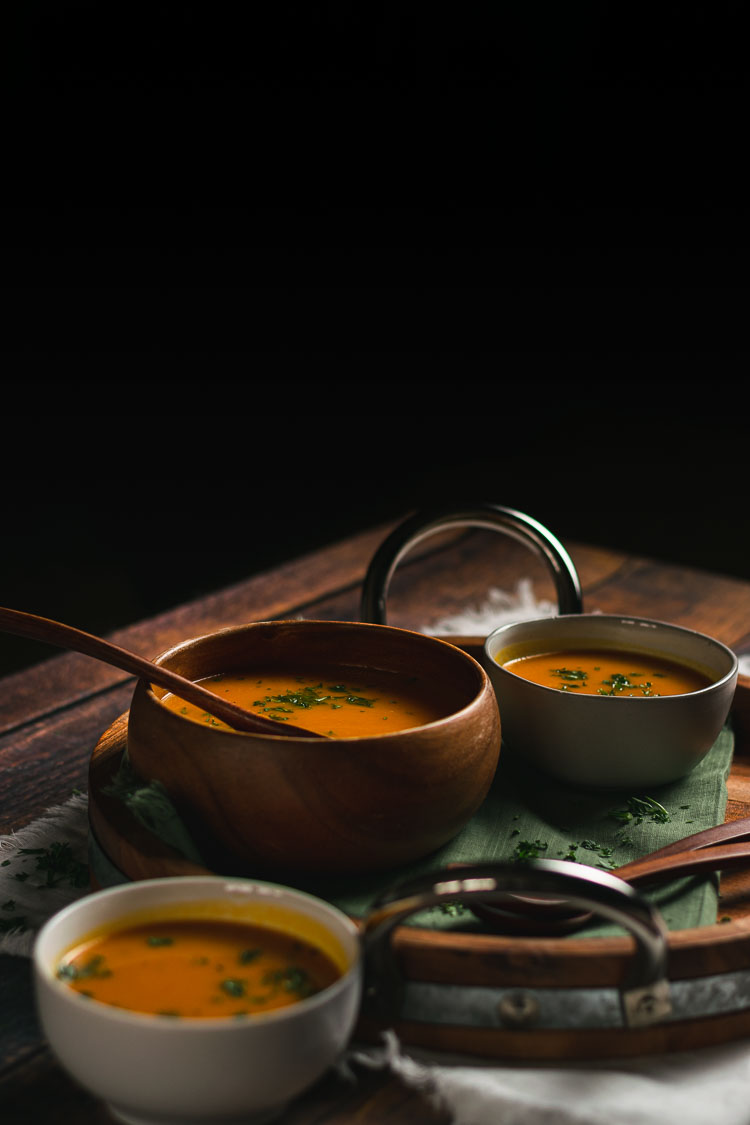 If you try out this kabocha soup, be sure to tag me in your photos on instagram @ellielikes.cooking and/or leave a comment down below and let me know how you liked it! I love seeing all of your tasty recreations 🙂 Happy cooking!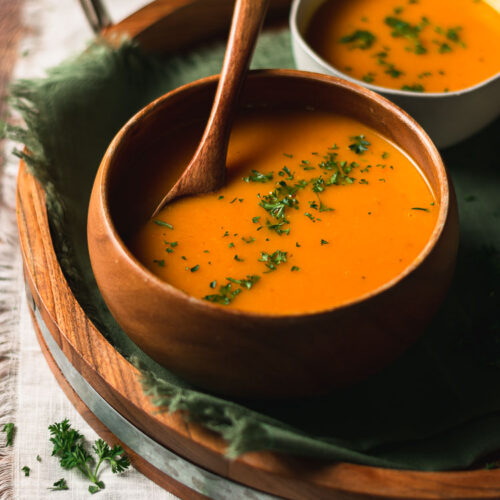 Creamy Kabocha Soup
This kabocha soup is creamy, satisfying, and made with just 7 plant-based ingredients. Gluten-free, easy to make, and packed with nutrients!
Ingredients
1

tbsp

olive oil or vegan butter

½

kabocha squash

about 1 ½ lbs

2

small carrots

peeled and chopped

½

onion

chopped

½

cup

celery leaves

loosely packed

1

bay leaf

3

cups

vegetable broth

½

cup

coconut milk or ⅓ cup cashews

salt & pepper to taste
Instructions
Cut the kabocha in half and scoop out the seeds and the hairy part on the inside. Chop the kabocha into pieces and slice off the green skin.

Add olive oil or butter to a large pot over medium high heat. Once hot, add the kabocha, carrots, and onion and sauté until onions start to turn translucent. Add in celery leaves and bay leaf and cook another minute until wilted. Add a splash of oil or broth if needed to prevent sticking to the pan.

Add vegetable broth and cashews (if using) and bring to a boil, then lower to simmer until the kabocha is soft, about 15 minutes. Check by inserting a skewer into the kabocha. When it pierces through easily, turn off the heat and remove the bay leaf.

Use an immersion blender to puree the soup until smooth. OR, if using cashews, transfer the soup to a high speed blender and blend until smooth. Add extra broth if the soup is too thick.

If using, stir in coconut milk, then add salt and pepper and adjust seasonings to taste. Gently reheat the soup if it's too cold (avoid boiling or the coconut milk may split). Serve warm.
Disclosure: This page may contain affiliate links. As an Amazon Associate I earn from qualifying purchases, but the price remains the same to you. Thank you for supporting Ellie Likes Cooking!

Save for later!