Chewy vegan oatmeal raisin cookies made healthier with oat flour, almond butter, and natural sweeteners. One bowl, 12 ingredients, and gluten and oil-free!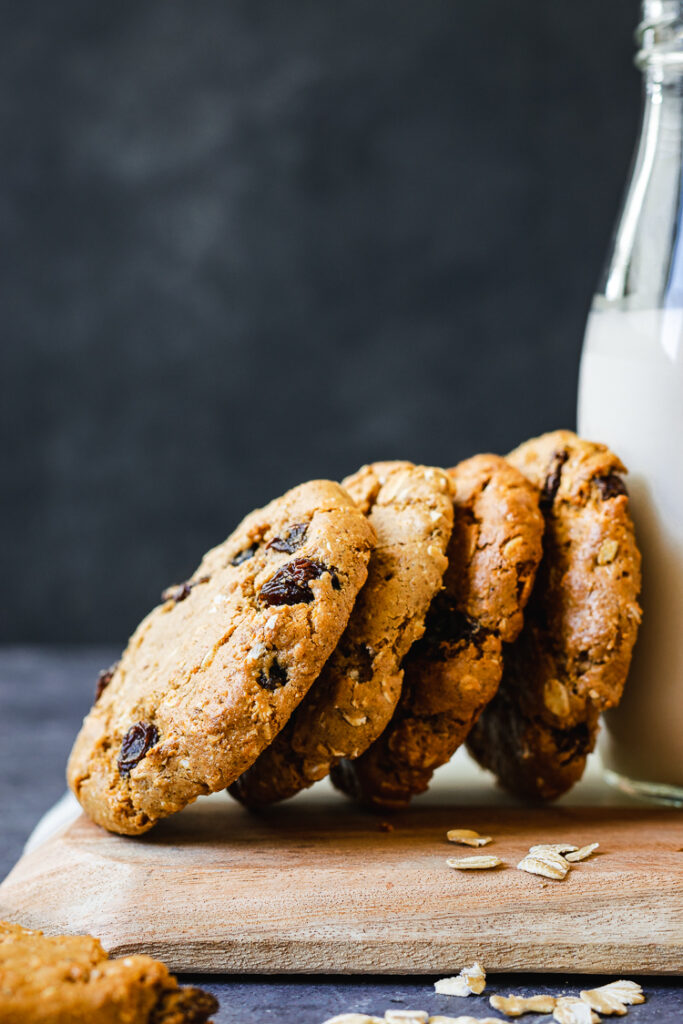 99% of the time, chocolate is my dessert of choice, but when it comes to cookies oatmeal raisin has always been my favorite. The combination of hearty oats and juicy raisins is just too good to pass up. And while I do love a traditional oatmeal raisin cookie, I can easily eat 5 in one sitting, so I decided to make a healthier version that is just sweet enough, made with whole grains and healthy fats, but most importantly still tastes like an oatmeal raisin cookie. And I am proud to say that these cookies check all those boxes. Ready to make some for yourself? Let's dive into it.
VEGAN OATMEAL RAISIN COOKIE INGREDIENTS
These vegan oatmeal raisin cookies are made with 7 wholesome ingredients:
almond butter ⟶ use unsweetened. If it's unsalted, add a pinch of salt to the cookie dough.
maple syrup ⟶ adds moisture and the perfect amount of sweetness
rolled oats ⟶ ensure your oats are gluten-free if this is an issue for you
almond flour ⟶ adds moisture and holds the cookie together
raisins ⟶ feel free to swap out for chocolate chips or other dried fruit
and baking staples such as baking soda and vanilla extract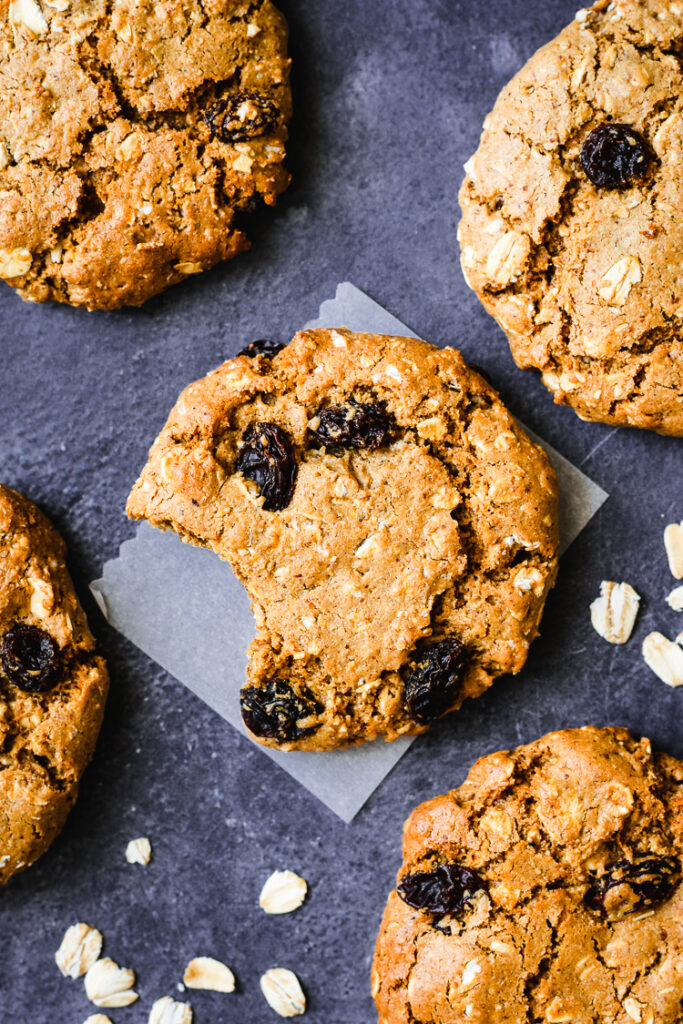 COOKIE BAKING TIPS
Almond Butter: You want your almond butter to be smooth and runny for easy mixing and optimal results. Don't use bottom-of-the-jar hard and clumpy almond butter. If your almond butter is cold and stiff from the fridge, microwave it for 15-30 seconds until runny.
Cookie Sheets: If possible, opt for cookie sheets that are light in color as these absorb less heat. Dark cookie sheets get hot very quickly and may burn the bottom of the cookies. If using a dark cookie sheet, reduce temp to 325°F.
For best results, line your baking sheet with parchment paper or a silicone baking mat.
Cookie dough too sticky? If your dough is too sticky to handle, chill in the fridge for an hour and increase baking time 2-3 minutes.
Cookie dough too dry? If your dough seems too dry, add extra milk until a smooth and slightly sticky dough forms. You don't want the dough to be so sticky that you can't handle it.
The cookies will still be soft in the center when you take them out of the oven, but they will firm up as they cool. Let them cool completely on a rack before eating.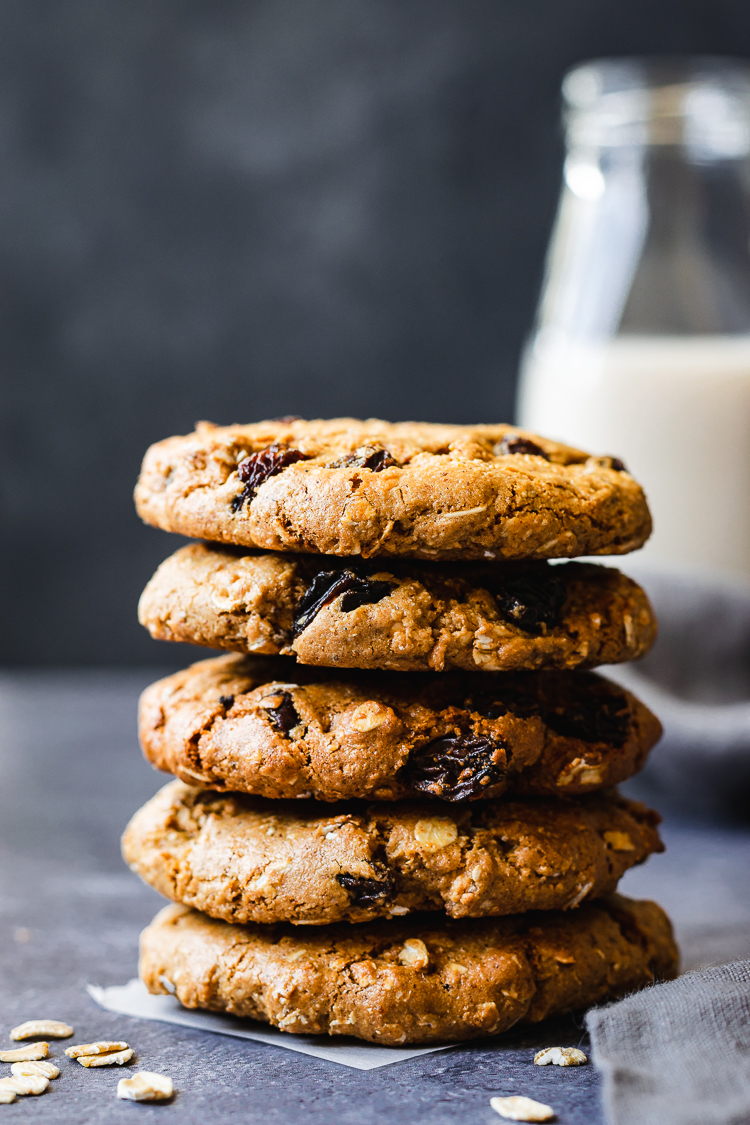 HOW TO STORE COOKIES
Make sure the cookies have completely cooled before transferring to a container.
Short Term (3 days)
Store cookies in an airtight container at room temperature for up to 3 days. If using maple syrup, they tend to stick to each other, so place a small piece of parchment paper between each cookie if stacking them.
Long Term (3 months)
Store in the freezer in a freezer-safe container or bag for up to 3 months. When ready to eat, thaw at room temperature the night before or microwave for 15-30 seconds until softened.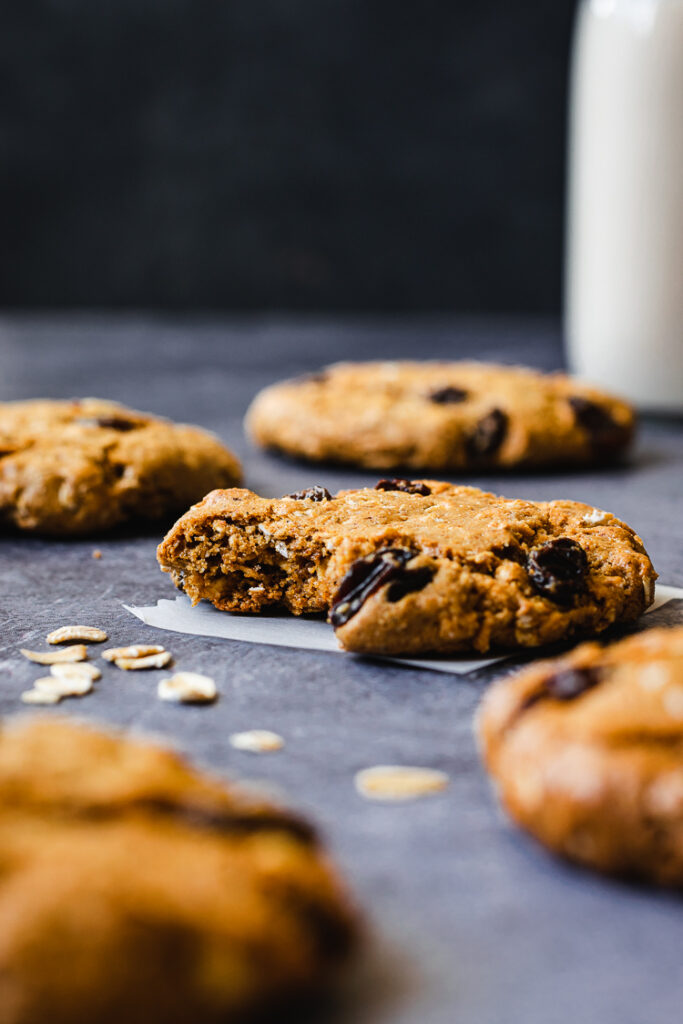 HELPFUL BAKING TOOLS
STILL HUNGRY?
Check out these other delicious vegan cookies!
I hope I've inspired you to give these vegan oatmeal raisin cookies a try! If you do try them out, don't forget to tag me in your recreations on instagram @ellielikes.cooking and/or leave a comment down below and let me know how you liked them! I love seeing you recreate my recipes in your own kitchen 🙂 Happy baking!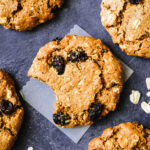 Print Recipe
Chewy Oatmeal Raisin Cookies (Vegan, Gluten-Free, Oil-Free)
Chewy vegan oatmeal raisin cookies made healthier with oat flour, almond butter, and natural sweeteners. One bowl, 11 ingredients, and gluten and oil-free!
Instructions
Preheat oven to 350°F and set aside a lined cookie sheet.

Your almond butter should be smooth and runny. If it's too hard, microwave for 15-30 seconds until runny.

Combine almond butter, maple syrup, and vanilla extract in a bowl and mix until well combined.

Add in oats, almond flour, baking soda, and cinnamon and mix until a smooth dough forms. If your dough is still dry, add in more milk 1 teaspoon at a time as needed. Fold in raisins.

Scoop about 2 tbsp of cookie dough and roll into a ball. Place on cookie sheet and flatten slightly with your hands. Repeat with remaining cookie dough, leaving about an inch of space in between each cookie. Bake 11 minutes.

Let cookies cool for about a minute on the cookie sheet, then transfer to a cooling rack. Let cool completely before serving. Store leftovers in an airtight container at room temperature up to 3 days.
Disclosure: This page may contain affiliate links. As an Amazon Associate I earn from qualifying purchases, but the price remains the same to you. Thank you for supporting Ellie Likes Cooking!
Save for later!