This page may contain affiliate links. As an Amazon associate I earn from qualifying purchases. Please read our
disclosure
for more info.
Thin and crispy vegan sugar cookie bars made with 8 pantry staples. So delicious and easy to make – no rolling or chilling required!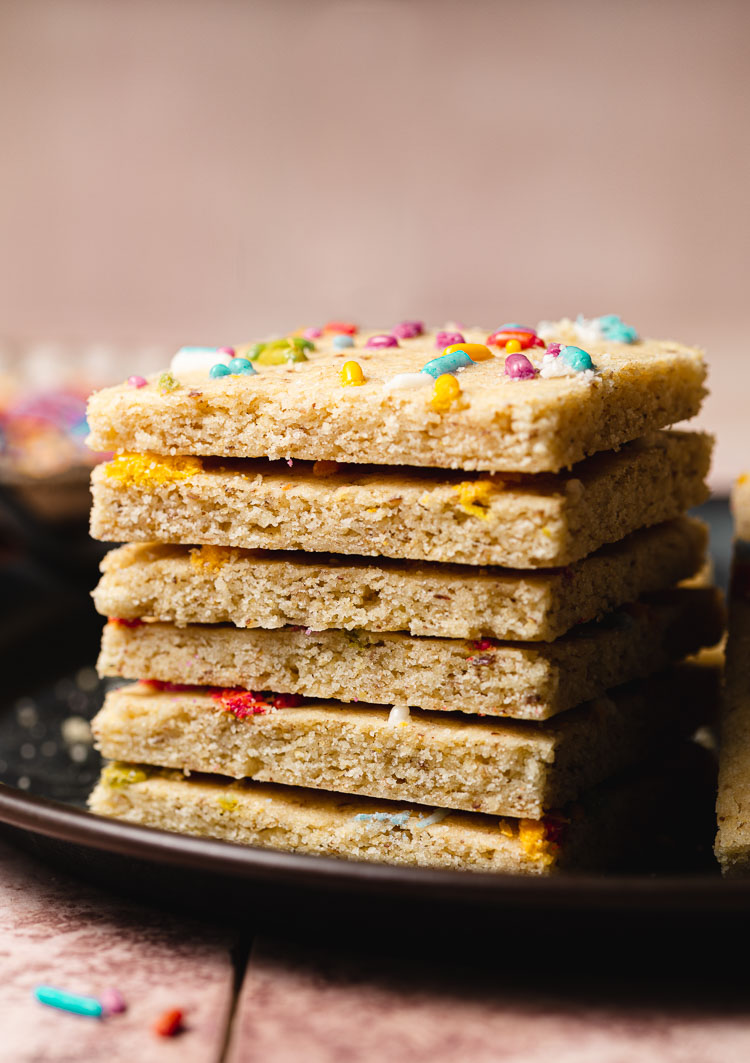 These vegan sugar cookies are based off a childhood favorite of mine. For years when I was little my mom would always bake these sheet pan sugar cookies and I would help decorate them by putting tons of sprinkles on top before baking. Not only were they delicious but they were also super colorful and easy to make! While I believe rolling cookie dough balls is actually the most fun (and therapeutic) part of making cookies, sometimes you just don't have time to roll 50 balls of dough. Baking them in a sheet pan is super easy and still results in delicious cookies!
Key Ingredients & Substitutions
Sugar ⟶ I highly recommend using white granulated sugar. Coconut sugar may work, but keep in mind that it will create a darker, slightly drier cookie and will change the flavor. I do not recommend using a liquid sweetener.
Vegan Butter ⟶ I used homemade vegan butter following this recipe from A Virtual Vegan. If using store bought butter, be sure to use block butter and not the spreadable tub butter as these contain more water.
Vegetable Oil ⟶ Use a neutral flavored oil like vegetable oil, avocado oil, or canola oil. I do not recommend subbing in more coconut oil, as the liquid vegetable oil helps create a soft texture.
Soy Milk ⟶ I typically opt for soy milk in baking because it has a higher protein and fat content, more similar to regular milk. Store bought almond and cashew milks tend to be very watered down. However, coconut milk or oat milk would probably be good substitutes.
Almond Extract ⟶ I highly highly recommend you leave this in! It's a small ingredient but has a huge impact on the flavor and really differentiates this from other sugar cookies. However, in a pinch you can sub vanilla extract.
All Purpose Flour ⟶ I have not tested this with a gluten-free flour, but if you are gluten-free you can try subbing with an all purpose gluten-free flour. I usually have success with Bob's Red Mill*.
Sugar Cookie Tips & Tricks
Spread dough evenly ⟶ Make sure the dough is spread out evenly in the pan before baking, otherwise it will not cook evenly and some parts may burn.

Remove when edges start to brown ⟶ The center will still feel soft but will firm up as it cools.

Cut while still semi-warm ⟶ Let the cookies cool for about 10 minutes in the pan, then carefully remove the whole cookie from the pan and cut into squares. Place on a wire rack to finish cooling. The cookies will be very firm once completely cooled and will crumble easily if you try to cut them now.

No vegan butter? ⟶ You can make your own at home with a few basic ingredients. In a pinch you can use refined coconut oil, but the cookies will be harder.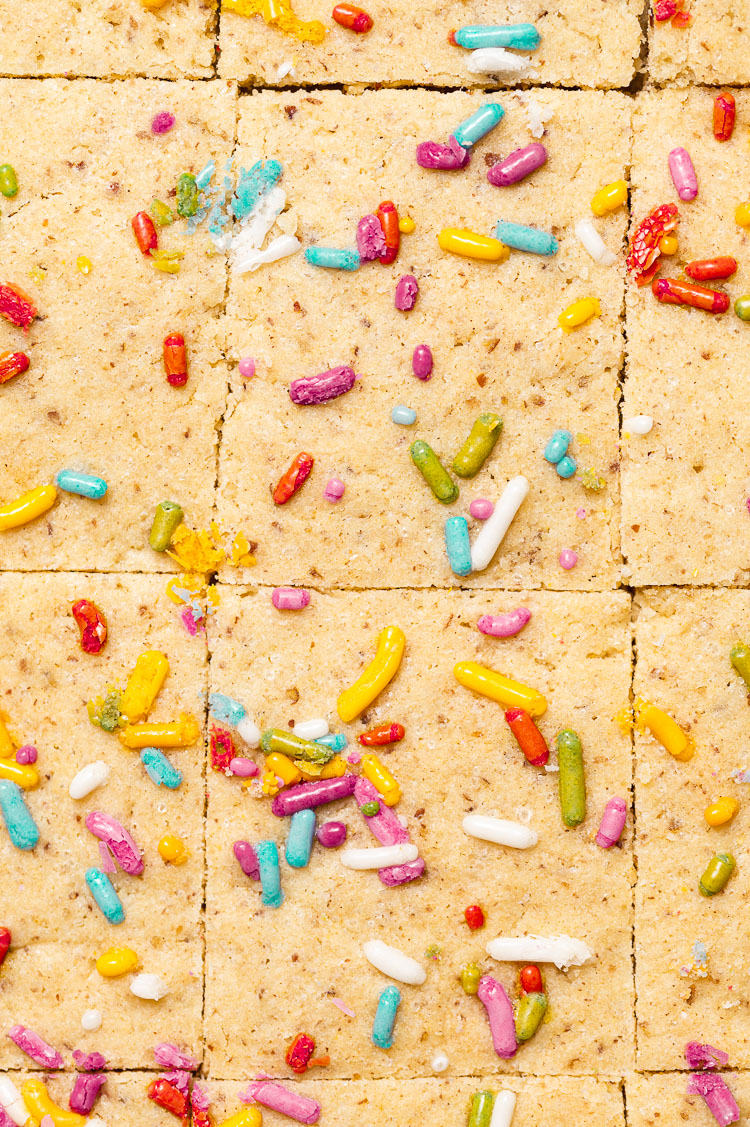 More Vegan Cookies!
If you try these vegan sugar cookie bars, don't forget to leave a comment/rating down below and tag me in your photos on instagram @ellielikes.cooking. I love seeing all of your tasty recreations!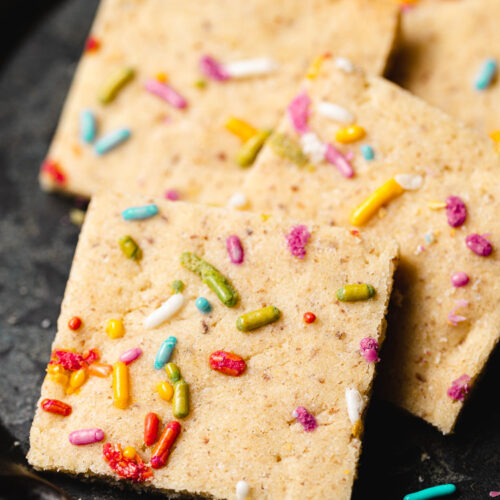 Thin & Crispy Sugar Cookie Bars
Thin and crispy vegan sugar cookie bars made with 8 pantry staples. So delicious and easy to make – no rolling or chilling required!
Ingredients
¾

tbsp

ground flaxseed

3

tbsp

soy milk

90

grams (½ cup – ½ tbsp)

granulated sugar

40

grams (3 tbsp)

vegan butter

softened

40

grams (3 tbsp)

vegetable/avocado/canola oil

1

tsp

almond extract

135

grams (1 cup + 2 tbsp)

all purpose flour

¾

tsp

baking powder

pinch of salt if butter is unsalted

sprinkles

optional
Instructions
Mix ground flaxseed and soy milk and set aside to gel for 5 minutes.

Preheat oven to 350°F. Line an 8×11" baking sheet with parchment paper.

Beat butter and sugar in a large mixing bowl.

Add oil, flax mixture, and almond extract. Mix until combined.

Add flour, baking powder, and salt (if using). Mix to form a dough. You can bake straight away or chill the dough if you're not ready to bake yet.

Spread dough into your lined baking sheet. Make sure the dough is evenly spread out. Use a spatula or the back of a large measuring cup to flatten out the surface of the dough. Scatter sprinkles on top, if using.

Bake for 18 minutes, until the edges just start to brown. The center will still feel soft but it will firm up as it cools. Let cool for 10 minutes, then remove from the pan and cut into squares. Transfer cookies to a wire rack to finish cooling.
Nutrition per cookie: 75 kcal / 3.5g fat / 0.6 g sat fat / 10g carbs / 4.6g sugar / 0.8g protein / 34mg sodium
Hide


Disclosure: This page may contain affiliate links. As an Amazon Associate I earn from qualifying purchases, but the price remains the same to you. Thank you for supporting Ellie Likes Cooking!
Save for later!