This page may contain affiliate links. As an Amazon associate we earn from qualifying purchases. Please read our
disclosure
for more info.
These chewy, spicy edamame noodles are a quick & easy meal that comes together in under 20 minutes! Vegan, gluten-free, and packed with plant-based protein.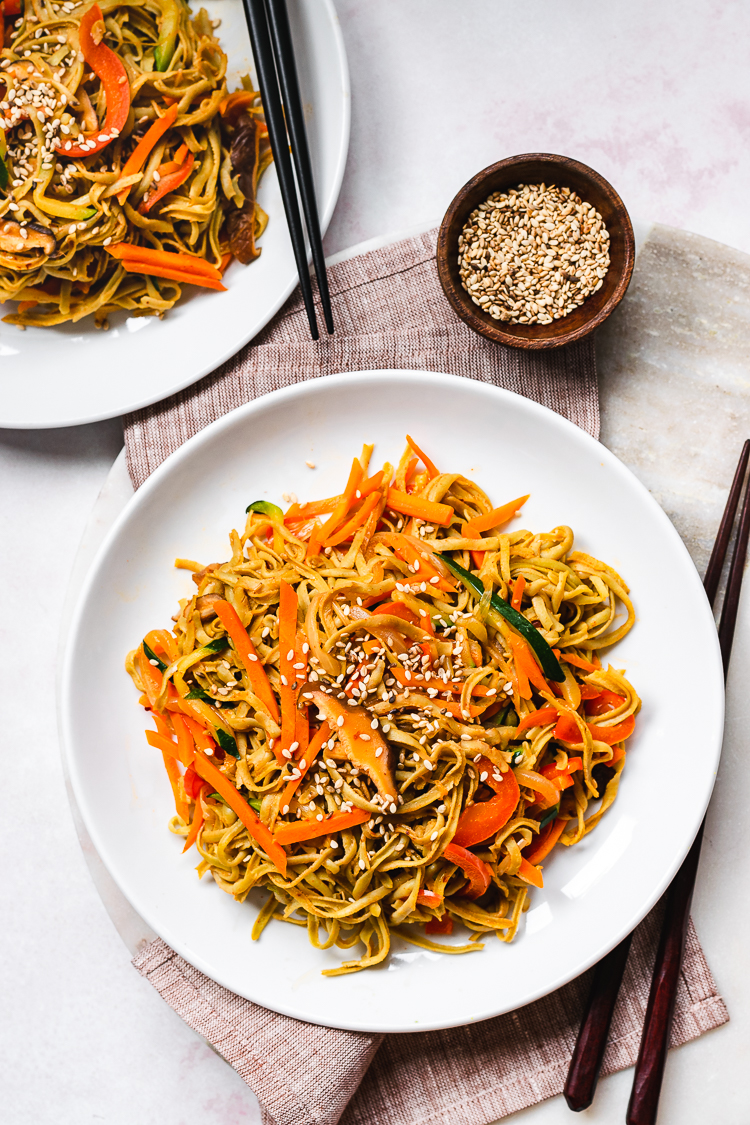 Noodles are one of the foods I never get bored of. They're what I crave at midnight when I stay up too late watching a movie and get hit by the munchies. They're also one of my go-to dishes on those days that I can't or don't want to spend an hour or more cooking. Noodles are great in soups, stir-fries, and salads so there are endless possibilities to keep them interesting!
Some days though, I don't want a carb-heavy dinner (usually because I've had a carb-heavy day up till then😅) but still need something satiating and nourishing. A few months ago I discovered edamame spaghetti at Costco and I'm hooked! It's delicious paired with Asian flavors and is much chewier and not dense and mushy like other bean-based pastas. Plus it's gluten-free and high in protein (24g per 2 oz!). I'm excited to experiment more with these edamame noodles, but for now this spicy noodle stir-fry has been my go-to dish.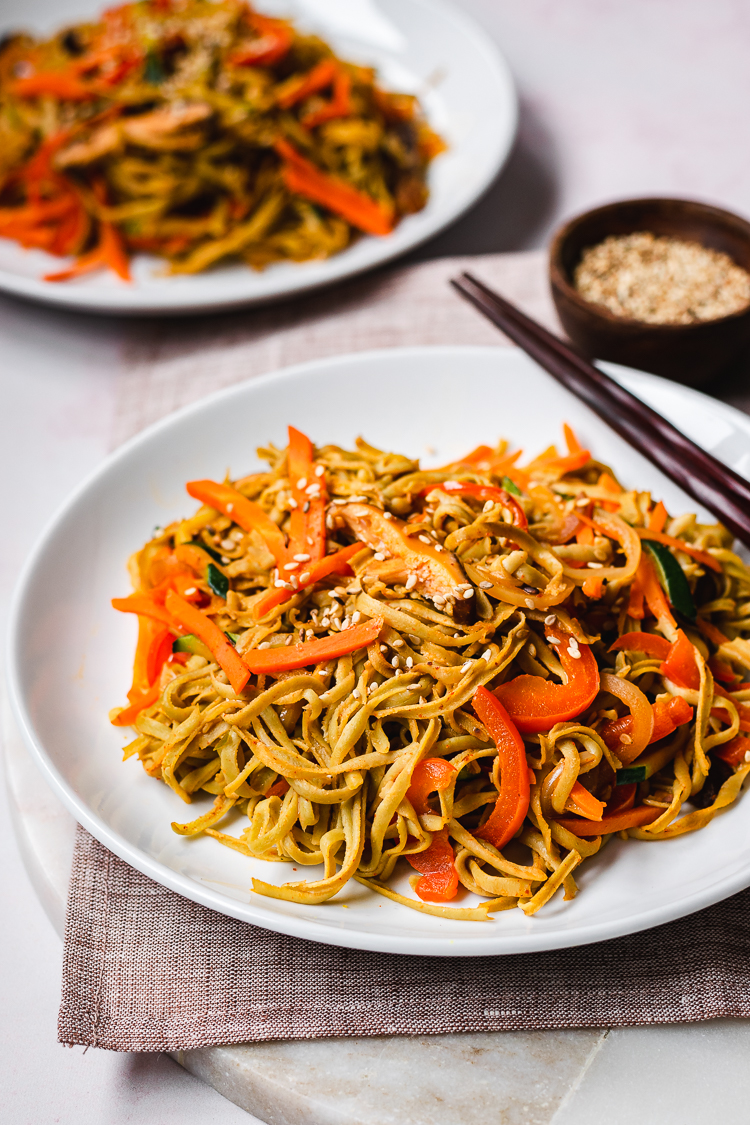 Ingredients
This gluten-free noodle stir fry is made with 12 plant-based ingredients:
Edamame Noodles ⟶ also called edamame spaghetti. They're made completely from edamame so they're a great source of protein!
Gochujang ⟶ adds spice and umami
Sugar ⟶ you can use regular granulated sugar, coconut sugar, or even a liquid sweetener
Toasted Sesame Oil ⟶ adds Asian flavor and prevents the noodles from being too dry
Onion & Garlic ⟶ the aromatic veggies
Veggies ⟶ I used carrots, bell pepper, zucchini, and shiitake, but feel free to switch up the veggies depending on what you have in your fridge. Cabbage and spinach would work great as well!
Toasted Sesame Seeds ⟶ optional for garnishing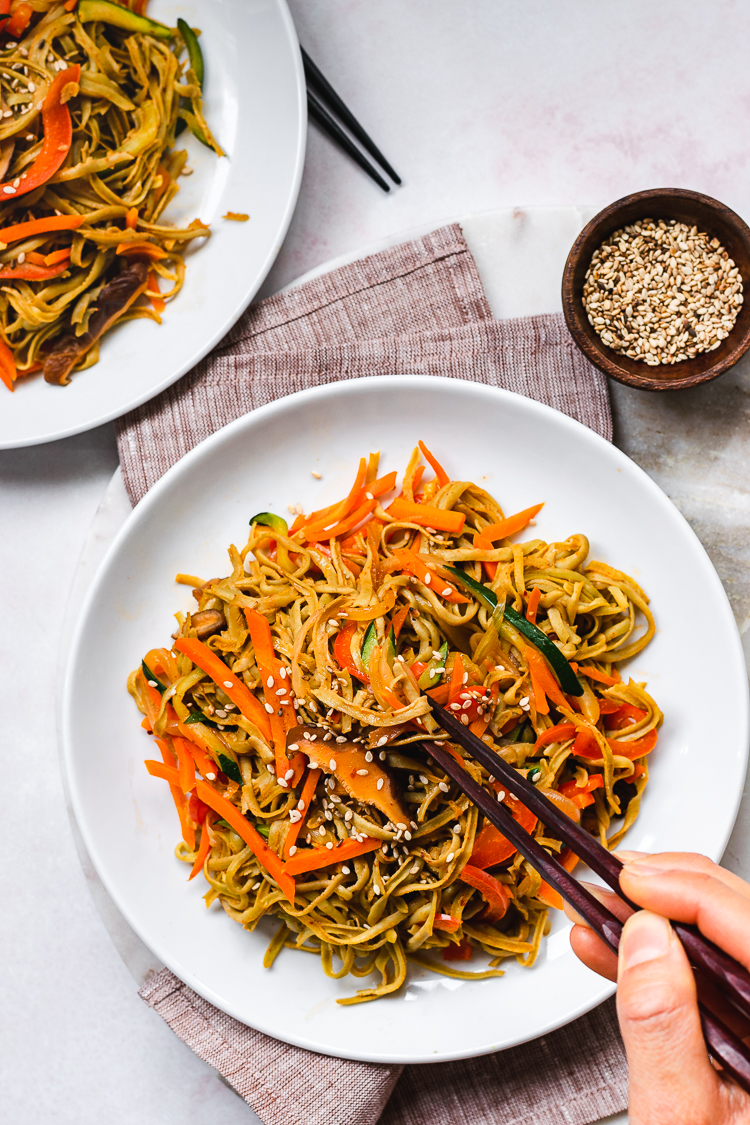 Why edamame noodles?
They're not only a great source of complex carbs and fiber, but also protein! Two ounces of edamame noodles has 24 grams of protein! So it's a really great high protein noodle alternative. I use it for quick meals when I can't decide/don't have time to cook beans or tofu in a tasty way. It's also so much better (in my opinion) than other bean-based noodles like chickpea or lentil noodles because it doesn't have as strong of a "bean-y" aftertaste, and it's not dense like those either. These edamame noodles are actually really chewy and don't just turn to mush.
Helpful Cooking Tools
More tasty stir-fries!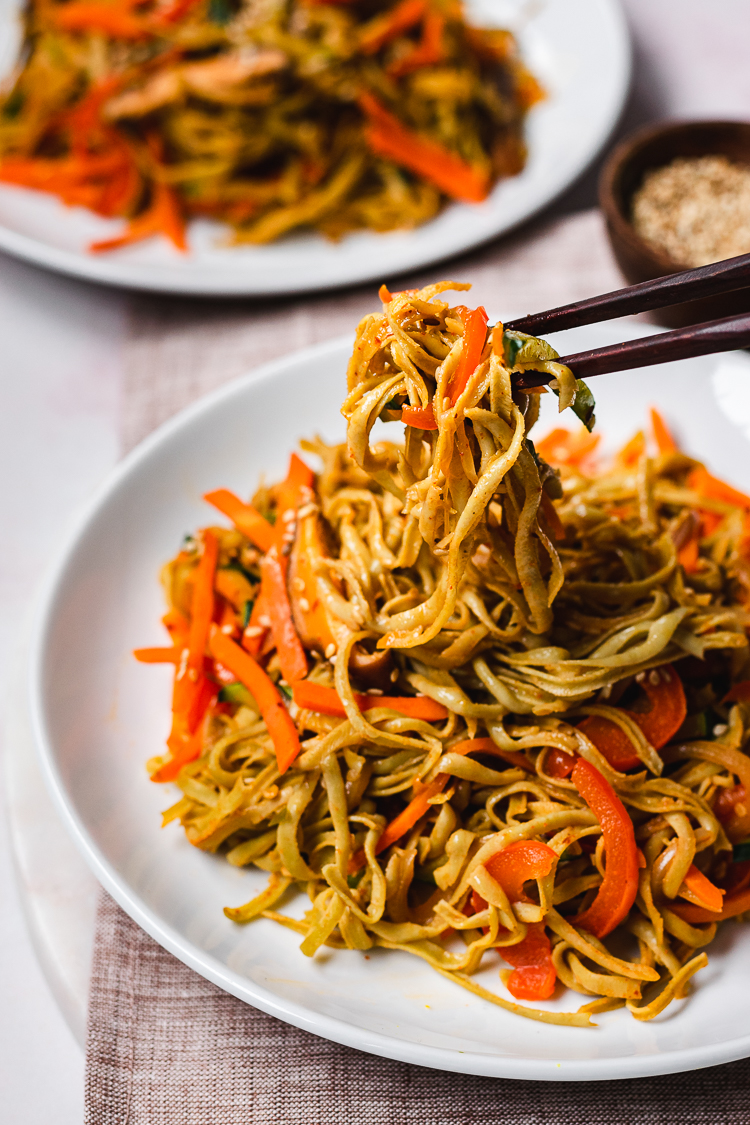 I hope I've inspired you to make these quick & easy spicy edamame noodles! If you try it out, don't forget to tag me in your photos on instagram @ellielikes.cooking, leave a comment/rating down below, and let me know how you liked it! I love seeing all of your tasty recreations 🙂 Happy cooking♡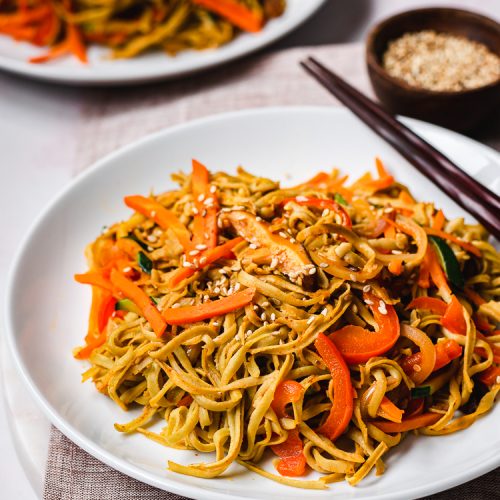 Spicy Edamame Noodles (Vegan, Gluten-Free)
These chewy, spicy edamame noodles are a quick & easy meal that comes together in under 20 minutes! Vegan, gluten-free, and packed with plant-based protein.
Ingredients
4

oz

edamame noodles

½

white or yellow onion

sliced

3

garlic cloves

minced

2

carrots

julienned

1

bell pepper

sliced

1

zucchini

julienned

6

dried shiitake

rehydrated and sliced (or use fresh)

toasted sesame seeds

to garnish
Instructions
Cook edamame noodles according to package directions.

Mix together sauce ingredients in a bowl and set aside.

Add a splash of water or oil to a large pan or wok over medium heat. Add onion and sauté for a few minutes until translucent and softened. Add garlic and cook until fragrant, about 30 seconds.

Add carrots and bell pepper and cook one minute, adding another splash of water as needed to prevent sticking to the pan. Add zucchini (and shiitake if using fresh ones) and cook for a few more minutes until all the veggies are tender.

If using dried & rehydrated shiitake, add them now along with the edamame noodles and the sauce. Stir to combine and coat all the ingredients with the sauce. Turn off heat and garnish with sesame seeds as desired.
**Notes
*Gochujang often contains wheat, so check the ingredients before purchasing if you are gluten-free. I often use this gochujang that is vegan and gluten-free.
Disclosure: This page may contain affiliate links. As an Amazon Associate I earn from qualifying purchases, but the price remains the same to you. Thank you for supporting Ellie Likes Cooking!
Save for later!