This page may contain affiliate links. As an Amazon associate I earn from qualifying purchases. Please read our
disclosure
for more info.
Soft, creamy eggplant coated in a simple green onion and ginger dressing. This 5-ingredient dish is a healthy and simple way to enjoy eggplants.
Eggplant has always been one of my favorite vegetables, but for a while I avoiding cooking it because I didn't know how to make it taste good. Plus, my boyfriend told me he didn't like eggplant…until he had a bite of eggplant cooked Japanese-style. Asian eggplant dishes are the best, hands-down. Now he always asks for eggplant, and this is our current favorite! This steamed eggplant with green onion dressing is vegan, easy to make, and so delicious!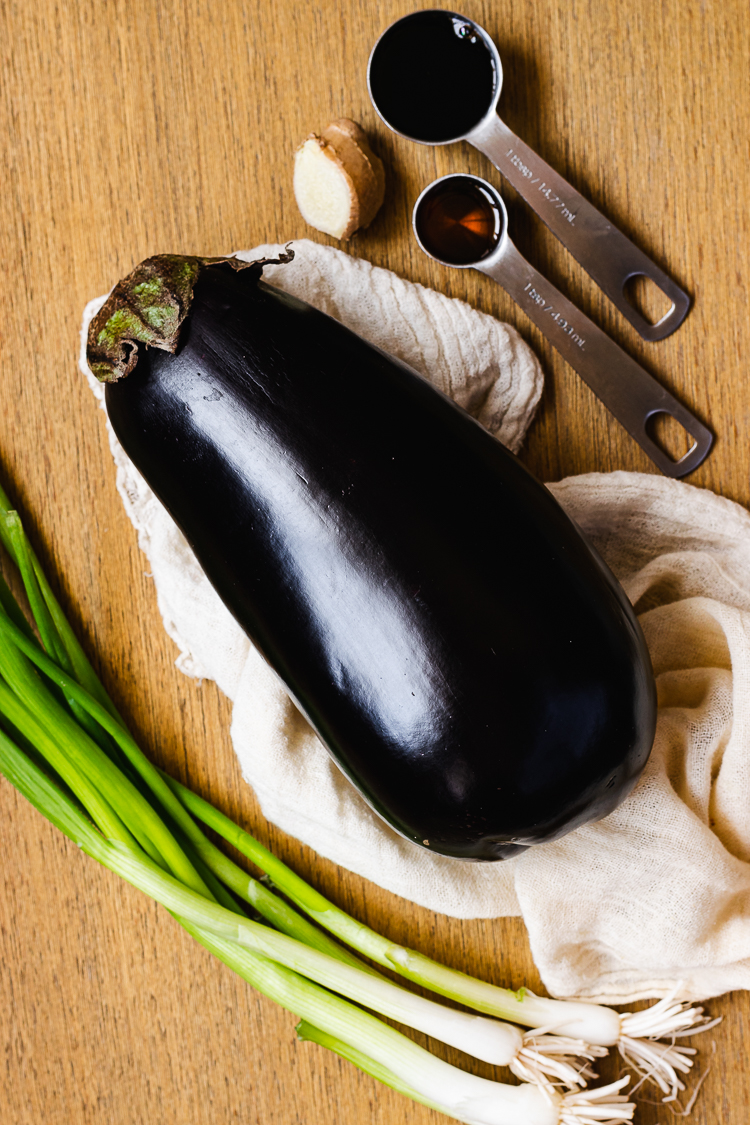 Ingredients
This eggplant with green onion requires just 5 ingredients!
Eggplant ⟶ use 1 American globe eggplant OR 2 long Japanese or Chinese eggplants

large eggplants like globe eggplants have tougher skin, so you can peel them first if you'd like

Green Onion ⟶ for fresh flavor and crunchy texture
Ginger ⟶ complements the green onion perfectly!
Sesame Oil ⟶ adds Asian flavor and brings out flavors from the green onion and ginger
How to Make
This dish is super easy to make! All you gotta do is:
Slice the eggplant into strips (peel the skin if desired).
Steam the eggplant strips until soft (10-15 minutes for slightly crunchy to very soft flesh).
Mix the eggplant with the green onion dressing.
Serve immediately or let the eggplant marinate in the green onion mixture for a few hours in the fridge.
You can serve the eggplant warm or cold. I prefer it cold like a salad; plus this allows time for the eggplant to marinate in the dressing.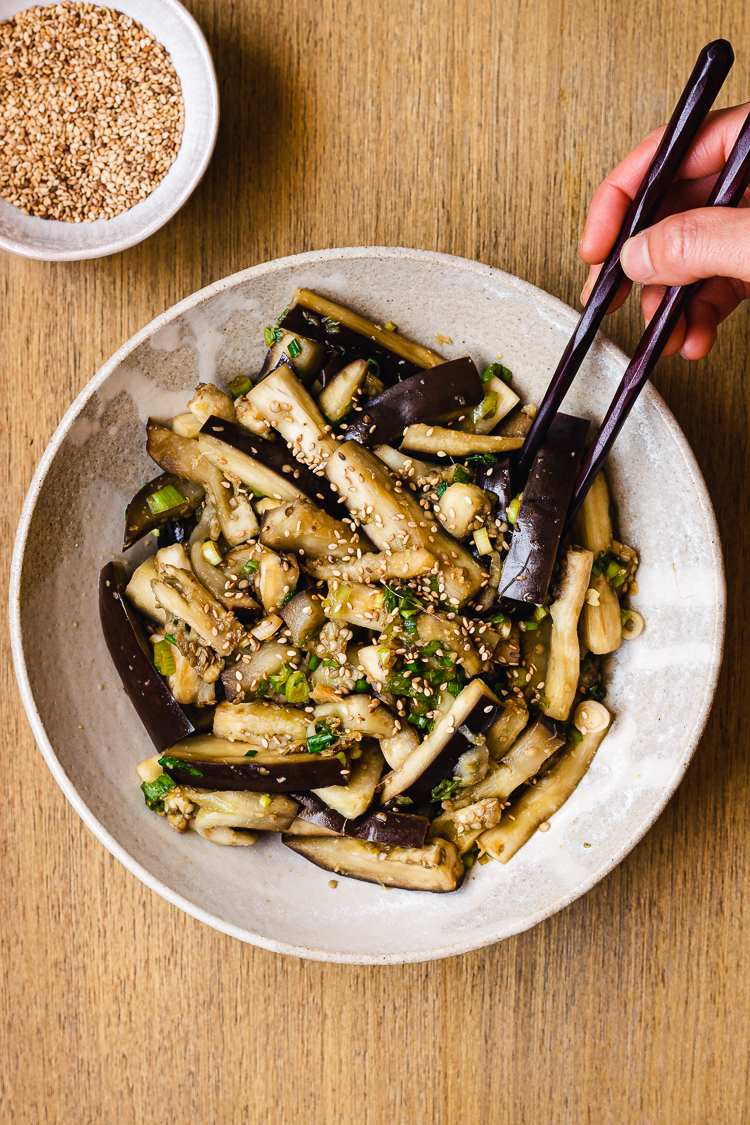 How to Serve
I love serving this eggplant dish with steamed rice, miso soup, and a Japanese/Asian-flavored tofu dish (like this sweet & sour tofu and air-fryer karaage).
Basically, the eggplant covers the vegetable part of your meal, so complete it with a grain (rice) and protein (tofu/beans).
This steamed eggplant is also great for meal-prepping since it will last through the week in the fridge, and will soak up more flavor as it sits! It tastes great warm or cold, so you can pack it up for a tasty lunch or picnic. I would definitely add this to a bento box.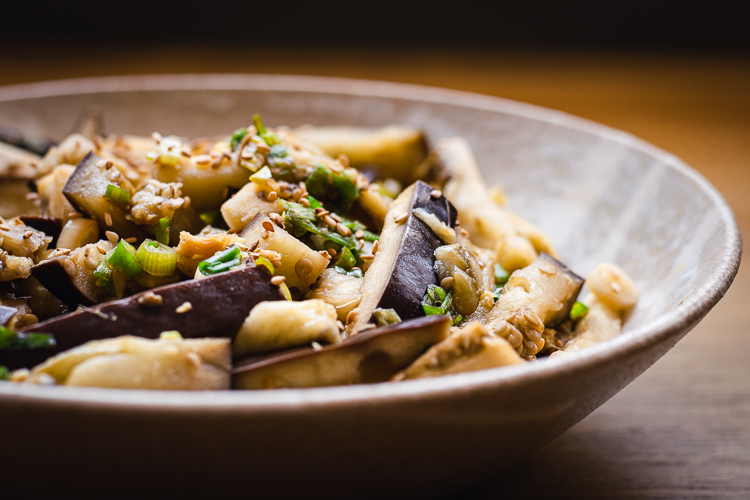 Helpful Cooking Tools
More Tasty Japanese Sides!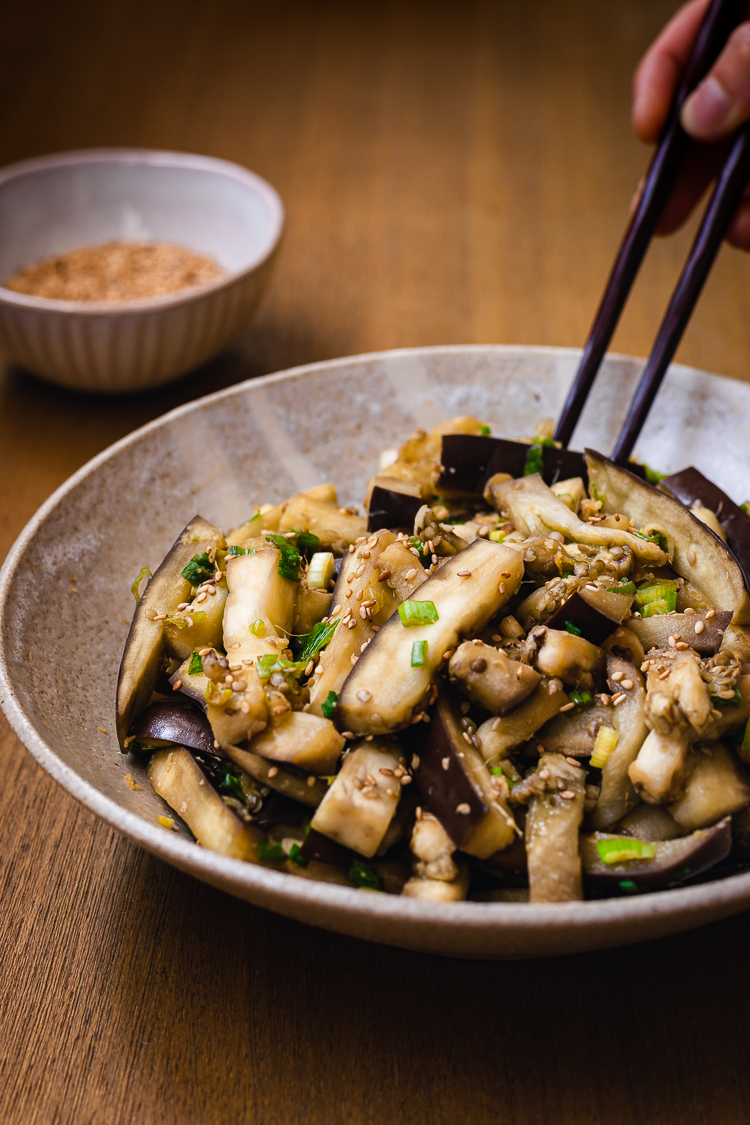 I hope I've inspired you to make this easy steamed eggplant with green onion dressing! If you try it out, don't forget to tag me in your photos on instagram @ellielikes.cooking, leave a comment/rating down below, and let me know how you liked it! I love seeing all of your tasty recreations 🙂 Happy cooking♡
This recipe was updated 5/7/2021 to include optional add-ins.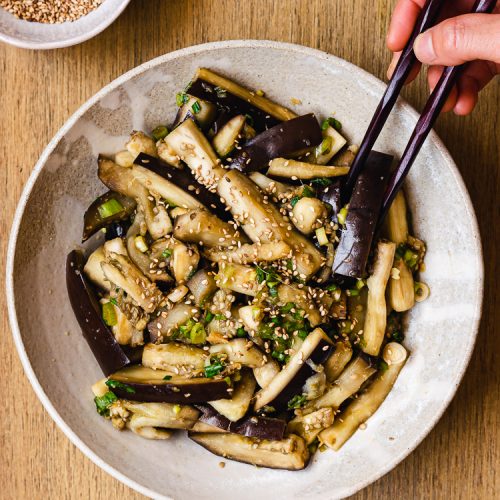 Steamed Eggplant with Green Onion Dressing
Soft, creamy eggplant coated in a simple green onion and ginger dressing. This 5-ingredient dish is a healthy and simple way to enjoy eggplants.
Ingredients
1

globe eggplant, or 2 long Japanese/Chinese eggplants

2-3

green onions**

chopped

2-3

tsp

grated ginger**

1-2

tbsp

soy sauce*

adjust to taste

2

tsp

sesame oil*
toasted sesame seeds*

optional for garnish
Optional
2

tsp

sugar

2

tsp

rice vinegar
Instructions
Globe eggplants tend to have tough skin, so you can peel it if you'd like.

Slice eggplant into strips and place in a steamer. Steam until soft, about 10-15 minutes depending on your desired texture. OR you can steam the eggplant whole and then scoop out the flesh. This will take more cook time but less prep work.

Meanwhile, mix together green onion, ginger, soy sauce, and sesame oil. Taste and add optional sweetener or vinegar if desired.

Let the eggplant cool for a few minutes, then mix with green onion dressing. Serve warm, or store in the fridge and serve cold later. The eggplant will soak up more flavor as it sits. Garnish with sesame seeds as desired before serving.
**Notes
The sauce is very flexible. Some people (like me) like stronger green onion and ginger flavors, but some may find it overpowering. So start small and adjust to your tastes!
GREEN ONIONS: Start with 2 and add more if you'd like a stronger green onion flavor.
GINGER: Add more if you like a spicier ginger flavor.
SESAME OIL: Feel free to add more if you want a stronger sesame flavor. 
Disclosure: This page may contain affiliate links. As an Amazon Associate I earn from qualifying purchases, but the price remains the same to you. Thank you for supporting Ellie Likes Cooking!
Save for later!